Although apples are generally available all year round these days, they really come into their own in the autumn. The apple harvest has started and Apple Day is just around the corner. Here you'll find plenty of inspiration on how to use them with a whopping 80 seasonal and delicious apple recipes to make. Some are from Tin and Thyme and some are from others in the food blogging community.
Apple Day
Apple Day falls on October 21st. It's a celebration of autumn in general and the apple harvest in particular. It was started by Common Ground in 1990 to raise awareness of the loss of orchards and apple varieties. There's a vast range of events happening up and down the country to celebrate this most marvellous of fruits.
Here in the New Forest, there are apple pressings and cider making and the good folks of Lymington leave boxes of excess apples outside their front door for people to take. Apple Day is such a highlight here at Tin and Thyme, that we have a board dedicated to it on Pinterest. There you'll find hundreds of apple recipes and you'll never lack for inspiration again.
80 Seasonal and Delicious Apple Recipes to Make This Autumn
Apple cake, apple crumble and apple pie are absolute must bakes in autumn, but why stop there? Apples are versatile and there are so many other ways to use them.
With these 80 seasonal and delicious apple recipes to make this autumn you can pick up plenty of ideas for classic apple bakes as well as more contemporary recipes. There's pretty much everything here from the healthy to the indulgent, from full on dairy, to vegan, to paleo and gluten-free. You should find something to suit every one and every apple occasion.
Apple Cake Recipes
You can pretty much guarantee that come autumn, you'll find a recipe for apple cake on Tin and Thyme. Apple season just isn't right without a good cake made out of Eve's favourite fruit. I haven't added all of my recipes here though, instead I've picked a few of the best along with a selection of others.
Large Cakes

Italian apple cake (sorta di mele) via Scrummy Lane
French apple cake via Karen's Kitchen Stories
Dorset apple cake with chocolate caramel via Tin and Thyme
Almond apple cider cake via Tin and Thyme
Apple & cherry Wensleydale chocolate chip cake via Tin and Thyme
Apple butter bundt cake (vegan & gluten free) via Strength & Sunshine
Small Cakes

Honey apple cardamom mini bundt cakes via Tin and Thyme
Apple & blackberry crumble bundtlettes via The Crafty Larder
Apple crumble and custard mini cakes via Tin and Thyme
The best baked caramel donuts via My Menu Pal
Apple muffins with cinnamon-walnut streusel via Elizabeth's Kitchen Diary
Apple date and chia seed muffins (vegan) via Green Gourmet Giraffe
Traybakes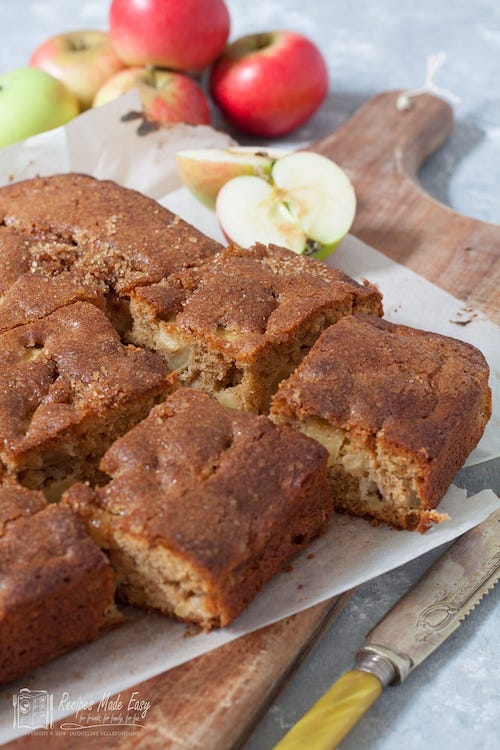 Easy apple and cinnamon traybake via Recipes Made Easy
Apple, rose and white chocolate cake via Tin and Thyme
Apple caramel streusel traybake via Foodie Laura
Caramel apple poke cake via Cooking With My Kids
Bonfire Night
Bonfire Night, is a rather macabre British celebration where we burn effigies of the renegade 16th Century Catholic, Guy Fawkes. That aside, it's a jolly occasion with lots of fireworks and food. Apples are particularly associated with it and you can't have a bonfire without a toffee apple.

Toffee Apple Hazelnut Cake via Tin and Thyme
Traditional homemade toffee apples via Foodie Quine
Spiced toffee apple bonfire cakes via Tin and Thyme
Apple Scones
And what could be better after a cold and crisp autumn walk than warm apple scones straight from the oven? Scones are incredibly easy to make and they're always a filling crowd pleaser.

Apple cider scones with cinnamon via Tin and Thyme
Caramel apple pie scones via United Cakedom
Apple and honey oat scones via My Kitchen Love
Apple Cookies
Cookies or biscuits made with apple may not be an obvious choice, but one of my favourite flapjack recipes includes apple in the ingredient list. Here you have two to choose from and they both sound good.

Apple & oat blackberry jam thumbprint cookies via Occasionally Eggs
Apple oat cookies via She Eats
Breakfast Recipes Using Apple
I usually use the abundance of autumn apples to make lots of apple purée. This keeps in the fridge for months and we use it to top porridge when the days start to get cold. There are lots of other ways to use apples for breakfast though. I've got my eye on those quesadillas.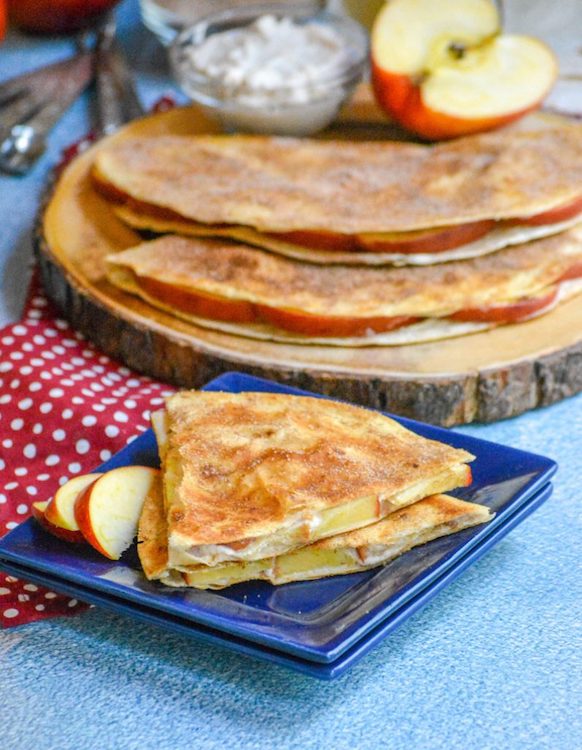 Apple cheesecake breakfast quesadillas via 4 Sons 'R' Us
Overnight oats with raisins, apple & pumpkin seeds via Tin and Thyme
Raspberry & apple vanilla breakfast compote via Trinity's Conscious Kitchen
Blackberry & apple spelt pancakes with brown buttered cobnuts via Tin and Thyme
Apple-filled pumpkin crêpes with Coconut Whipped Cream (gluten-free) via The Gluten Free Homestead
Apple & cinnamon breakfast muffins via Amuse Your Bouche
Simple + amazing homemade apple sauce via Blue Bowl Recipes
Savoury Apple Recipes
And of course apples work brilliantly in all sorts of savoury dishes too. Here you'll find some ideas from salads, to soups, to bread.
Salads & Sides

Miso brussels sprouts and apple salad via Whole Food Bellies
Apple potato salad via Surprising Recipes
Celeriac & apple remoulade via Farmersgirl Kitchen
Fennel, carrot, radish & apple slaw via Tin and Thyme
Wild rice salad with apple and pomegranate via Veggies Save The Day
Healthy vegan Waldorf salad via Happy Kitchen Rocks
Honey roasted root vegetables with apples via Family Friends Food
Mashed turnip & apple casserole via Food Meanderings
Soup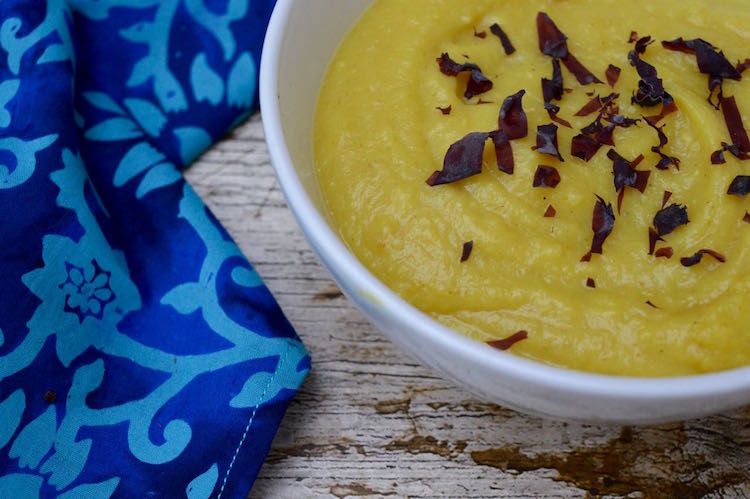 Apple parsnip soup via Tin and Thyme
Spiced parsnip spinach apple soup via Tin and Thyme
Paleo blender pumpkin soup (with apple) via I Heart Umami
Apple butternut bisque via Garlic & Zest
Bread
And if you want some bread made with apples to accompany the soup, here are a couple to choose from as well as some savoury muffins.

Apple & hazelnut spelt rye sourdough via Tin and Thyme
Blackberry & apple spelt soda bread via Tin and Thyme
Goat's cheese, thyme and bramley apple muffins via Fuss Free Flavours
Seasonal Recipes for Apple Desserts
These 80 seasonal and delicious apple recipes would not be complete without a good selection of puddings and desserts. Here you'll find some good old comfort food as well as a few healthier recipes. There's even ice cream.
Baked Puds

Blackberry and apple crumble with a nutty ginger twist via Tin and Thyme
Easy apple crumble (vegan, GF & grain-free) via V Nutrition
Eve's pudding via Lost in Food
Devonshire apple In and Out pudding via Bright Kitchen Tales
Vegan apple meringue via Fab Food 4 All
Tarts, Pies & Pastries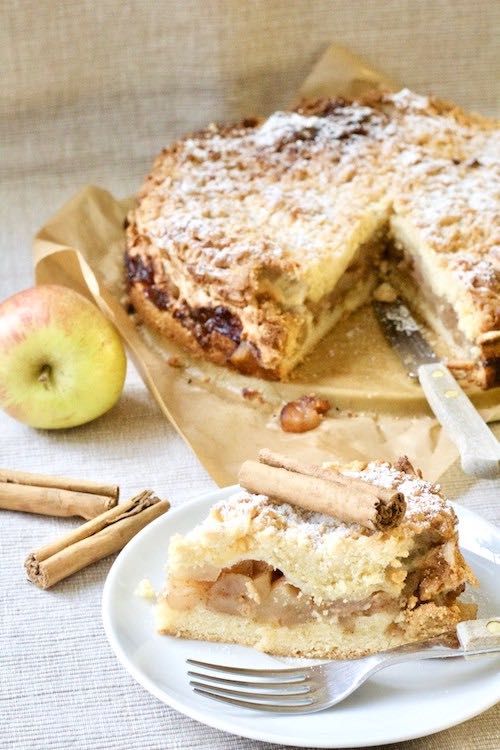 Granny's apple pie with wholemeal pastry via Tin and Thyme
Best buttery apple pie with a twist via Jo's Kitchen Larder
Vegan apple pie via Little Sunny Kitchen
Blackberry and apple crumble pie via The Hedge Combers
Apple Bakewell tart via Emily's Recipes & Reviews
Baked custard tart with spiced apple via The Fare Sage
Easy apple crisp galette via Home and Plate
Apple hazelnut pizza via Thinly Spread
Apple & white chocolate tarts via Tin and Thyme
Apple & almond chocolate pastries via Tin and Thyme
Apple & cinnamon dough balls (vegan) via A Bit of The Good Stuff
Apple crumble cheesecake via The Baking Explorer
Ice Cream

Burnt apple & bourbon ice cream via Kavey Eats
Caramel apple ice cream via Farmersgirl Kitchen
Probiotic apple pie ice cream via Raia's Recipes
Snacks

Pumpkin pie apple crisps via Served From Scratch
Caramel apple popcorn via As Strong As Coffee
Paleo baked apple fries via Oh, The Things We'll Make
Chocolate apple cider caramels via Living Sweet Moments
Seasonal Recipes for Apple Drinks
Well of course everyone knows about cider; it's the brew of choice in Cornwall where I come from. In fact you'll find cider apples growing all around the South West of the UK. Have you tried mulled cider instead of mulled wine? I'd highly recommend it. There are, however, plenty of other apple drinks to be had. Here are a few of them.

Mulled cider or mulled apple juice via Tin and Thyme
The bittersweet Dapper Apple via Easy Peasy Lemon Squeeze
Apple Mac via Tin and Thyme
Ginger green goddess smoothie via Tin and Thyme
Apple pineapple ginger juice with lime & mint via Little Sugar Snaps
Apple Jams, Chutneys & Other Preserves
Preserving apples is a great way to use up any apple glut and enjoy the fruit all year around.

Spiced apple chutney via Tin and Thyme
Sugar free apple butter via Eating Richly
Fig, apple & pomegranate jam via Tin and Thyme
Small batch blackberry and apple jam via Fuss Free Flavours
Gooseberry, apple & mint jelly via Fab Food 4 All
Keep in Touch
Well that brings my collection of 80 seasonal and delicious apple recipes to make this autumn to a close. I hope you've found something to whet your appetite. Do let the relevant blogger know if you make any of their recipes. We food bloggers always appreciate feedback.
For more delicious and nutritious recipes follow me on Twitter, Facebook, Instagram or Pinterest. And don't forget to SUBSCRIBE to my weekly newsletter.
Choclette x
80 Seasonal Apple Recipes. PIN IT.