We often add ocas to vegetable stews when we have them, but rarely do they get to be the star of the show. This vegan oca peanut stew changes all that and allows the ocas to shine in their own right. The ocas are simmered in a rich tomato and peanut concoction which complements their brisk lemony notes beautifully. Kale adds a splash of colour and a whole heap of additional nourishment.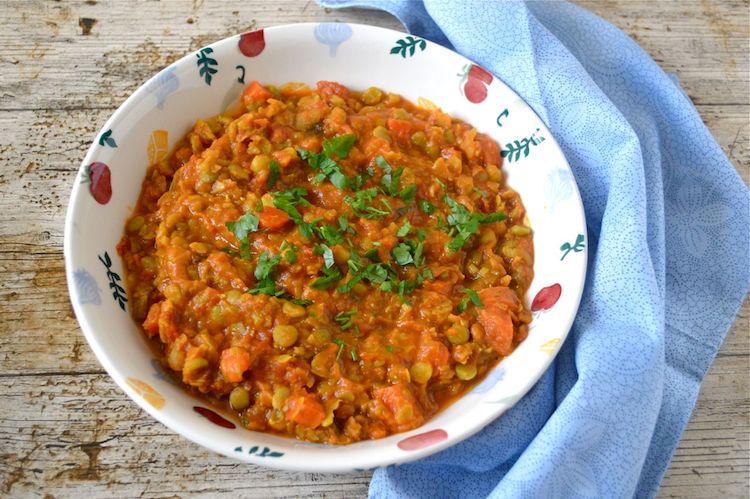 When I was challenged recently to meal plan for £2 a day per person to include breakfast, lunch & dinner, my mind immediately sprang to pulses. They are not only delicious, but are also relatively cheap, especially if you use dried ones rather than tinned. Find out about the challenge below along with my recipe for green split pea curry – a British take on an Indian classic.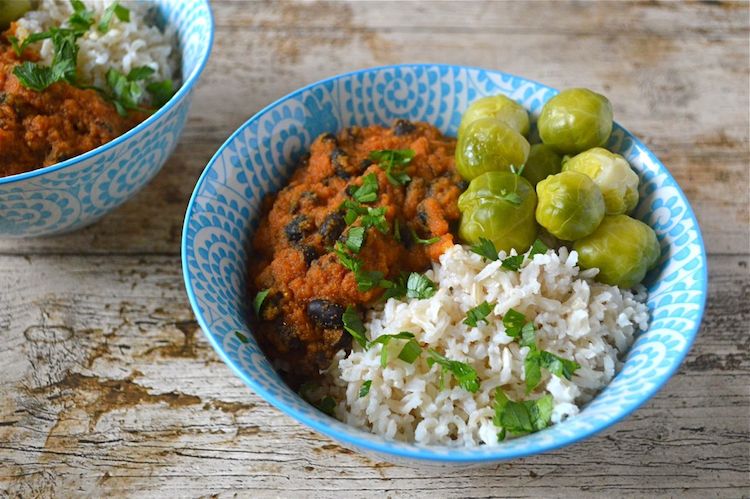 It may no longer be the International Year of Pulses, but lentils, beans and peas have been a staple for me ever since I can remember. They are not only nutritious, delicious and filling, but they make a great base for many a meal. These black bean tomato carrot curry bowls are simple to make and they taste very good indeed, especially when served with brown basmati rice. A perfect healthy whole food supper for Veganuary and to Jumpstart January.
A delicious and comforting spicy lentil curry. It's perfect for the cold, dark and wet winter months. Packed full of nutrients, this kill a cold lentil curry can help ward off or alleviate the symptoms of colds and flu.
This super speedy vegan Thai green curry is great for when you want a delicious, nutritious and colourful meal on the table fast. Serve it with fragrant jasmine rice and crunchy toasted cashew nuts.
Cauliflower is one of those underrated vegetables that has found a new lease of life in recent years. It's now acclaimed as a wonder vegetable as it acts as a low carbohydrate alternative to rice or couscous. Cauliflower rice, I've found, works particularly well with this simple but delicious vegetarian jerk sweet potato curry.