A deliciously fragrant and colourful rose syrup that captures the spirit of summer. If you have access to highly scented unsprayed roses, follow this super simple recipe. The syrup keeps really well and has many uses.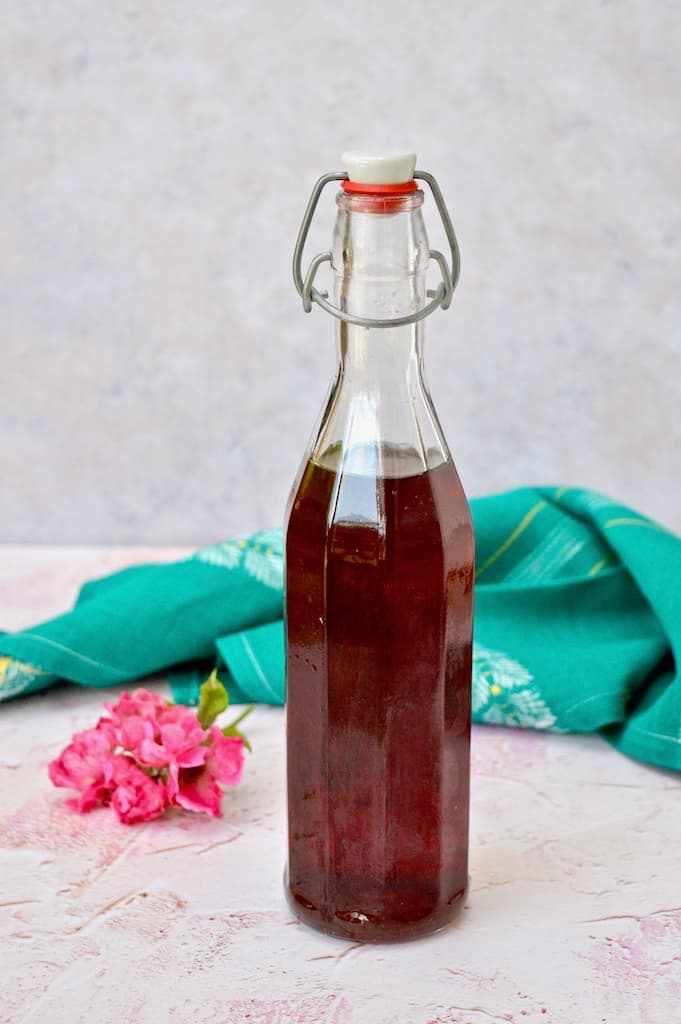 I'm often asked for my rose syrup recipe and although it's on the blog, it's hidden in a summer cocktail post, so is hard to find. As it's such a glorious concoction and summer is the best season to make and use it, time for its very own moment in the spotlight, methinks.
Rose Syrup
A few years ago as I was savouring the deep red colour and scent of the only rose we have in our garden, I was inspired to capture these qualities along with the flavour by doing something other than rose sugar, crystallised roses or pot pourri. I make elderlfower cordial and various other syrups on a regular basis, so why not try rose as a syrup?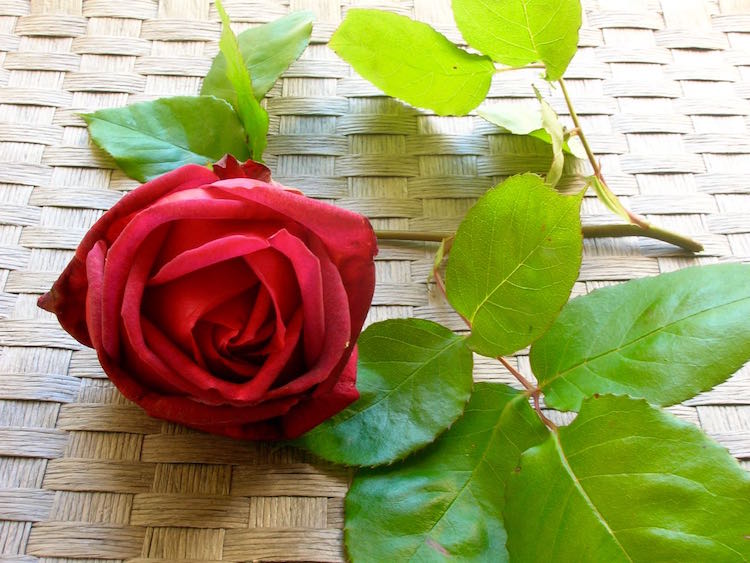 Rose syrup is incredibly easy to make. All you need to do is lightly simmer fresh organic rose petals in sugar and water. Once done pour into sterilised bottles and it will keep in the fridge for several months, even once opened. For the sterilisation lowdown, take a look at my post on how to sterilise glass jars, bottles and lids.
Just ensure your roses are unsprayed as the petals could otherwise be poisonous.
Top Tips
The darker the rose, the pinker the syrup will be. Likewise you want to use a really fragrant rose so your finished rose cordial can be as flavoursome as possible.
Rose Syrup Uses
I'm so glad I came up with this rose syrup recipe. It's a great way to capture the very essence of rose and can be used in any number of ways. As a cordial, it makes a refreshing drink with both still and sparkling water. Just add ice. It makes a nice addition to cocktails and works fabulously well with fruit of all kinds, but particularly summer berries.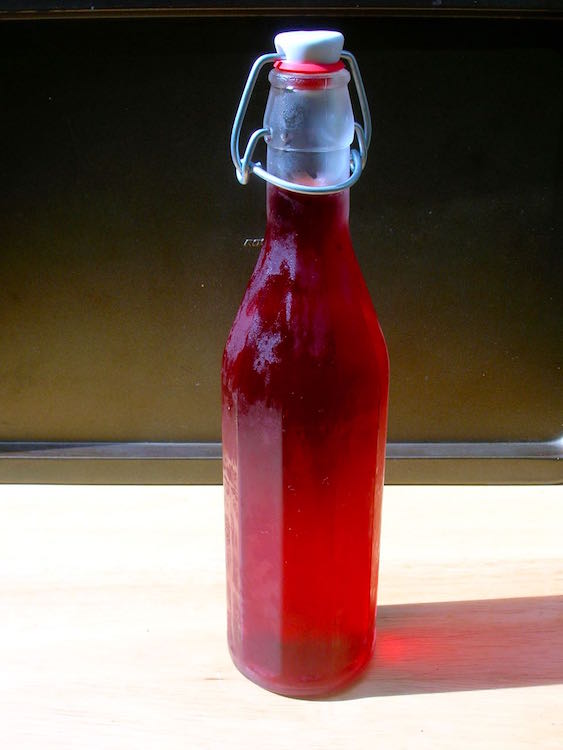 Try macerating strawberries in it. This is one of my favourite things to do with this luscious cordial. It produces a beautifully vibrant tart floral concoction, particularly if you add a little lemon juice.
You can use rose syrup in preserves, baking or drizzled over ice-cream. Whip up some dairy cream or cashew cream with a touch of rose syrup. it's one of the best things ever. You'll find a list of recipes that use the syrup further down this post.
How Much Rose Syrup To Make?
I make rose syrup every year now. I have to adapt the quantities according to how many roses I get. This year my rose, which is not ideally placed and is in a shady corner, produced only one flower. The quantities given in the recipe below are for one large flower, but they can easily be scaled up if there are more roses available. Lucky you.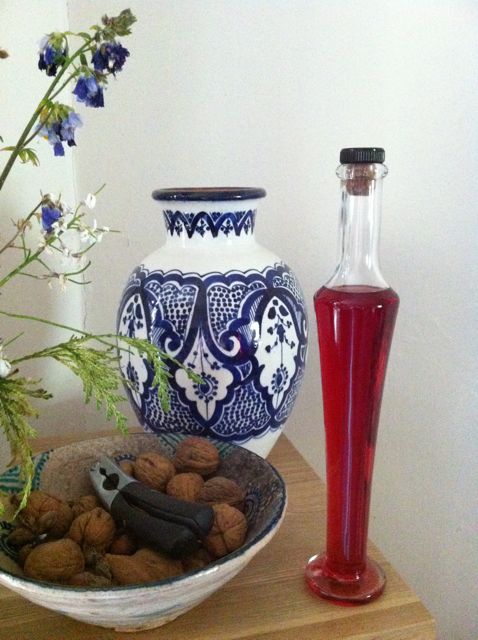 The syrup keeps well in the fridge, but you can also freeze it in plastic water bottles.
Recipes Using Rose Syrup
Other Recipes Using Fresh Rose Petals
Keep in Touch
Thanks for visiting Tin and Thyme. If you make my rose syrup recipe, I'd love to hear about it in the comments below. And do please rate it. Have you any top tips? Do share photos on your preferred social media site and use the hashtag #tinandthyme, so I can spot them.
For more delicious and nutritious recipes follow me on Twitter, Facebook, Instagram or Pinterest. And don't forget to SUBSCRIBE to my weekly newsletter.
If you'd like more drink recipes, follow the link and you'll find I have quite a lot of them. All delicious, of course.
Choclette x
Rose Syrup. PIN IT.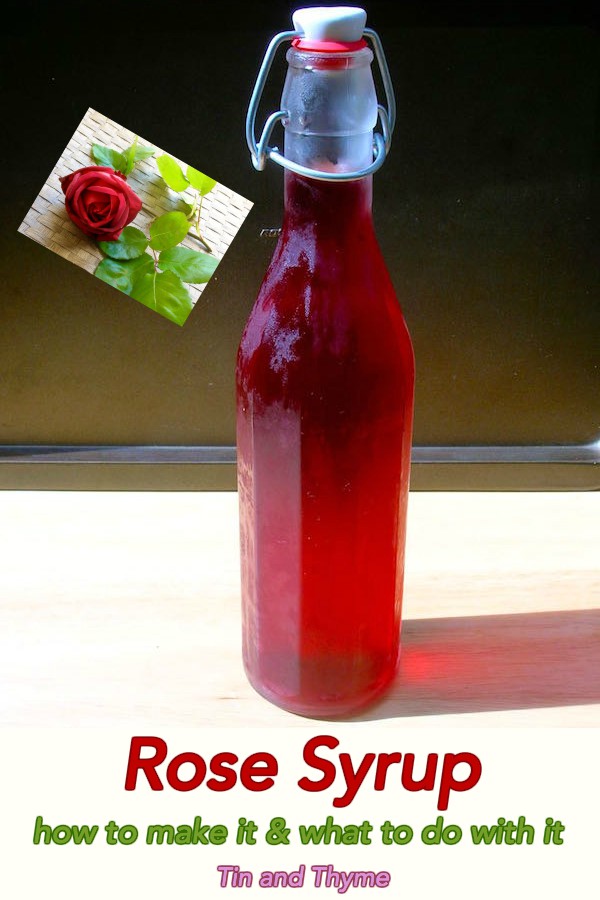 Rose Syrup – The Recipe
Rose Syrup
A deliciously fragrant and colourful rose syrup that captures the spirit of summer and can be used in many ways.
Ingredients
petals from a large deep red scented rose – unsprayed

any unsprayed deep scented roses will work, but the colour won't be the same.

200

g

golden granulated or golden caster sugar

200

ml

water
Instructions
Place sugar and water in a pan and place over a low heat until the sugar is fully dissolved.

Add the rose petals and leave uncovered to just about simmer for

half an hour

.
Notes
Makes 1 x 350 ml bottle.
This recipe can be scaled up according to how many roses you have and how much syrup you want to make.
Can keep in the fridge for several months.
Freezes well in plastic water bottles.
Please note: calories and other nutritional information are per serving. They're approximate and will depend on serving size and exact ingredients used.
Nutrition
Serving:
1
tbsp
|
Calories:
32
kcal
|
Carbohydrates:
8
g
|
Protein:
1
g
|
Fat:
1
g
|
Saturated Fat:
1
g
|
Sodium:
1
mg
|
Sugar:
8
g
|
Vitamin C:
1
mg
|
Iron:
1
mg
Tried this recipe?
Please take a photo and mention @choclette8 or tag #tinandthyme on Instagram, Twitter or Facebook.
Sharing
This post isn't about shopping, although I bought the sugar at our local co-op, but the rose was sourced very locally indeed – from our garden. No food miles required. So, I'm hoping Elizabeth will be lenient and accept this rose syrup for Shop Local at Elizabeth's Kitchen Diary.
As roses are now in season, I'm also sending this recipe off to Ren Behan for Simple and in Season.