Waffles with Rhubarb and Rose Compote and Rose Cream
Ever since getting my hands on these silicone waffle moulds, I have become somewhat addicted to these doughy crispy delights. They are just as good for a dessert as they are for breakfast or brunch. The light and airy sweet waffles I tried in Belgium were either served in the morning with coffee, or at tea time. They don't have to be sweet of course, savoury waffles are equally delicious. Either way, I never add sugar to my waffle batter as I don't see the need – it's all in the topping.
For some reason, rhubarb doesn't like it down on our plot and I have to rely on my mother for a supply. The first rhubarb picked from her garden arrived last week – just in time to bake a rhubarb and ginger cake for a friend's birthday. As there were a couple of sticks left over, however, I thought I'd treat us to some rhubarb and rose compote and serve it with waffles, oh and cream, of course. I first discovered how well rhubarb and rose went together with these rhubarb and rose nonnettes and it's been a favoured combination ever since. I make a couple of bottles of rose syrup every year and what doesn't get used in cooking makes for a most sumptuous cordial drink with water, both fizzy or flat. However, this time I used Spice Drops rose extract, which also worked wonderfully well.
The waffles were the usual crisp and doughy delight, but the rhubarb and rose compote was just gorgeous. Light and fruity with a delightful rose perfume which added wondrous floral notes but didn't overwhelm. As for the cream, well! Those softly scented clouds will just have to be repeated.
I'm linking this to the Great British Rhubarb Recipe Round-Up over at Lavender and Lovage and Farmersgirl Kitchen – all for the love of rhubarb.
I'm also sending this over to Elizabeth's Kitchen Diary for the No Waste Food Challenge. There was no way I wasn't going to use these first sticks of rhubarb, but they were sort of leftover from the cake and they might otherwise have been wasted.
With rhubarb now in season, I'm sending these off to Simple and in Season which is this month hosted by Helen of Fuss Free Flavours on behalf of Ren Behan.
Other waffle recipes you might want to check out: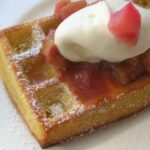 Waffles with Rhubarb and Rose Compote and Rose Cream
2015-04-20 11:44:27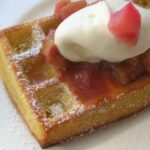 Light and crisp waffles, served with a perfumed rhubarb and rose compote and a pillowy cloud of gently scented rose cream.
Waffles
1 large egg (I used a duck egg)
200ml milk
220g flour (half wholemeal, half plain white)
1 tsp baking powder
pinch of rock salt (I use Himalayan Pink)
50g unsalted butter - melted
Compote
2 sticks rhubarb (about 200g) - sliced
1 tbsp golden caster sugar
2 drops rose extract (I used Holy Lama Spice Drops)
100ml double cream
Waffles
Whisk egg and milk together in a large jug.
Add the butter and salt and whisk some more.
Whisk in the dry ingredients.
Pour into four waffle moulds and bake in the oven at 220C for about ten minutes.
Turn out onto a baking tray, keeping the pattern side up and return to the oven for a further five minutes or so. The waffles should be golden and crisp on the outside.
Compote
Place the rhubarb and sugar into a pan with just a dash of water and cook over a low heat for about five minutes until the rhubarb is tender.
Remove from the heat, add the rose extract and stir gently.
Pour any excess liquid into the cream and whip until soft peaks form.
Spoon the compote over the waffles, then top with cream and a sprinkling of icing sugar.
Tin and Thyme https://tinandthyme.uk/