The simplest and most delicious rhubarb cake you're ever likely to bake. With only five ingredients, it's quick to make and good served either warm for pudding or at room temperature for afternoon tea. Add ginger or rose and you have two additional cake recipes up your sleeve. Really quite remarkable.
Remarkable rhubarb cake may seem a bit of a lofty claim, but this bake is so easy to make and tastes so good that I make it regularly. In fact it's my favourite rhubarb cake and I've both baked and eaten an awful lot of them. It's a great way to use rhubarb when it's in season.
A Simple Rhubarb Recipe
I may have called this cake old fashioned, but in truth I just made it up. It's old fashioned in the sense of method and a reduced fat and sugar content. Modern cake recipes seem to have so much more sugar than they did when I was growing up. The nation's sweet tooth has become even sweeter.
My recipe uses only five ingredients too: flour, butter, sugar, eggs and rhubarb. Unusually for me, I chose to use wholemeal spelt flour mixed with plain flour. For this sort of cake, this mix makes for a lighter bake than using 100% wholemeal flour.

So, for this cake, no creaming of butter and sugar is required. This means you don't have to wait ages for the butter to become softened. Instead you rub the cold butter into the dry ingredients with your fingertips.


All you need to do then, is stir in the rhubarb pieces followed by the eggs. Easy peasy. Oh! You may just need to spoon the mixture into a baking tin and put it in the oven too.
Remarkable Rhubarb Cake
I have to confess I've made many rhubarb cakes in my time and all of them are good. You'll find a few of them in a list further down the post.

This one, simple as it is however, is destined to become a firm favourite. It's quick to make, rises really well and is light, juicy and delicious. The tartness of the rhubarb dances on the tongue. The cake has a slightly crunchy top enhanced by sprinkling a little sugar over it before baking.
A Touch of Rose
The second time I made this cake, I scattered a little homemade rose sugar over the top. This gave it a subtle rosy flavour and an added air of sophistication. We found that a dollop of whipped cream made a fine accompaniment. But I'm pretty sure custard would work well too.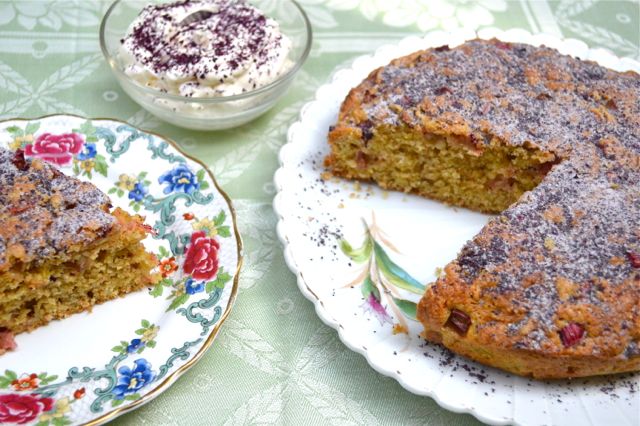 If you like the idea of a rose enhancement, but don't have any rose sugar, rose cream makes a delicious alternative. Just whip up some double cream along with a drizzle of rose syrup, a sprinkling of rose water or a drop of rose extract.
Rhubarb and Ginger Cake
The third time I made this fruity number, I went back to the original. However, the fourth time, I added ginger. Back in the day, I used to make a really good rhubarb and ginger cake. So many people asked me for the recipe, that it went viral and then everyone started making it, so I got a bit bored.
But I reckon that this pimped up version is just as good, if not better than that one was.

All you need to do is follow the recipe below, but with a couple of additions.
Add one teaspoon of ground ginger to the flour before rubbing the butter into it.
Add twenty five grams (one ounce) of finely chopped crystallised ginger along with the rhubarb. Stem ginger is fine too, but I always have a jar of crystallised ginger to hand.

That's it, you now have the recipe for a fabulous rhubarb and ginger cake. Let me know if you try it.
Rhubarb Pudding or Cake?
So is this cake a dessert? Or is it best left for afternoon tea? It's good for both in my opinion, so I'll leave this one for you to decide. Let me know what decision you come to.
Other Rhubarb Cake Recipes You Might Like
Keep in Touch
Thanks for visiting Tin and Thyme. If you make this deliciously simple but remarkable rhubarb cake, I'd love to hear about it in the comments below. And do please rate the recipe. Have you any top tips? Do share photos on social media too and use the hashtag #tinandthyme, so I can spot them.
For more delicious and nutritious recipes follow me on Twitter, Facebook, Instagram or Pinterest. And don't forget to SUBSCRIBE to my weekly newsletter.
If you'd like more simple cake recipes, follow the link and you'll find I have quite a lot of them. All delicious, of course.
Choclette x
Remarkable Rhubarb Cake. PIN IT.

Remarkable Rhubarb Cake – The Recipe
Remarkable Rhubarb Cake
The simplest and most delicious rhubarb cake you're ever likely to bake. With only five ingredients, it's quick to make and good served either warm or cold for pudding or afternoon tea.
Ingredients
100

g

wholemeal spelt flour

100

g

plain unbleached flour

1

tsp

baking powder

110

g

golden caster sugar + 1 tsp

I used cardamom sugar

100

g

unsalted butter

200

g

rhubarb – washed and trimmed

2

eggs
Instructions
In a large bowl, rub the fat into the flour, baking powder and sugar with your fingertips until the mixture resembles breadcrumbs.

Chop the rhubarb into small pieces and stir into the cake mixture.

Make a well in the centre and add the eggs. Stir together with a flat bladed knife until it all comes together.

Tip into a 20cm (8″) silicone round cake mould or lined tin and level with the back of a spoon. Sprinkle the remaining tsp of sugar over the top.

Bake at 180℃ (350℉, Gas 4) for about 35 minutes until the cake is well risen and a skewer inserted into the middle comes out clean.

Leave to cool for about ten minutes, then turn out onto a wire rack to cool completely.
Notes
A dollop of clotted or whipped cream makes a very nice addition.
Sprinkling the sugar over the top before baking will give additional crunch to the top. Alternatively, omit this and sprinkle on a flavoured sugar after baking. I've used rose sugar to great effect.
Please note: calories and other nutritional information are per serving. They're approximate and will depend on exact ingredients used.
Nutrition
Calories:
252
kcal
|
Carbohydrates:
34
g
|
Protein:
5
g
|
Fat:
12
g
|
Saturated Fat:
7
g
|
Cholesterol:
68
mg
|
Sodium:
19
mg
|
Potassium:
209
mg
|
Fiber:
2
g
|
Sugar:
14
g
|
Vitamin A:
397
IU
|
Vitamin C:
2
mg
|
Calcium:
64
mg
|
Iron:
1
mg
Tried this recipe?
Please take a photo and mention @choclette8 or tag #tinandthyme on Instagram, Twitter or Facebook.
Linkies
I'm sending this remarkable cake off to Katie at Feeding Boys for Simple and in Season. Rhubarb has a wonderfully long season in the UK. It starts in April and goes on until September, but it's probably at its best now in June.