If you've been wondering why so many bakers have been extolling the virtues of spelt flour in recent years, read on. Here you'll find out some of its benefits and why spelt is the baker's friend. Is it really healthier than other flours? How do you bake with it and where can you buy it from? You'll find the answers to these questions and more in this post.
So, What's All The Fuss About Spelt Flour?
I'm a keen whole food home baker and flour fascinates me. I've tried many different types over the years, but wholemeal spelt flour has remained my favourite. I've baked with it for at least twenty five years. It tastes good, performs consistently well and it's really versatile. It's a healthier flour than most wheat flours too.
Spelt, Triticum spelta, is an ancient grain, also known as dinkel or hulled wheat. It's in the same family as wheat, barley and rye, but is most closely related to emmer. Originally, it grew in Iraq around 5,000 to 6,000 BC and its cultivation spread to Europe in the Bronze age. But with the rise of industrial farming and modern wheat strains it lost its popularity. For many years it was principally used as animal feed.
Wholegrain spelt flour is not as heavy as ordinary wholemeal flour, so it rises better and produces a lighter bake. It has a good nutty flavour with the added benefit of being lower in gluten than ordinary wheat flour.

Basically, wholegrain spelt flour can be used in pretty much any recipe calling for either plain flour or wholemeal flour. It absorbs a little more liquid than plain white flour and a little less than regular whole wheat flour.
Is Spelt Flour Really Healthier?
Like most ancient grains, spelt has a tough husk. This makes it harder to process than modern wheats, but it helps protect and retain the nutrients inside the grain.
Spelt is generally easier to digest than ordinary wheat as it's more water soluble. It's also likely that over the millennia our digestive systems have adapted to it. Some people who are sensitive to modern wheat find they can eat bread and cakes made with wholemeal spelt flour and suffer no ill effects.
WARNING – If you're coeliac or are allergic to wheat or gluten in any way, you should not eat spelt flour.
Wholemeal spelt is a great source of soluble fibre. This can slow down the absorption of sugars in the gut and help you feel full for longer. Spelt is meant to be a good source of minerals including, calcium, selenium, magnesium, iron, zinc, and manganese. It also contains E and B vitamins and is especially high in niacin. It's also worth noting that the proteins it contains seem to be higher and more soluble than common bread wheat.

As wholegrain spelt flour has such a good nutritional profile, it's reputed to have many health benefits. Some of these include, helping to regulate the metabolism, improving the immune system, lowering blood sugar and reducing bad cholesterol.
Why Stoneground Spelt Flour?
Grinding flour with stone goes back a long way, though no-one's quite sure to exactly when. It was certainly well before the ancient Egyptians adapted the technology. The Greeks and Romans perfected the method, which was predominantly used around the wheat eating world until the late 19th Century.
At this point the Americans came up with industrial steel roller mills. These separate the bran and germ from the endosperm. Bran provides healthy fibre as well as essential vitamins and the germ contains protein, vitamin E and fatty acids. The high speed steel roller process overheats and dehydrates the flour. This in turn destroys some of the grains' important nutrients.
Even for wholemeal flour produced in this way, they will thrash the bran and germ to make it as small as possible and then recombine it with the milled grain.
When it comes to stoneground flour, grains are ground slowly, gently and cooly between two stones. This results in a less fine flour, but one in which vital vitamins and nutrients are retained. The process also retains the endosperm, bran and germ in their natural proportions.
I couldn't find any corroboration for this, but I've heard that today, only 0.05% of UK flour is stoneground. I suspect and hope, that as more people are getting interested in whole grains, that figure is rising.
Why Organic Spelt Flour?
Organic farmers have to work with the soil to improve it as they're not allowed to use artificial fertilisers and most pesticides. They have higher levels of environmental and animal welfare too. I believe, in my small way, I'm helping to improve our countryside as well as ensure that some of the food I'm eating is healthier than it might otherwise be.

Luckily, most of the stoneground flours available in the UK are also organic, so they are easy to find. This month is #OrganicSeptember, so now might be just the time to try out some organic wholemeal spelt.
Further Information
For more information on stoneground versus rolled flours, you could do no better than head to Andrew Whitley's book Bread Matters*. This contains a wealth of information on pretty much anything to do with bread and grains.
You might also want to take a look at my wholegrain flours post and key ingredients for healthier baking.
What Can I Make With Wholemeal Spelt Flour?
You may have gathered by now that wholemeal spelt is my go-to flour for baking. As I've already mentioned, it's incredibly versatile. You can swap it for the flour stated in most recipes. You might need to add more or less liquid, depending on the flour used in the original recipe. As a rule of thumb, add a little bit more if the recipe states plain flour and a little bit less if it's for ordinary wholemeal flour.

If you've never baked with spelt flour before, why not start by substituting your normal flour for a little spelt? You can see how that goes, then as you get more confident, you can increase the amounts progressively. Sometimes, I use half plain spelt or even plain flour and half wholemeal spelt. But I've come to the conclusion that most of the time, this isn't necessary. Spelt manages very well all by itself.
For best results, use fresh spelt flour for your baking. Although if you store it in a cool dry place it will easily last for six months or more.
Spelt Cakes, Cookies and Pastry
If you're looking for a particularly light bake such as madeleines, I tend to sieve out the larger pieces of bran. For most bakes, however, I leave it in.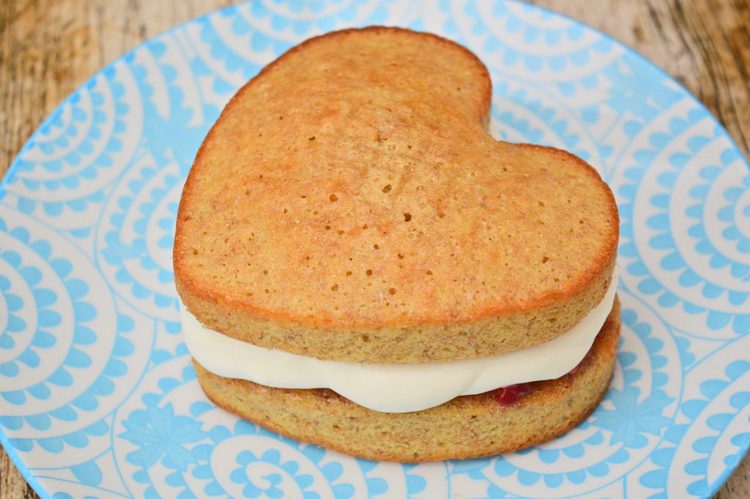 Spelt makes super delicious pastry. It helps to keep it short and give it a flavoursome nutty moreishness. If you overwork wheat flour it can produce tough and unpleasant pastry. But it's much harder to do that with spelt as the gluten levels are lower. One of my favourite pastry recipes is the one I use in this rustic rhubarb galette – minus the orange in most cases.
Spelt Bread
Gluten is a net that catches the bubbles of gas and creates strands which hold the bread together. The gluten in spelt isn't as strong as in ordinary wheat flour, so your bread might not rise as high as you'd expect. The plus side is that because of this spelt dough needs little or even no kneading. It won't take as long to rise as an ordinary wheat dough either, so don't leave it to prove too long or it might collapse.
You can also make a good sourdough bread from spelt. It's currently #SourdoughSeptember, so now is a good time to try one. Head over to the Real Bread Campaign for information about this and lots of other real bread matters.
Sauces
You can use spelt to thicken sauces just as you would with ordinary flour. However, if you want a smooth sauce, sieve out the larger pieces of bran. Personally, I prefer not to have too much texture in a cheese sauce for instance. Unless, that is, I'm making something like cauliflower cheese when I'll leave the bran in.
A Selection of Tin and Thyme Recipes Using Wholemeal Spelt Flour
In addition to the recipes I've included in this list, you can click on this wholemeal spelt flour link and it will give you all the recipes on Tin and Thyme where I've baked with this fabulous flour. Be warned, there are a lot. For even more ideas, should you need them, head over to my Whole Grain Baking board on Pinterest.
Where Can I Buy Spelt Flour?
Thankfully spelt flour is a lot easier to get hold of than it used to be. Most supermarkets now sell wholemeal spelt flour and some sell white spelt flour too. But if you can't find them there your local health food shop or whole food shop will sell it. I usually buy mine at Waitrose as they stock my favoured stone milled brand.
You can, of course, also buy it online at any number of outlets.
Which Brand should I Use?
As with anything, it's horses for courses. Some brands are more highly processed than others. Some flour is finer, whilst others contain larger flakes of bran. Most spelt flours are organic, but not all. Price may affect your choice too.
I've tried a few and as mentioned above, I like to stick to traditional stoneground organic wholemeal flours. Sharpham Park* flour is quite fine, Shipton Mill* and Gilchesters are said to be some of the best. My favoured brand though is Bacheldre Mill*. It's easier to get hold of than most, it's reliable and it's generally cheaper than the others. I've been using it for years and have only ever had one bag that I was unhappy with.
Bacheldre Mill flour is also certified organic by the Soil Association which is the certifying body I most trust. You can read some of the reasons why in this Organic September post.
Why is Spelt Flour So Expensive?
It's true that spelt flour is expensive compared to ordinary wheat flour. This is partly because it requires dehulling, which modern wheats do not. The yields are also much lower due to lack of popular demand. However, the price is likely to come down as more people buy and use it.
We operate on a very tight budget, but flour is one of the staples I think it's worth paying that bit extra for. It's healthier for us, healthier for the environment and generally supports smaller and in my opinion, more ethical producers.
Can I Substitute Another Flour for Spelt?
Cakes, Cookies and Pastry
If the recipe you want to use requires refined or white spelt flour, then you can easily swap it for ordinary plain flour. You can substitute emmer or einkhorn flour for wholemeal spelt flour. These are both ancient grains that have similar properties to spelt.
You can also use ordinary wholemeal wheat flour as well, although you might need to add a little more liquid. This is because standard wholemeal flour absorbs more than wholemeal spelt.
If, however, you're desperate to make the recipe and you only have plain flour, use it. Most recipes should work. You just need to remember to add a little less liquid as plain flour is not as absorbent.
Gluten-Free
I've also found that a direct swap with Free From Fairy's gluten-free flour works a treat. She creates her flour with whole grains and it seems to have similar absorbency properties.
Bread
Bread is a bit trickier than cakes, biscuits or pastry, as it very much depends on the amount of gluten in the flour you use. You can substitute spelt for strong bread flour, strong wholemeal flour, rye or a combination of flours. But you may need to use more or less liquid depending on the absorbency of the flour you're using. You'll probably need to do more kneading and proving too.
Keep in Touch
Thanks for visiting Tin and Thyme. If you make anything with wholemeal spelt flour, I'd love to hear how it goes in the comments below. Have you any top tips? Do share photos on social media too and use the hashtag #tinandthyme, so I can spot them.
If you have any further questions, please don't hesitate to ask. I may or may not be able to answer them, but it's worth a go.
For lots of delicious and nutritious recipes follow me on Twitter, Facebook, Instagram or Pinterest. And don't forget to SUBSCRIBE to my weekly newsletter.
Choclette x
What is Spelt Flour? PIN IT.

This post contains affiliate links which are marked with an *. If you buy through a link, it won't cost you any more, but I'll get a small commission. Thanks for your support of the brands and organisations that help to keep Tin and Thyme blithe and blogging.