Run out of ideas to make your lunch more interesting? You're bound to find something suitable with these 31 healthy vegan lunch recipes. Tasty sandwiches, quick lunches, soups, lunch box ideas or something a bit more special, we've got you covered. There's a few of bonus recipes thrown in to liven up your sandwiches too.
Last year I took the Veganuary challenge with some trepidation. Could I really manage a whole month without dairy? It seemed I could and this post for 31 healthy vegan breakfast recipes really helped. Breakfast and lunch were the two meals I was most concerned about. This year I was looking forward to taking part once again. And so far I'm really enjoying my healthy vegan diet.
Vegan Lunch
I've been a bit lackadaisical when it comes to lunch, however. Hummus sandwiches or almond butter and Marmite on toast are where I'm at. I feel I need to up my game and get a bit more variety into my lunches.
So to inspire us all I've put together these 31 healthy vegan lunch recipes. There's one for each day of Veganuary. Yes I know we're nearly half way through the month now, but the recipes will surely be good for the rest of the year too. And next year will be here before you know it.
31 Healthy Vegan Lunch Recipes
So if you're looking for lunchbox ideas, things to put on toast or quick lunches for home consumption, take a look at the following 31 healthy vegan lunch recipes. In the spirit of new year healthfulness, they're all savoury.
Some of the recipes come from me and others from fellow food bloggers. You'll find most of them are quick and easy to prepare. They're also nutritious and most importantly, good to eat. In addition there are a couple of bonus recipes for making your sandwiches extra yummy.
Sandwiches
When I'm working away from home, I find sandwiches are the quickest and easiest things to make. And as I make my own rye sourdough bread, I really enjoy them, even if the fillings are quite simple. But I'm getting a bit bored now with hummus and pickled carrots – nice as they are.

One of my favourite sandwiches is the tofu, lettuce tomato sandwich pictured above. It feels sort of decadent and special somehow. From Choclette at Tin and Thyme
If you love Mexican flavours these cilantro lime rice and black bean burritos are the sandwiches for you. From Vandana at Green Bowl to Soul.
Tasty and filling you can eat these jerk jackfruit wraps at your desk, on the go or in the comfort of your own home. From Jessica at Vegan Punks.
Vegan cream cheese is a really useful spread to have to hand. This cream 'cheese', spiced pickled beetroot and lettuce sandwich includes a recipe for how to make it. From Choclette at Tin and Thyme.
Ready in just five minutes, the filling for this smashed chickpea & avocado sandwich is also great spread on toast. From Dixya of Food, Pleasure and Health.

For a stunning looking sandwich, it would be hard to beat this rainbow roast vegetable sandwich. From Anthea at Rainbow Nourishments.
Tofu banh mi is a vegan version of the classic Vietnamese sandwich. It's made with marinated tofu, crunchy vegetables, chillies, coriander and spicy sauce. From Mandy at Veggielicious.
For anyone missing eggs, this simple tofu egg salad makes the perfect sandwich filling. No cooking required and can be ready in ten minutes. From Valentina at The Baking Fairy.
Likewise if you love the fishy taste of tuna, this vegan tuna salad sandwich is for you. From Jasmin at Ve Eat Cook Bake.
Things To Make Sandwiches Extra Yummy

Vibrant, fresh and zingy carrot top pistou from Choclette at Tin and Thyme. Just spread on both slices of bread before filling with salad and crisped tofu slices, vegan cheese or whatever else you fancy.
You can't have a list of delicious vegan sandwiches without a good recipe for vegan mayonnaise. Mine is a really quick and easy one to make, but it's really very good.
These days it's rare for me not to have a jar of carrot pickles on the go. They add zing and crunch to loads of sandwiches. From Choclette at Tin and Thyme.
A dab of my favourite ever spiced apple chutney can liven up most sandwiches. From Choclette at Tin and Thyme.
Homemade hummus is always useful to have to hand. Here's my recipe for traditional hummus.
Cook Once Eat Twice
Sandwiches are all well and good, but variety is the spice of life and all that. Sometimes it's just good to have a change. There are lots of recipes you can cook up in advance. You can then use these on an ad hoc basis when you fancy something different or don't have time to prepare anything. Keep them in the fridge or freezer until needed. Leftovers from the previous night's evening meal often make excellent lunchbox material too.

For something completely different, how about making up a batch of vegan sushi to liven up your lunchbox? It's easier than you might think. From Alexa at Key to My Lime.
Homemade falafel are much easier to make than you might think. Once made they freeze well and can be taken out for a vegan lunch as and when needed. From Choclette at Tin and Thyme
If you love bean, sweet potatoes, quinoa corn and southwestern flavours this southwest quinoa salad is for you. From Stacey at Stacey Homemaker.
Vegan spam musubi is a completely new one on me, but I'm now keen to try it. From at Robin Vegan Dollhouse.

How to prep tempeh & squash Buddha bowls with turmeric tahini sauce. Only takes an hour and makes four work lunches. From Allison at Up Beet Kitchen.
Sicilian pasta salad makes a lovely summer supper, side dish or contribution to a buffet type meal. Pack any leftovers into lunchboxes for the following day. It's absolutely fabulous. From Choclette at Tin and Thyme.
Another one which is good to make ahead for packed lunches is dhaniya pulao. From Swati at Food-Trails.
On Toast
When I'm at home, toast is my go to favourite. If I have a more substantial lunch, I'll often have toast for my evening meal. It's quick to prepare, easy to make and delicious.

Since I came up with this mushroom pâté last Veganuary it's become one of my go to lunch recipes. Made with mushrooms, walnuts and butter beans it's perfect for spreading on toast or for filling sandwiches. From Choclette at Tin and Thyme.
You can't have a toast section without a recipe for avocado toast. This one from Annabelle at The Flexitarian includes coriander, mint and zaatar.
Not all toast needs to be bread. Take a look at these simple sweet potato toast recipes from Amanda at My Goodness Kitchen. Just pop your slices of sweet potato into the toaster.
For anyone missing cheese on toast, how about this vegan chickpea tuna melt? Creamy, gooey, satisfying, filling, perfection, moreish is how Nava from Yum Vegan Food describes it.
All you need to spread on this sourdough banana bread when toasted is your favourite nut butter. From Choclette at Tin and Thyme.
Soup
Like the section above, soup is one of those things you can cook once then eat twice – or more. Well, apart from my beetroot miso soup that is. If you have a flask to keep liquids hot, soups are also great for packed lunches.
My Froothie Evolve power blender * is just the best for making soups. You can find out all about it in my Froothie Evolve review. Throw a few ingredients into the cooking jug, wait for thirty minutes and you have a delicious smooth or chunky soup.

Super low calorie but extremely tasty lettuce & pea soup with new potatoes. The croutons are an optional extra. From Choclette at Tin and Thyme.
Chuck it all in a pot and whizz spiced parsnip spinach soup. The sweetness from the parsnips, acidity from the apple and earthiness from the spinach give it a particularly tasty and rounded flavour profile. From Choclette at Tin and Thyme.
You absolutely can't miss out on the best lentil soup livened up with lots of dill and lemon juice. From Sophie at Wholehearted Eats.
Beetroot miso soup makes a surprisingly filling, delicious & nourishing meal. It's easy to make and the only cooking required is the beetroot. Excellent served as a light lunch or simple supper. From Choclette at Tin and Thyme.
A super smooth squash and red pepper soup which becomes even more delicious with a can of coconut milk. From Choclette at Tin and Thyme.
Special Lunches in 30 Minutes Or Under
Sometimes you just want something a bit more special than a sandwich for lunch. You might have friends or family hot footing it over to you for a meal. It probably wouldn't do to hand them a couple of slices of toast because, let's face it, they're most likely going to be disappointed.
It could be that you like to sit down to a leisurely lunch at the weekend or you might just have a bit more time on your hands than usual. These special lunch recipes are the ones to go for in these instances.

Only ten minutes to make these lightening fast Thai coconut curry noodles. You don't need much more than mushrooms, coconut milk, curry powder and chilli sauce. From Emily at Oat & Sesame.
For a slightly lighter summer dish, this snap pea, arugula & farro salad looks appetising. From Megan at Short Girl Tall Order.
Serve these smoky sweetcorn pepper fritters with salad for an elegant lunch. From Choclette at Tin and Thyme.
Enjoy a warm bowl of garlicky Greek chickpeas & spinach. Serve with crusty bread, rice or quinoa. From Alisa at Go Dairy Free.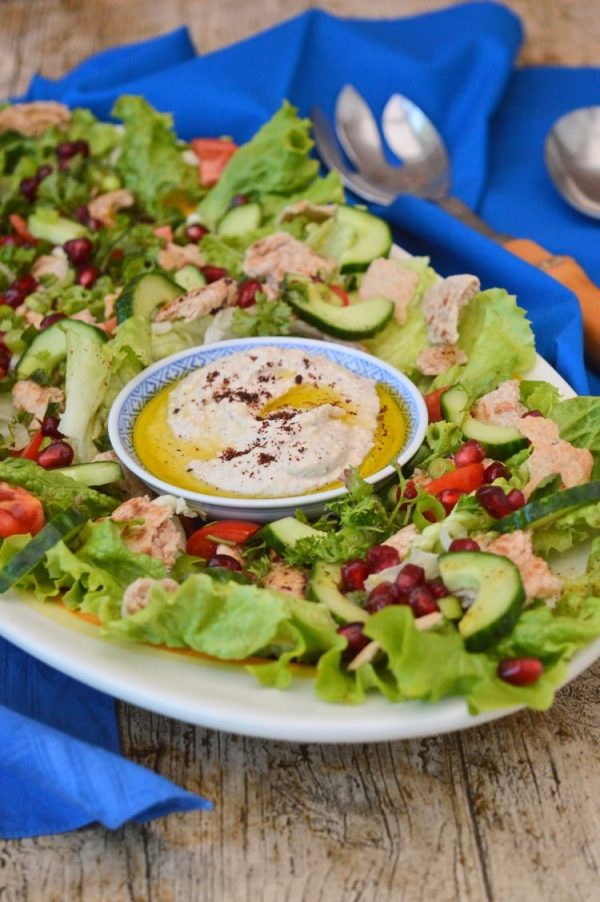 Nothing else needed with this fattoush with sumac hummus and pomegranate. Recreated by Choclette on Tin and Thyme from the book Seriously Good Salads by Nicky Corbishley.
For a quick and easy lunch that turns a toast idea into something special, how about a tortilla pizza? You can vary the toppings to suit. From Yaz at By The Forkful.
Your Favourite Healthy Vegan Lunch Recipes
I hope you found something to inspire you with these 31 healthy vegan lunch recipes. Let us know if you've tried any of them in the comments below. We'd love to hear what your favourites lunch recipes are too. Do you have any tips to share?
For more delicious and nutritious recipes follow me on Twitter, Facebook, Instagram or Pinterest. And don't forget to SUBSCRIBE to my weekly newsletter.
If you'd like more vegan recipes, follow the link and you'll find I have quite a lot of them. All delicious, of course.
Choclette x
31 Healthy Vegan Lunch Recipes. PIN IT.