A simple but delicious pasta salad that everyone can eat and everyone will love. Full of juicy tomatoes and fresh herbs, it's both vegan and gluten-free.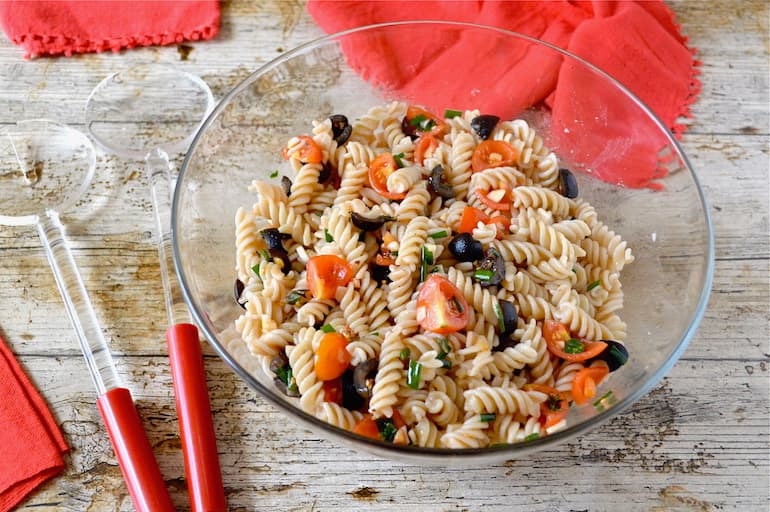 Do you have a go-to summer pasta dish? This Sicilian pasta salad with tomatoes, olives and fresh herbs is mine. I learnt the basic recipe from my Sicilian sister-in-law many years ago and as the tomato season draws nigh, I wait in eager anticipation. Andiamo!
Sicilian Pasta Salad
It's a very simple recipe, so the quality of the ingredients is crucial. Ripe, juicy flavoursome tomatoes are a must as is a good flavoursome cold pressed olive oil.
When I was first shown how to make this Sicilian pasta salad, it only had eight ingredients: olive oil, tomatoes, olives, garlic, basil, salt, pepper and pasta. Of course, it's very adaptable and I change it a little each time I make it. I tend to use whatever fresh herbs I have to hand, although basil is my favourite. I also add a dash of chilli sauce.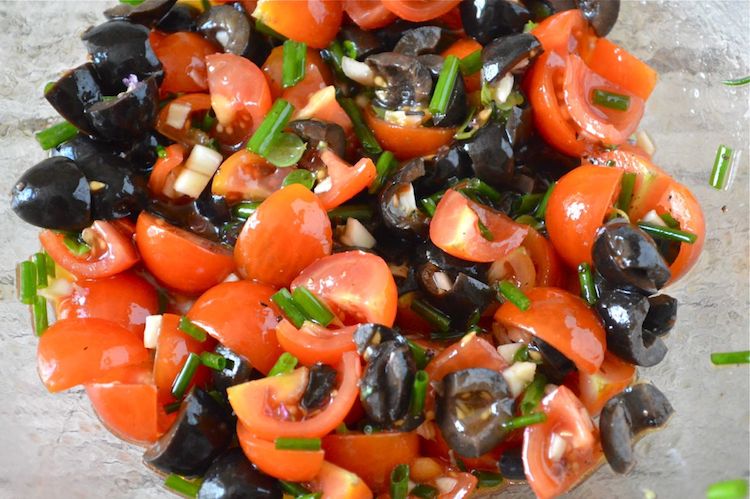 Just ensure the tomatoes marinade for at least an hour before adding the pasta and it will never cease to delight. Buon appetito, but beware the post-prandial abbiocco which follows if you overindulge.
Vegan Summer Pot Luck
This Sicilian pasta salad is a great dish for summer as the only cooking required is the pasta. It can also be made well in advance and is just as delicious the next day. I tend to make double the quantity I need, just so we have enough for the morrow.

It makes a good pot-luck dish for this very reason. As the dish is vegan and can easily be gluten-free too, everyone can tuck in with complete freedom. Serve it warm as soon as the pasta is added or at room temperature, but don't eat it straight from the fridge. I find the flavour and texture is spoiled when cold. All we need now is for some Italian style sunshine before summer's over. Magari!
Gluten Free Pasta
I used brown rice fusilli pasta this time, just to see how a gluten-free pasta would stack up. I was actually quite impressed. Molto delizioso. I'm lucky enough not to be gluten intolerant, but it's good to know there are an increasing amount of good quality gluten-free ingredients out there.

The pasta came from Suma with my latest order along with the olive oil, olives, capers and black pepper. In the end I decided not to use the capers.
Other Summer Recipes You Might Like
Keep in Touch
Thanks for visiting Tin and Thyme. If you make this Sicilian pasta salad, I'd love to hear about it in the comments below. And do please rate the recipe. Have you any top tips? Do share photos on social media too and use the hashtag #tinandthyme, so I can spot them.
For more delicious and nutritious recipes follow me on Twitter, Facebook, Instagram or Pinterest. And don't forget to SUBSCRIBE to my weekly newsletter.
If you'd like more pasta recipes, follow the link and you'll find I have quite a lot of them. All delicious, of course.
Choclette x
Sicilian Pasta Salad. PIN IT.

Sicilian Pasta Salad – Get the Recipe
Sicilian Pasta Salad with Tomatoes, Olives & Fresh Herbs
A simple but delicious pasta salad that everyone can eat and everyone will love. It's both vegan and gluten-free.
Ingredients
250

g

ripe, fragrant & juicy tomatoes – chopped

20

black olives – pitted & quartered

4

tbsp

good quality extra virgin olive oil

2

cloves

garlic – finely chopped

small bunch of basil or other herbs – chopped

I used marjoram, thyme & chives

good grinding of black pepper

1

pinch

sea salt

½ 

tsp

chilli sauce

optional

320

g

dried fusilli pasta

I used organic brown rice fusilli
Instructions
Place all the ingredients, except the pasta, into a large bowl. Give it a good stir and leave to marinate for an hour.

Cook the pasta as per pack instructions. Drain it and mix into the other ingredients whilst the pasta is still hot.

Serve warm or at room temperature.
Notes
Keep covered in the fridge for up to 36 hours, but bring to room temperature before serving and stir well.
Double or triple quantities for larger gatherings.
Please note: calories and other nutritional information are per serving. They're approximate and will depend on exact ingredients used.
Nutrition
Calories:
465
kcal
|
Carbohydrates:
64
g
|
Protein:
11
g
|
Fat:
18
g
|
Saturated Fat:
3
g
|
Sodium:
336
mg
|
Potassium:
341
mg
|
Fiber:
4
g
|
Sugar:
4
g
|
Vitamin A:
863
IU
|
Vitamin C:
10
mg
|
Calcium:
45
mg
|
Iron:
2
mg
Tried this recipe?
Please take a photo and mention @choclette8 or tag #tinandthyme on Instagram, Twitter or Facebook.
Sharing
This Sicilian pasta salad with tomatoes, olives and herbs is my tenth recipe for the Suma Blogger's Network.
The salad also goes to Jac at Tinned Tomatoes for Meat Free Mondays.
Cook Once Eat Twice at Searching for Spice gets a share as well.
As does #CookBlogShare which is hosted by Recipes Made Easy this week.
Lastly I'm sending this Sicilian pasta salad to Le Coin de Mel for #FreeFromFridays as it's pretty much everything free.
Some of the ingredients for this recipe were provided by Suma. I was not expected to write a positive review and all opinions are, as always, my own. Thanks to my readers for supporting the brands and organisations that help to keep Tin and Thyme blithe and blogging.