Fattoush with sumac hummus and pomegranate is one of the many gorgeous salads you'll find in Nicky Corbishley's cookbook, Seriously Good Salads. It's fresh and zingy with a whole host of flavours that really sing. And it makes for a most fabulous summer lunch.
Even though I love raw foods and enjoy good salads, something inside me still wilts a little at the thought of salad. I put this down to the classic British salad of limp lettuce with underripe tomatoes and a couple of pieces of cucumber if you're lucky.
Thankfully things have moved on a lot since then and I haven't had one of those in a very long time. It has, however, had a lasting effect on me. Seriously Good Salads is all about tasty, appealing and nutritious salads. As Nicky says "say goodbye to sad salads". I'm all for that.
Seriously Good Salads
Seriously Good Salads: creative flavor combinations for nutritious, satisfying meals is a recently published cookbook by Nicky Corbishley. Nicky is a well established food blogger at Kitchen Sanctuary, where she specialises in delicious and simple family friendly recipes.

The book pretty much does what is says in the title. Creative? Yes. Would you have thought of coconut brown rice berry salad with mango and mint? Flavour? Big flavours abound and I could see immediately that world cuisine is well represented. Nutritious? The meals are all well balanced with lots of nutritious veg, fruit or herbs but also some sort of delicious protein and the all important carbs.
Satisfying? The recipes look both substantial and beautiful. Food for the soul as well as the body. One quick flick through the book and my mouth was watering big time. Suddenly, I wanted salad and lots of it.
Vegetarian and Vegan Salads
This is not a vegetarian cookbook, but it does contain a lot of vegetarian recipes. Korean bibimbap salad with red rice, falafel salad bowl with pomegranate and feta dressing and Turkish egg salad with yogurt sauce and bulgur wheat are just a few of the ones that jumped out at me.
The vegan salads are few and far between, but when you do find them, they look really good. The rainbow noodle salad with Thai peanut dressing is just gorgeous. Tweak the salads to make many of the meat ones either vegetarian or vegan. It's easily done.

Salad Isn't Just for Summer
Personally, I want to eat salad in the spring and summer, not so much in the autumn and winter. But, there are plenty of substantial and delicious looking autumn and winter salads in the book that might just tempt me. Hasselback honey carrot salad with chickpeas and feta is quite similar to something I do. Only I just roast my carrots. These hasselbacks look much prettier and carry the flavours better too. I also have my eye on the garlic mushroom and roasted squash salad. Mushrooms and squash are a delicious combination and I'd happily eat this salad at any time of the year.
And who doesn't love a noodle salad? Nicky says this winter noodle salad with miso dressing is both comforting and satisfying. It can be served at either room temperature or warm.
Salad Dressings
Seriously good salads contains over 70 salad recipes plus a final bonus chapter on salad dressings. Dressings can make or break a salad and for me, they're often the most important element. I'm going to have to try Nicky's smoky cajun buttermilk dressing soon and probably the creamy chimichurri dressing too.
What I Really Liked
I really liked the concept of this book. The salads are my kind of food, big, bold and sumptuous with lots of flavour layered in. You can probably tell from my recent sausage salad for a sizzling summer, how I like them. I'll be making many of Nicky's recipes for sure and I shall, no doubt, use others as sources of inspiration for many years to come. This week I plan to make this fattoush with sumac hummus recipe again. I might even make my own hummus this time.

The photos of the recipes are stunning and they're all taken by Nicky herself. What a feat to create so many outstanding salads and then photograph them beautifully too. Am I allowed a little blogger envy?
What Could Have Been Done Better
As a vegetarian, I'd like to have seen fewer meat and fish dishes. These recipes made up half of the book between them. That said, it's easy to adapt many of the salads. You could easily swap the chicken for tofu in the Mexican grilled chicken and corn salad with sour cream dressing, for example. The tofu would soak up those gorgeous spicy lime & honey flavours wonderfully.
Call me fussy, but I'm not very keen on paperback cookbooks. I get that they're cheaper to produce, but they don't stand up so well to being used in the kitchen as hardback books do.
Publisher Details
Seriously Good Salads: creative flavor combinations for nutritious, satisfying meals by Nicky Corbishley. Paperback. Published by Page Street Publishing, 2019.
Published in the UK on 1 August. You can pre-order Seriously Good Salads* on Amazon now for £17.72.
Fattoush with Sumac Hummus & Pomegranate
In all my years of cooking and with my love of Middle Eastern food, I've never made fattoush. Until now that is. Somehow a bread salad didn't really appeal. Nicky's recipe for fattoush with sumac hummus has changed all that. She adds a great big dollop of hummus flavoured with sumac to the dish and I reckon it's a game changer. It turns a simple fattoush into a meal.
Fattoush is a chopped salad originating from either Lebanon or Syria. It contains tomatoes, cucumbers and other salad ingredients, but crucially, stale flatbread and lots of fresh herbs. The flatbread is either toasted or fried to give a crisp texture. But it also soaks up the flavours and provides substance.

I had a friend over for lunch recently and this fattoush recipe seemed like the perfect one to make for the occasion. It's a quick and easy recipe to make, especially if, like me, you cheat. I wanted to spend a minimal amount of time preparing lunch as I was more interested in catching up with my friend. But I wanted to give her something delicious. It all worked perfectly and my friend fell in love with the fattoush salad. The flavours are fresh and vibrant and really pop in the mouth.
The key is to use super fresh ingredients and ripe flavoursome tomatoes. I used the first of our homegrown outdoor tomatoes which were both juicy and tasty. We have parsley and mint growing in the garden, so they went in too. I didn't have any red onions, so I went with extra spring onions (scallions) instead.
For something more substantial, you could alway make some of my homemade Egyptian falafels.
Cheat's Option
So, in what way did I cheat? Nicky's fattoush recipe assumes you'll make your own sumac hummus. I didn't. I often make my own hummus, but with speed a key for me on this occasion, I used some readymade. All I had to do was take it out of the fridge and stir in some sumac. Job done. I decided go my own way even further and served it in a bowl rather than spread directly onto the salad.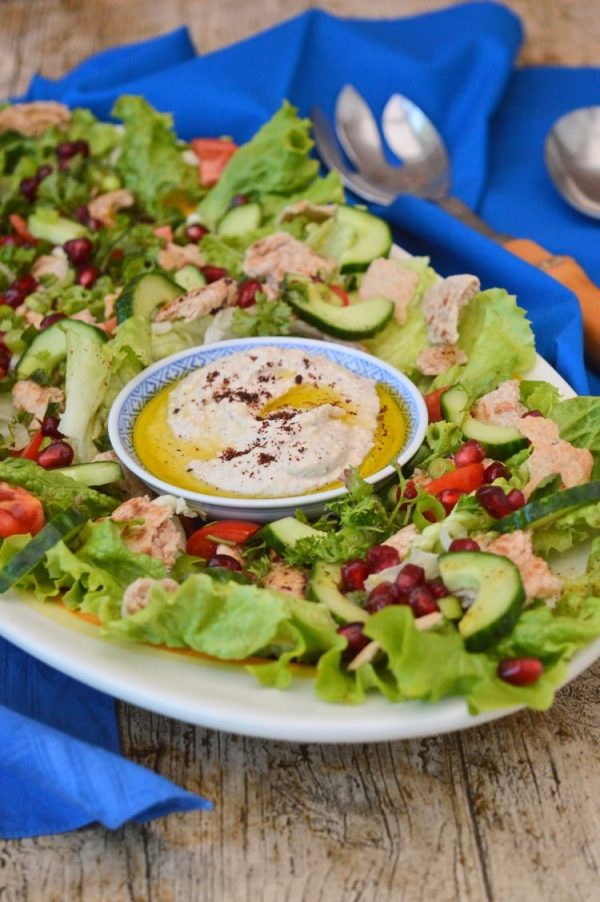 I also bought a pack of pomegranate seeds (arils) rather than removing them myself from an actual pomegranate. If you have the time, fresh pomegranate arils are always going to be better. Nicky gives a tip in her fattoush recipe on how to remove them from the fruit "without leaving your kitchen looking like a crime scene".
Other Salad Recipes You Might Like
Keep in Touch
Thanks for visiting Tin and Thyme. If you get hold of Seriously Good Salads* or try this recipe for fattoush with sumac hummus and pomegranate, I'd love to hear about it in the comments below. And do please rate the recipe. Have you any top tips? Do share photos on social media too and use the hashtag #tinandthyme, so I can spot them.
For more delicious and nutritious recipes follow me on Twitter, Facebook, Instagram or Pinterest. And don't forget to SUBSCRIBE to my weekly newsletter.
For further book reviews, follow the link and you'll find I have quite a lot of them.
Choclette x
Fattoush with Sumac Hummus. PIN IT.

Fattoush with Sumac Hummus & Pomegranate – The Recipe
Fattoush with Sumac Hummus and Pomegranate
A Middle Eastern bread salad. It's fresh and zingy with a whole host of flavours that really sing. It makes for an easy and delicius summer lunch.
Ingredients
Salad
2

pitta breads

(I used wholemeal)

4

large vine-ripened tomatoes – chopped into bite-size chunks

½

cucumber – seeded and sliced

½

red onion – sliced

(I used 2 additional spring onions instead)

2

spring onions (scallions) – chopped

1

head romaine lettuce – shredded

20

g

⅓ cup fresh mint – chopped

20

g

⅓ cup parsley – chopped

½

pomegranate – arils only

pinch of sumac

pinch of freshly ground black pepper
Lemon Dressing with Sumac
1

lemon – juiced

3

tbsp

olive oil

¼

tsp

salt

(I used sea salt)

¼

tsp

freshly ground black pepper

½

clove

garlic – peeled and minced

½

tsp

light brown sugar

1

tsp

sumac
Sumac Hummus
1

can

chickpeas (400g, 14oz) – drained and rinsed

1 ½

tbsp

tahini

1

tbsp

freshly squeezed lemon juice

1

clove

garlic

2

tbsp

olive oil

1 ½

tsp

(4g) sumac, divided

¼

tsp

salt

pinch of freshly ground black pepper

pinch of red pepper flakes
Instructions
In a large dry skillet, toast the pitta breads over high heat, then tear roughly into chunks (or toast under the grill or in a toaster as I did).

In a small bowl, whisk together all of the dressing ingredients.

In a large bowl, combine the pitta chunks, remaining salad ingredients and the dressing. Toss together and transfer to a serving dish. Allow to sit for a few minutes while you make the hummus.

To prepare the hummus, in a food processor, process the chickpeas for 1-2 minutes, or until smooth. Add the tahini, lemon juice, garlic, oil, all but ¼ teaspoon of the sumac and the salt and pepper. Blend again until thick and creamy.

Spoon the hummus onto the serving dish, swirling with a spoon. Sprinkle with the red pepper flakes and remaining sumac.
Notes
For my cheat's version, use readymade hummus and a pack of pomegranate seeds.
Tin and Thyme modifications are in brackets.
Tried this recipe?
Please take a photo and mention @choclette8 or tag #tinandthyme on Instagram, Twitter or Facebook.
Sharing
I'm sharing this fattoush with sumac hummus and pomegranate with The Peachicks Bakery for #CookBlogShare.
Thanks to Page Street for the copy of Seriously Good Salads which they sent me to review. They did not expect me to write a positive review and all opinions are, as always, my own. This post contains affiliate links which are marked with an *. If you buy through a link, it won't cost you any more, but I'll get a small commission. Thanks to my readers for supporting the brands and organisations that help to keep Tin and Thyme blithe and blogging.