A simple, economical, but delicious jam almond cake recipe. It's based on a traditional Brighton sandwich cake and is reminiscent of an easy-to-make Bakewell tart. Two layers of almond flavoured dough hold a fruity burst of jam in the middle. Top with whole almonds, which roast to perfection as the cake bakes.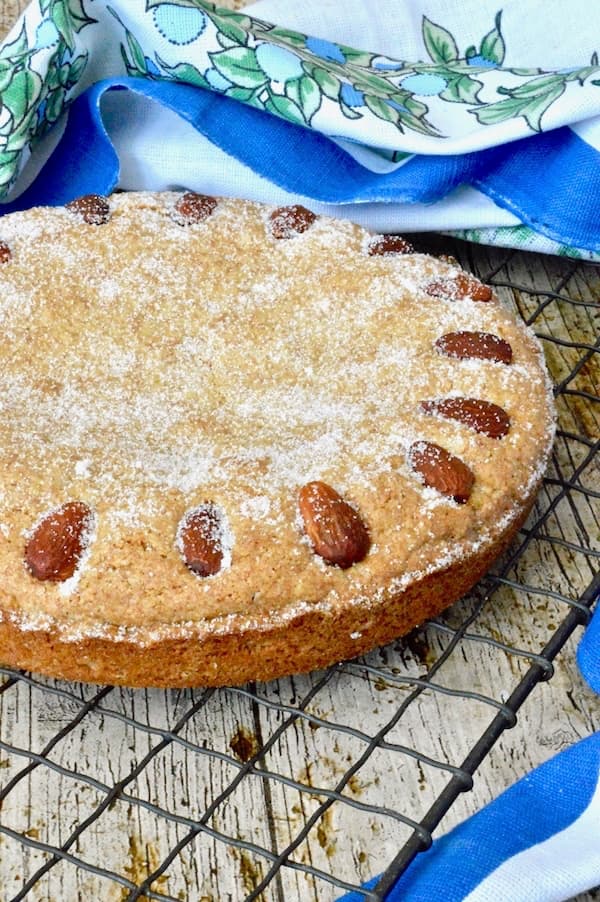 Sometimes the old ones are the best ones. I often find that the older more traditional everyday cakes that our grandmothers and theirs used to bake are just as delicious as all our fancy pants cakes with their buttercream and ganaches.
When I first made this jam almond cake, I'd borrowed another cookbook from our local library. This was Miranda Gore Browne's Bake Me a Cake as Fast as You Can. It has lots of recipes for easy-to-bake cakes, which all sound quite delicious. The one that caught my eye, however, was Brighton Cake.
It's a very old fashioned and simple cake where you rub the butter into the flour rather than creaming it. A bit of nostalgia crept in when I saw it along with a burning need to use up some very old jars of jam.
Jam Almond Cake
My version of a Brighton sandwich cake, is a little different to Miranda's. This was back in the day when Tin and Thyme was Chocolate Log Blog and recipes had to contain chocolate. After so many years baking with chocolate, I knew that white chocolate works well in many bakes. It has a particular affinity with fruit too. You will thus find white chocolate in this, otherwise, very simple bake.

Despite the name, there are no ground almonds in this cake. It's made with flour. Initially I made it with half wholemeal and half plain. But I now make it with one hundred percent wholemeal spelt flour. which works just as well. It has the added bonus of providing various vitamins and minerals as well as plenty of fibre.
I upped the quantities of the original recipe to try and make a twenty centimetre (eight inch) round cake.
As well as adding white chocolate to the mix, I occasionally add a teaspoon of maca powder. This is mostly to kid myself that I'm making a healthy cake, but it's absolutely not necessary. So don't worry, I haven't listed it as an ingredient in the recipe below.
The first time I made this jam almond cake, I used a small jar of homemade fig and pomegranate jam. It was delicious. Raspberry jam is the one most often used in a Brighton sandwich cake, but I find plum works particularly well. As plums are in the same family as almonds, they have an affinity. However, use whatever jam you fancy or have to hand. It will still give a fruity burst of flavour and sweetness.
Top Tip
Less is more when it comes to almond extract. I use slightly less than a teaspoon. I'm glad I was cautious initially though as Miranda's recipe stated two teaspoons for a smaller quantity of mix than I used. I fear the cake might be too overpowering to enjoy with that amount.
How To Make Jam Almond Cake
I've fallen in love with this simple, but really quite delicious cake. It's rather like a Bakewell tart with its almond flavoured bottom and crust with a jam filling. But it's much simpler and easier to make.
I expect the white chocolate helps to give a slightly richer feel. The texture is just how I like it: a little crunchy on the outside and soft and melting on the inside.
As the mix is quite stiff, more like dough than batter, the jam stays nicely in the middle and doesn't sink. Bonus!
The method for making the cake dough is the same as for making scones. You need fridge cold butter cut into small cubes. Place your dry ingredients into a large bowl, then rub the butter into those ingredients with our fingertips. Keep going until the mixture resembles breadcrumbs.


Top Tip
Use a large mixing bowl so that you have plenty of room to move your hands. I find I get cramp if I try and do this in a small steep sided bowl.
Grate in some of that enriching white chocolate and stir to combine. Then you break in an egg, add some almond extract and stir with a fork to combine. You should end up with a soft and slightly sticky dough. It will, however, depend on the size of the egg you've used and the state of your flour.


Ideally, you're looking for something you can roll out. But don't despair if your mixture is too wet, you can still use it. For the bottom layer, I use the aforementioned fork to spread half of the dough over the base of the cake tin. You can, however, roll it out if you prefer and if your dough is dry enough. Make sure you use a floured board and rolling pin.
Choose your jam and spread it in a thin even layer over the top. I used plum jam in the photo you can see below.

Now this is where I get the rolling pin out. If my dough is up to it, of course. Roll the remaining half of dough out on a floured board to a round big enough to fit your tin. Place it on top of the jam, then press the edges together slightly so that the jam doesn't seep out.
Top Tip
If your dough is too sticky to roll, dollop small spoonfuls over the top of the jam and try to spread it across the top as best you can. You can see that's how I did it in the photograph below.

Press whole almonds, blanched or with skin on, around the edge of the cake. Then pop it into the oven and bake. Sprinkle a little caster sugar over the top as soon as it's out of the oven. This ensures that most of the sugar will stick to the cake.


Afternoon Tea
The very first jam almond cake I made was for afternoon tea. It may seem a bit plain for such an occasion, but it's the sort of cake that actually performs very well. Whilst it might not get top marks on the cat walk, it's very pleasing to eat. It works both as a dessert and when hosting guests for a coffee morning or afternoon tea.

You can always jazz it up with some whipped or clotted cream if you feel it needs it.
A friend gave me a beautiful cake cutting for Christmas – a knife and slice. It's fair-trade and the handles are made out of recycled bone. See the picture below. This very same friend was coming around for tea and the occasion was their debut.

Luckily, everyone thoroughly enjoyed the cake and I've been making it ever since. In fact I made one for my mother almost immediately after posting this recipe.
Other Simple British Bakes You Might Like
Keep in Touch
Thanks for visiting Tin and Thyme. If you make this simple jam sandwich almond cake, I'd love to hear about it in the comments below. And do please rate the recipe. Have you any top tips? Do share photos on social media too and use the hashtag #tinandthyme, so I can spot them.
For more delicious and nutritious recipes follow me on Twitter, Facebook, Instagram or Pinterest. And don't forget to SUBSCRIBE to my weekly newsletter.
If you'd like more almond recipes, follow the link and you'll find I have quite a lot of them. All delicious, of course.
Choclette x
Jam Sandwich Almond Cake. PIN IT.

Jam Almond Cake – The Recipe
Jam Almond Cake
A simple, economical, but delicious cake. It's based on a traditional Brighton sandwich cake and is reminiscent of an easy-to-make Bakewell tart. Two layers of almond flavoured dough hold a fruity burst of jam in the middle. Top with whole almonds, which roast to perfection as it bakes.
Ingredients
200

g

wholemeal spelt flour

or try half wholemeal and half unbleached white

1

tsp

baking powder

85

g

golden caster sugar + 1 tsp for sprinkling

85

g

unsalted butter – fridge cold

30

g

white chocolate – grated

(I used Mortimer's white chocolate powder)

1

large egg

¾

tsp

almond extract

2-3

tbsp

jam of your choice

(homemade fig and pomegranate jam is particularly good, but so is plum)

16

almonds – whole or blanched
Instructions
Weigh out the flours and place in a large bowl along with the baking powder and sugar.

Cube the butter and rub it into the flour mixture with your fingertips until the mixture resembles breadcrumbs.

Stir in the white chocolate powder.

Use a fork to mix in the eggs and almond extract. Stir until the mixture forms a rough ball of slightly sticky dough.

Using the fork, press half of the mixture into an 20 cm (8") round silicone cake mould or lined tin.

Spread the jam over the dough.

Depending on how wet the mixture is you can do one of two things for the top. Either place small blobs of the remaining dough over the jam and even it out as best you can with the aforementioned fork. Or roll out the dough out on a floured board to a round big enough to fit the top. Press the edges together slightly so that the jam doesn't seep out.

Place the almonds around the edge of the cake, pressing them down slightly.

Bake at 180℃ (160℃ fan, 350℉, Gas 4) for 30 minutes when the cake should be well risen and firm to the touch. If it's not quite ready, pop it back in for a further five minutes.

Sprinkle with the reserved sugar and allow to cool in the tin for ten minutes. Turn out onto a wire rack to cool completely.
Notes
Please note: calories and other nutritional information are per serving. They're approximate and will depend on serving size and exact ingredients used.
Nutrition
Calories:
257
kcal
|
Carbohydrates:
35
g
|
Protein:
5
g
|
Fat:
12
g
|
Saturated Fat:
7
g
|
Trans Fat:
1
g
|
Cholesterol:
44
mg
|
Sodium:
15
mg
|
Potassium:
181
mg
|
Fiber:
3
g
|
Sugar:
15
g
|
Vitamin A:
299
IU
|
Vitamin C:
1
mg
|
Calcium:
50
mg
|
Iron:
1
mg
Tried this recipe?
Please take a photo and mention @choclette8 or tag #tinandthyme on Instagram, Twitter or Facebook.
Sharing
I'm sharing this simple jammy almond sandwich cake with Family, Friends, Food for #CookBlogShare.
Recipe and post updated in May 2021.