A delicious vegan butter bean and tomato spicy curry served in a hollowed out loaf of bread. My beany bunny chow is a take on one of South Africa's favourite dishes. Serve with a sharp grated carrot salad for a truly satisfying meal.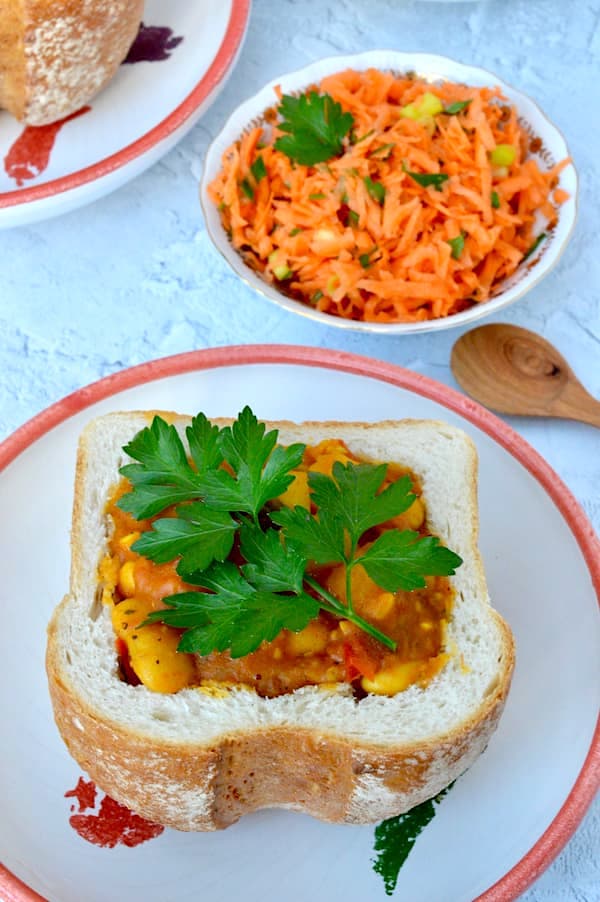 No bunnies were harmed in the making of this dish.
What is Bunny Chow
Bunny chow, or bunny, as it's often referred to is basically curry served in a white bread bowl. Vegetable or bean curry is the traditional filling. But as with most dishes, bunny chow has morphed and now meat curries are also popular.
Spices seem to vary, but the essentials are beans, tomatoes and potatoes. Both the potatoes and beans help to thicken the curry. After all, you don't want anything too liquid going into a bread bowl.

The best bit about a bunny chow, though, is the curry gravy soaked bread at the end.
No one quite knows the origin of the name bunny chow or how this particular method of serving came about. There are lots of theories. But what we do know is that its origins are in Durban in the the early part of the twentieth century. The curry is of Indian origin and Durban is the city with the largest Indian population in South Africa.
It's likely the term bunny comes from "bania", which is the sanskrit name for the Indian merchant caste. Chow is just a colloquial term for food.
Bread is a relatively easy way to carry and hold food without the need for plates or cutlery. One theory is that bunny chow emerged as a way of getting take-outs from those not allowed to eat in restaurants under apartheid.
Whatever its origins, bunny chow is both delicious and fun. It's found pretty much everywhere in South Africa and it's a cheap, easy and filling meal to make at home.
Curry Leaves
One of the key ingredients to a good bunny chow, is curry leaves. These come from the curry tree, Murraya koenegii, which is a sort of citrus. It's native to India and the aromatic green shiny leaves are integral to many South Indian dishes.
The flavour is subtle, but distinct. It's difficult to describe, but has a slight citrus tone with nutty notes. The leaves are generally fried in oil at the start of cooking to add depth and aroma to the dish you're preparing.

This year, for the first time, we've grown our own curry leaves. I'm very excited about it. The ones I've used in this recipe are the first CT allowed me to pick. I've been waiting all summer for this moment and how good it was. They taste fabulous.
It's fairly easy to get hold of dried curry leaves, but if you can get fresh ones, so much the better. You'll find them sold in good Asian shops and some supermarkets. If you can't get hold of any, however, the following are a reasonable substitute:
kaffir lime leaves
lime zest
lemon balm
basil
lemongrass
Butter Bean Bunny Chow
As well as the afore mentioned curry leaves, I also used our own garlic, tomatoes, potatoes and parsley. So this bunny chow was doubly satisfying.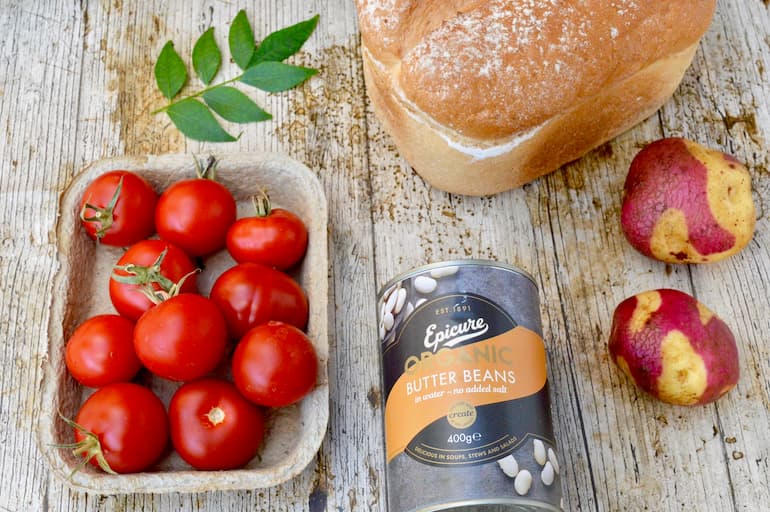 The curry is pretty straightforward and doesn't take too long to cook either. You start by frying the onion with some of the aromatics. Then its just a case of adding your tomatoes and spices, followed a little later by the potatoes and finally the butter beans.
I used fresh tomatoes as we have plenty of them at the moment, but it's fine to use a tin of chopped ones instead. When it comes to the beans, I used tinned butter beans, but if you're able to cook some dried beans first, your curry will most likely be the better for it.

The key to a good bunny chow is achieving the right consistency. You want your curry to be thick enough so that it doesn't just gush out all over the place, but runny enough so that the juices soak into the bread.
Once the curry is cooked, ladle it into the bread bowls (see section below). Scatter chopped coriander leaves over the top and add some grated carrot salad on the side. If you're feeling really hungry, use the bread innards to help mop up the curry.

Then tuck in – with your fingers or whatever implements you care to use. I found a fork in combination with my fingers worked best. I used the fork in one hand for the curry and my fingers of the other hand to tear the sides off the bowl.
Coriander (cilantro) is a more appropriate herb to use, but I didn't have any, so I substituted parsley. I've called for coriander leaves in the recipe though.
White Bread Bunny Chow
White bread is key to a traditional bunny chow. I really wanted to try it with a wholemeal loaf, but at the same time, I wanted to stay true to the spirit of the real deal.
The best bread to use is an ordinary rectangular loaf, but one that has a firm crust. You really don't want the whole thing falling apart as soon as you ladle in the curry. However, any crusty loaf will do, as long as you can hollow it out. You could even serve it in small crusty rolls for little ones.

Whilst the curry is cooking, half your loaf of bread and remove the innards. It's best to keep about two centimetres at the bottom so that your bread bowl doesn't collapse. You can make the sides, however, as little as one centimetre.

We actually found that the bread bowl was enough to fill us up so we didn't use any of the bread innards. Instead I whizzed them up into breadcrumbs and used some for another dish. The rest I froze for the next time I need breadcrumbs.
Next time I make this bean bunny chow, and there will definitely be a next time, I shall try it with a wholemeal loaf.
Bean Bunny Chow – Top Tips
As is the case with most curries, they improve with time. So if you want yours to be extra tasty, make it the day before, then just heat it up before serving.
Make bunny chow your own and ladle your favourite curry into those bread bowls.
Bunny chow is street food, so it's not designed to eat with a knife and fork. It may be messy, but fingers are best.
For kids, don't make the curry too hot and use crusty bread rolls for the bowls.
Turn any bread innards into breadcrumbs and freeze them in appropriately sized containers.
Grated Carrot Salad
When I found out that a grated carrot salad is the traditional accompaniment to bunny chow, I was a little surprised. It didn't, somehow, seem as though it would go. But how wrong I was. Good as this bean and tomato curry is, it wouldn't be nearly as delicious without it.
The carrot salad is meant to be quite sharp. I made mine with lime juice rather than the more traditional vinegar because it marries really well with raw carrot I've found. The salad is fresh and flavoursome and the lime cuts through the rich umami tomato curry sauce quite beautifully.

Grate one large carrot, add a sliced spring onion (scallion), a few sprigs of chopped parsley and the juice of one lime. Coriander leaves (cilantro) is a more appropriate herb to use than parsley, but I didn't have any.
Mix the salad together ten to thirty minutes before the bunny chow is ready. The carrot soaks up the lime juice quite remarkably. Alternatively, use my recipe for simple carrot salad with orange and ginger instead.
Other Curry Recipes You Might Like
Keep in Touch
Thanks for visiting Tin and Thyme. If you try my vegan beany bunny chow, I'd love to hear about it in the comments below. And do please rate the recipe. Have you any top tips? Do share photos on social media too and use the hashtag #tinandthyme, so I can spot them.
For more delicious and nutritious recipes follow me on Twitter, Facebook, Instagram or Pinterest. And don't forget to SUBSCRIBE to my weekly newsletter.
If you'd like more vegan recipes, follow the link and you'll find I have quite a lot of them. All delicious, of course.
Choclette x
Beany Bunny Chow. PIN IT.

Bean Bunny Chow – The Recipe
Beany Bunny Chow
A delicious vegan bean and tomato spicy curry served in a hollowed out loaf of bread. This beany bunny chow is a take on one of South Africa's favourite dishes. Serve with a sharp grated carrot salad for a truly satisfying meal.
Ingredients
2

tbsp

sunflower oil

1

onion – thinly sliced

1

pinch

sea salt

½

cinnamon stick

1

tsp

cumin seeds

4-6

curry leaves

2

cloves

garlic – crushed or finely chopped

400

g

tomatoes – chopped

(use tinned if you don't have fresh)

2

tsp

curry powder – mild, medium or hot, depending on preference

(I used Steenbergs hot madras)

½

tsp

turmeric

2

medium sized floury potatoes – cubed

1

bay leaf

½

tsp

sea salt

200

ml

water

400

g

tin butter beans – drained and rinsed

½

tsp

garam masala

1

small loaf of crusty bread

(I used a 400g white farmhouse loaf)

2

sprigs

coriander leaves (cilantro) or parsley – chopped
Instructions
Fry onion with the salt and cinnamon over a gently heat until soft – about five minutes.

Turn the heat up a little. Add the cumins seeds, curry leaves and garlic and fry for a couple of minutes or until the onion begins to brown.

Add the tomatoes and curry powder and cook with the lid off for ten minutes

Add the potatoes, bayleaf, water and salt. Bring to the boil and cook gently with the lid on until the potatoes are almost done (about 10 minutes).

Add the butterbeans and garam masala and cook for a further five minutes.

Meanwhile, cut the bread loaf in two, widthways. Scoop out the soft insides to create a bowl. Leave about an inch around the borders so that it can soak up any excess liquid.

Check for seasoning, then ladle into the bread bowls.

Scatter with the coriander or parsley and serve with the bread innards and a grated carrot salad on the side.
Notes
Use the bread innards to scoop up the curry. This leaves the curry soaked bowl as the prize at the end of the meal.
Please note: calories and other nutritional information are per serving. They're approximate and will depend on exact ingredients used.
Nutrition
Calories:
921
kcal
|
Carbohydrates:
156
g
|
Protein:
32
g
|
Fat:
21
g
|
Saturated Fat:
3
g
|
Sodium:
2289
mg
|
Potassium:
2022
mg
|
Fiber:
24
g
|
Sugar:
17
g
|
Vitamin A:
251
IU
|
Vitamin C:
101
mg
|
Calcium:
376
mg
|
Iron:
14
mg
Tried this recipe?
Please take a photo and mention @choclette8 or tag #tinandthyme on Instagram, Twitter or Facebook.
Sharing
I'm sharing this recipe for beany bunny chow with Lost in Food for #CookBlogShare.