If you love a good curry, but keep making the same ones time and time again, it might be time to try something different. This healthy mushroom curry with cashew nuts is full of flavour, colour and nutritious ingredients. It's one of Chetna Makan's recipes from her new book, Chetna's Healthy Indian Vegetarian.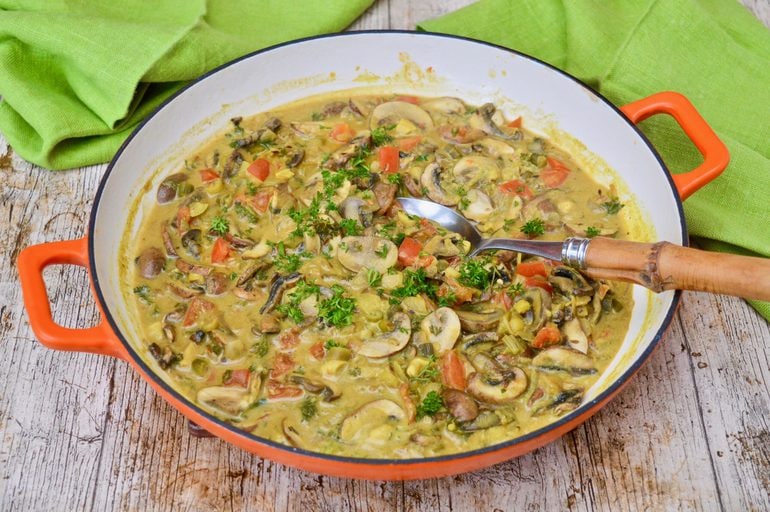 If you're a fan of The Great British Bake Off, you will know Chetna Makan. She wowed the judges with her creative and vibrant flavour combinations back in 2014. But although she's a keen baker, she also enjoys simple Indian home cooking. Chetna's Healthy Indian: Vegetarian is her fourth book.
Chetna's Healthy Indian: Vegetarian
Chetna was inspired to write this book after a research trip to India. Vegetables and home cooking are integral to the cuisine of most parts of this vast country. As well as making veg the star of the show, however, she also showcases recipes that are healthier than many. The tag lines, "everyday veg and vegan feasts; effortlessly good for you", pretty much says it all.

Most of the recipes are really easy to make. And a lot of them are quite quick too.
The book is divided into eight chapters. Each chapter contains around ten recipes, although some have a couple more and some a couple less. I've looked at every single one and strangely enough, I want to try them all. Here's a flavour of each of the chapters and what you might find therein.
Soups & Starters
Soup isn't something I generally associate with Indian cuisine. But of course there are soup recipes. Every culture has them after all. Creamy tomato and coconut milk soup looks totally delicious. Sweet and sour garlic and tamarind rasam, on the other hand, sounds quite intriguing.
The salads are refreshing and light and include lentil and mango salad and grilled corn and red onion salad. You can treat these as a starter, a light lunch or a side.
Snacks & Canapés
The recipes in this chapter are perfect for entertaining. But they're also great for picnics and packed lunches. Cheese and potato chapatti sandwiches sound counterintuitive , but I suspect I'd find them irresistible. They're definitely on my list of must tries. I've made chocolate rocot0 stuffed chillies before and they nearly blew our heads off. Chetna has a recipe for gram flour stuffed chillies. She suggests finding the right chilli for your tastes before stuffing them. Much more sensible than our approach.
Sabji
Sabji are dry vegetable dishes. Chetna describes them as akin to Indian vegetable stir-fries. Serve them on their own with flatbreads or to accompany curries and other dishes such as dal and rice. Chetna particularly likes to use them as stuffings for sandwiches, wraps and toasties.
Onion and green pea sabji is a great all rounder. It sounds delicious and given that most of us have a pack of frozen peas in the freezer, it can be made at a moment's notice. I'm also keen to try sour and spicy okra with potatoes and asparagus paneer.
Lentils, Peas & Beans
Dal is one of my absolute favourite dishes. So I can't wait to get properly stuck into the recipes in this chapter. You'll find a basic quick and easy dal recipe for sure, but there's so much more. In this chapter you'll also find a recipe for a super green spinach masala chickpeas.
I know I have a pack of urad dal lurking around somewhere in the back of a cupboard. So I absolutely must make Chetna's masala urad dal. It's a nice thick one and it just sounds so good.
Curries
As you'd expect from Chetna, there are a few tricks and twists to elevate your curry cookery to the next level. The mushroom curry for example, isn't just any old mushroom curry. It contains cashew nuts for extra texture, nutrition and flavour, but also gram flour for thickening.

There are also some unexpected finds. I understand jackfruit curry is quite common in India, but I've never seen a recipe for one in an Indian cookbook here in the UK before. Chetna has that one covered.
As much as I dislike the term fusion food, Chetna has snuck in a few adaptations. Look out for some standard British produce which gets a makeover. Here are a couple: broad bean curry; courgette kofta curry.
Rice & Roti
If you're after a standard roti, paratha or naan bread recipe, this isn't the book for you. Instead Chetna gives us a whole range of lesser known and unusual bread recipes. I've been exploring all sorts of flatbreads over the last few months and I've enjoyed the process enormously. But I have to say I'd never heard of kulcha until I saw the recipe for buckwheat kulcha in this book. But now, of course, I want to try it.
This chapter includes recipes for dosas, a beetroot chapatti and a chilli naan. When it comes to the rice side of things, expect to see such delights as bengali khichdi and aubergine and potato rice.
Raita & Chutney
The penultimate chapter of the book is for the spicy or cooling condiments that put the finishing touches to a good Indian meal. Roast carrot raita sits alongside a host of other yoghurt based sides. The tamarind and date chutney, with its sweet and sour notes, has my name written all over it.
Sweets
Well you can't have an Indian cookbook without a few sweets to finish off. Indians have a notoriously sweet tooth. Chetna's desserts err on the healthier end of the spectrum though and aren't nearly as sweet as you'd expect. Rose sandesh, a strained milk based pudding, sounds particularly appealing.
Publisher Details
Chetna's Healthy Indian: Vegetarian */ Chetna Makan. Published by Octopus Books in hardback with an RRP of £20. ISBN – 9781784726621.
If you like the sound of this cookbook, head down to the bottom of the post where you'll find the chance to win a copy.
What I Really Like
Although there are some familiar recipes in the book, such as chana dal there are many more unusual ones. This gets me excited.
Every recipe has a photograph to show the finished dish. This is quite a rarity in cookbooks these days. As you'd expect, they all look good and eminently toothsome. But there's also a number of shots taken in India. These are mostly of market produce, but there's a few buildings and street scenes thrown in to conjure up an exotic, sultry and colourful aura – the essence of India.
Some cookbooks these days are obsessed by celebrity culture and feature more shots of the author than they do of the recipes they've created. I'm very pleased to say that Chetna is not such a person. There are only two photos of her in the whole book and they're both in the introduction.
I'm a big fan of pulses, which is just as well as they're a mainstay of my diet. Not only are they nutritious and tasty but they're also incredibly versatile. It seems I'm not alone. Chetna is also a fan. To help those that aren't as familiar with peas, beans and lentils as she is, there is a Pulse Primer section in the book.
Her guide to the individual qualities of different pulses is to encourage readers to explore and use a wider variety than they may be familiar with.
What Could Be Better
To be honest, I'm struggling to think of anything.
Mushroom Curry with Cashew Nuts
We really enjoyed Chetna's mushroom and cashew curry. I've called it mushroom curry because there aren't really that many cashews included. They do add to the overall texture and flavour though, so they're an important addition.

To turn this mushroom curry into a vegan offering rather than a vegetarian one, just swap the dairy yoghurt for a plant based one.
It's a standalone dish, quite capable of top billing. Just serve it with rice or flatbreads. That said, it would also make a fabulous contribution to a curry night. Pair it with a dal and some sort of green vegetable curry maybe. I've provided a selection of curries further down the post which would all make excellent accompaniments.
I mostly followed the recipe, but did make a couple of adjustments. We had a load of garlic scapes from the allotment that I needed to use up. So I added quite a lot of those rather than the garlic listed in the recipe. As there was quite enough allium activity going on, I only used one onion rather than two.
Gram Flour for Thickening
Watery curries aren't generally that appealing. Chetna, however, has a great tip for thickening the sauce for this cashew mushroom curry. She uses chickpea flour, also known as gram flour or besan. Well what a brilliant idea this is.
The flour not only helps to thicken the sauce, but it also add flavour and a little extra protein. And it's gluten-free, so there's no need to worry about any allergies on that score.
Add the gram flour to the fried onions along with the spices and stir. I also added salt and pepper at this stage as I thought it would be harder to stir everything together later in the proceedings.
Top Yoghurt Tip
I'm always wary of adding yoghurt to curries as the yoghurt tends to split. Consequently, the resulting dish doesn't look very appetising. Chetna's top tip is to add water to the yoghurt before adding it to the other cooking ingredients. It worked perfectly in this mushroom curry. Just give it a good stir before you pour it in and don't add it all at once. Slow and steady wins the race.
I deviated from Chetna's instructions at this point. Who am I to mess with her recipe? Well it seems I just can't help myself. I mixed all of the water with the yoghurt and added it in after frying the onions etc. It somehow made more sense to me to do it that way. I poured it in slowly whilst giving it a good stir to mix in the gram flour and spices. It worked fine.
At this point, you add the tomatoes, clap the lid on the pan and allow the contents to gently simmer for ten minutes.
Cooking the Mushrooms
Finally it's the turn of the main ingredient. Add the sliced mushrooms and coriander leaves. Turns out I had plenty of parsley, but no coriander leaves. So I substituted the first for the second. Cover the pan again and cook for a further ten minutes. Job done.
My top tip is that mushrooms really benefit from a little drop of soy sauce. So I added a teaspoonful of tamari along with the mushrooms for an extra umami boost.
We accompanied the mushroom curry with rice initially. But as there were only two of us, there was plenty left over. So the following evening I warmed the curry up and we enjoyed it with flatbreads.
Other Curry Recipes You Might Like
Keep in Touch
Thanks for visiting Tin and Thyme. If you make this mushroom curry or have a copy of the book, I'd love to hear about it in the comments below. Have you made any of Chetna's vegetarian curries? Do share photos on social media too and use the hashtag #tinandthyme, so I can spot them.
For further book reviews and giveaways follow me on Twitter, Facebook, Instagram or Pinterest. And don't forget to SUBSCRIBE to my weekly newsletter.
If you'd like more mushroom recipes, follow the link and you'll find I have quite a lot of them. All delicious, of course.
Choclette x
Mushroom Curry. PIN IT.

Mushroom Curry – The Recipe
Mushroom Curry
A healthy vegetarian main dish curry which is full of flavour, colour and nutritious ingredients.
Ingredients
2

tbsp

sunflower oil

1

tsp

cumin seeds

12

raw cashew nuts - roughly chopped

2

onions - finely chopped

2

garlic cloves

(I used garlic scapes)

1

tsp

ground coriander

½

tsp

chilli powder

½

tsp

garam masala

½

tsp

turmeric

2

tbsp

gram flour

100

g

natural yoghurt

250

ml

water

3

tomatoes - finely chopped

400

g

chestnut mushrooms - thinly sliced

20

g

coriander leaves

(I used parsley)

¾

tsp

salt

(I used ½ tsp salt and 1 tsp tamari)

¼

tsp

freshly ground black pepper
Instructions
Heat the oil in a large pan over a medium to low heat and add the cumin seeds. Once they start to sizzle, stir in the cashew nuts followed by the onions.

Cook for about twelve minutes or until the onions are golden brown. Add the garlic and fry for a further minute.

Add the gram flour and remaining spices and stir fry for another minute.

Stir the yoghurt and water together and pour into the pan, a little at a time, stirring all the while. I added the salt and pepper at this point.

Bring it up to a simmer then add the tomatoes. Cover the pan and simmer gently for ten minutes.

Add the mushrooms, coriander leaves and the salt and pepper, if you haven't already done so. Cover and simmer for a further ten to fifteen minutes or until the mushrooms are cooked.

Give it a good stir and serve warm with rice or flatbreads.
Notes
To make this curry vegan, just swap the yoghurt for a plant based one.
Please note: calories and other nutritional information are per serving. They're approximate and will depend on serving size and exact ingredients used.
Nutrition
Calories:
185
kcal
|
Carbohydrates:
19
g
|
Protein:
7
g
|
Fat:
11
g
|
Saturated Fat:
2
g
|
Cholesterol:
3
mg
|
Sodium:
474
mg
|
Potassium:
883
mg
|
Fiber:
4
g
|
Sugar:
8
g
|
Vitamin A:
1205
IU
|
Vitamin C:
18
mg
|
Calcium:
82
mg
|
Iron:
2
mg
Tried this recipe?
Please take a photo and mention @choclette8 or tag #tinandthyme on Instagram, Twitter or Facebook.
Mushroom Curry Sharing
I'm sharing this recipe for a gluten free sponge cake with Apply to Face Blog for #CookBlogShare.
Chetna's Vegetarian Healthy Indian Giveaway
Octopus Books is offering one Tin and Thyme reader a copy of Chetna's Healthy Indian: Vegetarian. To be in with a chance of winning, please fill in the Gleam widget below. You will need to leave a comment on this post, answering the question, which then gives you additional chances to enter if you so wish. Gleam will pick a winner at random from the entries received. If you are commenting anonymously, please give me some way of identifying you as I will be verifying the validity of entries. Any automated entries will be disqualified.
This giveaway is only open to those with a UK postal address. Winners will need to respond within 5 days of being contacted. Failure to do this may result in another winner being picked. Leaving your details gives permission for them to be passed on to Octopus Books should you be a winner in this giveaway.
Prizes are offered and provided by Octopus Books and Tin and Thyme accepts no responsibility for the acts or defaults of said third party. Tin and Thyme reserves the right to cancel or amend the giveaway and these terms and conditions without notice.
Closing date is Thursday 16 July 2020
Healthy Indian

Thanks to Octopus Books for the copy of Chetna's Healthy Indian. They did not expect me to write a positive review and all opinions are, as always, my own. This post contains affiliate links to Amazon*. Links are marked with an *. If you buy through a link it won't cost you any more, but I'll get a small commission. Thanks to my readers for supporting the brands and organisations that help to keep Tin and Thyme blithe and blogging.