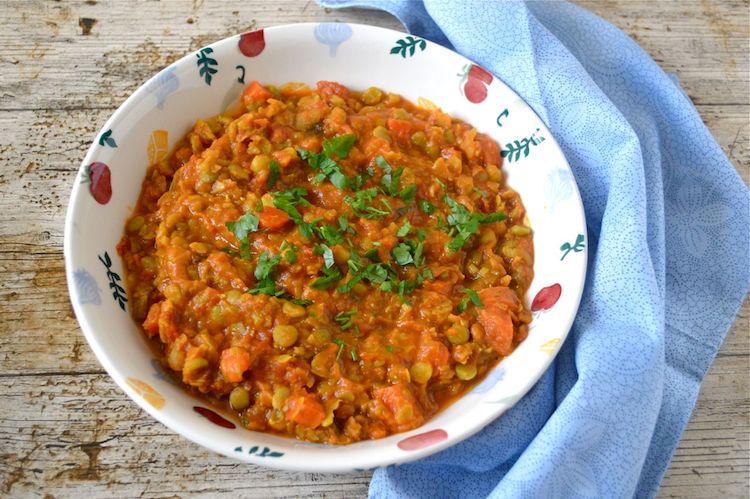 When I was challenged recently to meal plan for £2 a day per person to include breakfast, lunch & dinner, my mind immediately sprang to pulses. They are not only delicious, but are also relatively cheap, especially if you use dried ones rather than tinned. Find out about the challenge below along with my recipe for green split pea curry – a British take on an Indian classic.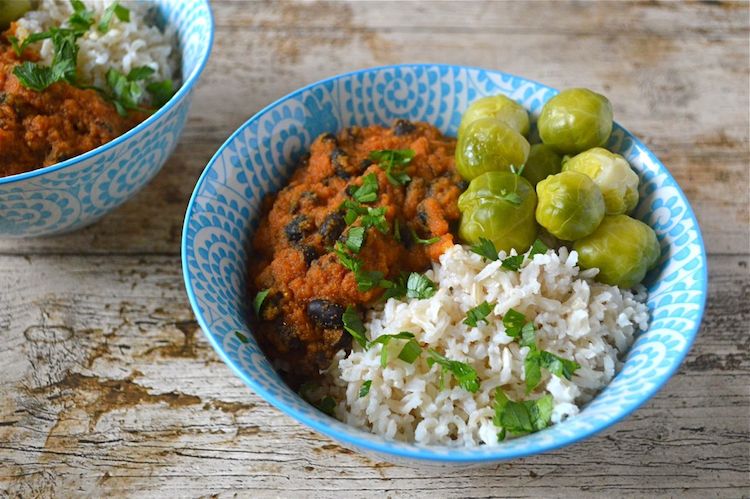 It may no longer be the International Year of Pulses, but lentils, beans and peas have been a staple for me ever since I can remember. They are not only nutritious, delicious and filling, but they make a great base for many a meal. These black bean tomato carrot curry bowls are simple to make and they taste very good indeed, especially when served with brown basmati rice. A perfect healthy whole food supper for Veganuary and to Jumpstart January.
A delicious and comforting spicy lentil curry. It's perfect for the cold, dark and wet winter months. Packed full of nutrients, this kill a cold lentil curry can help ward off or alleviate the symptoms of colds and flu.
To me, food in London means two things and takes me straight back to my student days. Firstly, high end treats for special occasions like birthdays and graduation. I remember the excitement of tea at the Ritz &amp tea at the Grosvenor, not something a girl from a remote Cornish village had ever experienced before. Secondly and much more frequently, I made use of the abundance of good cheap Indian eats in and around the back of Euston Station – this may account for my occasional lateness to lectures. It was here I was introduced to Indian sweets and was smitten by their exotic flavours. So when Fiona of London Unattached set this month's Best of British challenge as "what does London food mean to you", Indian sweets were the first thing that sprang to mind.
I was dying to have a go at making some Indian sweets after receiving Indian-Inspired Desserts by Roopa Rawal (watch this space for a forthcoming exciting giveaway). So leafing through the book, it was just a matter of picking which one. Because I still have some rose syrup left, the coconut and rose barfi caught my eye. That was the one I wanted to start with, but with the addition of some fruit to offset the sweetness a little and to give some natural colour. Hmmm, what's in season? Well it's been a while since I last got scratched arms and purple stained fingers, but blackberries it had to be. I managed to pick a tub full from the hedgerows and made my way back home with glee.
This is how I made my first ever barfi:
Pureed 300g blackberries with a stick blender & rubbed through a sieve to extract the juice into a medium heavy based saucepan.
Added a 387g tin of condensed milk and warmed it up on a low heat, stirring all the while.
Added 4 tbsp rose syrup.
Increased the heat a little and added 200g of milk powder. Whisked until all lumps had disappeared.
Added 40g desiccated coconut and continued to stir.
Cooked for about an hour, stirring every few minutes until the mixture looked fairly dry and as though it might be thick enough to set.
Spooned into a 2 lb loaf tin lined with baking paper and smoothed down with the back of a spoon.
Crossed fingers and hoped it would set.
Bingo, after a few hours it had well and truly set.
Melted 30g dark chocolate (G&B Cook's 72%) in a bowl over hot water.
Turned out onto a board.
Drizzled teaspoonfuls of the melted chocolate over the barfi.
Cut into 32 squares
I was thrilled at the result; my barfi tasted like a true Indian sweet, despite the fact that blackberries may never have been used before. The texture was perfect too. The blackberry flavour was very much present and the rose though subtle, did not go unnoticed. The chocolate drizzle added another flavour dimension and helped counteract the sweetness. Having said that, they weren't as sweet as I had imagined they would be. They featured at a dinner party I recently held for friends and were well received.
Best of British is a monthly challenge showcasing the best of what British food has to offer in various counties or regions around the UK. The challenge is sponsored by The Face of New World Appliances and currently has a £50 Amazon voucher prize to give to a winning entry each month. Here are the previous regional entries: Cornwall, Scotland, Yorkshire.
As I used freshly picked blackberries, I'm also entering this into Simple & In Season, a monthly blogging event created by Ren of Fabulicious Food and this month hosted by Katie Bryson of Feeding Boys and a Firefighter.
I'm also submitting this to Javelin Warrior's Made with Love Mondays – a challenge embracing the whole concept of making everything from scratch.