Yes, spring has most definitely sprung. It's been a long time coming. Soups may not be on the top of everyone's list of things to eat as they bathe in the sunshine today, but the night's are still chilly and a good bowl of soup is satisfying at almost any time of the year. Ribollita is a hearty vegan Tuscan soup made from cannellini beans, stale bread and kale. It may not sound that appetising, but it's delicious.
If you're lucky enough to have leaves with your beetroot, don't throw them away. This beetroot leaf green smoothie is an easy and nutritious way to use them. But if you can't get hold of beetroot leaves, it works equally well with chard or spinach.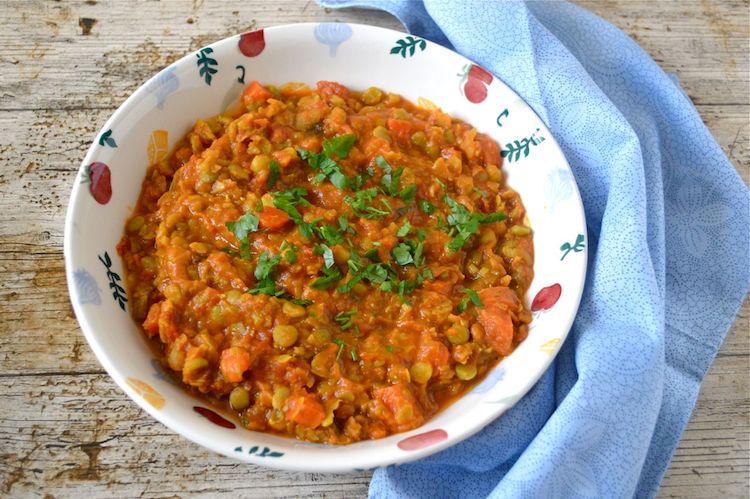 A frugal but delicious vegan curry. Serve with brown rice for a filling and nutritious meal. This green split pea curry recipe is ideal for vegetarians, vegans and those on a gluten-free or nut-free diet.
An easy vegetarian savoury pudding flavoured with leeks and cheese which is just as good (if not better) than its sweet counterpart. If you've not tried this cheese and leek bread pudding recipe from Cranks, you're definitely missing out.
 A versatile and tasty veggie burger with a good grating of chocolate to give extra richness and flavour. Although quick and cheap to make, these chocolate bean burgers contain egg so are not suitable for vegans.
Gosh, I have so enjoyed this month's challenge, even though it was a particularly tough one. Who would have thought you could make a delicious chocolate cake for £1 or under? I wasn't at all sure it was possible. Well, as you will see from the following 24 thrifty homemade chocolate cakes in this month's We Should Cocoa, not only is it possible, but there is more than one way to make a frugal but delicious chocolate cake.
This quick and easy malted hot chocolate cake is not only a frugal one, but it's delicious too. It's made with drinking chocolate and Horlicks for flavour and includes both free range eggs and organic sunflower oil. The ingredients cost less than £1 and it produces a decent sized 8″ (20cm) round cake.
Did you ever think it was possible to make a decent sized chocolate cake for a £1? I certainly didn't. Not, that is, until I set myself the challenge of doing so. This £1 banana chocolate vegan honey cake is not only delicious, but it can be cut into eight generous slices.
A creamy but light and not overly sweet no churn choc-chip ice-cream flavoured with vanilla and a hint of mint. Ideal for using up all those leftover bits of Easter chocolate. Serve this leftover Easter egg chocolate ice cream with chocolate sauce if desired.
Quick and easy to make, these super tasty chocolate chip oat cookies are packed full of chocolate. Brilliant for filling up the biscuit tin and snacking on when needed. Choose your favourite type or brand of chocolate and make them your own.