An easy to make and delicious to eat vegan autumn pea stew. It's made with British carlin peas, sweet red peppers and the last crop of tomatoes. Serve with rice, quinoa, barley, jacket potatoes or crusty bread for a comforting and satisfying meal.
Healthy and delicious homemade falafel with a crisp outside and a succulent herby inside. They're made with British grown fava beans from Hodmedod's and cooked in an air-fryer, though you could bake them instead. Served with a zingy flavoursome chopped salad. Read on for the recipes and to find out why Hodmedod's is such an exciting company.
Yes, spring has most definitely sprung. It's been a long time coming. Soups may not be on the top of everyone's list of things to eat as they bathe in the sunshine today, but the night's are still chilly and a good bowl of soup is satisfying at almost any time of the year. Ribollita is a hearty vegan Tuscan soup made from cannellini beans, stale bread and kale. It may not sound that appetising, but it's delicious.
Who doesn't love a good veggie burger? Not many I'm guessing. I'm a big fan, though I don't make them as often as I should, or, maybe could. These black chickpea & red quinoa burgers with prunes are easy to make, hold together well and taste super scrumptious. Served with caramelised onions, tomatoes & chilli, they are truly hard to beat.
This barley lentil dinner is a simple recipe made somewhat sophisticated by the addition of walnut gremolata and roasted tomatoes on the vine. It's also very garlicky. If you love garlic as much as we do, this is a very fine thing.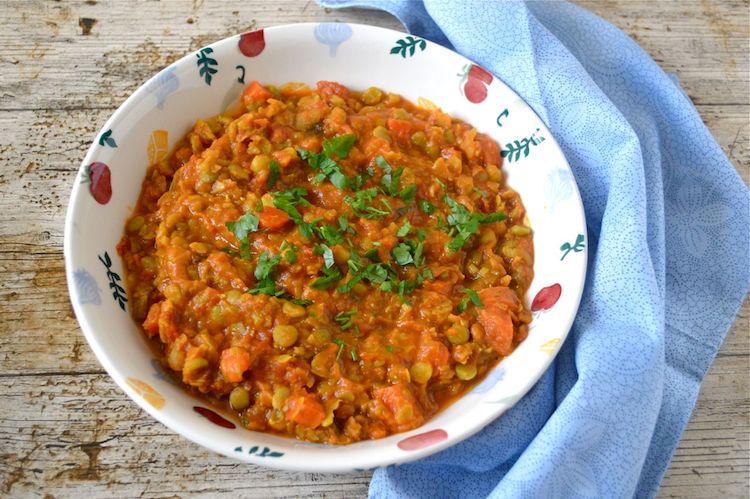 A frugal but delicious vegan curry. Serve with brown rice for a filling and nutritious meal. This green split pea curry recipe is ideal for vegetarians, vegans and those on a gluten-free or nut-free diet.
A delicious and comforting spicy lentil curry. It's perfect for the cold, dark and wet winter months. Packed full of nutrients, this kill a cold lentil curry can help ward off or alleviate the symptoms of colds and flu.
The best nut roast ever. Simple to make and delicious to eat. Lentils & Brazil nuts are enhanced by a layer of sage & onion stuffing. Then there's the rich wine gravy. Perfect for vegans and vegetarians alike, this lentil nut roast goes well with all the usual roast vegetables and trimmings.