Welcome to In My Kitchen Four. Enjoy a quick peek at some of the items that have passed through the Tin and Thyme kitchen during June and July.
It's been way too long since I participated in Celia's wonderful In My Kitchen series. This series has been going for quite a few years now and is pretty much what it says on the tin. It's a sort of celebration of what is going on in many kitchens around the world. Head over to Celia's blog Fig Jam and Lime Cordial and you can see what's been happening in her mouth watering kitchen over the years.
In My Kitchen Four
Baking
As you've probably gathered by now, baking is at the heart of what I do. This means it's unlikely you'll not find something baking related in my kitchen.
Stand Mixer
In my kitchen I have a very exciting new beast and it's bright red too. I was amazingly lucky to win a KitchenAid recently from Karen over at Lavender and Lovage. It has taken up residence in a corner of my kitchen and it made pizza for me about ten minutes after I took it out of its box.

Wholemeal Rolls
With the leftover pizza dough, I made nine mini rolls, which will be very useful for lunchtimes. I made the dough with half strong wholemeal and half plain white flour with just a little olive oil. All I can say is, pizza dough makes great bread rolls too.

Chinese Walnut Cookies
In my kitchen sits a tray of still warm Chinese sweet and salty walnut cookies. It's a recipe I've adapted from The Dumpling Sisters Cookbook, which is due to be published on 11 June.

Goose Egg
In my kitchen is a goose egg. It's probably the last one I shall get this year as geese have quite a short laying season. Goose eggs are good for baking, but they also make terrific scrambled eggs. One is enough for both of us.

Pastry Forks and Cake Server
When I lived in Leamington Spa many years ago, there was a captivating kitchen shop which I liked to wander around. I'd dream of one day being able to buy some of the lovely things it held. Pastry forks and cake servers weren't even on my radar then, but I did have my eye on some classic Arthur Price cutlery.
I'd just got my first post-university job and had virtually nothing in the way of spare change after buying food and paying the bills. However, one day I decided I was fed up with eating from a couple of tinny forks and spoons I'd picked up from a local charity shop and it was time to invest in something better. The Grecian cutlery from Arthur Price was both stylish and of good quality.
Thus every month, after receiving my wages, I went out and bought one or two items; a fork here and a couple of teaspoons there. I didn't bother with any knives as I'm a fan of bone handled ones and have managed to acquire quite a collection over the years – from charity shops and the kindness of friends.
Eventually I'd built up a set of forks, spoons and teaspoons for eight people as well as four serving spoons. I've never looked back and never regretted my choice. They have served me, my family and my guests well over the years and get taken out whenever I have friends over for dinner or I've made a special meal of any kind.
Arthur Price is a British family business which was established over a century ago in the spoon and fork capital, Birmingham. Now based in Lichfield, the company is in the hands of 4th generation Simon Price who is keen to continue the tradition of high quality design and craftsmanship that made the company famous.
When I had a look at the website recently, I couldn't quite believe my luck. Because I spotted a set of pastry forks in my very own Grecian style.

There's something very civilised about eating cakes and pastries with a fork but it's also practical and avoids getting sticky fingers. Pastry forks look attractive too and raise a tea table to a level of sophistication that is not often seen in our house. When you have a matching cake server, it can only get better.
Fig Almond Whisky Mini Bundt Cakes
I couldn't wait to try them out. When I made my fig almond cake with whisky the other day, I made six additional mini ones, so I could christen my pastry forks with something suitably elegant. The forks are not only a pleasure to look at, but they're good to hold too. They feel both sturdy and light at the same time. Made from high quality 18/10 stainless steel, they do not bend easily.
Flowers
In my kitchen I have wild flowers picked from our plot. We haven't been very good at keeping up with things recently and the flowers have taken over – some people call them weeds.

Down at the plot, we've got a lot of these gorgeous oriental poppies. Oriental poppy as art, I reckon. Isn't the interior just amazing? This was the first one that opened for us this year.

I don't always succeed, but I do try to have hand picked flowers on my kitchen windowsill throughout the year. For July, it's the turn of chives, picked from my garden.

In the sitting room I have this lovely bunch of flowers from Serenata Flowers. This was for a giveaway I'm hosting. I'm extremely fond of roses and lilies and the vivid colours in this bouquet have brightened up my sitting room during some rather grey and dismal days. I can't help but smile whenever I look at them.

Tea Time
It's always time for tea in the Tin and Thyme household. Both CT and I are avid tea drinkers. Though it's not generally builder's tea. I can only drink that if it's incredibly weak. However, tea time can also mean hot chocolate.
Chinese Teas
I've had a real streak of luck over the last month and have won not just the KitchenAid, but also a selection of really interesting Chinese teas from Janice over at FarmersgirlKitchen. As I type, I am drinking a cup of Lu Shan Yun Wu, which has smokey notes and a distinctive taste hard to describe – I'm already regretting coming to the end of this one.

German Drinking Chocolate
My mother has recently returned from her first visit to Germany. She brought me back some Extra Dark 65% drinking chocolate to try. I tried it and it's very very nice.

It has a robust chocolate flavour and is hardly sweet at all, just how I like it. I made mine with half milk and half water. Hot chocolate is not usually something I'm that keen to drink in the summer, but the weather has turned a bit cold and wet, so it's actually very welcome.
Produce
Homegrown is always the best if you have the time and space. We don't manage to grow nearly as much as we'd like, but we do grow some things. Summer is a time for strawberries and roses that go together surprisingly well.
Homegrown Strawberries
Our strawberries were not very prolific this year, mostly due to neglect and birds. But these five were very sweet and flavoursome and definitely worth having.

Rose Syrup
Two days ago, I made my annual batch of rose syrup from the only rose my bush managed to produce this year. I'm hoping I'll get lucky and one or two more might make an appearance later in the year. But meanwhile this is a good way to remember its beautiful colour and scent.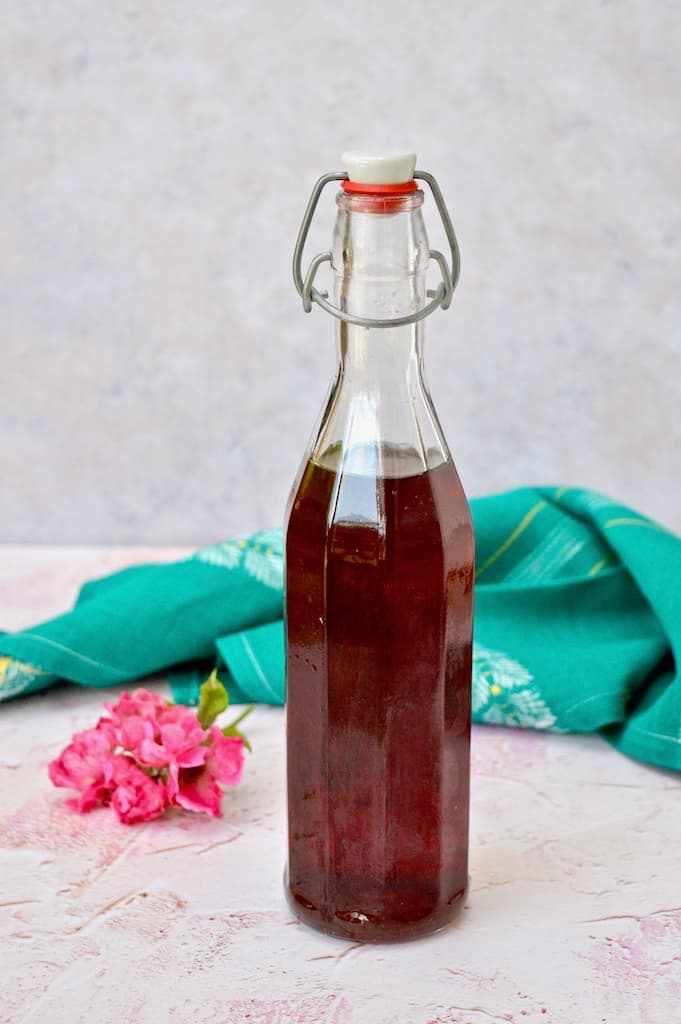 I've already used it as a cordial and in this morning's berry smoothie. I fear it won't last long.
Other Goings On In My Kitchen Four
Chocolate Peanut Butter Cups
In my kitchen, I have some very tasty chocolates that I made yesterday in lieu of a birthday cake. Sometimes nothing will do except cake, sometimes it's chocolate that is needed, sometimes both are required. I'm feeling a little deprived of good quality chocolate at the moment and can't guarantee I will be given any for my birthday.

These are a sneak preview of my chocolate peanut butter cups that I'm publishing later this month. They'll be worth the wait.
Nut Butters
Nut butters are always useful to have and these Pip & Nut butters are some of the best I've tasted in a very long time. No nasty ingredients, just the nuts and a little salt. These three pots were the third blogging win I had in as many weeks. They came via Tina from The Worktop.

Pumpkin Seed Oil
Rummaging through one of my cupboards the other day, I came across this forgotten bottle of pumpkin seed oil. It's meant to be very good for you and it also makes a tasty edition to a salad dressing.

I quickly rustled one up to go with our evening salad and it was quite delicious: lime juice, balsamic vinegar, a dash of tamari, cold pressed rapeseed oil and a little pumpkin seed oil.
Power Blender
My kitchen is not a big one and finding space to put anything in it is always a bit of a trial. However my Optimum 9200 Next Generation high speed blender gets used so often I had to give up a bit of my precious counter top to make room for it.

It's worth it though. I can put all sorts of ingredients into our morning smoothies that I could never use with my old blender. They're ground so fine their texture is undetectable: kale, linseeds, goji berries, dried calendula petals, nettles and so much more.
And it's not just used for smoothies either, I've made all sorts, including raw chocolate cashew spread and quick tomato sauce with seaweed.
Glasses
I found five of these fabulous glasses in a local charity shop a couple of weeks ago and bought them all for £1. We've used them every day since.

Cookbook
It seems my winning streak has continued. My recipes for fat hen and chickweed pesto and rose syrup were picked for June's Simple and in Season. Many thanks to Ren.

The prize was At Home in the Whole Food Kitchen by Amy Chaplin. It's a fabulous book and right up my street too with lots of nourishing recipes using the sort of ingredients that are generally to be found in my kitchen, plus a few new ones for me to explore.
Previous In My Kitchen Posts. All three of them!
Keep in Touch
Thanks for visiting Tin and Thyme. Here ends the peek as to what's been happening in my kitchen this summer. What's been happening in your kitchen? I'd love to hear about it in the comments below. Do share photos on social media too and use the hashtag #tinandthyme, so I can spot them.
For more delicious and nutritious recipes follow me on Twitter, Facebook, Instagram or Pinterest. And don't forget to SUBSCRIBE to my weekly newsletter.
If you'd like more about me type of posts, follow the link and you'll find I have a few.
Choclette x
Disclaimer: the Optimum 9200* is an affiliate link. If you buy one through this link, it will not cost you any more, but I will get a small commission.