A layer of rich dark chocolate, followed by one of marbled sweet white chocolate flavoured with cranberries and matcha green tea. Break this Christmas chocolate bark into pieces and load into bags to make scrumptious festive gifts for loved ones.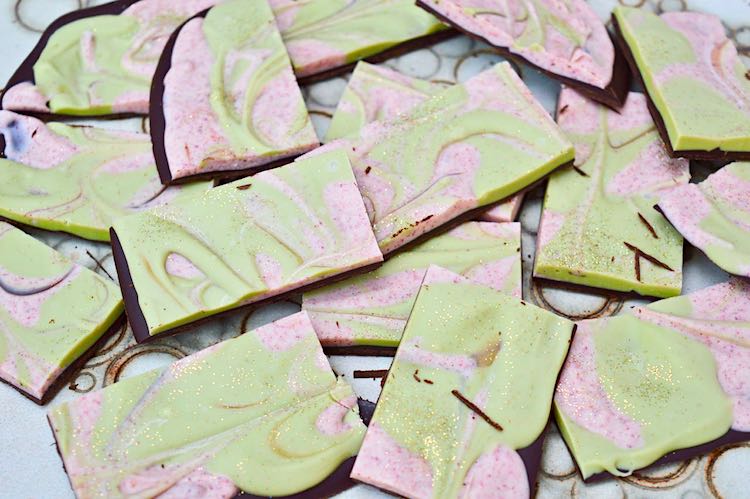 Chocolate can be found in our house at pretty much any time of the year, but chocolate at Christmas is an absolute must. I try and make at least one new festive chocolate recipe each year to give to friends or family and this year I'm delighted to have come up with this Christmas chocolate bark.
It's a layer of dark chocolate covered with a swirled mix of matcha and cranberry white chocolate. It's delicious.
Blogger Problems
I've had a very trying week or so of it recently, with various issues affecting Tin and Thyme. Comments were one of the things that went belly up, so I do apologise if you tried to comment on my mushroom & chestnut vegetarian sausage rolls and failed. Or, even worse, if you commented successfully and your comment was later lost.
I'm glad to say, all is now working as it should be with the added bonus that there is now a star ratings option.
This all means that I'm even further behind with my Christmas blog posts than I would otherwise have been. I've made some excellent Christmas cookies, which I was hoping to post, but I don't think I'm going to manage it now. However, I am bringing you this Christmas chocolate bark recipe. If you fancy having a go, it's a lot easier to make than it might look.
Christmas Chocolate Bark
This recipe for Christmas chocolate bark is really very simple; it's mostly a process of melting and stirring. The main thing you need is time to allow the two chocolate layers to set. If you're able to temper chocolate, so much the better, but I've given an easy method here that produces an acceptable result.
When you melt the chocolate, don't melt it all at once. If you add the last quarter after you've removed the chocolate from the heat, it helps it set properly.

The fun bit was deciding on what flavours to add to the chocolate and mixing these in. It had to be something red and something green for Christmas. The green was a no brainer as I usually have some matcha green tea in the house, but the red was a bit more of an issue. Luckily, I remembered I had some cranberry powder left over from making these festive bliss balls.
Raspberry powder would work equally well, but cranberries are more in keeping with Christmas. As an added bonus, dare I mention it? They're both considered to be superfoods packed full of phytonutrients.
I used a little melted coconut oil to mix up the powders, then added the white chocolate and stirred vigourously. I didn't want either flavour to overwhelm my Christmas chocolate bark, so I went fairly easy on the amount used. If you like powerful flavours, you could always add a little more than I did. For a bit of festive sparkle, I had to add some edible glitter, but this step is entirely optional.

The bitter dark chocolate is lightened by the sweet white chocolate which is itself offset by the sharpness of cranberries and the hint of umami from the matcha. A brilliant combination, though I say so myself.
Homemade Edible Gifts
Cut or break it into pieces and load into bags to make scrumptious festive gifts for loved ones. I made three gift bags with eight pieces in each. I may have neatened up a few edges, but for quality control purposes, I did have to try some. I've locked them in the vaults so CT can't get his mitts on them.
Other Festive Chocolate Recipes You Might Like
For more Christmas food ideas, take a look at my homemade edible gifts galore post or this vegetarian and vegan Christmas recipes post. There's over 70 of them to choose from. My Vegetarian Christmas board on Pinterest is also well worth a look.
Keep in Touch
Thanks for visiting Tin and Thyme. If you make this festive Christmas chocolate bark, I'd love to hear about it in the comments below. And do please rate the recipe. Have you any top tips? Do share photos on social media too and use the hashtag #tinandthyme, so I can spot them.
For more delicious and nutritious recipes follow me on Twitter, Facebook, Instagram or Pinterest. And don't forget to SUBSCRIBE to my weekly newsletter.
Choclette x
Christmas Chocolate Bark. PIN IT.

Christmas Chocolate Bark – The Recipe
Christmas Chocolate Bark
A layer of rich dark chocolate, followed by one of marbled sweet white chocolate flavoured with cranberries and matcha green tea. Break it into pieces and load into bags to make scrumptious festive gifts for loved ones.
Ingredients
125

g

dark chocolate

(I used 72%)

150

g

white chocolate

(I used 26%)

1½

tsp

coconut oil

1

tsp

cranberry powder

½

tsp

matcha powder

edible glitter

(optional)
Instructions
Break the chocolate into pieces. The smaller, you make them, the faster and more evenly the chocolate will melt.

Place 100g of the dark chocolate pieces into a bowl that fits snuggly over a pan of hot water. Make sure the water doesn't boil and doesn't touch the bowl. Leave for a few minutes to melt, then give it a stir. As soon as it's all melted, remove from the heat and add the remaining bits of dark chocolate. Leave for a couple of minutes, then stir until smooth.

Pour the chocolate onto a large piece of greaseproof paper. Using a palate knife or the back of a spoon, spread it into a rectangle of about 15 x 25 cm. Leave in a cool place, but not the fridge, for an hour or so to set.

Meanwhile, wash your chocolate bowl and repeat the process with the white chocolate, leaving about 40g to add once the main bit of chocolate has melted.

Melt the coconut oil in a small pan. Place half into a small bowl. Mix the matcha powder into one and the cranberry powder into another. Stir until smooth.

Divide the melted white chocolate between the pan and the bowl and stir to mix, so you have two separate colours and flavours.

Spoon the matcha chocolate in blobs over the dark chocolate. Do the same with the cranberry chocolate. Carefully spread over the dark chocolate until it's all covered. Using a skewer, knife blade or edge of a spoon swirl the two chocolates together into whatever patterns you like.

Dust a little glitter over the top, if liked.

Leave to set in a cool place, but not the fridge, for an hour or so until set.

Break or cut into pieces. Bag up as gifts or store in a tin, in a cool place, until ready to eat.
Notes
You can microwave the chocolate to melt it instead of using the bowl over a pan of hot water method. I don't have a microwave, so I've never tried this method.
Please note: calories are per serving. They're approximate and will depend on exact ingredients used.
Nutrition
Calories:
545
kcal
|
Carbohydrates:
50
g
|
Protein:
7
g
|
Fat:
36
g
|
Saturated Fat:
22
g
|
Cholesterol:
12
mg
|
Sodium:
53
mg
|
Potassium:
441
mg
|
Fiber:
5
g
|
Sugar:
41
g
|
Vitamin A:
33
IU
|
Calcium:
130
mg
|
Iron:
5
mg
Tried this recipe?
Please take a photo and mention @choclette8 or tag #tinandthyme on Instagram, Twitter or Facebook.
Linkies
I'm sharing my Christmas chocolate bark with Easy Peasy Foodie for #CookBlogShare.