Christmas Bliss Balls – Cranberry, Pistachio, Coconut & Salted Caramel
If you're running out of time to make biscuits but want to give homemade gifts this Noel, these Christmas Bliss Balls may be the answer. They're not only delicious but are refined sugar, dairy and gluten free and easy to make. Rolling the balls in green pistachios, red cranberries and white coconut make them look wonderfully festive.
Time has been even more of an issue than usual for me this year, so whizzing up a load of these Christmas Bliss Balls has been a bit of a life saver. I usually bake several batches of biscuits and cookies for Christmas gifts, but these chocolate pistachio biscotti are all I've managed. Luckily, everyone loves these no-bake goodies and the only people who can't eat them are those that have a nut allergy.
The ingredients I needed to make them came in my latest Suma order. Just in case you don't know, Suma is a long established whole food worker's co-operative which supplies both shops and individuals with all sorts of goodies as well as their own branded products. They are a great organisation who I'm delighted to work with. This year they even won Employer of the Year at the Grocer Gold Awards.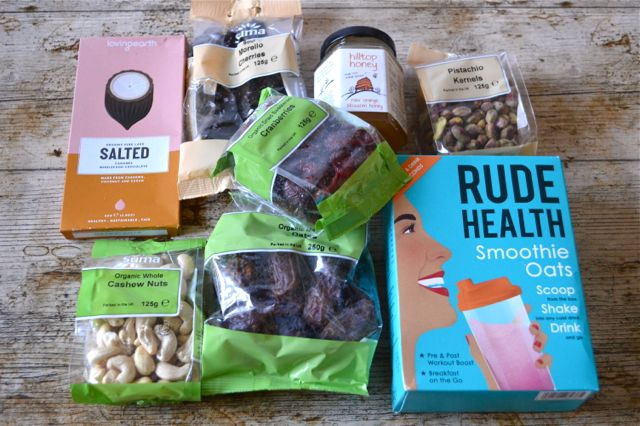 I made the Christmas bliss balls in my Optimum G2.3 platinum series induction blender from Froothie. Most blenders or food processors would be fine, although it rather depends on how smooth you'd like the mixture. My blender makes a super smooth mixture, which almost melts on the tongue. I find it's a bit of a pain trying to extract it from under the blades, so when I've got what I can out, I just throw in a bit of milk, blitz it and make myself a nice milkshake.
You can of course just make one flavour, but it's not that much more effort to create four different ones and the contrasting flavours and colours makes them extra special. The basic mixture is the same for all, it's just a case of dividing it into four, mixing in some extra ingredients and rolling them in a different coating. The worst thing about making these Christmas bliss balls is the washing up.
Cranberry – added some chopped up cranberries and orange zest to the mix, then rolled in cranberry powder.
Pistachio – added some Christmas spices to the mix, then rolled in ground pistachio nuts.
Coconut – added some desiccated coconut to the mix, then rolled in some more coconut.
Salted caramel – added some raw cacao powder, maca powder and a touch more salt to the mix, then rolled in chopped raw salted caramel chocolate. This Loving Earth organic chocolate is a new one to me and I was interested to try it. It's made from cacao butter, cashew nuts and coconut. I wouldn't say it tasted much like chocolate, but it was nice.
Christmas Bliss Balls
2016-12-20 14:39:26
These are named bliss balls for a very good reason. They are easy to make, health (ish) and most importantly, delicious.
Ingredients
250g raw cashew nuts - soaked for a few hours
250g Medjool dates
50g oats
1 tbsp coconut oil
1 tbsp raw honey (I used orange blossom)
pinch of Himalayan pink rock salt
Flavourings
15g dried cranberries - chopped
zest of ½ an organic orange - finely grated
3 tsp cranberry powder
grating of nutmeg
pinch of ground cloves
⅛ tsp ground cinnamon
10g pistachio nuts - roughly ground
15g desiccated coconut + 2 tsp for rolling
2 tsp raw cacao powder
½ tsp maca powder
pinch of Himalayan pink sea salt
20g salted caramel chocolate (I used Loving Earth)
Instructions
Wash and drain the nuts.
Put them and the other main ingredients into a power blender or food processor and blitz until everything is a smooth paste.
Divide the mixture between 4 bowls.
Mix the cranberry pieces and orange into one - I found a flat bladed knife worked well. Roll into balls, then roll in the cranberry powder to coat.
Mix the spices into the mixture in the second bowl. Roll into balls, then coat with the ground pistachios.
Mix the desiccated coconut into the third bowl. Roll into balls, then coat with more coconut.
Mix the cacao powder and maca powder into the remaining bowl. Roll into balls and coat with the grated chocolate.
Keep in a cool place until needed and eat within a week.
Notes
It's best to soak the nuts for a minimum of 4 hours, but overnight is best.
Tin and Thyme https://tinandthyme.uk/
Other recipes for no-bake Christmas goodies you might like
These Christmas bliss balls variously flavoured with cranberries, pistachios, coconut and salted caramel are my seventh recipe for the Suma Blogger' Network.
Christmas Bliss Balls. PIN IT.
I use my Optimum Blenders for smoothies, spreads, sauces and even chocolate making. The post contains affiliate links. Buying through a link will not cost you any more, but I will get a small commission. This helps keep Tin and Thyme blythe and blogging. Opinions are, as always, my own.
Comments