November is generally my least favourite month of the year. However, we've had some wonderful weather here in the New Forest and the autumn colour on the trees is one of the best I've ever seen. Lots of cold crisp weather with blue skies and stunning sunrises and sunsets puts a real spring in my step. To make life even better, lots of lovely comfort recipes have been rolling in. And, of course, with Christmas drawing nigh, bloggers are getting into the festive spirit. In this month's We Should Cocoa round-up, you'll find 14 festive chocolate recipes.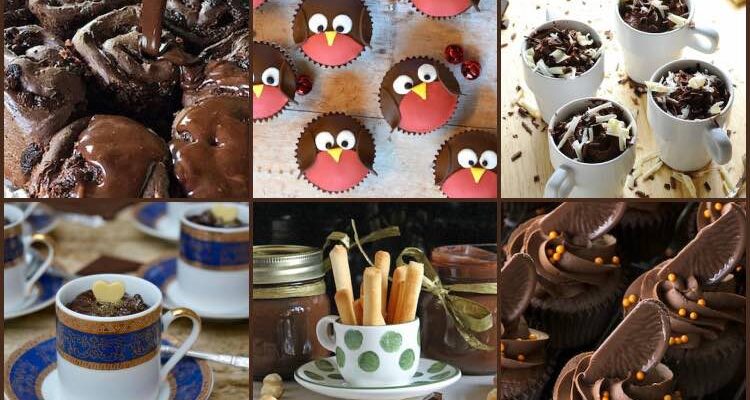 If you'd like to join in with next month's #WeShouldCocoa, scroll down to the bottom of the post and you'll find the December link-up. If you haven't joined in before or need a reminder, you can find the guidelines on the We Should Cocoa page.
With that, I shall wish you all a chocolate filled December and a very Merry Christmas. I hope you enjoy these 14 festive chocolate recipes below.
14 Festive Chocolate Recipes

Kat at The Baking Explorer kicks things off with her no bake double chocolate cheesecake. Doesn't it look phenomenal? Cheesecake is CT's absolute favourite and I'm very sure he'd be tucking into this one pretty fast given the opportunity.

If you like Oreo biscuits and you're a brownie lover like me, you'll love these oreo brownies from Chez Maxima. I just don't think I could be trusted around them.

If you're ever inspired to make a Loch Ness Monster cake, Johanna over at Green Gourmet Giraffe shows you just how to do it.

More Oreo love in these cookies and cream cookies by Katie Bakes. Not only are they made with Oreos and chocolate chips but also cream cheese and another surprising ingredient. Head on over to find out what it is.

This vegan chocolate orange loaf cake is a first over at Curly's Cooking and, hooray, it turned out perfectly.

If you've never made your own chocolate hazelnut spread, you can find out how to do it via the Kate at The Gluten Free Alchemist. Nutella eat your heart out!

Vegetables in cakes is right up my street and these vegan double chocolate pumpkin brownies from The Peachicks Bakery sound particularly scrumptious.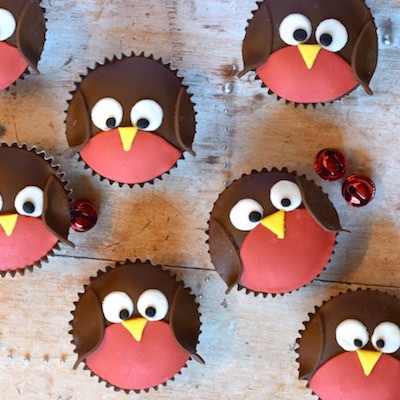 How cute are these Christmas robin cupcakes? Angela at Only Crumbs Remain assures us that they are simple to put together and fun to make with the kids.

How about these gorgeous Tia Maria chocolate cheesecake pots to finish off a dinner party dessert? Head over to Everyday Healthy Recipes to find out how to prepare them.

Great minds think alike. For my contribution to these 14 festive chocolate recipes, I too have made chocolate pots. Rich, unctuous and delicious my spiced prune chocolate pots are flavoured with Amaretto and would make a fitting alternative to Christmas pudding.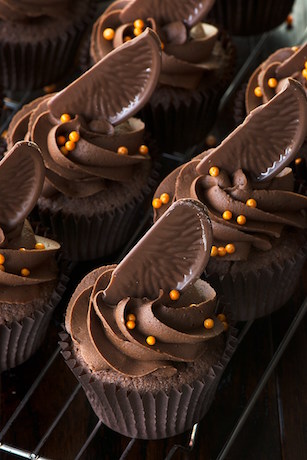 Chocolate and orange is a classic Christmas combination. These sumptuous chocolate orange cupcakes with chocolate orange buttercream from Charlotte's Livley Kitchen are bound to be popular.

Now the chill is with us, I can't think of anything better than a mug of this extra thick and creamy slow cooker hot chocolate from Lucy via BakingQueen74.

This quick to make microwave eggless chocolate cake from Rachna's Kitchen is covered in Greek yoghurt frosting. Doesn't it look pretty?

According to Sammie at Feasting for fun, her double chocolate chip iced buns are the best tasting chocolate buns ever. I for one believe her.
14 Festive Chocolate Recipes. PIN IT.