Call them molten lava puds, chocolate fondants or bitter chocolate puddings as I have here, they're one of the best chocolate puddings ever. They're really easy to make too. Can be prepared in advance which makes them perfect dinner party fare.
There's a new baking magazine on the block, Baked & Delicious and I was sent the first issue to look at. I'm a complete sucker for cookery books, but in recent years I've managed to restrain myself from buying magazines. Now temptation has crossed my path, I'm trying hard to overcome my acquisitive instincts.
Baked & Delicious
Although, the magazine is quite small & slim with only 26 pages, I was quite taken by it. I found it has a clear uncluttered layout and I don't feel overwhelmed by excessive content. The instructions are clear and simple. But I reckon they sometimes assume a grasp of baking beyond novice level. For example, no mention is made of which part of the oven to bake in. And this is often a critical factor.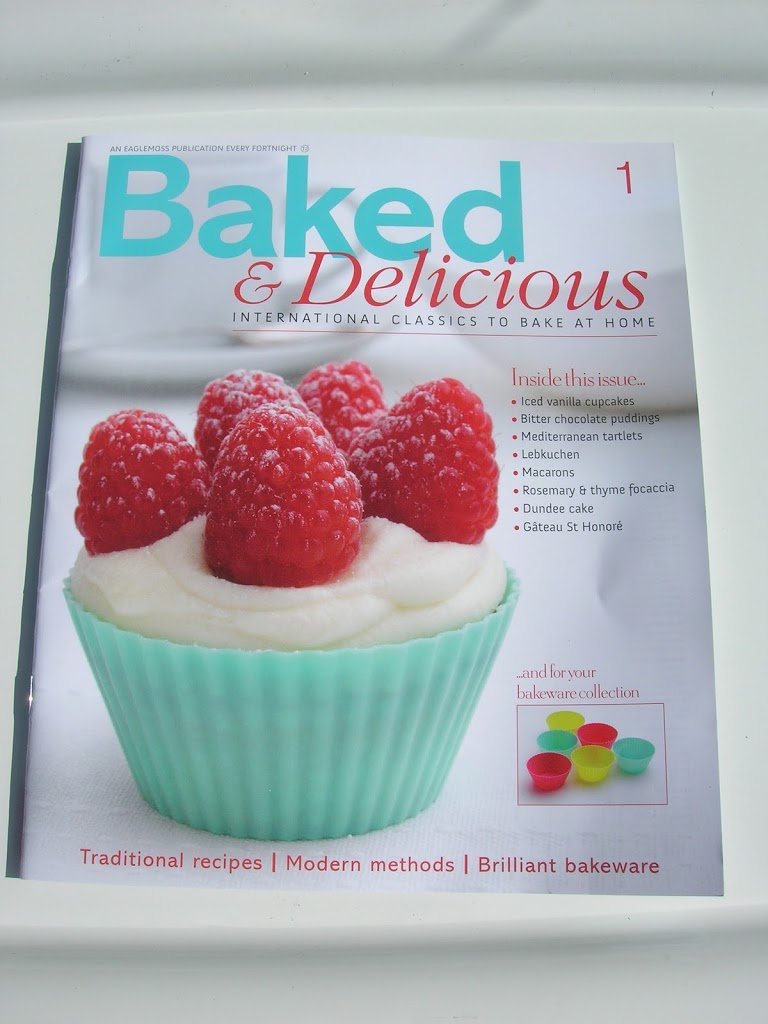 As one might expect, the pictures are gorgeous and made me want to get baking straight away. One of the things I particularly liked about this publication is that there is no advertising (other than for the magazine itself). In addition to the recipes, there's a technical section on making choux pastry and another on getting the best from silicone bakeware.

Each recipe falls into one of seven categories:
Classic Cakes
Bread & Savouries
Patisserie & Fancy Cakes
Celebration Cakes
Biscuits & Bakes
Desserts
Better Baking Techniques
As well as all of this, each issue comes with some silicone bakeware. The first issue came with six colourful silicone cupcake cases. As a keen user of silicone moulds, this alone is a siren call to subscribe. I haven't yet used my cupcake cases, but will certainly have occasion to do so.

Retailing at £2.99 per issue (£1.99 for the first issue), this is perhaps not the cheapest way of acquiring recipes. After all, there are only eight recipes in total in this issue. But as most of us know it's not just about acquiring recipes. It's the food porn photography, the anticipation of not knowing what's coming next and the chance of finding something unexpected.
Bitter Chocolate Puddings
Here's one I wasn't expecting: bitter chocolate puddings.
It's not like me to deviate from baking with my favourite wholemeal spelt flour, but these bitter chocolate puddings are an exception. It's essential to keep the mixture as light as possible, so I do use ordinary plain flour for these.
Buy the best chocolate you can afford for these puds. It's all about the chocolate.
Unlike some of these type of chocolate puddings I've made, I managed to tip these out of their cooking bowls really easily. But don't worry if they get stuck. If you bake them in pretty ramekins, no-one will be any the wiser. And they will taste just as delicious.
One of the really useful things about these bitter chocolate puddings, is that you can keep them in the fridge for a couple of days prior to baking. This makes them ideal for dinner parties. You won't have to worry about dessert on the day at all. Just remember to pop them into the oven fifteen minutes before you're ready to serve.

My bitter chocolate puddings are probably not be the prettiest puds you've ever seen. In any case my photographs certainly didn't match those in the magazine. But my goodness are they delicious. Each mouthful is pure heaven.
Crispy on the outside and sweetly molten on the inside, they are rich and velvety. And yes those bitter chocolate notes come through. I can't imagine many puddings tasting much better than these.
I've made molten lava puds before, but I think these are the best yet. Anyway, they left me with a smile on my face for some considerable time. Thank goodness I made four and not just two.
Keep in Touch
Thanks for visiting Tin and Thyme. If you make this Eve's pudding or the chocolate version, I'd love to hear about it in the comments below. Do share photos on social media too and use the hashtag #tinandthyme, so I can spot them.
If you're after further hot pudding inspiration, why not take a look at these recipes in my Pudding category?
For more delicious and nutritious recipes, follow me on Twitter, Facebook, Instagram or Pinterest.
Bitter Chocolate Molten Puddings – PIN IT.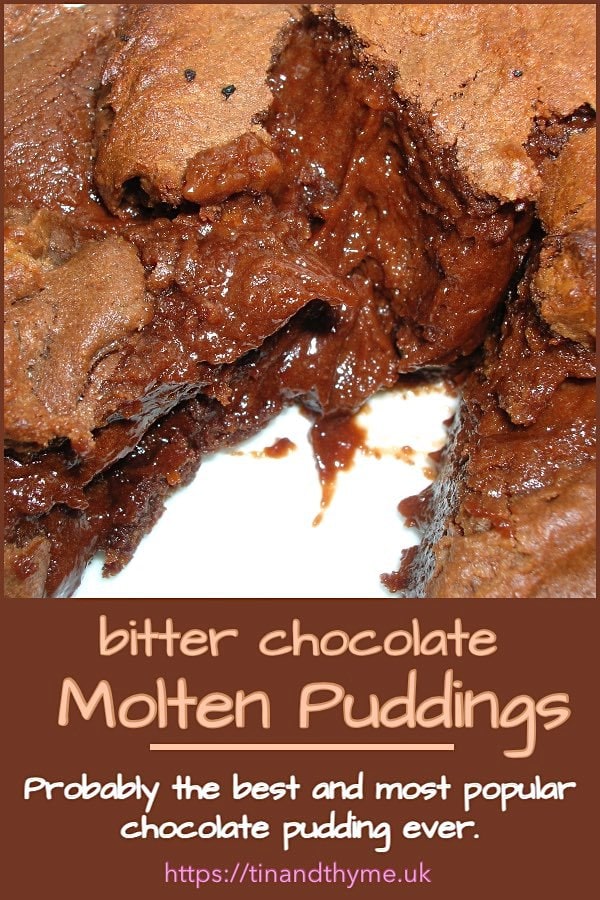 Bitter Chocolate Puddings – The Recipe
Bitter Chocolate Puddings
One of the easiest to make and most delicoius chocolate puddings ever. Can be prepared well in advance which makes them perfect for dinner parties.
Ingredients
125

g

85% dark chocolate

125

g

unsalted butter

2

large eggs

2

large egg yolks

150

g

golden caster sugar

60

g

(2oz) plain flour - sieved
Instructions
Melt the chocolate with the butter in a bowl suspended over a pan of hot, but not boiling water. Alternatively if you're able to get a gentle heat, melt directly in a saucepan.

Whisk the eggs with the sugar until thick and pale.

Beat in the chocolate mixture.

Fold in the flour.

Divide the mixture between four buttered small pudding bowls or large ramekins and place in the fridge for at least an hour.

Bake at 200℃ (400℉, Gas 6) for 15 mins.

Turn out onto plates and get stuck in before they cool down too much.
Tried this recipe?
Please take a photo and mention @choclette8 or tag #tinandthyme on Instagram, Twitter or Facebook.