Rich and dark, this Mexican chocolate pudding is stunningly sensuous. It's offset beautifully with mango slices marinaded in chilli and lime. It's the perfect dessert for a hot Valentine's Day date, but also great for entertaining at anytime.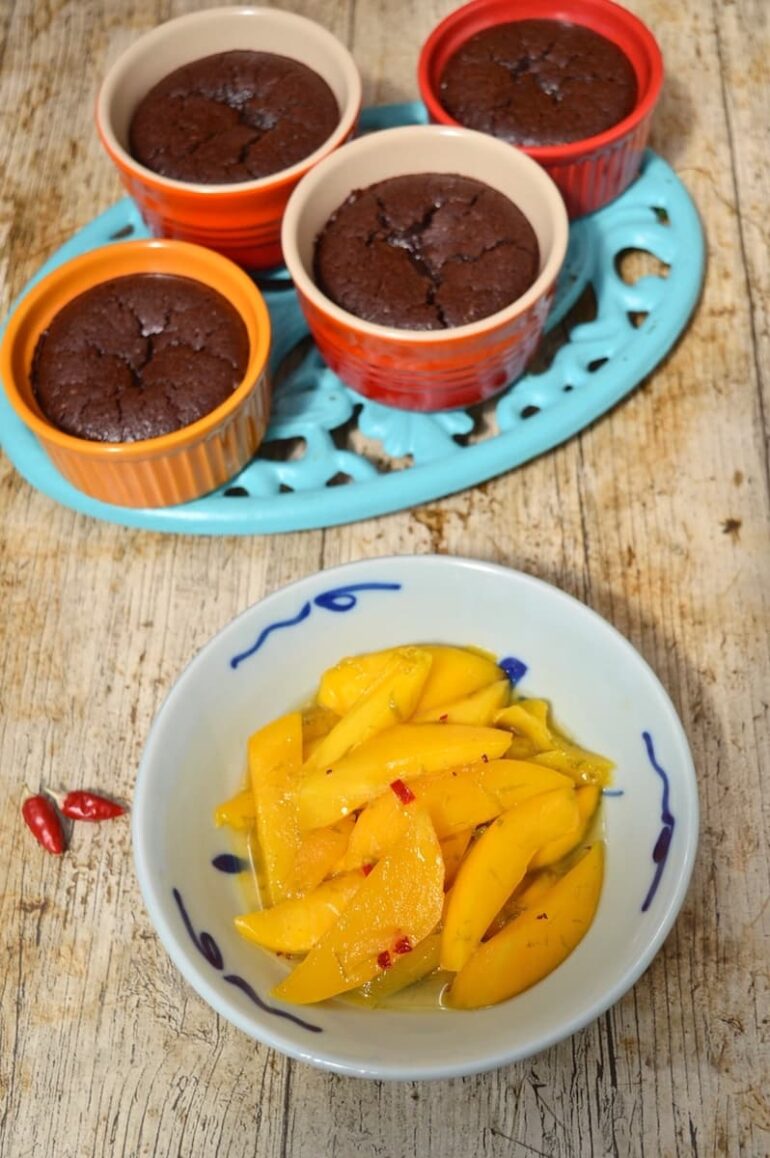 This recipe for Mexican chocolate pudding originated from Green Seasons by Rachel Demuth. I've had it bookmarked for a very long time. It combines some of my favourite ingredients. Namely mangoes, limes, chillies, cinnamon and of course chocolate.
I was given this cookbook by some dear friends at least three years ago. At the time they hinted broadly that this was a recipe I ought to make. It took a basket of beautiful green limes, sent for review and Chris to choose Mexico for his monthly Bloggers Around the World event, for me to finally take the plunge.
Sadly, the limes arrived with very little information. But they did appear to be waxed, so I made sure I scrubbed them well with warm water and washing up liquid before using.

Green Seasons is the third vegetarian cookbook written by Rachel Demuth. For those not in the know, she's a leading vegetarian chef who runs the acclaimed vegetarian restaurant Demuths and the highly successful Vegetarian Cookery School in Bath. I've made quite a few of the recipes in the book, which include vegan and gluten free ones too. They've all been successful and delicious.
You can find out more by reading my review of Green Seasons. Turns out, the book is now available on iPad, so if on-line cookery books are more your thing, you may want to take a look. As well as the book, I can highly recommend the courses at the cookery school, at least the one I attended on Middle Eastern mezze anyway.
Mexican Chocolate Pudding with Chilli and Lime Mango Slices
The pudding may be Mexican by name, but possibly not by nature. I'm not sure where the cinnamon or the chillies came from, but I don't think there was a single ingredient of Mexican provenance.

However, Latin American it most certainly is. The 100% chocolate bought on a recent trip to the Eden Project was Colombian, the rum was Cuban and the limes hailed from Brazil. The chocolate, very handily, came in two 125g blocks, which made it a breeze for me to halve the recipe. After all, there's only CT and I to indulge in them and even for us, a pudding to serve eight seems a little excessive.

Unusually for chocolate desserts, you cook these ones in a water bath. So really they're steamed puddings which are also baked. Once you've divided the chocolate mixture into ramekins, place them in a tin. Fill the tin with enough water so that the ramekins are sitting in water. The water will then fill the oven with steam as the puddings bake.


If you've baked the chocolate puddings in attractive ramekins, you can serve them directly. However, you might prefer to try for something a bit more elegant and turn them out onto a plate. Either way they'll be delicious.

Good as it is, Mexican chocolate pudding is even more glorious if you serve it with mango. To be precise, mango slices which you marinade in a chilli and lime syrup. Oh glory, it's good.
The photo of my Mexican chocolate pudding shown below may look like burnt pie and chips. But what it lacks in appearance, it more than makes up for in sensuousness. It's very rich, very dark, not too sweet and it reached into places other puddings rarely do. The cinnamon supports, as well as ameliorates the strong and robust nature of the chocolate.

We ate them warm whilst the centre was still gooey. The sweet, sour and fiery mango slices were delicious in their own right, but also acted as a great foil to the chocolate. CT had only one thing to say about this: "sex on a plate". In fact he was probably right, these would be perfect for Valentine's Day.
Keep in Touch
Thanks for visiting Tin and Thyme. If you try this recipe for Mexican chocolate pudding, I'd love to hear about it in the comments below. And do please rate the recipe. Have you any top tips? Do share photos on social media too and use the hashtag #tinandthyme, so I can spot them.
For more delicious and nutritious recipes follow me on Twitter, Facebook, Instagram or Pinterest. And don't forget to SUBSCRIBE to my weekly newsletter.
If you'd like more pudding recipes, follow the link and you'll find I have quite a lot of them. All delicious and nutritious, of course.
Choclette x
Mexican Chocolate Puddings. PIN IT.

Mexican Chocolate Pudding – The Recipe
Mexican Chocolate Pudding with Chilli and Lime Mango Slices
Rich and dark, this pudding is stunningly sensuous. It's offset wonderfully well with mango slices marinaded in chilli and lime. It's the perfect dessert for a hot Valentine's Day date, but also great for entertaining.
Servings:
4
individual puddings
Ingredients
Chocolate Pudding
125

g

dark chocolate

(I used Colombian 100%)

150

ml

milk

1

tbsp

rum

(I used white Cuban rum)

25

g

unsalted butter

75

g

golden caster sugar

(I used homemade vanilla sugar)

1

large egg

(I used a duck egg)

20

g

wholemeal spelt flour

10

g

cocoa powder + some for dusting

½

tsp

ground cinnamon

⅛

tsp

baking powder
Mango Slices
1

ripe mango

2

tbsp

caster sugar

(I used homemade cardamom sugar)

½

tsp

chilli flakes

1

lime

organic or unwaxed are best if you can find them
Instructions
Chocolate Pudding
Melt the chocolate in a small saucepan over a gentle heat with the milk. Stir until almost smooth.

Take off the heat and add the rum.

Cream the butter with the sugar until well combined.

Seperate the egg, adding the yolk to the creamed butter mixture and placing the white in a clean bowl.

Beat the egg yolk well then beat in the chocolate mixture.

Sift in the dry ingredients and stir gently until just combined.

Whisk the egg white until stiff and fold into the chocolate mix. Spoon into four well buttered ramekins.

Place the ramekins in a tin filled with about 1 cm of water.

Bake in a preheated oven at 180℃ (350℉, Gas 4) for

15 to 20 minutes

. You want the puddings to be well risen, but not in any way burnt and the insides to still be soft.

Run a knife around the edge of the puddings to loosen them, then turn out onto plates. Dust with cocoa and add some reserved lime zest to the top.

Serve with the mango slices.
Mango Slices
Meanwhile, peel and slice the mango. It can be a messy job.

Dissolve the sugar in a large pan with 1 tbsp of water over a low heat.

Turn up the heat and add the chilli flakes followed by the mango slices.

Allow to bubble away for a few minutes until the liquid has turned syrupy.

Remove from the heat and add the grated zest and juice of one well scrubbed lime.
Notes
Please note: calories and other nutritional information are per serving. They're approximate and will depend on exact ingredients used.
Nutrition
Calories:
435
kcal
|
Carbohydrates:
56
g
|
Protein:
7
g
|
Fat:
21
g
|
Saturated Fat:
12
g
|
Cholesterol:
59
mg
|
Sodium:
45
mg
|
Potassium:
464
mg
|
Fiber:
6
g
|
Sugar:
42
g
|
Vitamin A:
910
IU
|
Vitamin C:
24
mg
|
Calcium:
96
mg
|
Iron:
5
mg
Tried this recipe?
Please take a photo and mention @choclette8 or tag #tinandthyme on Instagram, Twitter or Facebook.
Sharing
Thank you to Chris of Cooking Around the World for choosing Mexico for this month's Blogging Around the World – he finally got me to make this rather wonderful dessert.
Kate of What Kate Baked has chosen Perfect Puddings for this month's Tea Time Treats. Hmmm, perfect looking my puddings aren't but I think they might hit the perfect button for taste, smell and touch.
I bookmarked this recipe at least three years ago. It's thus a surefire contender for Jac's Bookmarked Recipes over at Tinned Tomatoes.
Those two romantics Dolly Bakes and Laura Loves Cakes have a valentine's theme for this month's Calendar Cakes with My Achy Cakey Heart. Well as already described, this may not look that pretty but it's very likely to win over your Valentine.
Finally, I think, I am submitting these to Simple and in Season as limes are in full season now. Started by Ren of Fabulicious Foods, this month's host is C of the fabulicious Cake, Crumbs and Cooking.