A creamy but light and not overly sweet no churn choc-chip ice-cream flavoured with vanilla and a hint of mint. Ideal for using up all those leftover bits of Easter chocolate. Serve this leftover Easter egg chocolate ice cream with chocolate sauce if desired.
The concept of a leftover Easter egg is something I find hard to get to grips with. In our house, uneaten Easter eggs must have something seriously wrong with them, or have fallen down the back of the sofa. The whole point of self-denial during Lent is to celebrate your resolve with a massive blow-out at the end, which is where the Easter eggs fit in. Fit into your stomach, I mean.
I do understand, however, that sometimes you can have too much of a good thing, including Easter eggs. So when Sainsbury's asked me to come up with a delicious recipe for using up leftover Easter eggs, I immediately thought of ice cream. If you're fed up with chocolate or feel you need to stop indulging, it can go into the freezer until such time as chocolate becomes desirable once again.

Leftover Easter Egg Ideas
So, assuming there are such things as leftover Easter eggs in your house, here are some suggestions on how to use them in addition to the leftover Easter egg chocolate ice cream recipe given below.
Melt leftover Easter egg chocolate down and use to drizzle over cakes and biscuits such as these peanut butter and chocolate cookies.
Turn leftover chocolate into chocolate sauce for pouring over ice-cream or any number of other things – it keeps well in the fridge. This honeyed chocolate sauce is rather delicious.
Chop all your leftover Easter eggs and chocolate into bits and use for any recipe using choc chips: cookies, flapjacks, brownies, cakes – the list could go on. Substitute choc bits for the walnuts in this brownie recipe.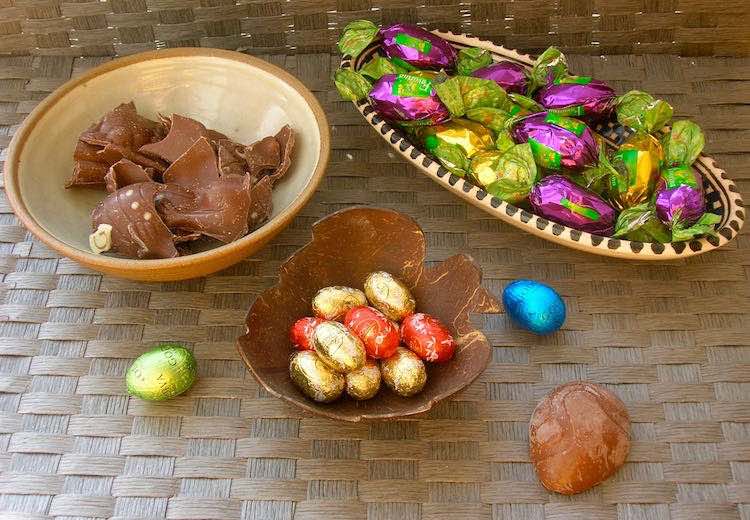 I may claim that there are no leftover Easter eggs in our house, but I am a hoarder and tend to squirrel things away, often forgetting about them. This post prompted me to do a little search and lo and behold, I found some mini eggs from Easter 2013 nestling at the back of a cupboard. Plain chocolate eggs filled with creme de cassis, I thought they would be an ideal addition to my ice-cream.

The unfortunate crushed bunnies and one of my less successful Easter egg attempts went into the mix too.
Leftover Easter Egg Chocolate Ice Cream
Initially I was going to flavour this no churn ice-cream with vanilla as I wanted the various tastes from the eggs to stand out. But then I remembered a bar of mint and vanilla chocolate that I used to be rather fond of. The vanilla and mint were both subtle and finely balanced and worked together surprisingly well.
So in order to create my own version of this flavour combination, I decided to use some fresh mint from the garden which wouldn't give too strong a flavour; I only used a little bit of vanilla pod for the same reason.

The balance of flavours and ratio of ice-cream to chocolate was just perfect and it was not overly sweet. The hint of mint, made it quite refreshing and the light creamy ice-cream was easy to eat. Chunks of varying types and size of chocolate made each mouthful an adventure. I served it with this dark chocolate sauce with some added water to make it a better pouring consistency.
Other Choc Chip Recipes You Might Like
Keep in Touch
Thanks for visiting Tin and Thyme. If you make this vanilla & mint choc-chip ice cream, I'd love to hear about it in the comments below. And do please rate the recipe. Have you any top tips? Do share photos on your preferred social media site and use the hashtag #tinandthyme, so I can spot them.
For more delicious and nutritious recipes follow me on Twitter, Facebook, Instagram or Pinterest. And don't forget to SUBSCRIBE to my weekly newsletter.
If you'd like more ice cream recipes, follow the link and you'll find I have quite a lot of them. All delicious, of course.
Choclette x
Vanilla & Mint Choc Chip Ice Cream. PIN IT.

Leftover Easter Egg Chocolate Ice Cream – The Recipe
Leftover Easter Egg Chocolate Ice Cream
A creamy but light and not overly sweet no churn choc-chip ice-cream flavoured with vanilla and a hint of mint. Ideal for using up all those leftover bits of Easter chocolate. Serve with chocolate sauce if desired.
Ingredients
600

ml

double cream

200

g

condensed milk

(half a standard sized tin)

large sprig fresh mint

½

vanilla pod

250

g

Easter chocolate - mixed or otherwise
Instructions
Warm 100ml of the cream with the mint in a covered pan until nearly boiling. Turn off the heat and leave to infuse until cool.

Strain the cooled cream and add it along with the rest of the cream to a large bowl. Add the condensed milk.

Scrape out the seeds from the vanilla pod and add to the cream (you could use vanilla extract, or ground vanilla pod or even vanilla paste).

Whip the cream until soft peaks form.

Roughly chop the chocolate (or place in a bag and bash with a rolling pin) and add to the cream, reserving a couple of spoonfuls to scatter on top if desired. Fold into the cream.

Pour the cream into a 1 litre tub and scatter over the reserved chocolate. Place in the freezer.
Notes
Yields one litre plus a little bit more.
Please note: calories and other nutritional information are per serving. They're approximate and will depend on exact ingredients used.
Nutrition
Calories:
199
kcal
|
Carbohydrates:
14
g
|
Protein:
2
g
|
Fat:
16
g
|
Saturated Fat:
10
g
|
Cholesterol:
45
mg
|
Sodium:
26
mg
|
Potassium:
96
mg
|
Fiber:
1
g
|
Sugar:
12
g
|
Vitamin A:
468
IU
|
Vitamin C:
1
mg
|
Calcium:
51
mg
|
Iron:
1
mg
Tried this recipe?
Please take a photo and mention @choclette8 or tag #tinandthyme on Instagram, Twitter or Facebook.
Sharing
Cooking with Herbs over at Lavender and Lovage is all about mint this month. Using my own fresh mint to flavour this Leftover Easter Egg ice-cream makes it particularly apt.
I'm also submitting this no-churn ice cream to Simple and in Season with Ren Behan. Fresh mint is now in season as evinced by this use of my first picking of this year's mint. This month's event is being hosted by Michelle from Utterly Scrummy Food for Families.
As this really is a Dead Easy Dessert and can be in the freezer in under 30 minutes, I'm sending the recipe off to Michelle of Utterly Scrummy Food for Families who is hosting this month for Sarah of Maison Cupcake.
Despite it's seeming lavishness, this is a very frugal recipe. I bought the cream at a bargain price as it was going out of date and the Easter eggs were already there and needed to be used up. So, I'm sending my ice cream off to the No Waste Food Challenge. It's normally hosted by Elizabeth's Kitchen Diary, but this month it's Ness of JibberJabberUK.
I was sent a Sainsbury's shopping voucher in exchange for developing this recipe and post. Thanks to my readers for supporting the brands and organisations that help to keep Tin and Thyme blithe and blogging.