Here are a few breakfast bites you might not have thought of sitting down to in the mornings. You'll find mini reviews of gluten-free pancakes, lemon green tea, a muesli variety pack and Mexican hot chocolate. There's also a recipe for chocolate sauce and a link to my rye sourdough recipe.
Breakfast is one of my favourite meals, but unless we're away on holiday, I tend to stick to toast. This isn't really a hardship as I make my own rye sourdough which is delicious and it's also very convenient. But as I'm usually in a rush in the mornings, I rarely get to sit down. So when I can, it's a real treat and it seems worth indulging in something a little different to toast. Talking of sourdough, it's #SourdoughSeptember, so it's a good time to acquaint yourself with this ancient and delicious bread.
Gluten Free Buckwheat Pancakes
Pancakes are my kind of breakfast bites, so when I was sent some Orgran gluten free buckwheat pancake mix to try, I hurried into the kitchen and greased the pan. Basically it consists of  stonemilled buckwheat, rice flour, tapioca starch, maize starch and raising agents. It contains no added sweeteners, artificial colours, flavours or preservatives. As directed, I added eggs and water to make ranch style pancakes. Directions for vegan or egg free pancakes were also given. I also added some blueberries gathered from my mother's garden. This year is the first decent crop she's had.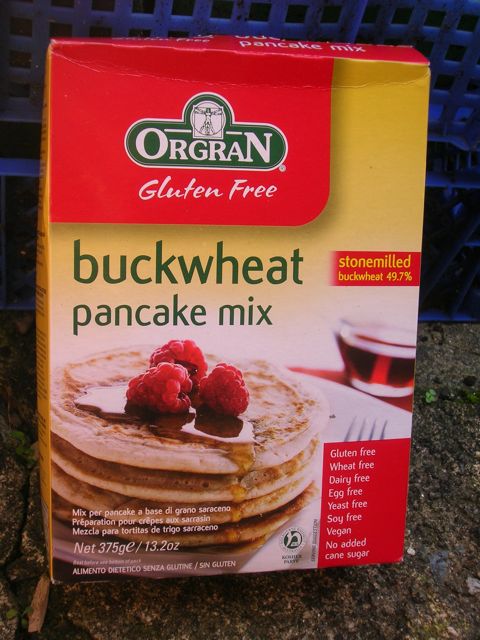 I learnt that like quinoa, buckwheat is not in fact a grain; it is a member of the rhubarb family which I found intriguing. When relating this to CT, he tried not to be too condescending, but I could detect a certain air of "you ignoramus" in his demeanour.

I knocked up some chocolate sauce to drizzle over the top. Why wouldn't you? First off, I combining some dark chocolate, double cream and a little honey in a pan. I warmed the ingredients up together in a pan over a low heat until the chocolate had melted. Then I gave it a good stir until it was lush and smooth.

Although these pancakes were delicious, I have to say I don't really see the point of pancake mixes. Measuring out some flour and raising agent and throwing it into a bowl is really not that difficult. The main part of the process which is mixing in eggs and milk or water has to be done anyway. Because this mix was gluten free, however, it contained extra ingredients which you might not have to hand. So I'm prepared to give it the benefit of the doubt.
Pukka Tea
Tea is the best drink of the day and what better accompaniment to breakfast pancakes than this Lemon Green Tea from Pukka – an organic and fairtrade whole leaf sencha tea with lemon verbena and Sicilian lemon which comes in a pack of 20 tea sachets. It was light and refreshing with just a touch of lemon which gave it a nice lift.  The scent of lemon rising from the cup helped give CT the fortitude to tackle his stack of pancakes. One sachet made an initial pot for two which we then refilled with water and got another cup each. I can see this becoming a bit of a favourite with us.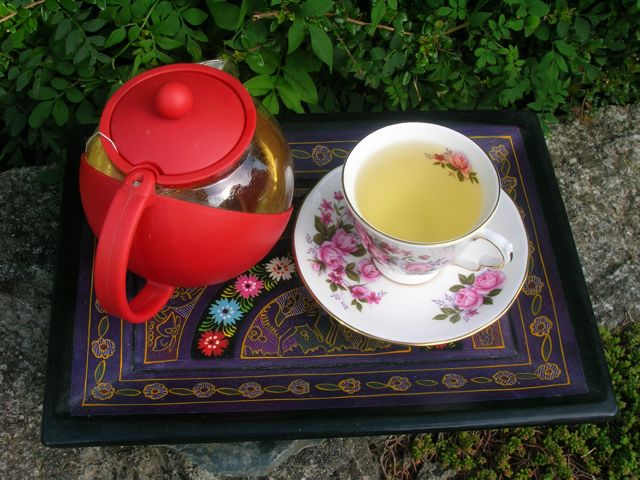 Breakfast Variety Pack
Reminiscent of the Kellogg's variety packs I used to be given as a special treat when I was a young'un, these newly launched Yoosli are a more grown up and health conscious version. This cleverly named muesli selection from Yoosli provides a Monday to Friday breakfast experience delivered to your door via the postal service. Inveterate muesli munchers know it's nice to have a bit of variety. Designed to fit through your letterbox, this is the ultimate in convenience breakfasts. Letterbox friendly cows have yet to be developed, CT quipped.

All ingredients are organic which meant it got bonus points from me and the portion sizes are reasonable. Although I prefer not to have any sugar at breakfast as I generally manage to get plenty during the rest of the day, these were not too sweet. The flavours are really good and a variety of unusual ingredients are used for added interest. I was pleased to see that many of them contained chocolate – what a treat. This is a bit of fun and removes any agonising over what to eat for breakfast, which is fine as long as you are prepared to pay for the privilege in cost and packaging disposal. A weekly subscription costs £3.49.

Neville's Cranberry Poppy Spelt
This was a crunchy granola which was not too sweet and had a nice flavour with plenty of fruit and nuts, including cranberries and pine nuts. The addition of poppy seeds gave a welcome savoury note which I found very pleasant.

Cassie's Physalis Choc
The rich aroma of chocolate combined with a fruity scent, made this packet particularly enticing. These are sophisticated cocoa pops with interesting additions which convert an old familiar into something far more appealing. It was lovely and crunchy and the sour bits of physalis and morsels of dark chocolate gave an added piquancy. Again this was not too sweet, thankfully. In fact it was quite delicious and felt like a real holiday indulgence.
The Rest
I have yet to try the other three varieties, but they sound equally good and going by the first two, they are definitely something to look forward to: Casey's Milk Choc Chocolatey with dark chocolate, cranberries and macadamia nuts; Neville's Honey Choc Apple with chocolate and apple-cinnamon clusters; Louis' Nutty Fruit Porridge with apricot, blueberries and puffed amaranth.
Mexican Hot Chocolate
Hot chocolate is an indulgence I very rarely have at breakfast, but it does give a holiday air to proceedings. I've often heard about the slabs of Mexican chocolate flavoured with cinnamon used for making drinking chocolate and have been intrigued. So I was really quite excited to get some from the Mex Grocer. There is something about a large disc of solid chocolate that is so much more appealing than a jar of powder.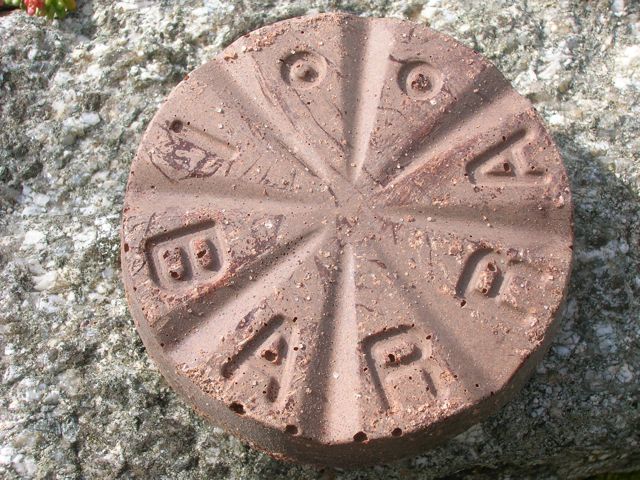 Chocolate Ibarra came in a heavy pack weighing in at 540g. As the principal ingredient is sugar, this isn't quite as exciting as it might otherwise be. It consists of six rather attractive hexagonal shaped discs. Each one makes four cups of drinking chocolate, 24 cups in total. The smell of chocolate and cinnamon emanating from the opened packet was irresistible. The texture of the solid chocolate is gritty and nothing like a normal bar of chocolate, but although you're not meant to eat it as such, I found nibbling on it to be quite a pleasant experience.

The directions were to use two triangles per cup, but I wasn't quite sure how big a cup should be. By using a mug, I suspect I made a weaker version than was intended. Lacking a suitable molinillo, I frothed it up, as suggested, using a hand held blender – it worked very well. The hot chocolate was very sweet and not as rich as I was expecting, but the flavour of cinnamon was delicious. The recommendation was to stir this with a stick of cinnamon and leave it to infuse a while. Next time I cook up a Mexican meal, I'll be sure to serve a few cups of this and use the cinnamon sticks too.
I was sent some of these breakfast bites for review purposes. As always, all opinions are my own.