Here are a few breakfast bites you might not have thought of sitting down to in the mornings. You'll find mini reviews of gluten-free pancakes, lemon green tea, a muesli variety pack and Mexican hot chocolate. There's also a recipe for chocolate sauce and a link to my rye sourdough recipe.
Breakfast is one of my favourite meals, but unless we're away on holiday, I tend to stick to toast. This isn't really a hardship as I make my own rye sourdough which is delicious and it's also very convenient. But as I'm usually in a rush in the mornings, I rarely get to sit down. So when I can, it's a real treat and it seems worth indulging in something a little different to toast.
Talking of sourdough, it's #SourdoughSeptember, so it's a good time to acquaint yourself with this ancient and delicious bread.
Breakfast Bites
Bircher Muesli
When I was an intrepid eighteen year old, I took off to Switzerland to work, first in an hotel and then as an au pair. I'd never been there before and I didn't speak the language, but throwing myself into the thick of it was a very effective way to learn French. Of the many culinary experiences I had there, chocolate aside, Bircher muesli was my favourite.
Bircher muesli, for those not in the know, is effectively what we are now terming overnight oats. It has a base of rolled oats soaked in water and lemon juice to which dried and fresh fruit is added. It was developed by Swiss physician and nutritionist Maximilian Bircher-Benner around 1900 after he came across oats soaked overnight on an Alpine walking holiday.
He prescribed it to his patients to give them a raw energy boost. There are now numerous recipes and ways of making it. The Bircher muesli I ate in Switzerland was soaked along with grated apple, dried fruit and nuts. Fresh fruit, yoghurt and thick Swiss cream was then added to taste before eating. No wonder I was so enamoured.
Dorset Cereals Bircher Muesli
I've always loved a good breakfast and there is something a little luxurious about eating a bowl full of creamy goodness which has been prepared the night before. However, although a long soak is best practice, not all of us are that organised and actually thirty minutes soaking time still gives a deliciously creamy result. This is all that's required with Dorset Cereals' new Bircher muesli.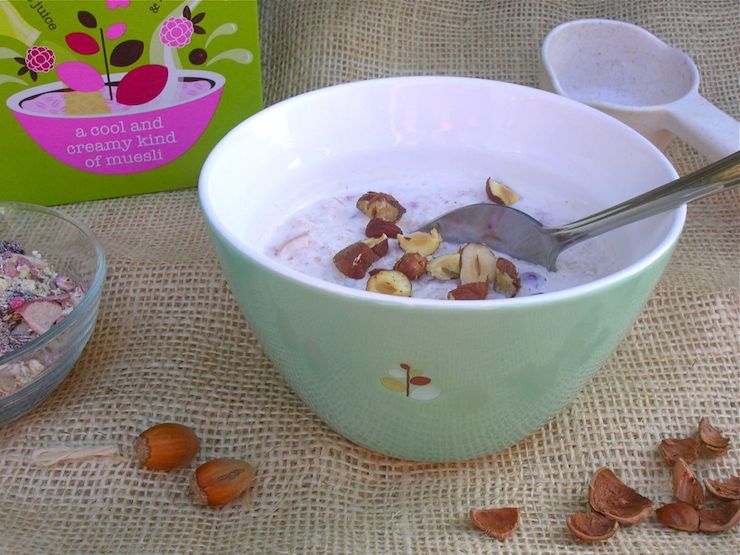 I tried the raspberry and blackcurrant out the other day and really enjoyed it. Why, I wondered, do I not do this more often? With breakfasts usually being a very rushed affair, having to wait thirty minutes between preparation and eating can be a good thing. Thirty minutes to yourself to do something positive can relax and improve happiness, according to life coach Liz Wilde.
But don't despair, if you can only manage fifteen minutes "me" time. Darina Allen reckons that's all you need in the way of soaking.
My favourite thing to do of a morning is to go out for a brisk walk. I love the light of early mornings and as I work from home, mostly sitting at a desk, it both invigorates and relaxes as well as giving me time to think; I don't do it nearly often enough, however. Thirty minutes is just the right time for a good stretch. And what bliss to come back to a bowl of comforting Bircher muesli just ready to eat.

It's been a while since I last reviewed Dorset Cereals, so I was happy to try out their new Bircher muesli mix made with fine-cut oats and barley. Now which of the two flavours to choose first? Almonds and Honey contains raisins, apple, almonds, roasted hazelnuts, sunflower seeds, coconut and honey whilst the Raspberry and Blackcurrant replaces the nuts and honey with freeze dried raspberries and blackcurrants.
These make what is a fairly easy breakfast even faster to prepare. Simply add apple juice and yoghurt, stir and leave for thirty minutes.
As usual, I went my own way and used kefir instead of the apple juice and yoghurt and added two scoops to one scoop of Bircher muesli, which I found to be just right. It tasted both creamy from the kefir soaked oats and tangy from the fruit. I then topped it with some foraged hazelnuts. Sorry squirrels, first come, first served.
Breakfast Variety Pack
Reminiscent of the Kellogg's variety packs I used to be given as a special treat when I was a young'un, these newly launched Yoosli are a more grown up and health conscious version. This cleverly named muesli selection from Yoosli provides a Monday to Friday breakfast experience delivered to your door via the postal service. Inveterate muesli munchers know it's nice to have a bit of variety. Designed to fit through your letterbox, this is the ultimate in convenience breakfasts. Letterbox friendly cows have yet to be developed, CT quipped.

All ingredients are organic which meant it got bonus points from me and the portion sizes are reasonable. Although I prefer not to have any sugar at breakfast as I generally manage to get plenty during the rest of the day, these were not too sweet. The flavours are really good and a variety of unusual ingredients are used for added interest. I was pleased to see that many of them contained chocolate – what a treat. This is a bit of fun and removes any agonising over what to eat for breakfast, which is fine as long as you are prepared to pay for the privilege in cost and packaging disposal. A weekly subscription costs £3.49.
Neville's Cranberry Poppy Spelt
This was a crunchy granola which was not too sweet and had a nice flavour with plenty of fruit and nuts, including cranberries and pine nuts. The addition of poppy seeds gave a welcome savoury note which I found very pleasant.

Cassie's Physalis Choc
The rich aroma of chocolate combined with a fruity scent, made this packet particularly enticing. These are sophisticated cocoa pops with interesting additions which convert an old familiar into something far more appealing. It was lovely and crunchy and the sour bits of physalis and morsels of dark chocolate gave an added piquancy.

Again this was not too sweet, thankfully. In fact it was quite delicious and felt like a real holiday indulgence.
The Rest
I have yet to try the other three varieties, but they sound equally good and going by the first two, they are definitely something to look forward to: Casey's Milk Choc Chocolatey with dark chocolate, cranberries and macadamia nuts; Neville's Honey Choc Apple with chocolate and apple-cinnamon clusters; Louis' Nutty Fruit Porridge with apricot, blueberries and puffed amaranth.
Gluten Free Buckwheat Pancakes
Pancakes are my kind of breakfast bites, so when I was sent some Orgran gluten free buckwheat pancake mix to try, I hurried into the kitchen and greased the pan. Basically it consists of stonemilled buckwheat, rice flour, tapioca starch, maize starch and raising agents. It contains no added sweeteners, artificial colours, flavours or preservatives.
As directed, I added eggs and water to make ranch style pancakes. Directions for vegan or egg free pancakes were also given. I also added some blueberries gathered from my mother's garden. This year is the first decent crop she's had.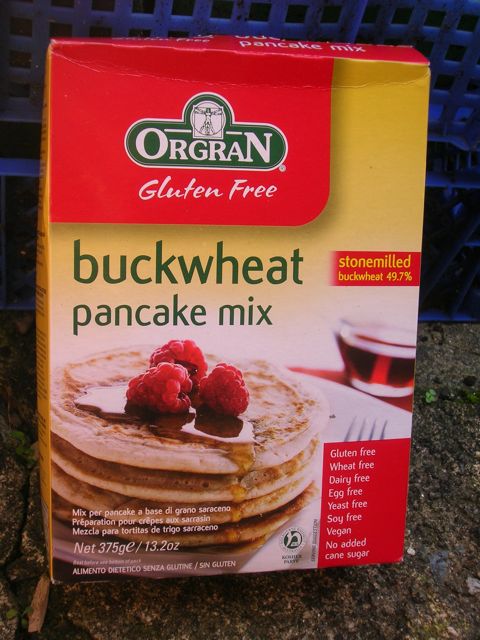 I learnt that like quinoa, buckwheat is not in fact a grain; it is a member of the rhubarb family which I found intriguing. When relating this to CT, he tried not to be too condescending, but I could detect a certain air of "you ignoramus" in his demeanour.

I knocked up some chocolate sauce to drizzle over the top. Why wouldn't you? First off, I combining some dark chocolate, double cream and a little honey in a pan. I warmed the ingredients up together in a pan over a low heat until the chocolate had melted. Then I gave it a good stir until it was lush and smooth.

Although these pancakes were delicious, I have to say I don't really see the point of pancake mixes. Measuring out some flour and raising agent and throwing it into a bowl is really not that difficult. The main part of the process which is mixing in eggs and milk or water has to be done anyway. Because this mix was gluten free, however, it contained extra ingredients which you might not have to hand. So I'm prepared to give it the benefit of the doubt.
Organic Eggs
Some of you may have noticed that I've been using Penbugle Farm organic eggs in some of my recent bakes. Keen as I am to support local businesses, I am even more so when they're organically certified by the Soil Association. As you may be tired of hearing by now, I am a long term supporter of the Soil Association, believing that they are ethically driven and offer the most rigourous organic standards that exist anywhere.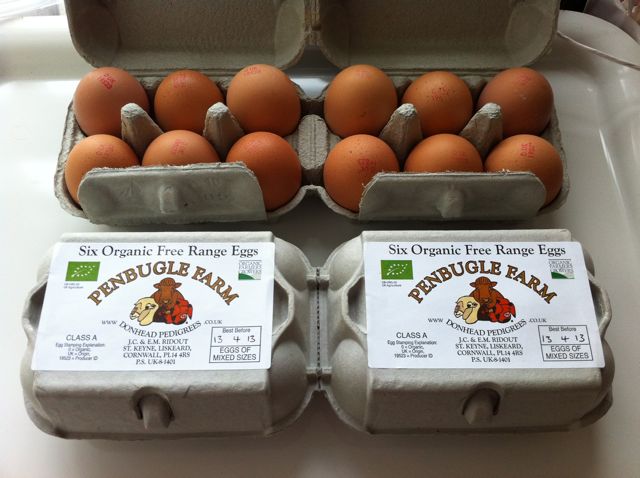 They also campaign for more sustainable farming practices and higher quality food for all. This is especially true when it comes to egg production. Soil Association certified eggs must come from free range chickens that have proper outdoor access to grass. This not only leads to healthy and happy hens, but the eggs are better too. See my post on Ingredients are the Key and on duck eggs back along when I first started this blog.
The chooks at Penbugle are all reared on the farm and have plenty of outdoor field space to run about in during the day. They have even more of it than the minimum required by the Soil Association. They also have access to indoor scratching and bathing areas as well as the nest boxes of course.
Thanks to Alison of Gingerpop Communications and to Lizzie of Penbugle Farm, I was sent a couple of dozen eggs to try out – just when I needed them most. I had several cakes to make for a friend's birthday, culminating in this lime and pistachio layer cake. The eggs were large and as it turned out many of them were double yokers too – not something I've seen very often.

I was determined to keep some back from the cake making, so we could try them au naturel. We had a couple of them boiled for Easter Day and a couple poached on another occasion. They tasted particularly good. CT being an avid egg eater is something of a connoisseur in these matters, so his thumbs up really means something.
Penbugle Farm Alpacas
What about foxes you may ask? The secret weapon in the Penbugle armoury are some rather gorgeous alpacas. Cute they may be, but they will not tolerate foxes in their fields and will drive them off and even kill them if they can. Oh and their fibre is rather lovely too.

By a strange coincidence, I spotted a Penbugle stand at the Three Bags Full market, held on Friday to celebrate Liskeard's wool heritage. They weren't selling wool, but fibre from their alpacas instead. The fibre is not only very soft, but light, extremely warm due to the hollow fibres and hard wearing too – think of grandad's camel hair coat.

The following day, somewhat drenched after dancing the Community Scarf around Liskeard in the rain, I actually got to meet the Fox Patrol in person. They were taking part in the continuation of the Three Bags Full festivities along with some Penbugle sheep and a well dressed tractor courtesy of Victoria Knittingfairy.

Penbugle Farm Holidays
Penbugle Farm, is not only a working organic farm with rare breed cattle, sheep, pigs, hens, ponies and alpacas, but it also provides holiday accommodation in the form of wigwams and bell tents as well as tent pitches if you want to bring your own. So if you fancy a bit of glamping or even camping and a chance to get away from it all, this might well be the spot for you.
Living in a particularly pretty part of Cornwall as we do, I can tell you it's well worth a visit. Most visitors to Cornwall charge down to the more well know western parts of the county, completely passing us by. It's their loss.
The farm is situated close to the pretty village of Duloe complete with its own stone circle. It is only five miles from the fishing village of Looe and the beautiful Cornish coast and only a few miles from Bodmin Moor. This provides plenty of good walking opportunities, wildlife spotting and a chance to explore our mining heritage. And the Glorious Glynn Valley is not very far away either.
The farm is, of course, very close to my charming home town of Liskeard!
Breakfast Drinks
Pukka Tea
Tea is the best drink of the day and what better accompaniment to breakfast pancakes than this Lemon Green Tea from Pukka. It's an organic and fairtrade whole leaf sencha tea with lemon verbena and Sicilian lemon which comes in a pack of 20 tea sachets.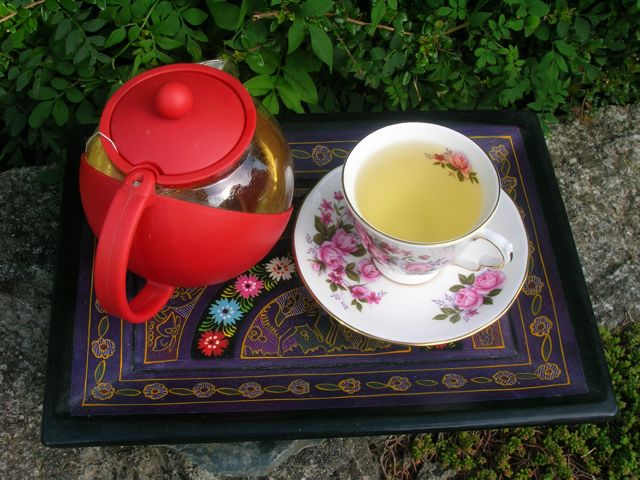 It's light and refreshing with just a touch of lemon which gave it a nice lift. The scent of lemon rising from the cup helped give CT the fortitude to tackle his stack of pancakes. One sachet made an initial pot for two which we then refilled with water and got another cup each. I can see this becoming a bit of a favourite with us.
Hans Sloane Drinking Chocolate
Hot chocolate isn't something I tend to have for breakfast. But Hans Sloane's drinking chocolate is a little different to others.
As soon as CT saw the name Hans Sloane, he approved. Not only was he a fellow botanist, but CT spent some months mowing the lawns in the London square that bears Sloane's name. In fact, Hans Sloane was a 17th century chocolate pioneer. He discovered it when he lived in Jamaica where the locals drank it with water and eggs. It was he that tried mixing it with milk so that it became the drink we know and love so well today.

I was sent two two 270g packets of chocolate beads and indeed the variably sized, shiny pieces had a bead like quality. I was really excited to read on the packets that either milk or water could be used. I've been meaning to try making hot chocolate with water for a very long time, but somehow never seem to get around to it. This gave me the prompt I needed.
Drinking chocolate made with hot water is something I can envisage drinking at breakfast time.
The chocolate comes in four other flavours which I'd be very willing to try: Smooth Milk, Grenada 60%, Madagascar 67% and Ecuador 70%. The packs are available in Waitrose and Tesco with a RRP of £4.99.
Rich Dark (53%)
This was indeed rich and dark, also thick and unctuous with a creamy mouthfeel. Even made with only water it tastes like an indulgence. Mind you it is suggested that three tablespoons are used per 200ml of liquid. When I weighed this, it came to a whopping 60g – no wonder it was rich. I was truly wowed by this chocolate and reckon that water is the way to go.

Natural Honey (32%)
Milk chocolate blended with honey, there was no doubting the flavour. Having had such success using the water with the Rich Dark beads, I decided to try it with the Natural Honey beads too. Again, this was rich, flavoursome and very sweet and it needed no other accompaniment. Yes it's sweet, but then that's what you expect of honey and it is, nevertheless delicious.

As a beekeeper, CT's approval just kept rising.
Mexican Hot Chocolate
Hot chocolate is an indulgence I very rarely have at breakfast, but it does give a holiday air to proceedings. I've often heard about the slabs of Mexican chocolate flavoured with cinnamon used for making drinking chocolate and have been intrigued. So I was really quite excited to get some from the Mex Grocer. There is something about a large disc of solid chocolate that is so much more appealing than a jar of powder.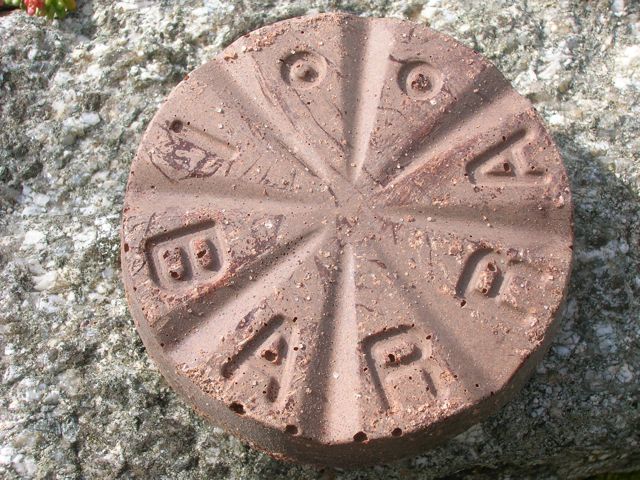 Chocolate Ibarra came in a heavy pack weighing in at 540g. As the principal ingredient is sugar, this isn't quite as exciting as it might otherwise be. It consists of six rather attractive hexagonal shaped discs. Each one makes four cups of drinking chocolate, 24 cups in total. The smell of chocolate and cinnamon emanating from the opened packet was irresistible. The texture of the solid chocolate is gritty and nothing like a normal bar of chocolate, but although you're not meant to eat it as such, I found nibbling on it to be quite a pleasant experience.

The directions were to use two triangles per cup, but I wasn't quite sure how big a cup should be. By using a mug, I suspect I made a weaker version than was intended. Lacking a suitable molinillo, I frothed it up, as suggested, using a hand held blender – it worked very well. The hot chocolate was very sweet and not as rich as I was expecting, but the flavour of cinnamon was delicious. The recommendation was to stir this with a stick of cinnamon and leave it to infuse a while. Next time I cook up a Mexican meal, I'll be sure to serve a few cups of this and use the cinnamon sticks too.
I was sent these breakfast bites for review purposes. As always, all opinions are my own. Thank you for your support of the brands and organisations that help to keep Tin and Thyme blithe and blogging.