Soft buttery sponges with a succulent and sticky texture. These super delicious honey madeleines are made with white chocolate and flavoured with thyme. They're really quick to make, so perfect for feeding unexpected guests.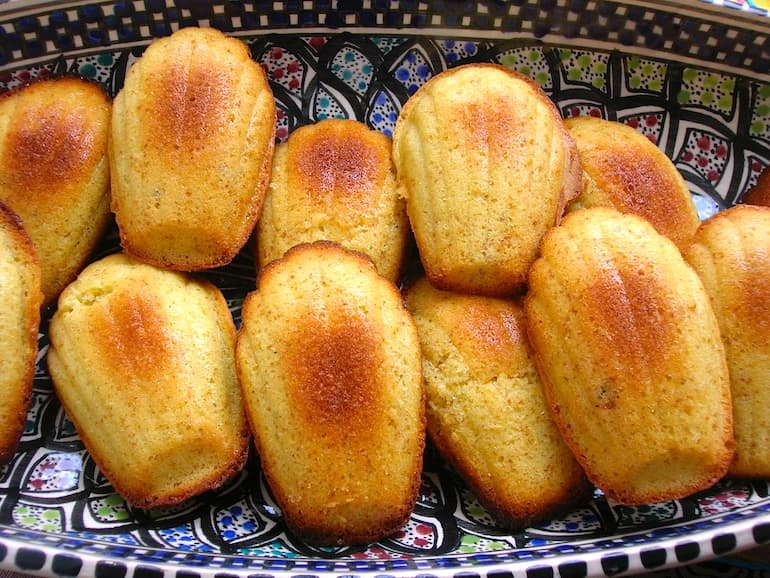 As soon as I chose honey for this month's We Should Cocoa, I've done nothing but dream of honey bakes. I love honey and if money was no object I'd use it instead of sugar almost exclusively. As well as the flavour, honey has a lot of health benefits which are not found in sugar.
When I saw that Classic French this month was for madeleines, my mind immediately moved to how I could incorporate honey and chocolate into these delicate little French cakes. I currently have two jars of New Zealand Honey to try out. Whilst I like the woody notes of the 10+ pre-biotic Beech Forest Honeydew, I thought the more floral notes of the 10+ antioxidant Thyme Honey would work better here.
Honey and Thyme Madeleines
Right until the last minute I was going to grate some milk chocolate into the mix which I thought would give a pretty speckled look. However, I wanted a hint of thyme to shine through and I thought this would be better achieved with white chocolate.
I'd spotted a recipe for Honey Madeleines in a recent book I was sent for review purposes, Stacie Bakes. I thus ended up using it as a base, but I adapted it quite heavily.

These are by far and away the most delicious madeleines I've made yet. The honey is, perhaps not surprisingly, the predominate flavour. But as well as tasting delicious, the honey also gives the sponges a succulent and sticky texture which is just delightful.
White chocolate work really well in bakes and although there's no obvious flavour, it gives these honey madeleines a certain body and je ne sais quoi. They're very different without it. Duck eggs are also fabulous for baking. I used those rather than hen's eggs, which is why the sponges are such a glorious yellow.
I used lemon thyme rather than standard thyme. This along with cardamom sugar, which I also used, combined to give a soupcon of citrus to the proceedings.
As well as the distinctive shell shape, a classic madeleine should have a "foot". Thankfully these honey madeleines had the required foot. However, in my short madeleine making career, I've not so far had a problem with this.

You could, of course, dust the sponges with icing sugar. But in this instance, I thought they were quite pretty in their yellow and brown livery, so I left them au natural. 
How Long Will Honey Madeleines Last
Unlike most madeleines that really need to be eaten as soon after baking as possible, these improve with age and become stickier and even more scrumptious. They will keep in a sealed container at room temperature for three to four days.
Strangely, this didn't prevent us from tucking in immediately.
Other Madeleine Recipes You Might Like
Keep in Touch
Thanks for visiting Tin and Thyme. If you make these honey madeleines, with or without the thyme, I'd love to hear about it in the comments below. And do please rate the recipe. Have you any top tips? Do share photos on social media too and use the hashtag #tinandthyme, so I can spot them.
For more delicious and nutritious recipes follow me on Twitter, Facebook, Instagram or Pinterest. And don't forget to SUBSCRIBE to my weekly newsletter.
If you'd like more honey recipes, follow the link and you'll find I have quite a lot of them. All delicious, of course.
Choclette x
Honey Madeleines. PIN IT.

Honey and Thyme Madeleines – The Recipe
Honey and Thyme Madeleines
Soft buttery sponges with a succulent and sticky texture. These super delicious honey madeleines are made with white chocolate and flavoured with thyme. They're really quick to bake, so perfect for feeding unexpected guests.
Ingredients
50

g

unsalted butter

50

g

white chocolate – chopped

2

tbsp

honey

(I used thyme honey)

2

large eggs

(I used duck eggs)

50

g

golden caster sugar

(I used cardamom sugar)

75

g

unbleached flour

½

tsp

baking powder

1

tsp

fresh thyme leaves – finely chopped

(I used lemon thyme)
Instructions
Melt the butter in a small pan over low heat.

Turn off the heat, add the chocolate and honey and stir until melted.

Beat the eggs and sugar together until thick, pale and tripled in volume. Electric beaters are best for this.

Pour the chocolate mixture gently down the side of the bowl and fold into the egg mixture as gently as possible.

Sift in the flour and baking powder.

Finally fold in the thyme.

Spoon into 16 silicone madeleine moulds, or floured tin moulds and bake in the middle of the oven at 180℃ (160℃ fan, 350℉, Gas 4) for ten minutes.

Turn out onto a wire rack to cool.
Notes
Please note: calories and other nutritional information are per serving. They're approximate and will depend on exact ingredients used.
Nutrition
Calories:
85
kcal
|
Carbohydrates:
11
g
|
Protein:
1
g
|
Fat:
4
g
|
Saturated Fat:
2
g
|
Trans Fat:
1
g
|
Cholesterol:
28
mg
|
Sodium:
11
mg
|
Potassium:
38
mg
|
Fiber:
1
g
|
Sugar:
7
g
|
Vitamin A:
123
IU
|
Vitamin C:
1
mg
|
Calcium:
18
mg
|
Iron:
1
mg
Tried this recipe?
Please take a photo and mention @choclette8 or tag #tinandthyme on Instagram, Twitter or Facebook.
Sharing
It goes without saying that I'm entering these honey madeleines into my very own We Should Cocoa.
I'm also submitting them to Classic French with Jen of Blue Kitchen Bakes. She's chosen Madeleines as this month's theme.
I adore herbs and use them a lot, both in my cooking and for medicinal and cosmetic purposes, but I rarely pair them with chocolate. Turns out lemon thyme works really well. It's a rare event, however, that I am able to enter Karen's excellent Herbs on Saturdays and I'm always a little bit excited when I can do so.
You never know I might just win a book. This month's book sounds especially good and right up my street. It's cooking with edible flowers by Miriam Jacobs. I'm crossing fingers.
Thanks to the New Zealand Honey Co. for sending some of their delicious honey to try. Thank you for your support of the brands and organisations that help to keep Tin and Thyme blithe and blogging.