Have you tried honey and chocolate? It's a wicked combination. Here you'll find 28 buzzy honey and chocolate recipes from some very talented bloggers. Cookies, flapjacks, cakes, scones, fudge and even chocolate bars, there are just tons of ideas to inspire.
Bees Having a Hard Time
This month I set the incredibly hard task of getting bloggers to cook with honey and chocolate. Boy, I can be so cruel sometimes! With bees very much in mind, did anyone notice the Save the Bees march in London on Friday? It was a win of sorts because neonicotinoid pesticides have now been banned in Europe for the next two years, a small victory perhaps, but it is a move in the right direction. I'm pleased to report that our bees are still alive, so I'm crossing lots of fingers that they will make it through this year after all.

Last year in the UK, the weather was atrocious; not only did fruit and vegetables suffer, but so did pollinating insects like bees and butterflies. People weren't too keen on it either. Let's hope for a better one this year. Just our luck, 2012 was the year we got our bees, which live at my mother's. They have been having a very hard time of it and we are not sure if they will survive this year. The weather is currently too cold for them to be active.
So with this in mind, I'm hoping you will all support your local bee keepers by buying local honey. Although it is not traditionally harvested at this time of year, it's warm colour and sweet taste remind us of the good things to come, spring being the herald to summer. April is when bees start to get properly busy (usually).
If you want to find out more about the plight of bees head to the Soil Association. They have a lot to say on the subject.
Buzzing Bloggers
An old saying goes: "those in search of honey can expect to be stung by bees". This doesn't seem to have been the case with these 28 buzzy honey and chocolate recipes though. Participants, as per usual, are a clever, creative and hardworking bunch, just like the bees themselves. Honey it seems is a versatile ingredient as evinced by these cakes, buns, scones, biscuits, desserts and sweets.
Last weekend, I was fortunate enough to meet the very lovely Shaheen of Allotment 2 Kitchen whose excellent vegetarian blog I've been following for some years now. I hope to be posting about this soon, but in the meantime, Shaheen is hosting May's We Should Cocoa, so do check out her blog tomorrow to see what the special ingredient is.
28 Buzzy Honey and Chocolate Recipes
First timer Helen of The Crazy Kitchen got these 28 buzzy honey and chocolate recipes going almost immediately after the challenge was announced. She made a bee line for a previously successful Mary Berry recipe, but made it her own with these honey and ginger cookies with white chocolate chunks.
After some honey and chocolate flapjacks went badly wrong by exploding in the oven, Dom of Belleau Kitchen thought he'd play it safe the second time around. I'm glad he did, because these millionaires honey flapjacks sound divine. A layer of honey flapjack, covered in caramel and topped off by chocolate – what's not to love?
Snowy of Cookbooks Galore decided to go rich, spicy and Polish for this one. Made with figs, nuts and lashings of honey, this Polish honey cake was topped off with chocolate icing.
Muffins it seems are a must for We Should Cocoa, or at least as far as Elizabeth of The Law Student's Cookbook is concerned. This month she's come up with a sure winner, banana honey muffins – not forgetting the chocolate chips of course.
More muffins from Vivian Pang Kitchen. But looks can be deceiving and the muffins are made from the left over batter of this deep chocolate pound cake. Vivian found the honey a bit overwhelming, but thought the flavours had improved considerably by the next day.
Now how about these warm thyme, honey and cocoa bean scones? These really got my taste buds going and although I haven't made any yet, I most certainly will. Hannah of Corner Cottage Bakery used local honey and has made these particularly appealing by baking them in a traditional scone round – takes me straight back to my childhood. Hannah found them particularly appealing as she fancied having a rest from the usual work out she gives her arms when kneading bread.
Now strangely Susan of The Spice Garden also made an old fashioned scone round. But before making her chocolate and walnut scones, she made her very own chocolate and honey bar – now that is true dedication to the We Should Cocoa cause.
Did you know Shetland has its very own bumblebee? Well until I read Elizabeth's Kitchen Diary post on chocolate honey nut bars, I certainly didn't. She made these very professional and tasty looking snack bars in a bid to help fatten up her husband.
Apparently Ness of Jibber Jabber UK has unwanted chocolate gifts lying around her house (if you don't want them I can supply you with my address). Anyway, unwanted chocolate and unwanted honey found themselves bake fellows in these honey and chocolate flapjacks and luckily got eaten after all.
Now, I've seen, baked and eaten many a brownie in my time, but I'm not sure I've ever seen any quite as strikingly dark as these almost Gwyneth's fudgy brownies, baked by Stacy of Food Lust people Love. They started life off as a healthy version, but Stacy decided she preferred sugar – I think I'm with her on this one.
A seahorse nestling amongst a billowy pile of dough? Chocolate bunnies breeding like rabbits do? Intrigued? You might just want to check out the, Lucy's far out ideas over at The KitchenMaid. In the meantime, I wouldn't be averse to a breeding programme of these chocolate honey buns.
If running the London marathon is your thing, or any other marathon come to that then this rocket fuel chocolate breakfast smoothie might be the thing for you. Hopefully it kept Gill going last week, from the Tales of Pigling Bland.
Honey & Thyme Madeleines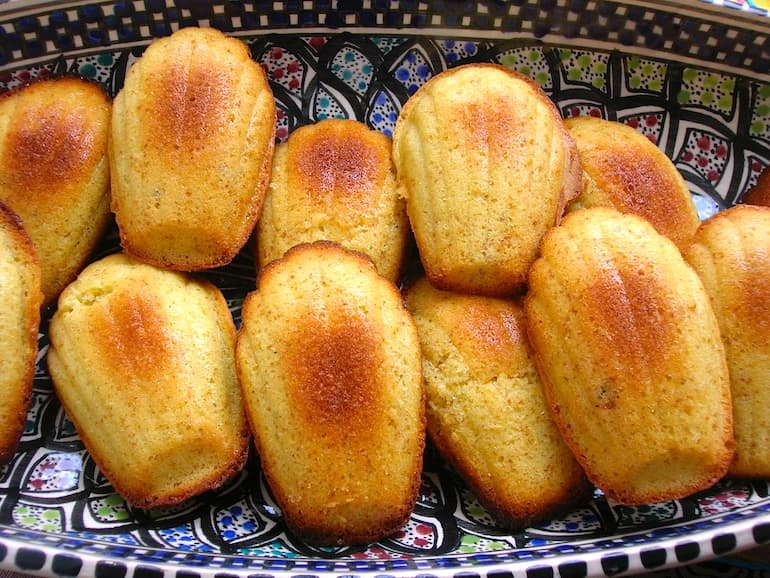 I had some thyme honey at hand and possibly Hannah's scones at the back of my mind. So my contribution to these 28 buzzy honey and chocolate recipes are these honey, thyme and white chocolate Madeleines. I'm so glad I was inspired to bake them, because they were scrumptious.
Scones proved to be a popular bake this month. I think I'm being given the subliminal or not so subliminal message that I need to try honey scones. I reckon these chocolate chip and honey scones from Johanna of Green Gourmet Giraffe are more like chocolate chunk scones – there is absolutely no skimping on the chocolate here and they sound very good indeed.
The most unusual entry yet has to be this aubergine chocolate cake from Natalie of HungryHinny. I did a double take when I first read it, but when I thought about it I could see that an oily vegetable such as aubergine might just work. It is both gluten and dairy free which is always a bonus. Natalie assures us that it is delicious; it certainly looks it.
Chocolate & honey fudge anyone? This plate of sweet delightfulness comes from Mari of NuttyTart.
If Caroline of Caroline Makes had stuck to the recipe, this chocolate tofu mousse with Oreo and peanut butter base would have been a tasty low fat dessert. Low fat it might not have turned out to be, but tasty it certainly was.
Now for some crazy swirls from Ros of The More Than Occasional Baker. These peanut butter, honey and chocolate cupcakes contain a hidden surprise. She's used leatherwood honey brought back from her travels in Australia and it must be good as it's in both the cake and the buttercream.
Suelle from Mainly Baking was a bit disappointed with this fabulous looking honey cheesecake with a hint of chocolate. The individual layers all tasted good on their own, but she felt the combination of lime blossom honey and chocolate just didn't work. I'd be happy to give a second opinion.
I do like a pretty cupcake and I do love maltesers so these malteser cupcakes from Claire of Under the Bluegum Tree are right up my street – even if the Maltesers are really Chuckles. Honeycomb made from real honey and incorporated into the buttercream can only add to the delight.
New to We Should Cocoa comes Rebecca of BakenQuilt with these delightful salted chocolate and honey caramels which by the name alone has my mouth watering. Rebecca is something of an expert on caramels and has some interesting flavours in her repertoire.
Apparently a jacket, hat and bullwhip are needed to make this Arabian styled chocolate, fig and pistachio cake. At least they are according to Chris of Cooking Around the World. I think I'll leave him to explain it, so do hop on over.
Katherine of Leeks and Limoni wanted to bake something genteel with subtle flavours to make the most of her floral scented honey from Anglesey. These honey, almond and white chocolate cupcakes were the pleasing result.
Jill of Lapin d'Or and More wanted to bake something where the honey took centre stage and after much searching came up with this fabulous boozy honey, fig and chocolate cake based on a recipe from Leon, Baking and Puddings. I can see why she had to tuck into the first slice as soon as it came out of the oven.
This honey chocolate cake was a second attempt at the challenge by Jean of Baking in Franglais who was not happy with her first – now that is what I call dedication. This cake, converted from cups to grams by Jean has a colossal amount of honey in it and as she describes it as having a brownie consistency, I was immediately won over.
First make some milk bread dough, then bake a loaf and make some chocolate chip milk buns by adding additional honey and chocolate to the dough. That's what Nazima of Franglais Kitchen did and I think will be following her example – what a lovely breakfast treat.
In a desperate bid to complete two challenges in one, Janine of Baking with Spirit trialed baking with both honey and raspberry liqueur. Luckily the combination worked and Janine reports that these honey cupcakes with raspberry liqueur icing were both light and delicious – success.
And more chocolate and honey madeleines, from Angela of Garden, Tea Cakes and Me this time. Actually Angela's came first, but due to communication errors I've only just managed to enter it. These ones contained cocoa powder and were brushed with warm honey after baking, which is an idea worth adopting I feel.
So there you have it for 28 buzzy honey and chocolate recipes. I hope you've found something you're dying to try. There are many I want to get my teeth into.