This dandelion honey was originally known as poor man's honey. It's made from dandelion flowers and sugar rather than something that's been produced by bees. Although it may not be true honey, however, it really does look and more importantly, taste like honey. It's also eminently suitable for vegans.
I remember reading about dandelion honey a couple of years ago on a blog, but couldn't remember which one. I saw it again last year on someone else's blog but again couldn't remember where. After enquiring via Twitter, I found out one of the blogs I'd seen it on was Elizabeth's Kitchen Diary, but by then it was too late and I'd already cobbled together a recipe from several I found online.
This mixture of dandelions, sugar and lemon juice is purportedly meant to taste like honey. Well that was a claim that had to be tried to be believed.
Foraging Dandelions
Our plot was covered in a riot of glorious yellow dandelions. They were clean, organic and I didn't want them to seed all over the vegetable beds. I love getting these unintended additional crops from the plot. We've had quite a few nettles and wild garlic so far this year, but that's as far as our foraging has gone.

When you gather dandelion flowers for this dandelion honey, make sure you pick them from a clean and unpolluted place. You don't want to wash them before cooking or you'll wash off most of that glorious yellow pollen. Also make sure you're picking fresh dandelion flowers. They should be open and bright yellow.
When you've picked them, allow them to sit somewhere so that any insects you might also have picked can get away. Fifteen minutes should be enough time
Dandelion Honey
All of the instructions I saw said to pick out the dandelion petals and use these on their own or the green bits would turn the colour a rather mushy brown and make the dandelion honey taste bitter. There was no way I was going to spend hours doing that, so I used the whole flower head and hoped for the best.

Do make sure you store the dandelion honey in sterilised glass jars. Seal well and it will then keep in the fridge for at least a year.
Astonishingly, it worked. The result was a wonderful dandelion honey that not only had the consistency of runny honey, but really tasted like it too. Despite leaving the green bits on, the bitter notes were faint and the colour was still golden rather than muddy.
I've used it in several recipes already including this Figgy Bread. It's also gone into this caramelised pear and honey carob cake and my £1 chocolate banana cake. It works a treat in my easy vegan honey almond granola too. Now I know how simple it is, I shall be making this again next year.
18 April 2015 Update – I've just made dandelion honey for the 3rd year running and I'm as enamoured now as I was back in 2013.
Keep in Touch
Thanks for visiting Tin and Thyme. If you make this dandelion vegan honey recipe, I'd love to hear about it in the comments below. And do please rate it. Have you any top tips? Do share a photo on your favoured social media site too and use the hashtag #tinandthyme, so I can spot it.
For more delicious and nutritious recipes follow me on Twitter, Facebook, Instagram or Pinterest. And don't forget to SUBSCRIBE to my weekly newsletter.
If you'd like to see some more preserve recipes, follow the link and you'll find I have quite a lot of them. All delicious, of course.
Choclette x
Dandelion Honey. PIN IT.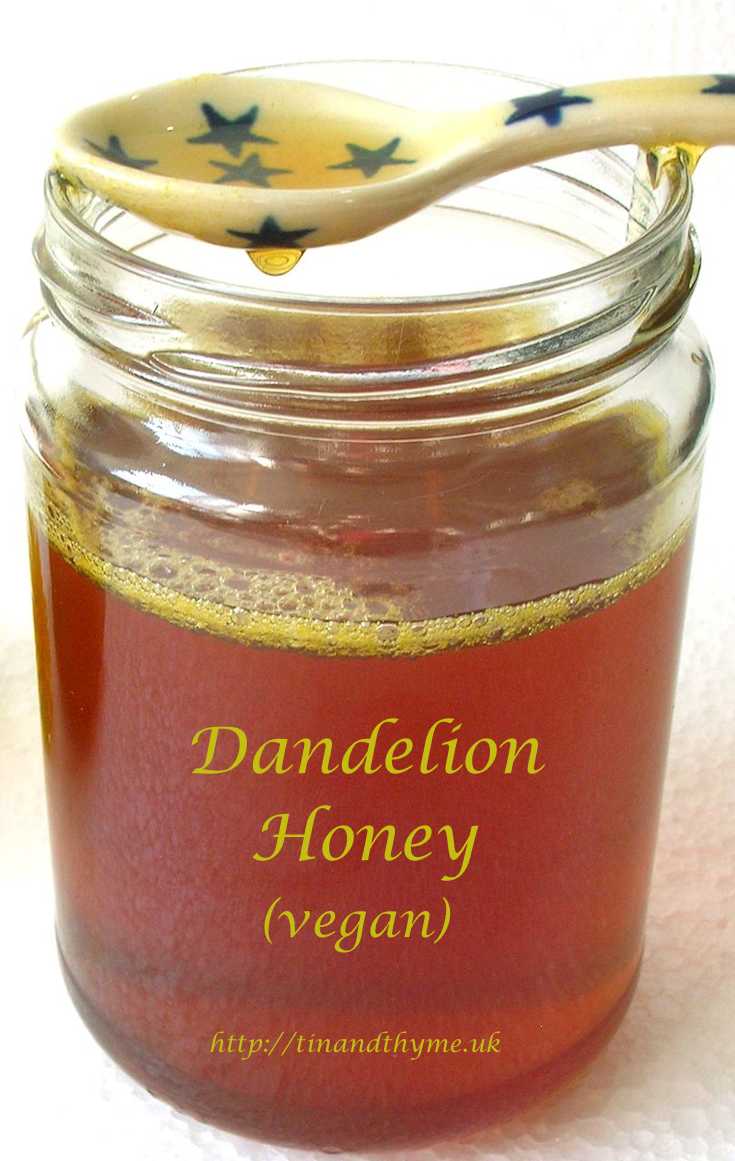 Dandelion Honey – The Recipe
Dandelion Honey
This is a poor man's honey made from dandelion flowers and sugar rather than made by bees, but although it may not be true honey, it really does look and more importantly, taste like honey. It's vegan too.
Servings:
2
medium sized jars
Ingredients
350

g

dandelion heads – remove green parts if really keen

1

organic lemon – thinly sliced

1

litre water

750

g

golden granulated sugar

or thereabouts
Instructions
Simmer dandelion heads and lemon in water for 20 minutes in a covered pan. Pour into a glass bowl and cover. Leave to steep overnight.

Pour through a sieve extracting the liquid by pressing down with a spoon to make about 750ml.

Discard the flowers and simmer the liquid in an uncovered pan with the sugar (same number of grams of sugar as mls of liquid) for about 45 minutes or until the mixture becomes syrupy and drips slowly off a spoon.
Notes
Ideally, all green parts of the dandelion flower would be removed to avoid bitterness. I have never done that as it's just too time consuming and I'm happy with the result.
Requires foraging for dandelions and overnight soaking.
Makes 2 jars.
If well sealed, will keep in the fridge for at least a year.
Please note: calories and other nutritional information are per serving. They're approximate and will depend on serving size and exact ingredients used.
Nutrition
Calories:
1493
kcal
|
Carbohydrates:
386
g
|
Protein:
2
g
|
Fat:
1
g
|
Saturated Fat:
1
g
|
Polyunsaturated Fat:
1
g
|
Monounsaturated Fat:
1
g
|
Sodium:
14
mg
|
Potassium:
385
mg
|
Fiber:
2
g
|
Sugar:
376
g
|
Vitamin A:
3419
IU
|
Vitamin C:
78
mg
|
Calcium:
86
mg
|
Iron:
2
mg
Tried this recipe?
Please take a photo and mention @choclette8 or tag #tinandthyme on Instagram, Twitter or Facebook.
Linkies
Dandelion is a wonderful herb. I often dig up the roots to make dandelion coffee. The leaves of the wild dandelion, I find too bitter, but some are happy to use them as salad leaves. There are myriad health benefits, but it is best known as a cleansing spring tonic. I am submitting my dandelion honey to Karen's Herbs on Saturday over at Lavender and Lovage. It's hosted this month by Anneli at Delicieux.
As this dandelion nectar is not only made from scratch, but is also picked from scratch, I am submitting it to Javelin Warrior's Made with Love Mondays.
Dandelions are in full season this month, so I'm entering this vegan honey into Simple and in Season with Ren Behan.