As January comes to a close and some of us have kept to our resolutions, I am particularly pleased to see so many creative and delicious ideas for chocolate recipes without beet or cane sugar – 22 sugar-free chocolate recipes in total. It was a good opportunity for some to go raw as well as sugar free; many now argue that raw foods are better for our health and we should include more in our diets.
The Sugar-Free Challenge
The We Should Cocoa challenge this month was not an easy one, but hopefully you found it interesting. The remit was to come up with something that contains chocolate but is sugar-free and that includes the chocolate too. By sugar-free, I actually mean the standard refined sugar that we all love so much, cane sugar and beet sugar. Any other type of sugar such as fructose or honey is fine.
There's maple syrup, malt, agave, date syrup and many more I won't have thought of. You could, of course, have gone savoury and some of you did. For the chocolate element, there's cocoa powder, cocoa nibs, 100% unsweetened chocolate or diabetic chocolate. For some inspiration, or maybe not, there was my recipe for raw chocolates.
Dates are the main sweetening agent of choice, they're particularly good as they add bulk and are particularly nutritious. Making brown food substances look attractive is really quite an art, but everyone's pulled it off most successfully. I was pleased to find that many found this month's theme a real challenge, after all, I don't want to lose my status as bad cop all together. As usual, I was dazzled by your creativity.
After the Christmas induced cinnamon blow-out we had in December, I was desperate to have a go at making all of the fabulous entries received. Like most of my resolutions, I expect I won't achieve it, but the thought is a happy one. Now of course I want to try all of these 22 sugar-free chocolate recipes.
22 Sugar-Free Chocolate Recipes
Dom over at Belleau Kitchen gets us off to a healthy start with sugar-free brownies. We're in for a double treat here as he's given not one recipe, but two: almond, fennel seed and banana brownies AND chocolate, coconut and banana truffle brownies.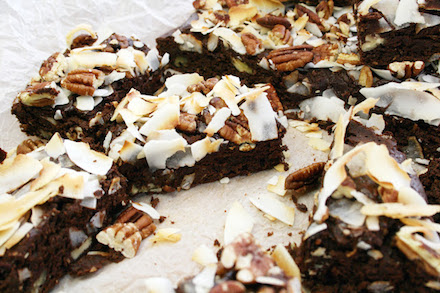 I was so pleased with these raw chocolate truffles that I shall be making them again and again. The main constituents are Medjool dates, cashew nuts and cocoa, but these have a few other ingredients thrown in to make them additionally nutritious.

Over at Elizabeth's Kitchen, things got interesting – pony poo anyone? Designed to give a natural and nutritious boost after visiting the gym, these baked post-workout protein bites did the trick. Pony poo notwithstanding, both Elizabeth and her children found them to be very tasty. And what's inspired these trips to the gym? She's training to be a lifeboat volunteer.
A chocolate detox drink sounds like a bit of a contradiction, but Sarah of Maison Cupcake has invented just such a wonder. Her shrink mummy shake has me off to the shops later to buy some bananas, not something you see that often in this household.
Brownies, being one of my many weaknesses, I was thrilled to discover that Suelle of Mainly Baking managed to get some in to this challenge. Who would have thought you could have a sugar-free brownie? Well Suelle did for one. She reports that these date and maple brownies are light and cake-like, but also moist and tasty.
Our first non-brown photograph brings us more raw truffles from Ruth of Makey-Cakey. These chocolate, date and pistachio truffles were a goodbye offering to her work colleagues as she started a new job earlier this month. I do love pistachios and rolling the truffles in green nuts makes them look really pretty. Congratulations Ruth and good luck.
Made with dried pineapple rings from St Lucia and coconut flakes, this "super healthy" pineapple, coconut and chocolate ripple frozen yogurt looks to be pure delight. Claire of Under the Blue Gum Tree whilst not being completely overwhelmed with the whole sugar-free thing, thought this "wasn't bad at all".
Our third raw chocolate entry is from Jen of Blue Kitchen Bakes. She won a raw chocolate making kit at Christmas and used some of the chocolate to top her raw vegan cookies. These raw chocolate, oat and currant cookies have been cleverly pressed into stars. I've not come across raw cookies before so I will now have to try some for myself. Sweet Freedom, made from carob, apples and grapes is the sweetener used here.
With a baby who's just learnt to walk and two young boys, food for energy is just what is needed in the CityHippyFarmGirl household. Luckily these chocolate agave energy balls pack a punch and sound quite delicious. These are sweetened with agave and honey, although Brydie states agave can be substituted for the honey.
Now this banana, spelt and pecan loaf, may, er, have a little white chocolate drizzled on the top, which isn't strictly sugar free, but Laura of How to Cook Good Food assures me, it's very good without it. It sounds like a very nice loaf indeed and is sweetened with honey.
Sweetened with a mixture of maple syrup and orchard syrup, these vaguely healthy sticky choc-toffee puddings sound truly scrumptious. Gill of Tales of Pigling Bland thought they had a hint of fruitiness from the orchard syrup, which luckily she seemed to approve of.
Snowy of Cookbooks Galore has used pureed dates as a sweetener in the past, so was happy to try out this recipe for chocolate date muffins when she came across it. The consensus seems to be that dates act as a good sweetener as they are very sweet, the taste doesn't overwhelm and they are healthy too.
And here's another We Should Cocoa host who has sneaked a bit of chocolate in! The excuse that Natalie of The HungryHinny gave was that the Pony needs his treats for work and wouldn't eat it without chocolate. Well what can you do? These wheat, dairy and (almost) sugar free chocolate oat bars look wonderful. Sweetened with honey and with peanut butter as one of the ingredients, I'm sure they tasted delicious too.
One of my resolutions this year is to stick to my one day of fasting a week. However, I know lots have other dieting resolutions. One diet I have not heard of until Mari of the Nutty Tart bought my attention to it, is the Paleo Diet. From what I can gather, this seems to be going back to the diet of our ancestors (sort of) and cutting out refined foods, starch and sugars. Anyway, as Mari put it herself, she went caveman this month and baked the Paleo diet chocolate cake – lucky cavemen I say!
Of all the energy bars, truffles and bites that have been baked for We Should Cocoa this month, I don't think any of them have been so prettily packaged as Janice's chocolate cherry energy bars. She admits herself she was a little put off at the idea of sugar free, but thankfully persisted and these delicious bars may now be making a regular appearance on the Farmersgirl Kitchen breakfast table.
Spring cleaning got off to an early start over at Corner Cottage Bakery – a clean up of spices. To use up her spare spices, Hannah created a tasty looking chocolate version of the Egyptian spice mix dukkah – cocoa dukkah.
Luckily, after all this savoury excitment, Mel of Sharky Oven Gloves is giving us some sweet delights in the form of peanut butter and cocoa nibbed cookies massively sweetened by honey. Challenged she might have been, but what a delightful bake has come out of it.
Well take a look at these carrot & coconut muffins with chocolate topping from The Golden Pear. It's not just any old chocolate topping and it's something I'm now very keen to try. The muffins are gluten and dairy free, being made with coconut oil and flour respectively and sweetened with honey. The topping is luxuriously and unusually made with avocado and again sweetened with honey.
There is something about the word nectar which just conjures up something completely sublime. Linzi from Lancashire Food had my mouth watering straight away just from the title of her agave nectar chocolate cake.
Quinoa is one of my favourite grains (although it's not strictly a grain). I've cooked with the flour before, but these quinoa cookie cakes from Nutritious Deliciousness are interestingly baked with the whole grain and thus a new concept to me. The sweetener used here was coconut sugar, which is meant to have a lower glycemic index than cane sugar, honey and agave.
Energy balls have got to top this month's list for popularity. Helen of Fuss Free Flavours used her new dehydrator to make these chocolate, orange, date and seed energy balls. The inclusion of apricots and peanut butter has got me itching to have another go at making some myself.
Honey cake is one of my favourite things and this honey cake not only has chocolate in, but look deliciously gooey and brownie like. Chocolate honey traybake from Utterly Scrummy Food for Families.
Now how about this brilliant recipe from Lucy The KitchenMaid? It's perhaps not a recipe we would want to tuck into, but cocoa bean husks are an excellent ingredient for the garden which can produce lots of lovely things to eat. What I'm wondering is, do the vegetables end up tasting of chocolate – now wouldn't that be something?