Recipe for healthy vegan chocolate oat truffles which are just as good to eat for breakfast as they are after a meal. Add peanut butter and they notch another level or two. These simple to make organic bliss balls are also great energy boosting snacks.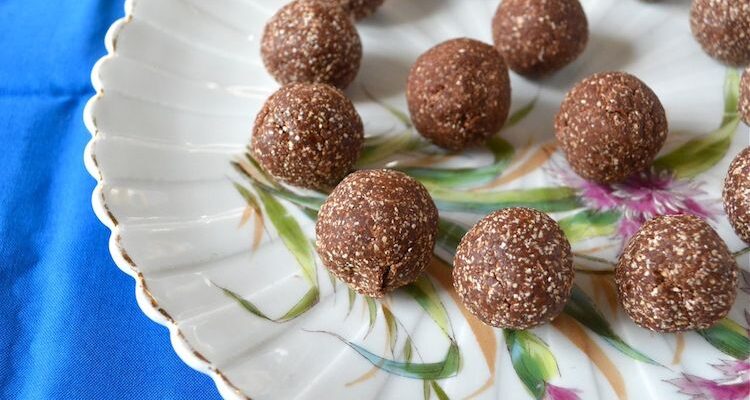 When is an oat more than an oat? When it's an oat that's been transformed into a scrummy organic chocolate oat truffle of course! Oats are not only healthy but are highly versatile and can be used for all sorts of purposes besides porridge.
I'm a big fan of the humble oat, so I was delighted when White's invited me to the Cotswolds to gen up on this sometimes underrated grain and tour the fields with a bunch of experts.
White's Oats
White's have serious vintage and they know their oats. They've been milling them in Tandragee, Co, Armagh, Northern Ireland for over 175 years. In fact they've got the process down to a fine art and their oats have won many Great Taste awards for their distinctive nutty creaminess.
They are Ireland's largest oat miller and the only oat cereal producer in Northern Ireland. From porridge oats to granola, you'll find a whole variety of oaty products to choose from, including organic ones. Their jumbo organic oats are available via Waitrose and pretty much anywhere in Northern Ireland.
There's not been a great deal of research done on oats in recent years. White' s, however, has stepped in to the breach and is on a quest to produce the perfect grain, one which is easy to grow and mill, nutritionally dense and tasty.
They work with a group of 30 (and growing) British organic oat growers trialing varieties and cultivation techniques. I was invited up to this year's trial site at Abbey Home Farm in the Cotswolds to find out about the fabulous grain that provides us with our morning porridge, overnight oats and so much more.

You can #TasteTheJourney by following the White's story on Instagram, Twitter and Facebook.
Oats for Breakfast
Abbey Home Farm is a large mixed farm and is Soil Association certified. It has a fabulous organic café which serves mostly vegetarian food, much of which comes from the farm. Lunch was provided for us after our trip around the fields and it was delicious.
We started the day, however, with introductions and a very oaty breakfast supplied by the team from White's. We sat down to a beautifully decorated breakfast table alongside such dignitaries as: White's General Manager, James Mathers; Andrew Trump from Organic Arable and the Farm Manager at Abbey Home Farm, John Newman. I was delighted to find that fellow blogger Gemma from Unconditionally Nourished was amongst the gathering.

We tucked into Whites' granola with the farm's own organic strawberries and yoghurt, which was an utter delight. This was followed by delicious fluffy pancakes served with maple syrup. The pancakes were made with oats of course. We rounded the meal off with organic chocolate oat truffles. What a treat!
Whilst we enjoyed the breakfast fare laid out before us, we found there was much to chat about. Questions and answers positively flew around the table and the passion that White's and their partners have for all things oaty was very much in evidence.

Growing Oats
Oats (Avena saliva) grow well in the British climate, both as spring and winter crops. They are an excellent and versatile crop for an organic system and as we toured the fields, John waxed lyrical about them. They grow tall so they shade out most of the weeds, they are less susceptible to disease than other grains and the stalks make a nutritious animal feed.
Oats are also beautiful to look at. But goodness me, there is an awful lot more work that goes into oat production than I'd ever realised. Sowing, harvesting and milling is just a small part of it. Building up and maintaining the soil, checking for disease and shipping are just a few more of the processes involved. However, summer is drawing on and the elegant dancing golden oat heads will soon be harvested. Bring it on.

Creating the Perfect Oat
Earlier in the year, Abbey Home Farm sowed eight varieties of oats, each with different seed rates and different depths. There are 64 trial plots in total. The idea is to see which varieties perform best and at which seed rate and depth of planting. When we arrived at the trial site, a group of growers led by White's agronomist, Raymond Hilman, were evaluating progress.


Oat husks contain three kernels. The problem is that two of the grains grow big and plump, but one remains small. White's has a high quality control in place and is looking for well developed grains that are easier to mill and produce a better tasting product.
This means the smaller grains have to be removed from the process, preferably before they are shipped off to White's. And guess what? It makes more work for both the growers and White's as well as increasing costs. One of White's aims is to produce a husk which either contains three plump grains or two even larger ones.

Oats as Superfood
In today's superfood charged world, it's great to know that the British oat is up there with the best of them. It's a wholegrain and as such contains four times the amount of dietary fibre found in refined grains. This helps to maintain good gut health.
Oat groats are also an excellent source of protein, vitamins, minerals and antioxidants, which is why they are such a great way to start the day. They have the additional benefits of being low in saturated fat and helping to lower cholesterol. Organic oats have always been a staple in my kitchen.

Organic Chocolate Oat Truffles
Energy balls, or bliss balls as I like to call them, are one of my go to treats. They're easy to make, tasty and so much better for us than a chocolate bar, biscuit or slice of cake. Unless the latter are some of my creations of course. They often include oats.
This recipe for organic chocolate oat truffles from White's is super simple to make, not overly sweet and only contains four ingredients: oats, dates, cocoa and salt. I may occasionally add a little cinnamon to mine – I just can't resist. More often than not though, I add peanut butter. This turns a good chocolate oat truffle into something truly blissful.

The mixture varies in terms of dryness, depending on how soft the dates are and whether you use peanut butter. You may not need to add any water, but you most likely will. Just add a little at a time and pulse until you have something that holds together, but isn't sticky or wet.
If not using peanut butter, you can roll these bliss balls in desiccated coconut for extra pizzaz.
Other Oat Recipes You Might Like
Keep in Touch
Thanks for visiting Tin and Thyme. If you make this organic chocolate truffle recipe, with or without the peanut butter, I'd love to hear about it in the comments below. And do please rate the recipe. Have you any top tips? Do share photos on social media too and use the hashtag #tinandthyme, so I can spot them.
For more delicious and nutritious recipes follow me on Twitter, Facebook, Instagram or Pinterest. And don't forget to SUBSCRIBE to my weekly newsletter.
If you'd like more energy ball recipes, follow the link and you'll find I have quite a lot of them. All delicious, of course.
Choclette x
Recipe for Organic Chocolate Oat Truffles. PIN IT.

Organic Chocolate Oat Truffles – The Recipe
Organic Chocolate Oat Truffles
Healthy chocolate oat truffles which are just as good to eat for breakfast as they are after a meal. They also make for a great energy boosting snack.
Ingredients
100

g

organic oats

125

g

soft dates – pitted

I use Deglet Nour or 8 mejool dates

2

tbsp

cocoa powder

I use raw cocoa powder

pinch

sea or rock salt

I use Himalayan pink rock salt

2

tbsp

peanut butter (optional)

crunchy is good but use smooth if you prefer
Instructions
Blend the oats in a food processor or blender until they've become almost flour.

Add the remaining ingredients and blend until the mixture comes together. You may need a little water if the mixture is too dry – see note below.

Take heaped teaspoonfuls and roll into balls between the palms of your hands.

Eat straight away or place in a sealed container and keep in a cool spot for up to a week.
Notes
The mixture varies in terms of dryness, depending on how soft the dates are and whether you use peanut butter. You may not need to add any water, but you most likely will. Just add a little at a time and pulse until you have something that holds together, but isn't sticky or wet.
If not using peanut butter, you can roll the balls in desiccated coconut for extra pizzaz.
Please note: calories and other nutritional information are per serving. They're approximate and will depend on serving size and exact ingredients used.
Nutrition
Calories:
47
kcal
|
Carbohydrates:
10
g
|
Protein:
1
g
|
Fat:
1
g
|
Saturated Fat:
1
g
|
Sodium:
1
mg
|
Potassium:
83
mg
|
Fiber:
1
g
|
Sugar:
5
g
|
Calcium:
7
mg
|
Iron:
1
mg
Tried this recipe?
Please take a photo and mention @choclette8 or tag #tinandthyme on Instagram, Twitter or Facebook.
Sharing
This recipe for organic chocolate oat truffles is my share for this month's #WeShouldCocoa.
This post was commissioned by White's. I was not expected to write a positive review and all opinions are, as always, my own. This post contains an affiliate link. Buying through a link will not cost you any more, but I will get a small commission. Thank you for your support of the brands and organisations that help to keep Tin and Thyme blithe and blogging.