Everyone knows hazelnuts and chocolate work well together in a cookie. But have you tried chocolate and Brazil nuts? These chocolate Brazil nut cookies are delicious with chunks of milk chocolate and crunchy pieces of nut. They're not overly sweet either. Give them a try.

Random Recipes
We are well and truly being kept on our toes with this Random Recipes challenge. For some reason Dom doesn't think we are being as random as we should be. To get around this, he has teamed us up with another blogger this month, who is responsible for selecting the book and page number for us. This reduces the chance to cheat somewhat. NOT, I hasten to add, that I have ever done such a thing.
Dom teamed me up with Miss Cake Baker of What I Baked This Weekend and in a series of exchanges via Twitter she selected Chocolate Brazil soft-baked biscuits from Green & Black's Unwrapped. I'm always terrified I'm going to be landed with something really difficult. But once again, I was lucky.
Chocolate Brazil Nut Cookies
I'd already made these, way back in the early days of my blog but they hadn't turned out quite as I'd imagined. So rather than asking Miss Cake Baker to choose again, I thought it would be good to give them another go. Only this time, I'd use a less dark chocolate and add a bit more milk.
The original recipe stated that the dough should be rolled out. Quite frankly, I couldn't see how that would be possible with all those chocolate lumps and bumps. And in any case, the mixture is too soft for rolling. I used a spoon to dollop the mixture onto baking trays. This method, may not have made the most attractive looking cookies, but it sure sped the process up.
First Time Around
When I made these chocolate Brazil nut cookies the first time, it was for our annual Easter walk.  I needed some edible snacks that would carry well over a distance of 11 miles and that could be easily handed around to a group. Biscuits were the obvious choice. I went for the aforementioned recipe in Green Black's*.
Apart from flapjacks, I hadn't made biscuits for years and certainly not in my rather unpredictable oven. So I was a little nervous. I was right to be so; they turned out more like little buns than biscuits. Next time, I thought to myself, I shall be a bit more generous with the milk and they should spread in a more biscuit like fashion. Luckily they tasted good and everyone had second helpings.
Second Time Around
The biscuits didn't spread this time either, despite adding a bit more milk. But I managed to flatten them more than I did in my first attempt and they thus had a better texture. They weren't too sweet and were delicious warm whilst the chocolate was still melted. A definite improvement on the first time. CT only got to try them when they'd cooled down, but he also thought they were delicious. Phew!
Other Recipes for Chocolate Chip Cookies You Might Like
You can see from my blog that I've made up for my lack of cookie making in those early days. Just check my baking category for biscuits.
Show Me
Thanks for visiting Tin and Thyme. If you make these chocolate Brazil nut cookies, I'd love to hear how you got on in the comments below or via social media. Do share photos on social media too and use the hashtag #tinandthyme, so I can spot them.
For more delicious and nutritious recipes, follow me on Twitter, Facebook, Instagram or Pinterest.
Chocolate Chunk Brazil Nut Cookies. PIN IT.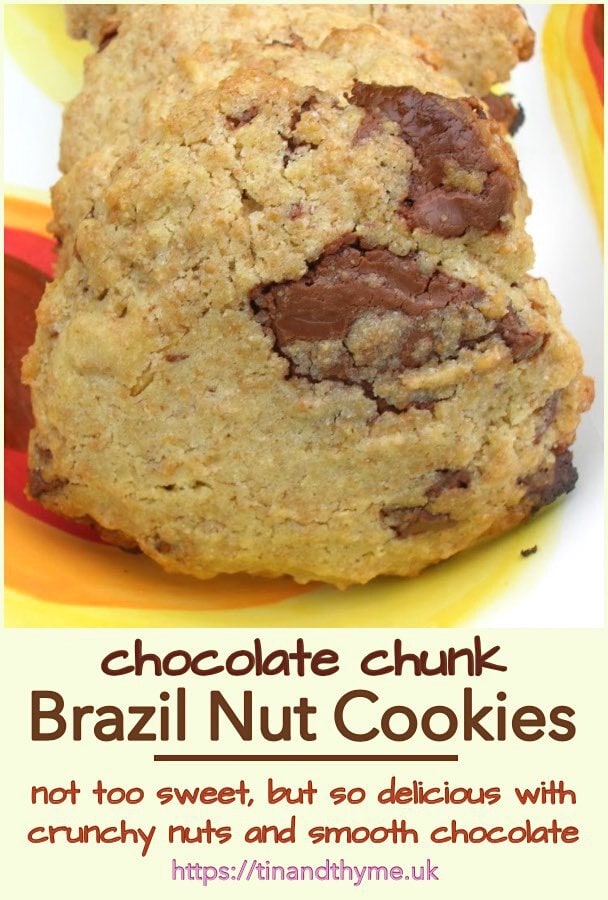 Chocolate Brazil Nut Cookies – The Recipe
Chocolate Brazil Nut Cookies
Everyone knows hazelnuts and chocolate work well together in a biscuit. But these cookies are made with crunchy pieces of Brazil nut and delicious chunks of milk chocolate.
Ingredients
75

g

unsalted butter

60

g

golden caster or granulated sugar

(I used vanilla sugar)

1

large egg

(I used a duck egg)

½

tsp

vanilla extract

(I used ¼ tsp because of the vanilla sugar)

175

g

wholemeal flour

1

tsp

baking powder

pinch of fine sea or rock salt

2

tbsp

milk

50

g

Brazil nuts - roughly chopped

125

g

milk chocolate (40% or higher) - roughly chopped
Instructions
Cream the butter and sugar until soft and fluffy.

Beat in the egg and vanilla extract.

Sift in the flour, baking powder and salt. Stir together. Add the milk, nuts and chocolate and stir until just combined.

Place teaspoonfuls (about 20) onto lined baking trays, placing them well apart. Flatten with a fork dipped in water.

Bake at 180℃ (350℉, Gas 4) for 12 minutes until golden. Allow to cool for a minute or two, then transfer to wire rack to cool completely.
This post contains affiliate links, which are marked with an *. Buying through a link will not cost you any more, but I will get a small commission. This helps to keep Tin and Thyme blithe and blogging. Opinions are, as always, my own.