A late leisurely breakfast or brunch is such a treat at the weekend. In fact, brunch has become my favourite meal. It seems I'm not the only one. It's been rising in popularity over the last few years and is now said to be the nation's best loved repast. This recipe for Mexican Huevos Rancheros with smashed avocado is a great brunch standby. It's simple to make, pushes the boat out a little and kicks ass.
The first time I remember eating Mexican food was in that well-known Hispanic enclave, Loughborough, when I was a student many years ago. In those days, even tortilla chips were hard to get hold of and I felt quite hip eating such an unusual cuisine. I fell in love with the vibrant punchy flavours and have never looked back. These corn spinach polenta triangles may not be authentic Mexican cuisine, but they are certainly inspired by it.
I do love a good dip. They make a great starter to go with nibbles when entertaining, can form part of a mezze type meal and often make a great sandwich filling too. So when I was challenged to take part in a chip n dip exercise, by creating a dip, I was most definitely up for it. I also have an easy and rather nifty competition with a great prize, so do read on.
It's pancake day and having just eaten the most delicious pancake wraps with spiced lentil dhal, I would urge you all to try something a little different today. The recipe I adapted comes from a rather special book from fellow blogger Dannii Martin, Hungry Healthy, Happy. I'm also reviewing another fabulous book from fellow Cornish blogger Jane Sarchet, Secret Kitchen, Southwest England. Read on for my recipe and the two book reviews.
Having been sent eight large ripe Peruvian Hass avocados, I didn't have a great deal of time to use them up. Following on from the avocado chocolate chip cookies I made a few weeks ago, I wanted to continue with the avocado baking theme. Leafing through the accompanying booklet, I found a recipe for Peruvian Hass avocado brownies. With my well known love of all things brownie, I didn't need to cogitate further.
Of course, I made a few adjustments with the recipe. For a start I thought a hint of chilli and a soupçon of cinnamon would be appropriate flavours to enhance the South American feel of the brownies. Sadly I didn't have any Peruvian chocolate to hand but made do with using up three partly used bars which were making my cupboard look untidy; as it happens one of them was from Ecuador, so at least it was from the right neck of the woods. As well as the spices I added a little cocoa powder for extra richness and used mostly brown sugar for fudginess. As I was using duck eggs which are quite large, I added a little bit of extra chocolate too.
Whilst the avocado by no means replaced all of the butter, it did have less saturated fat than many brownie recipes, so it could be argued that they are slightly better for you!
This is how I made:
Spicy Peruvian Avocado Brownies
Melted 150g unsalted butter in a pan over low heat with 270g chocolate (I used a mixture of 70& plain, 53% dark and 37% milk). Stirred to combine, then left to cool a little.
Beat 100g dark brown sugar, 50g golden caster sugar together with 3 duck eggs (large hens eggs will be fine) using electric beaters for about 3 minutes
Mashed 1 large Peruvian Hass avocado and added it to the eggs. Beat the mixture for a further minute.
Poured the chocolate mixture down the side of the bowl and folded the mixture in as gently as possible.
Sifted in 60g self-raising flour, 1 scant tbsp cocoa powder, ¼ tsp cayenne pepper and ¼ tsp ground cinnamon.
Folded this in until just incorporated.
Scraped the batter into a 9″ sq. silicone mould and baked at 180℃ for 25 minutes.
Left in the mould to cool then cut into 16 pieces.
These are real melt in your mouth brownies – sort of light but fudgy and unctuous at the same time. The touch of spices was just right, a catch at the back of the throat and a hint of something warming, but nothing that overpowered the deep rich chocolateyness of these brownies. You can eat several of these and your palate is left feeling quite clean at the end of it – I should point out that eating several at a time is not really recommended. The taste of avocado could barely be detected. None of the taste testers (other than super taster CT) noticed it, even after I told them what the brownies contained. Not being able to taste avocado in your brownies, when all's said and done, is for most of us, a good thing.
This month's theme for Love Cake over at JibberJabberUK is all about Back to School – Something New. These brownies fit the bill perfectly. They are delicious treats for the school lunch box, but slightly healthier than your average brownie. They are also new to me as I've never made brownies with avocado before.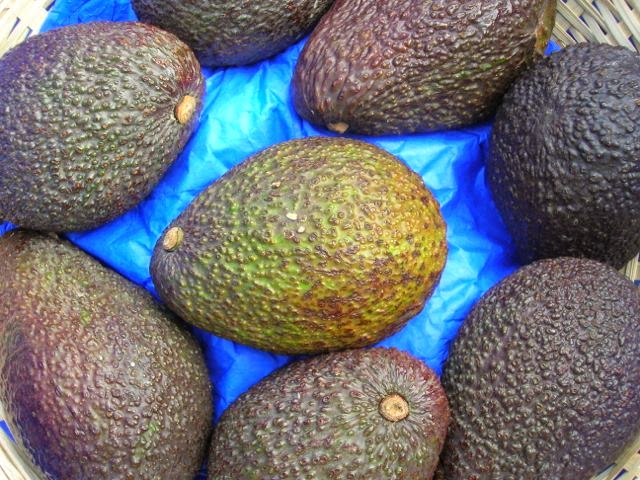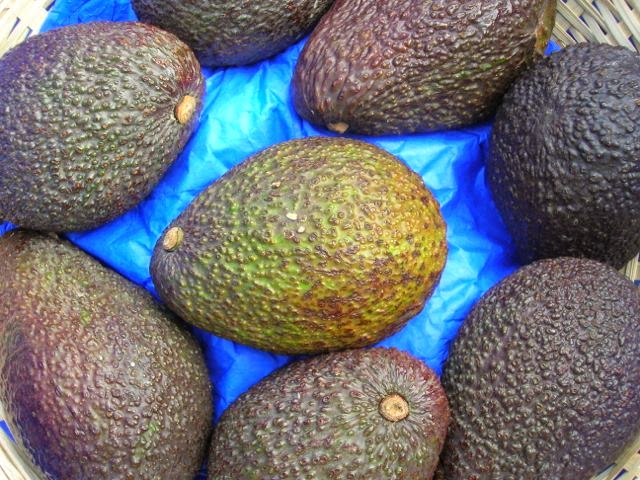 I have to come clean here: making avocados into a smoothie seems a bit of a waste of a good avocado to me. I love the texture and flavour of this princely fruit but actually like them best just as they are, on toast or with slices tossed into a salad or mashed up in guacamole or this avocado and egg dip. But when an octet of Peruvian avocados winged their way to me it seemed like an ideal time to experiment.
Intuitively a dairy-free option seemed like the way to go. Ideally I would have used coconut water as the liquid, but I didn't have any to hand. I had a look at coconut and almond milk options, but they were all full of sugar, vegetable fats and other additives. If only I'd read Janie's post on making your own almond milk before going ahead, but I didn't. In the end I resorted to a tin of coconut milk. To keep things as Peruvian as possible I used maca and raw cacao powder both grown in Peru. The maple syrup, oats and banana may have come from a different continent, but honour, I felt, had been served.
Talking of serving, how did the smoothies turn out? Really rather well. Thick and creamy, rich and chocolatey, healthy too; we had them for breakfast and they kept us going for several hours. Result.
print recipe
Ingredients
1 large Peruvian Hass avocado
1 large banana – peeled
2 tbsp rolled oats
1 tsp maca powder
1 tbsp raw Peruvian cacao powder from Indigo Herbs.
½ tin coconut milk (fresh would be best)
2 tsp (or to taste) maple syrup
water
Instructions
1. Cut the avocado in half, remove the stone and scoop out the flesh with a spoon. Place in a liquidiser together with the banana.2. Add the oats, maca, cacao, maple syrup and coconut milk.3. Add enough water to make the volume up to 1 litre and whizz for a few minutes until smooth.4. Pour into glasses and drink with gusto.
Details
Prep time: Cook time: Total time: Yield: 2 large or 4 small glasses
If there was one crop other than lemons I wish we could grow easily in the UK, it would be avocados. I would have an orchard full of them. Not only are they buttery and delicious, but they are also quite good for you. High in potassium, the unsaturated fats are said to be healthy ones and they are relatively low in calories.
When I was sent a basket of ripe Peruvian Hass avocados, to say I was pleased was an understatement. I hadn't known such bounty since CT and I worked on an avocado farm during our antipodean travels many years ago. We ate the fruit for breakfast, lunch and dinner. So in remembrance of times past, we cut into one almost immediately and had it spread on toast, just as we used to back on the farm when we used it as a butter substitute. Oh, how delicous. These avocados were particularly tasty with a gimme more creamy texture.
Guacamole has long been a favourite of mine and makes for a very tasty vegan dip and accompaniment to all sorts of dishes. But I also find avocados have an affinity to eggs – maybe it's the shape. One of my favourite party dips is an egg and avocado one and as I hadn't made this for ages, I thought it was about time it was resurrected. What better accompaniment than some homemade bread, juicy sweet homegrown tomatoes and some crisp lettuce.
The Great British Bake Off seems to have taken the world by storm this year and pretty much everyone seems to be talking about it. Last week was all about bread, so I thought I should join in the fun and get a little creative with flour, yeast and of course chocolate. Having a pretty good idea by now about pairing chocolate with savoury foods, I decided that adding some cocoa to my bread would marry well with the creamy eggy dip. I wasn't wrong. My pitta pockets, stuffed with the avocado egg filling along with some lettuce and tomatoes was pure heaven.
The pitta pockets exhaled a chocolate fragrance on opening and were resileint enough to hold the contents. They had a soft and inviting texture and although thick were not in the least bit leathery – way better than any shop bought pitta breads I've had. The chocolate pitta also did a grand job of mopping up the juices of a vegetable stew. The avocado and egg dip was as delicious as I remember it. We both felt we could eat this again and again.
Cooking with Herbs over at Lavender and Lovage is all about chives this month, so although I've already sent one entry, I couldn't resist sending this one too.
print recipe
Ingredients
250g strong white flour
250g wholemeal spelt flour
1 scant tsp Himalayan pink rock salt
1 tbsp cocoa powder
1 tsp dried yeast
1 tsp golden caster sugar
330ml warm water
Instructions
1. Stir the yeast and sugar into the warm water, then combine this in a bowl with the other ingredients.2. Turn out onto an oiled work surface and knead for a few minutes – the dough will be sticky, but be wary of adding any additional flour.3. Place back into the bowl, cover with a cloth and leave to rest for about 30 minutes.4. Turn out onto an oiled work surface and knead again for a few minutes. The dough should have absorbed all of the water my now and not be so sticky.5. Cut into 8 pieces and kneading each one briefly shape into flat ovals, either with hands or a rolling pin.6. Place the ovals onto a lined baking tray (or two, depending on size). Place inside a plastic bag and leave to rise for about 15 minutes.7. Bake at the top of a hot oven (225C) for about 5 minutes when the breads should be lightly browned but still soft. Cover with a tea towel until all the bread has been baked. This will not only keep them warm, but keep them soft too.
Details
Total time: Yield: 8
print recipe
Ingredients
2 large boiled eggs
2 large avocados – stoned and peeled
half a small onion – finely chopped
1 tbsp lime juice
1 tbsp mayonnaise
a good grinding black pepper
4 stalks chives – snipped
Instructions
1. Roughly mash the avocados with the lime juice.2. Stir in the onions and pepper.3. Add the eggs and roughly mash into the avocado.4. Stir in the mayonnaise and pile into a serving dish. Top with the snipped chives.
Details
Yield: 8 servings
I had to adapt the recipe from American measures to make it gram friendly and did my usual bit of tinkering, so these will not be replicas of the originals by any means. However, the flour is wholemeal and the sugar content is not high, so these cookies are relatively healthy. That is, if you ignore my addition of white chocolate – just to give them a soupçon of naughtiness.
This is how I made:
Chocolate Chip Avocado Cookies
Peeled and stoned a small avocado then mashed it in a large bowl.
Beat in 80g golden caster sugar and 40g dark brown sugar.
Beat in 1 duck egg (large hen's egg will be fine), ½ tsp vanilla extract and a pinch of salt.
Sifted in180g wholemeal flour and ½ tsp baking powder.
Stirred until just mixed, then stirred in 50g dark chocolate chips and 25g of white ones (for dairy free use all dark chocolate).
Transferred the mixture to a small bowl, covered it and left in the fridge overnight to firm up.
The next morning, placed heaped teaspoonfuls well apart on a lined baking tray – I made 20.
Flattened them roughly with a fork and baked at 180℃ for 13 minutes.
Warm cookies for breakfast – mmmm. All this sweet stuff in the morning is becoming a bit of a habit and has got to stop, especially as these biscuits were surprisingly moreish. Of the "crisp on the outside, soft and chewy on the inside" variety, they weren't too sweet but had lots of chocolate hits per mouthful. They were a little greenish and they did taste of avocado, but we are hardy folk and didn't mind that. In fact, we both really liked them. Normally I dislike cooked avocado, which in my experience has a gloomy texture and tastes bitter. Not in this instance however – could it be the alchemical properties of good old Theobroma cacao?
I'm sending this off to Jac at Tinned Tomatoes for her monthly event, Bookmarked Recipes.
Although Avocado isn't strictly a vegetable, we tend to think of it that way, so I am entering this into Eat Your Greens and hoping Shaheen of Allotment 2 Kitchen will be lenient with me.
The combination of avocado and chocolate is my no means a new one. It is seen as a fruit in many parts of the world and treated as such, with chocolate sauce often smothering it. However, it's a completely new combination to me. I've been wanting to try it for a long time now, but was finally spurred on by Louise's recipe for chocolate mousse that she posted earlier this month.