Sausage salad is one of the best meals to prepare for a sizzling summer. It's my summertime take on a comfort food classic – sausage and mash. There are plenty of flavours and textures to keep everyone interested and the zesty lime & herb dressing makes this salad sing. It's quick and easy to put together, makes a tasty family meal but is also impressive enough for entertaining.
Sausage Salad
This sausage salad really came together from a fridge clear-out. I wouldn't quite say everything was ready for the compost bin, but it could have been if I'd left it much longer. Yesterday, I made half the amount specified in the recipe below. There was plenty there to make a satisfying evening meal for the two of us. If you're looking for something a bit heartier, however, serve it with either crusty bread or warmed pitta breads.

The key to this dish is that there's something for everyone: hearty sausages, creamy potatoes, crunchy green vegetables, beany umami flavours and a zesty dressing. Use whatever sausages you like. I used some veggie ones. The recipe is vegan-friendly apart from the potato salad dressing. This can very easily be substituted for a vegan dressing of choice if needed.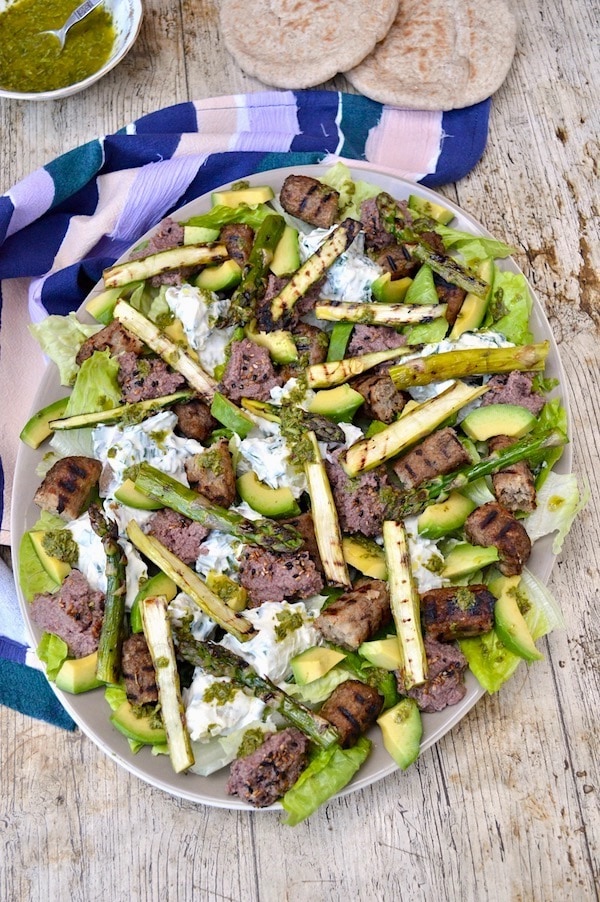 Despite the seeming complexity of this dish, it's actually quite quick to put together. Even if you make your own bean dip, you should be able to get dinner on the table in not much more than thirty minutes. There are several processes involved, but the lettuce and green herb dressing, for instance, can be prepared whilst the potatoes cook.
You can cook both the asparagus and sausages on a griddle or under a grill. Neither of these methods takes very long. Have a look at my simple griddled asparagus recipe to see how. Whilst they're cooking, prepare the avocado and start to assemble the sausage salad.
To Pickle Or Not To Pickle?
For a bit of extra pizazz, if any is needed, I wanted to add some of my spiced pickled beetroot. But in the end the thought of the distasteful grimace on CT's face when he saw it put me off. Why he doesn't like beetroot, I will never fathom.
If I'd had any of my carrot pickles, I would have added them. Having said that, the limy green herb dressing is sharp enough to offset both the creaminess of the potatoes and avocado and the richness of the sausages. Let me know what you think if you try this sausage salad recipe.
Bean Dip
I actually made an aduki bean miso dip especially for this sausage salad. I'd planned on making a white bean miso spread, but found when I looked in the cupboard that I only had a tin of aduki beans. When I thought about it, I was quite pleased with this substitution. Aduki are commonly used in Japan so I reckoned it would better complement the miso and tamari I was planning on using.

If you don't like this one, use whatever bean dip does it for you. Hummus is always a good choice.
Green Herb Dressing
The carrot top pistou I made a few weeks ago, provided me with inspiration for the green herb dressing. I used a small handful of herbs from the garden. This was mostly basil, but with a little marjoram, parsley & mint for extra flavour. Proportionally, I added more olive oil, lime juice & zest. The result was sensational and almost the highlight of the entire sausage salad.

It's ever so easy to make my green herb dressing, as long as you have some sort of blender available. You could, of course, pound the ingredients together with a pestle and mortar, but I've never tried it. I expect it's rather a pain. Although a Froothie blender creates a super smooth sauce, it's not so great for small amounts. For this dressing, I used a mini food processor, which has the added bonus of being very easy to clean.
Other Recipes for Summer Salads You Might Like
Keep in Touch
Thanks for visiting Tin and Thyme. If you make my sausage salad, I'd love to hear about it in the comments below or via social media. Do share photos on your preferred social media site and use the hashtag #tinandthyme, so I can spot them.
For more delicious and nutritious recipes follow me on Twitter, Facebook, Instagram or Pinterest. And don't forget to SUBSCRIBE to my weekly newsletter.
Choclette x
Sausage Salad. PIN IT.

Summer Sausage Salad – The Recipe
Summer Sausage Salad
A summertime take on a comfort food classic – sausage and mash. There are plenty of flavours and textures to keep everyone interested and the zesty lime & herb dressing makes this salad sing.

Ingredients
Sausage Salad
4

medium-sized potatoes – scrubbed but not peeled

8

asparagus spears

1

tsp

olive oil

6

sausages of your choice – I used veggie ones.

10

large cos type lettuce leaves

1

avocado

200

g

bean dip – homemade or shop bought.

(I made an aduki bean miso dip but hummus is always a good choice.)
Sour Cream & Chive Dressing
1 ½

tbsp

mayonnaise

3

tbsp

sour cream

freshly ground black pepper

large handful of chives
Green Herb Dressing
small handful of fresh leafy herbs –

(I used mostly basil with a couple of sprigs each of marjoram, parsley & mint)

4

tbsp

extra virgin olive oil

½

lime – juice & zest

pinch

sea salt
Instructions
Sausage Salad
Cut the potatoes into eighths, then cook in salted water until tender, but not mushy – about 15 minutes. Drain and allow to cool.

Meanwhile, make the sour cream & chive dressing. Add the cooled potatoes and mix until the potatoes are all covered.

Whilst the potatoes are cooling down, coat the asparagus in the olive oil and grill or griddle them on a hot setting for about 7-8 minutes turning them half way through. Cut into halves or thirds.

Likewise grill or griddle your sausages as per pack instructions. Cut into thirds or quarters.

Peel and stone the avocado and slice.

Tear the lettuce leaves up and spread them over a large serving platter. Dollop spoons of potato salad over the top. Place the sausages at strategic points on the plate, followed by the avocado slices and spoonfuls of bean dip.

Scatter the asparagus over the top and then drizzle on the green herb dressing.
Sour Cream & Chive Dressing
Snip the chives into a bowl. Add the mayonnaise, sour cream and black pepper then stir until everything's combined.
Green Herb Dressing
Whiz all the ingredients together in a small food processor or blender until you have your desired consistency.
Notes
If you cook the potatoes in salted water, you shouldn't need to add salt to the dressing.
Don't leave the potatoes to cool too long, or they might go grey.
Please note: calories and other nutritional information are per serving. They're approximate and will depend on serving size and exact ingredients used.
Nutrition
Calories:
553
kcal
|
Carbohydrates:
56.4
g
|
Protein:
27.3
g
|
Fat:
26.4
g
|
Saturated Fat:
7.2
g
|
Sodium:
317
mg
|
Potassium:
1346
mg
|
Fiber:
14.3
g
|
Sugar:
6.1
g
|
Calcium:
60
mg
|
Iron:
4.3
mg
Tried this recipe?
Please take a photo and mention @choclette8 or tag #tinandthyme on Instagram, Twitter or Facebook.
Sharing
I'm sharing my summer bangers & mash with Gluterama for #CookBlogShare.