Love them or hate them, it's always useful to know how to cook the perfect Brussels sprouts. This quick guide shows you how along with a few tips and tricks. Plus there's a selection of delicious Brussels sprout recipes to inspire you.
Brussels sprouts are available, here in the UK, from mid-October to the end of February. I've just received the first of the season in my veg box. And it made me think about all those Brussels sprout haters and what a shame that was. I'm sure a lot has to be laid at the door of those hideous yellow mushy sulphurous sprouts some of us were forced to eat during school dinners.
How to Cook The Perfect Brussels Sprouts
A good Brussels sprout is a wondrous thing. It should be green, slightly al dente and never sulphurous. In fact, cooked well, they have a lovely nutty flavour. The key to how to cook the perfect Brussels sprouts is to cook them for a very short time. Anything over six minutes is probably too much. Got an egg timer?

You can see from the above photos that I didn't have the perfect batch of Brussels sprouts. The size differentials were quite marked, they weren't in the best condition and they'd been sitting in the fridge for a few days. Yet despite this, the finished cooked sprouts were still really good and they had that classic nutty flavour.
Personally, I like to serve Brussels sprouts cooked this way with a little butter and a good grinding of black pepper. But you could just as easily serve them au naturel or with a drizzle of peppery extra virgin olive oil. Another alternative is to stir in a spoonful of homemade pesto.
We ate this lot with smoked tofu, yoghurt, olives and spring onions rolled in Greek flatbreads. It was one of the best meals we've had in a while.
Top Tips for Cooking the Perfect Brussels Sprouts
DON'T mark the bases with crosses. This is not only a complete waste of time, but it's likely to make the sprouts soggy.
Keep the cooking water for making the gravy or adding to a soup or stew. It's really nutritious and it's a shame to waste it.
If you're cooking the sprouts as part of a big roast dinner, make sure they are the very last thing you cook so they can be served hot and freshly cooked.
Not all Brussels sprouts have to be green. You can get purple ones too.

Best not to use frozen sprouts if you want to serve them simply boiled.
There's more ways to cook a sprout than just boiling them though. You can steam, roast or stir-fry them. If you shred them finely they make a good salad too.
Buy on the stem if you can. This will keep them fresher for longer.
For the ultimate in fresh Brussels sprouts, you could grow your own. The best ones I've ever eaten were cooked about ten minutes after they were picked. But I have to confess, I've never tried growing them myself. I like the idea, but to be honest, kale is easier.
Some Brussels Sprouts Recipes You Might Like
If sprouts are to be part of a grand roast feast, such as Christmas dinner or Thanksgiving, I personally like them to be served relatively plain. They thus act as a foil for all the other tastes, textures and rich sauces that abound. However, there are plenty of other things you can do to a Brussels sprout than just boil it.
Asian roasted Brussels sprouts with cashews via The Flexitarian
Baked Brussels sprout tater tots (vegan) via Yup, it's Vegan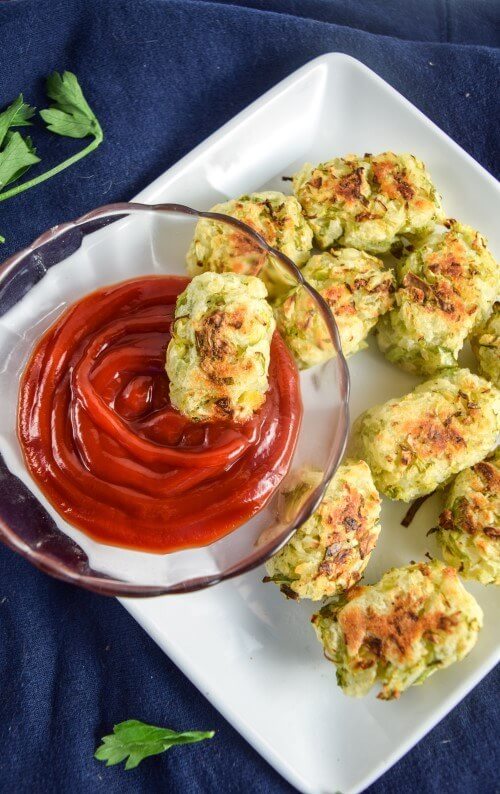 Broccoli and shredded Brussels sprout salad (vegan) via Veggie Inspired
Brussels sprouts and goat's cheese tart via Planet Veggie
Cacio e pepe Brussels sprouts with hazelnuts and ricotta via oat & Sesame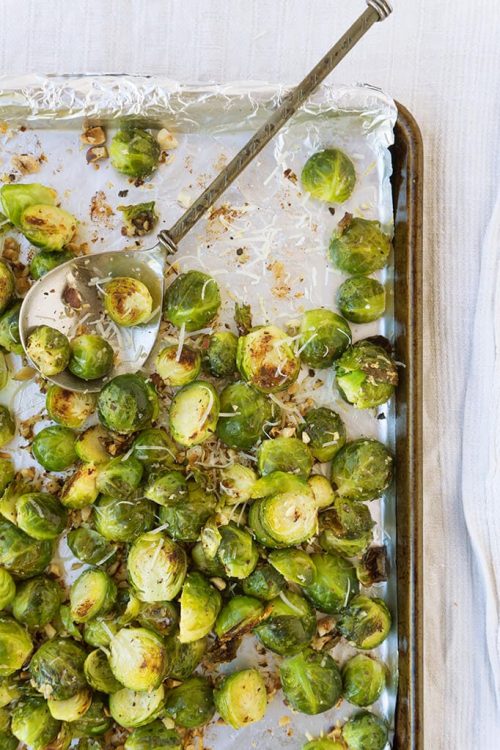 Cranberry, chestnut and tofu facon Brussels sprouts (vegan) via The Vegan Larder
Pan fried sprouts with walnuts, honey and stilton via Easy Peasy Foodie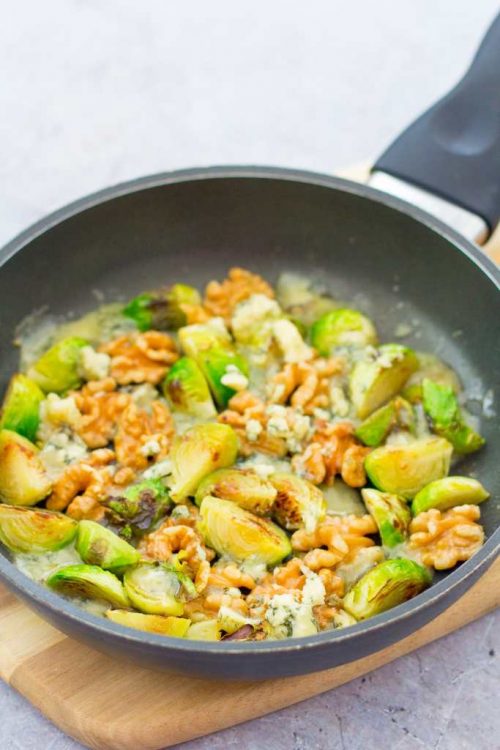 Roasted Brussels sprouts with garlic via Stacey Homemaker
Roasty smoky Brussels sprouts with chickpeas (vegan) via The Taste Space
Stir-fried Brussels sprouts with leeks, ginger, garlic & chilli (vegan) via Tin and Thyme

Teriyaki rice bowl with tofu and sprouts (vegan) via Tin and Thyme

If you'd like even more recipe ideas for Brussels sprouts, take a peek at my Brussels Sprouts Pinterest board.
Keep in Touch
Thanks for visiting Tin and Thyme. If you found this quick guide on how to cook the perfect Brussels sprouts useful, I'd love to hear about it in the comments below. And do please rate the recipe. Have you any top tips? Do share photos on social media too and use the hashtag #tinandthyme, so I can spot them.
For more delicious and nutritious recipes follow me on Twitter, Facebook, Instagram or Pinterest. And don't forget to SUBSCRIBE to my weekly newsletter.
If you'd like more side dish recipes, follow the link and you'll find I have quite a lot of them. All delicious, of course.
Choclette x
Perfect Brussels Sprouts. PIN IT.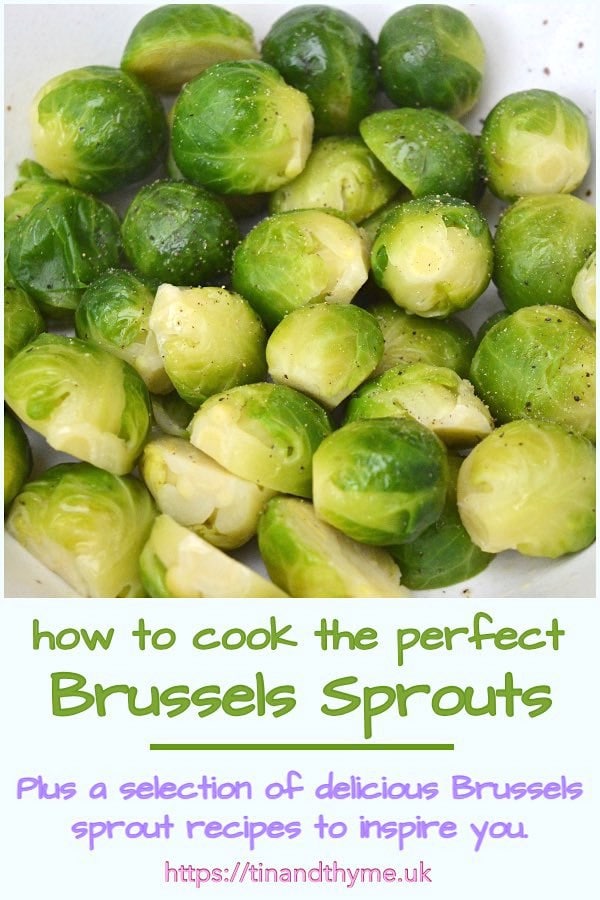 How to Cook the Perfect Brussels Sprouts – The Recipe
How to Cook the Perfect Brussels Sprouts
A quick guide on how to cook the perfect Brussels sprouts for your festive feast or any other occassion.
Ingredients
350

g

Brussels sprouts

150

ml

water

pinch sea salt

knob of butter (about 10g)

(optional)

freshly ground black pepper

(optional)
Instructions
Trim off the sprout bases and remove any damaged leaves.

Halve any particulaly large sprouts.

Give the trimmed sprouts a quick rinse in a bowl of water.

Place the cooking water and salt in a medium sized lidded pan and bring to the boil.

Add the Brussels sprouts and boil lightly for four to six minutes or until the sprouts are al dente, but still beautifully green. You can test with a sharp knife, but trying one is a surer way to tell.

Drain off the water and serve immediatly with the butter and pepper if desired.
Notes
If you're cooking the sprouts as part of a big roast dinner, make sure they are the very last thing you cook so they can be served hot and freshly cooked.
It's best not to cook them for more than 8 minutes or they are likely to become sulphurous and yellow.
Serve au naturel or with a drizzle of good quality extra virgin olive oil instead of the butter, if preferred.
Please note: calories and other nutritional information are per serving. They're approximate and will depend on serving size and exact ingredients used.
Nutrition
Calories:
38
kcal
|
Carbohydrates:
8
g
|
Sodium:
80
mg
|
Potassium:
340
mg
|
Fiber:
3.3
g
|
Sugar:
1.9
g
|
Iron:
1
mg
Tried this recipe?
Please take a photo and mention @choclette8 or tag #tinandthyme on Instagram, Twitter or Facebook.
Sharing
I'm sharing this quick guide on how to cook the perfect Brussels sprouts with Easy Peasy Foodie for #CookBlogShare.