Looking to find some chocolate inspiration to wow your loved one or loved ones this Valentine's Day? Look no further, this collection of 23 loved up chocolate recipes includes, cakes, cookies, puddings and pancakes.
February brings us two fabulous celebratory days. Valentine's Day is all about chocolate in my book. It brought in a bumper crop of entries, so I guess I'm not alone. Read on to find 23 loved up chocolate recipes. You're bound to find something to fall in love with. Shrove Tuesday highlights our love of pancakes and the tradition of eating up all the remaining good things in the house before the lenten fast. I'd sort of thought I'd get loads of chocolate pancake recipes this month, but only one turned up right at the last minute.
All you need to do is get your apron on, buy the best cooking chocolate you can afford and make one of these luscious chocolate recipes for your loved ones this February.
23 Loved Up Chocolate Recipes

Surely there can't be anything much more loved-up than these vegan salted caramel chocolate pots from Yumsome?
Chocolate Valentine's Cakes

Well it's all about the hearts with these cute little chocolate Valentine's cupcakes. Well actually, it's also about the lush chocolate sponge and moussy whipped chocolate ganache. These are one of mine, here on Tin and Thyme.
Nutella French Toast

February is full of surprises. It's also World Nutella Day too – apparently! So why not treat your loved one to breakfast in bed with this Nutella French toast?
Chocolate Honey Cake

Dom's glorious chocolate honey fudge cake with chocolate orange fudge icing whipped up at Belleau Kitchen says it all.
Chocolate Crumble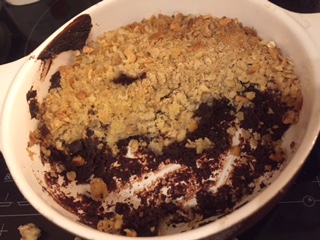 This chocolate crumble from Caroline Makes has me totally sold.
Middle Eastern Chocolate Tart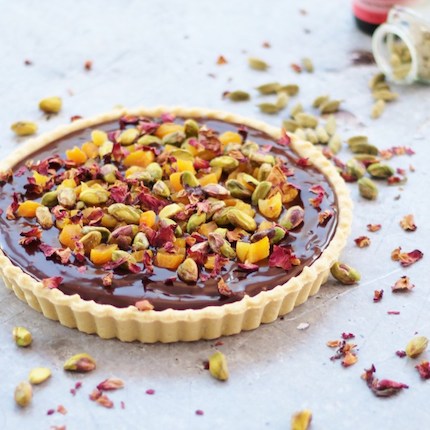 The Middle Eastern flavours has me head over heals in love with this chocolate tart with cardamom, apricots and rose petals from Eb at Easy Peasy Foodie.
Hazelnut & White Chocolate Brownies

These hazelnut & white chocolate brownies from Proper Foodie must be the smartest brownies ever.
Gluten Free Chocolate Fudge Cake

Miss GF makes a stupendous gluten free chocolate fudge cake and Kate blogs about it at the Gluten Free Alchemist.
Valentine's Surprise Cake

Now what could be more perfect for Valentine's Day than a cake with a heart running through it? Valentine Surprise Cake from Baking in Franglais.
Vegan Chocolate Peanut Butter Caramel Brownies

These vegan chocolate & peanut butter caramel brownies from Kat at The Baking Explorer sound almost healthy and definitely delicious.
Chocolate Chip Skillet Cookie

Late night munchies are now resolved with this chocolate chip skillet cookie over at Elizabeth's Kitchen Diary – all I need is a skillet!
Blood Orange Chocolate Cake

February is the perfect month to enjoy seasonal blood oranges. I couldn't resist making a blood orange chocolate cake, even though you can't see the colour.
Vegan Chocolate Vanilla Marble Cake

Can't decide between chocolate or vanilla? Go for this chocolate & vanilla vegan marble cake from The Peachicks Bakery.

It's always useful to get a bit of extra veg into your bakes I find. Shaheen from A2K – A Seasonal Veg Table has done just that with these parsnip white chocolate blondies.

Just in case you're in the fortunate position of having leftover chocolates, why not take a leaf out of Elinor's book and bake some hidden chocolate brownies?

Some more hearts for Valentines Day with these chocolate blackberry cupcakes from Johanna at Green Gourmet Giraffe.

This self saucing Malteser mug cake from Sarah at Tales from the Kitchen Shed is, and I quote, "the best individual self saucing pudding recipe ever"!

When Charlotte over at Charlotte's Lively Kitchen says these are Easy Chocolate Cupcakes, I'm not sure I believe her. But then my piping skills are rubbish. They certainly look good.

Vegan chocolate tart made with coconut milk and flavoured with orange from Tasty Kaiti's Yummy Vegan Kitchen

Another super malted recipe. This double chocolate & Irish Cream malted milkshake from Munchies and Munchkins has my name written all over it.

To the pancake rescue comes Chris over at Thinly Spread with these luscious double chocolate orange pancakes served with orange blossom cream.

There's a lot of double chocolate going on this month and for 23 loved up chocolate recipes, this is just what I want to see. Double chocolate chip cupcakes from Baked to Imperfection.

And some incredibly delicious gluten free chocolate chip pancakes from Camilla at Fab Food 4 All to finish us off nicely.
Pin these 23 loved up chocolate recipes for later