Have you grown ocas, been given some or found them in your veg box? Not sure how to cook them? These chilli roasted oca tubers make a delicious, colourful and easy meal with wild garlic and hazelnut pesto and some sort of green on the side.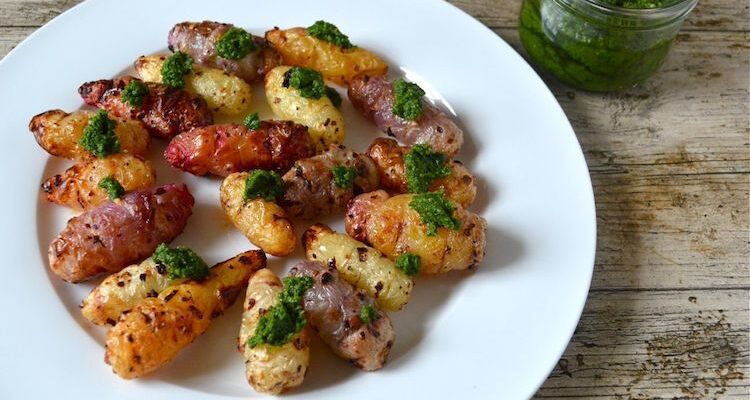 CT has been interested in The Lost Crops of the Incas for a very long time. One he's been growing over the years is oca (Oxalis tuberosa). I was recently gifted a kilo of beautifully coloured oca tubers from The Guild of Oca Breeders. This was a rare treat as I hardly ever get to try any of CT's precious tubers.
You can prepare them in pretty much anyway you'd cook a potato, but I like them best roasted. Here I give you my recipe for a quick and simple dish of chilli roasted oca with hedgerow pesto.
Why Oca?
People often ask me what oca taste like. My best description, in fact my only one, is that they are sort of like a slightly lemony potato. They come in a variety of colours and some taste more lemony than others. Like potatoes, some have a waxy texture and some are floury.
They are all delicious. In my experience, the white ones seem to be the flouriest and have virtually no tang at all and the bright pink ones, the most lemony. In the batch I cooked for the chilli roasted oca, it was the orange ones that were the sharpest.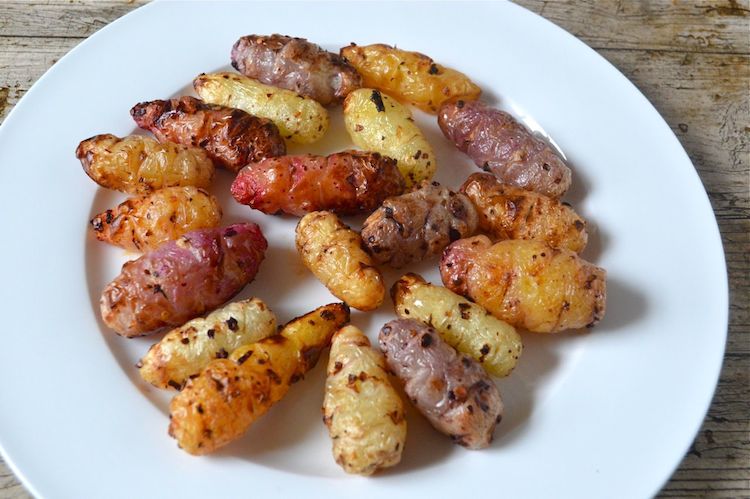 Oca has been grown in the Andes for thousands of years. It's important there for enhancing food security as it has a high nutritional content. It also helps control pests and diseases by improving crop rotations. It's second only to the potato for the number of tubers grown. Oca is a good source of Vitamins A, B and C as well as iron, zinc flavanoids and fibre. In New Zealand, tubers are also widely available but they're known as yams.
We've already got potatoes, so why do we need oca you may well ask? Variety is the spice of life and it's always good to have some alternatives. They are a valued crop back in Peru and Bolivia, even though they have plenty of potatoes. But the key to oca is that, unlike potatoes, they don't get blight.

The Guild of Oca Breeders
A couple of years ago CT and a group of like minded oca enthusiasts decided that trying to grow bigger oca that tuberised in the UK growing season was more than one person could cope with on their own. The Guild of Oca Breeders was born. Their mission? " To breed a variety of oca that responds much better to European variations in day length and climate".
Oca's are daylight sensitive, as was the original potato. Left to their own devices, they don't start to tuberise until the days and nights are of equal length, i.e. in September and October. By then, it's too late in our season for them to grow to a decent size. The Guild are breeding new varieties and selecting the best producers in an attempt to recify this problem.

Ocas aren't easy to find, but they are becoming more widely available in the UK these days. Look out for them at farmer's markets. I even saw some for sale in a small Cornish shop a couple of months ago. If you'd like to try growing some of your own, you can buy carefully selected tubers from The Guild of Oca Breeders. You're unlikely to be able to source such good specimens from anywhere else. If you're a keen grower and would like to get involved in breeding ocas, the Guild are always looking for new members.

Chilli Roasted Oca with Hedgerow Pesto
So back to the recipe for chilli roasted oca tubers. They make a delicious and easy meal with wild garlic and hazelnut pesto and some sort of green on the side. We accompanied them with a few Brussels sprouts that were loitering in the fridge. I made the pesto with roasted hazelnuts and the first foraged wild garlic of the year. The slight sharpness from the chilli roasted oca cuts through the richness of the pesto and makes a perfect accompaniment.

Wild garlic has a really short season, so use whatever pesto you're able to make. You'll find a few ideas a bit further down the post. For a vegan option, this carrot top pistou recipe with lemon is really good.
If you're looking for more oca recipes, I have a delicious one for a vegan oca peanut stew with kale. Definitely worth checking out. And these oca latkes are pretty good too. There's a vegan version as well as a more traditional one.
Blender & Air Fryer
I used my Optimum G2.3 induction blender* to make the pesto. It made quick work of blending the wild garlic and hazelnuts. I roasted the ocas in my Optimum HealthyFry, but they can be done just as well in the oven. The oca's bright colours fade a little during roasting, but they still look attractive and appetising, though I do say so myself.
I'm a Froothie Ambassador, so can offer Tin and Thyme readers free P&P on any Froothie appliance*. Add 2483 free ambassador delivery to the comment box when ordering to get free postage and packing. Delivery will be credited back onto your card. The Optimum G2.3 is currently on offer at £379 and the Optimum HealthyFry is on offer at £149.
Other Recipes for Pesto You Might Like
Keep in Touch
Thanks for visiting Tin and Thyme. If you make these chilli roasted oca with wild garlic & hazelnut pesto, I'd love to hear about it in the comments below. And please rate the recipe. Have you any top tips? Do share photos on social media too and use the hashtag #tinandthyme, so I can spot them.
For more delicious and nutritious recipes follow me on Twitter, Facebook, Instagram or Pinterest. And don't forget to SUBSCRIBE to my weekly newsletter.
Choclette x
Chilli Roasted Oca. PIN IT.

Chilli Roasted Oca with Hedgerow Pesto – The Recipe
Chilli Roasted Oca with Wild Garlic and Hazelnut Pesto
Chilli roasted oca tubers make a delicious and easy meal with wild garlic and hazelnut pesto and some sort of green on the side.
Ingredients
Hedgerow Pesto
100

g

wild garlic – well washed and dried

can use basil instead

100

g

hazelnuts – roasted

75

g

Parmesan

or vegetarian equivalent

75

ml

olive oil

pinch of sea salt
Chilli Roasted Oca
500

g

oca tubers – well scrubbed

1

tsp

rapeseed oil

½

tsp

chilli flakes

pinch of sea salt
Instructions
Hedgerow Pesto
Blend all ingredients together in a food processor or blender until just combined. I used my Optimum G2.3 induction blender.

Spoon into clean jars and keep in the fridge for up to a week.
Chilli Roasted Oca
Mix the oil, chilli flakes and salt together in a bowl then add the tubers and stir until all are coated.

Roast the oca in an air fryer at 160℃ or in an oven at 180℃ for 15-18 minutes, depending on size. You may need a little longer if using a conventional oven. I used my Optimum HealthyFry. They should be soft all the way through when pierced with a knife.

Spoon a little of the pesto over the ocas and enjoy with some greens on the side.
Notes
The hedgerow pesto recipe makes enough for 2 small jars.
Please note: calories and other nutritional information are per serving. They're approximate and will depend on exact ingredients used.
Nutrition
Calories:
405
kcal
|
Carbohydrates:
43
g
|
Protein:
11
g
|
Fat:
23
g
|
Saturated Fat:
4
g
|
Cholesterol:
7
mg
|
Sodium:
223
mg
|
Potassium:
1292
mg
|
Fiber:
6
g
|
Sugar:
4
g
|
Vitamin A:
1398
IU
|
Vitamin C:
26
mg
|
Calcium:
170
mg
|
Iron:
3
mg
Tried this recipe?
Please take a photo and mention @choclette8 or tag #tinandthyme on Instagram, Twitter or Facebook.
Linkies
I'm sending this recipe for chilli roasted oca with hedgerow pesto to Jac at Tinned Tomatoes for Meat Free Mondays. This is really the end of Brussels sprout season and mine were only just hanging on in there. I had to take an extra layer or two off them, but they were saved from the compost heap. So, I'm sending this post to Elizabeth's Kitchen Diary for the No Food Waste Challenge.
The post contains affiliate links which are marked with an asterisk. Buying through a link will not cost you any more, but I will get a small commission. Thanks to my readers for supporting the brands and organisations that help to keep Tin and Thyme blithe and blogging. Opinions are, as always, my own.