Just because it's summer here in the northern hemisphere, it doesn't mean we don't want chocolate. It was Anything Goes for this month's We Should Cocoa and we have 17 gorgeous chocolate recipes for you as a result. Have a scroll through and if you don't find something you immediately want to make, I'll eat my hat (a chocolate one, of course). 
July is not only my birthday month, but CTs too. It was also my grandmother's and grandfather's and is shared by many of my friends. I almost know more people born in July than the rest of the entire year. So it really does seem fitting to celebrate the whole month with chocolate.
It's me again hosting in August and as so many people are on holiday and we all want an easy time in the 'hot' months of summer, I'm going for Anything Goes once again. You will find the linky for this at the bottom of this post.
17 Gorgeous Chocolate Recipes
Dom over at Belleau Kitchen gets us off to a healthy start with sugar-free brownies. We're in for a double treat here as he's given not one recipe, but two: almond, fennel seed and banana brownies AND chocolate, coconut and banana truffle brownies.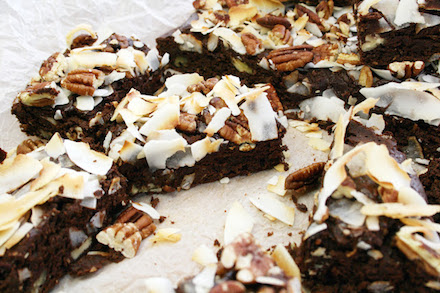 Just the words chocolate raspberry sourdough bread has me salivating. Rebecca from BakeNQuilt did some experimenting this month and came up with something as delicious as it sounds. Note the impressive initial on the top of the loaf.
Coconut features strongly in these dairy free chocolate sultana cakes from Fun as a Gran. Coconut oil and some delicious sounding coconut caramel were the stars of the show.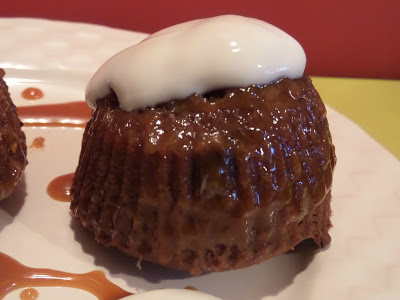 Free-from is proving to be a bit of a theme this month. Kate from The Gluten Free Alchemist gives us not only a glorious gluten-free cake-cum-dessert, but it's dairy free too – chocolate, walnut and pear torte.
These hot cross bun chocolate bread and butter pudding may not be quite what you'd expect at this time of year, but there were hot cross buns languishing in the freezer at Caroline Makes, so what was she meant to do?
If you have a celebration coming up, it would be hard to beat this chocolate cake with white chocolate and mascarpone buttercream. Suelle over at Mainly Baking made this stunner to celebrate both her and her son's birthday.
Who needs Black Forest gateau when you can have these glorious cherry cheesecake brownies? Packed full of fresh cherries as well as white chocolate, cream cheese and cherry jam, Kat from The Baking Explorer has made something I'd love to sink my teeth into.
Following on from Johanna's malt themed We Should Cocoa last month, she's been further inspired. Malt appears once again in these malted banana lamingtons with Milo and I really really want to try one. If you're not sure what lamingtons are you'll need to pop over to her blog, Green Gourmet Giraffe, to find out more about this Australian classic.
After all the sweet treats, it's something of a relief to have a savoury entry from Shaheen of A2K – A Seasonal Veg Table. She decided to serve some potato wedges and veggie meatballs with a "devilishly rich" chilli chocolate salsa. I'm game!
Don't you just love anything with 'crunch' in the title? Date, chocolate & hazelnut crunch from Jo at Seven Green Apples certainly does it for me. I adore this sort of oaty traybake especially with the use of date molasses instead of golden syrup.
Likewise anything with 'double chocolate' makes me take note. Linzi from Lancashire Food gives us double chocolate banana bread and very welcome it is too.
For something really eye catching, how about this chocolate and strawberry drip cake from Only Crumbs Remain? Sponge chocolate covered strawberries chocolate shards and dripping chocolate, what's not to love?
More oaty goodness comes from Rebecca at Munchies and Munchkins with these delectable dark chocolate chip flapjacks.
I fancied blondies for my chocolate treat this month, matcha blondies to be precise. Now whether these should really be called greenies, I leave to you, but they were jolly delicious.
Chocolate and mint is a classic combination, but doesn't often manifest in cake form. Coriander Queen bucks the trend with these elegant mint chocolate After Eight cupcakes with a hidden surprise.
No summer collection of chocolate recipes is complete without some ice cream. Luckily Kate at The Gluten Free Alchemist has come up with cherry-chocolate brownie ice cream. I think she's got all bases covered there 🙂
Not only is it CT's birthday today, but it's also Harry Potter's. To celebrate this and the publication of the latest Harry Potter tale, Ness over at JibberJabberUK has made this sticky chocolate birthday cake – any schoolboy's dream.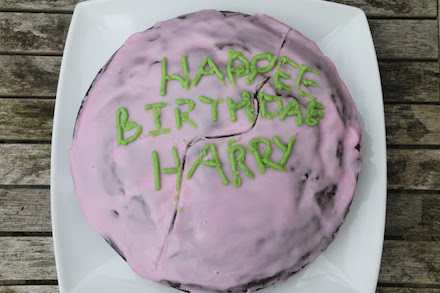 Next Month's Chocolate Recipes
I hope you found something amongst these 17 gorgeous chocolate recipes that you felt you needed to make. For more chocolate recipes check out next month's #WeShouldCocoa round-up or why not enter one yourself? You can check out how to enter on the We Should Cocoa page and the linky to use is right below this. It's open until 28th August and the theme is once again Anything Goes.