A frugal but delicious vegan curry. Serve with brown rice for a filling and nutritious meal. This green split pea curry recipe is ideal for vegetarians, vegans and those on a gluten-free or nut-free diet.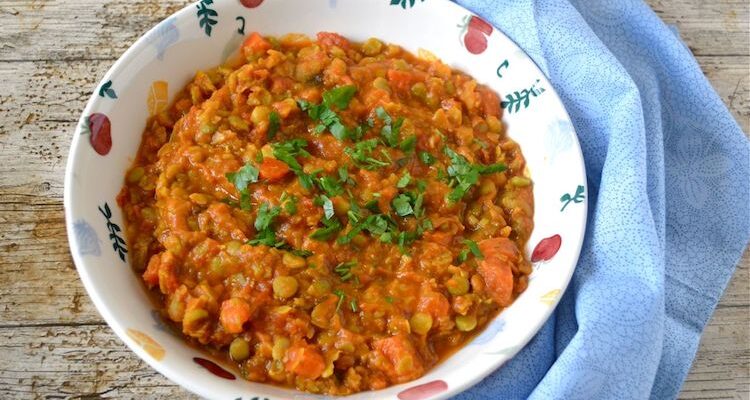 When I was challenged recently to meal plan for £2 a day per person to include breakfast, lunch & dinner, my mind immediately sprang to pulses. They are not only delicious, but are also relatively cheap, especially if you use dried ones rather than tinned. Find out about the challenge below along with my recipe for green split pea curry – a British take on an Indian classic.
Voucherbox £2 Challenge with Zamcog
Voucherbox has teamed up with Zamcog to raise awareness of child poverty. The challenge is to feed ourselves and our families for £2 each for a day. I am always humbled when I take on this sort of challenge. Many people around the world have less than £2 to live on for an entire day and we didn't even have to factor in the additional cost of the actual cooking.
Whilst food is scarce for many, we in the West are thoroughly spoilt and throw away an astonishing amount. It's really very shocking.
80% of Zambian children live below the poverty line and 75% don't have access to education. Yet it costs just £2 per day to feed, cloth and educate a child there. Zamcog is a UK based charity that is dedicated to helping feed and educate Zambia's most at-risk children. They believe that education can eradicate poverty and build futures. The video below takes you to Zambia and highlights the situation far more eloquently than I can.
I had a friend who lived in Zambia when I was a child and it all sounded very exotic and exciting. I had no idea so many people there lived so badly. Voucherbox are donating £50 to Zamcog for each blogger who takes part and helps to spread awareness of this shocking plight. If you're a blogger and would like to take part in the #2poundchallenge, head over to Voucherbox for further details. It's running throughout February.
Frugality & Variety
I have a frugal streak that relished this challenge and I didn't really find it much of a hardship. In fact, I was surprised at how well we ate. But it did make me think. I like to eat nutritious ingredients and organic produce where I can.
Although the food was healthy and well balanced, I was unable to get as many organic ingredients in as I normally would and the foods were very basic. Much as I love pulses and the green split pea curry, I also relish variety: such a restricted diet would soon drain the colour out of life.
£2 Food for a Day Challenge
So what did we eat on the day, apart from green split pea curry of course? I had £4 for the two of us, but even then I managed to underspend. We ate well and healthily and the plan even included a slice of my chocolate cake for £1.
I used a few organic ingredients; omitting these and being a canny shopper could reduce the cost to almost the £3 mark. I already had quite a lot of the ingredients in stock, so I used a mix of supermarket prices and the actual prices I paid for costing up purposes.
Frugality was the name of the game, but I thought a bit of luxury to start the day was called for. I made this filling and nutritious prune porridge with walnuts and cinnamon. The walnuts were expensive and breakfast came in as the most costly meal of the day, but it was worth it. Feeling miserable first thing in the morning is not a good way to go.
We drank tea and water throughout the day. Rooibos isn't the cheapest of teas, but we like it and unlike conventional tea, the teabags can be used a second and even a third time. One teabag in a pot gives us 4 good cups of tea.
There are some things I won't compromise on and eggs are one of these. I buy free-range eggs from my local Country Market and they are by no means cheap. I'd rather go without though, than eat factory farmed eggs. As it turned out, I was able to have egg on toast for lunch and this proved to be the cheapest meal at 77p.
Green Split Pea Curry. PIN IT.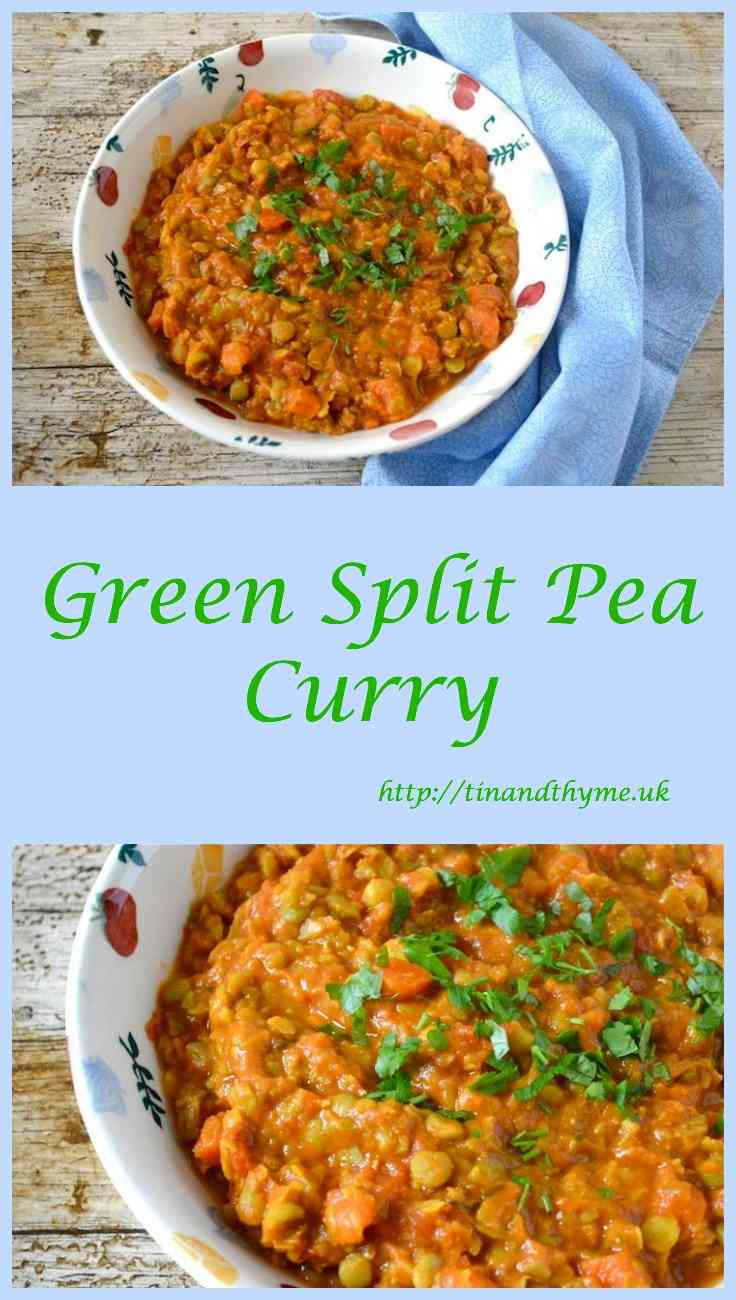 Green Split Pea Curry
For supper I made green split pea curry with carrots and served it with long grain brown rice. I made double the amount we needed, so there was no need to cook the next day. The curry was totally delicious, nutritious and filling and I wondered why I'd never thought to use British split peas in a curry before.
The higher quality the curry powder the better your curry will taste. I used Steenbergs organic curry powder, which is a particularly good one.
Meal Plan for My £2 a Day Challenge
Breakfast – prune porridge = £1.39
organic rolled oats – 80g = 16p (7p for non-organic)
milk – 1 pt (enough for porridge and plenty of tea) = 44p
prunes – 6 prunes = 20p
ground cinnamon – 2g = 2p
walnuts – 50g = 50p
rooibos tea – 2 teabags (providing 8 cups of tea) = 7p
Lunch – Poached egg on toast with Marmite = £0.77
4 large slices wholemeal bread = 16p
butter – 20g = 7p
Marmite = 1g per slice = 4p
2 free range eggs (from local farmer's market) = 50p
Afternoon Tea – Chocolate Cake = 25p
Dinner – Green split pea curry with brown rice = £1.25 plus spices
125g green split peas = 24p
1 tbsp (15ml) sunflower oil = 2p
1 organic onion (100g) = 13p
2 organic carrots (100g) = 13p
clove garlic = 3p
½ a 400g tin of chopped tomatoes = 19p
⅓ tsp sea salt = 1p
1 tsp organic curry powder = 16p
¼ tsp turmeric = 2p
¼ tsp chilli flakes = 2p
120g organic long-grain brown rice = 30p (ordinary brown rice = 12p)
Grand Total = £3.66
Keep in Touch
Thanks for visiting Tin and Thyme. If you make this green split pea curry recipe, I'd love to hear about it in the comments below or via social media. Do share a photo on social media too and use the hashtag #tinandthyme, so I can spot it.
For more delicious and nutritious recipes follow me on Twitter, Facebook, Instagram or Pinterest. And don't forget to SUBSCRIBE to my weekly newsletter.
If you'd like more curry recipes, follow the link and you'll find I have quite a lot of them. All delicious, of course.
Choclette x
Green Split Pea Curry – The Recipe
Green Split Pea Curry
A frugal but delicious vegan curry. Serve with brown rice for a filling and nutritious meal.
Ingredients
250

g

green split peas

2

tbsp

sunflower oil (30 ml)

1

large organic onion

chopped

2

cloves

garlic – chopped

4

organic carrots

scrubbed and diced

2

tsp

curry powder

½

tsp

turmeric

½

tsp

chilli flakes

400

g

tin of chopped tomatoes

½

tsp

sea salt

or up to a tsp (as required)
Instructions
Soak the peas overnight and for 24 hours if possible. The longer they're soaked, the quicker they will take to cook.

Wash well. Cover with water. Bring to the boil then simmer for

an hour

or so until tender. They can also be cooked in a slow cooker or pressure cooker.

Fry the onions, carrots and garlic in the oil over a moderate heat for about ten minutes, stirring occasionally.

2 tbsp sunflower oil (30 ml)

,

1 large organic onion

,

4 organic carrots

,

2 cloves garlic – chopped

Add the spices and fry for a few seconds. Add the tomatoes and salt and simmer for a further ten minutes or so. Add the peas and simmer for a few more minutes.

2 tsp curry powder

,

½ tsp turmeric

,

½ tsp chilli flakes

,

400 g tin of chopped tomatoes

,

½ tsp sea salt

Taste for seasoning and add more salt if needed. Serve with rice or flatbreads.
Notes
Overnight soaking required.
Halve the amount for two people or save half of it for the following day.
Will keep in the fridge for 3 days if covered.
Please note: calories are per serving. They're approximate and will depend on exact ingredients used.
Nutrition
Calories:
341
kcal
|
Carbohydrates:
52.1
g
|
Protein:
17.4
g
|
Fat:
8.2
g
|
Saturated Fat:
0.9
g
|
Sodium:
64
mg
|
Potassium:
891
mg
|
Fiber:
19.9
g
|
Sugar:
12.9
g
|
Calcium:
1020
mg
|
Iron:
0.7
mg
Tried this recipe?
Please take a photo and mention @choclette8 or tag #tinandthyme on Instagram, Twitter or Facebook.
Linkies
As I cooked enough for two days running, I'm sharing this green split pea curry with Corina at Searching for Spice for Cook Once Eat Twice.
My green split pea curry also goes to Jac at Tinned Tomatoes for Meat Free Mondays.
Disclosure: This is a sponsored post. As it's written for charitable purposes, I've only taken a small fraction of my normal fee. I was not required to write a positive review and all opinions are, as always, my own. Thanks for supporting the brands and organisations that help to keep Tin and Thyme blithe and blogging.