If you're sort of feeling in the mood for chocolate, but not sure what to make, you're bound to find something suitable here. It's a lucky dip and who knows what you might find in amongst these 37 randomly selected chocolate recipes. It's well worth taking a peek to find out.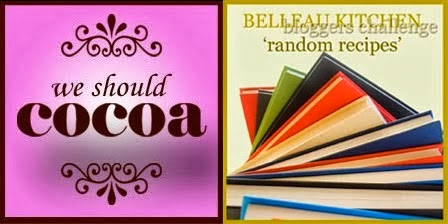 It's exciting times for We Should Cocoa this month. The ingredient was chocolate – it is the month of Valentine after all. Chocolate? But we all know about the chocolate bit, you are probably proclaiming. Ah, but there was a bit more to it than that. We joined forces with Dashing Dom and his Random Recipe challenge over at Belleau Kitchen.
Random Recipes is a hoot and my favourite challenge – after We Should Cocoa of course. It forces me to use some of the recipes and books that are sitting on my shelves that might otherwise never get a look in. Sometimes I have to make something well outside my comfort zone. Mostly it's a bit of fun. I'm chuffed to have played a part in it this month. The idea was for bloggers to pick a random chocolate recipe then make it, blog about it and link to us.
So I was just a little bit excited to see what random chocolate recipes everyone selected. This combination of my two favourite challenges meant the result was more than the sum of its parts or, as CT put it, had hybrid vigour. Two for the price of one; you can take a look at this round-up and then go over to Belleau Kitchen to see how differently it's done there. Variety is the spice of life after all. Thank you to all who took part in these 37 randomly selected chocolate recipes. It's been fun.
Here we go:
37 Randomly Selected Chocolate Recipes
And the very first to get randomly cooking was Dom himself over at Belleau Kitchen with this rather good looking chocolate courgette cake taken from the Riverford Farm Cook Book. Dom admitted he was a tiny bit disappointed with this bake as it wasn't sweet enough. I don't like overly sweet cakes, so I think this would have suited me fine. He says though, that eaten hot with custard, this would make a great pudding.
After first getting a book without a single chocolate recipe in it, Galina of Chez Maxima got lucky on her second attempt. She dipped into the glorious Green & Black Ultimate Chocolate Recipes and pulled out choc chip madeleines which proved to be very popular with the little ones. I have the book, I haven't made the recipe – yet!
Gerbeaud slice is a new one on me, but it sounds absolutely heavenly. It was named after the cafe that created them in Budapest apparently and is a layered yeasted dough filled with apricot jam and nuts, then topped off with chocolate. Cheryl of Madhouse Family Reviews was lucky enough to pick this from the Hairy Bikers' big Book of Baking.
Of the two chocolate book's in Ren Behan's collection, she selected Rococo Mastering the Art of Chocolate. Poignantly, vegan chocolate cake that was selected had been dedicated to Mott Green, the found of The Grenada Chocolate Company who died so unexpectedly last year . Made with prunes and plenty of chocolate, it is a fitting tribute.
Just in time for Valentine's Day, Debby of Cooking up a Storm in a Teacup picked a recipe for Nigel Slater's chocolate truffles from his book Real Food. These, her first venture into chocolate making, were a complete success – chocolate truffles at their simplest and their best.
It seems that many people's first whoopee pie experience comes with making their own. This was true for me and also for Corina of Searching for Spice when she got a recipe for Made-In-France-Whoopies from Le Cookie. French whoops? Really? Goodness, these chocolate caramel whoopee pies sound good though with their caramel mascarpone filling.
This chocolate and beetroot cake is another random pick that turned out to be a perfect Valentine's recipe. Caroline from Caroline Makes selected this from the Clandestine Cake Club Cookbook and baked it in a lovely heart shaped bundt mould and decorated it with pink icing – perfect for Valentine's Day and healthy too 😉
The next pick was made for a tree hugger's pot luck dinner. I love the sound of this and would have loved to go along to try out these adorable chocolate rugelach. Susan of The Spice Garden had the luck to get this recipe from Nigella's book Feast, a book I've heard a lot about, but haven't yet seen.
Manjiri of Slice of Me also picked Feast. She decided to modify her random recipe, Nigella's Old Fashioned Chocolate Cake, to make it into a Coconut Cake with Coconut Flavoured Icing for a Valentine's treat as well as a birthday and wedding anniversary cake.
Another Valentine cake was picked by Grace of Life Can Be Simple. Taken from Carol Walter's Great Cakes, this deceptive looking simple sour cream chocolate loaf cake has a not so simple surprise inside. BTW Grace, I was unable to leave a comment on your blog as you have Google+ turned on.
And the Valentine theme rolls on with more chocolate truffles. These were also a first for Vikki over at The Kitchen Adventure. Her recipe came from Sweets & Chocolates, one of the few books she could actually get at.
Kate over at Veggie Desserts made red velvet beet chocolate mousse, using the beetroot as her red velvet colouring – so much preferable to artificial colour.
A charming story involving florentines comes from Elizabeth's Kitchen Diary. These came after a first recipe was selected, baked and deemed not to pass muster. With true dedication Elizabeth selected another recipe from the same book, Green & Black's Chocolate Unwrapped and found these chocolate florentines to be much more successful, if rather time consuming to make.
Some more stunning dipped chocolate biscuits were the result of Rebecca's selection over at Bake n Quilt. I'm Dreaming of a Chocolate Christmas by Marcel Desaulniers is only just out of season and perfect for the month of chocolate. Her chocolate dipped pistachio lace cookies also proved to be a bit fiddly, but worth the effort.
Over at Culinary Adventures with Camilla, we have a very swish looking Chocolate Truffle Tart. Chosen by Camilla's boys from Chocolate: Cooking with the World's Best Ingredient by Christine McFadden and Christine France, they were more than happy to help her eat it too – this despite forgetting to put the cocoa powder in the tart case – oops!
My contribution to these 37 randomly selected chocolate recipes were these chocolate brownies. I got very lucky to pick this recipe from Chantal Coady's Real Chocolate. Brownies have to be one of the easiest and tastiest chocolate bakes ever and these were no exception. In fact they were some of the best brownies I've yet made.

I am so enjoying all this chocolate decadence. This deep dark chocolate cake over at The Law Student's Cookbook looks to continue the theme, but looks can be deceptive. This cake replaces the butter with cashew nuts and beetroot are used too. I'm not sure the scoop of chocolate ice-cream won't have undone the good work though! Taken from Cook Yourself Thin.
Laura from I'd Much Rather Bake Than … has found a full proof recipe for dark chocolate muffins. Her only concern was that there maybe wasn't quite enough chocolate, but with 275g of the stuff in only six muffins, it sounds fairly well stuffed to me. Her pick came from Roger Pizey's World's Best Cakes. I really am loving these 37 randomly selected chocolate recipes.
Much as I love chocolate, it's nice to see a bit of fruit. Chris from Cooking Around the World picked Peach Shortcake from Jamie's America. He didn't have any peaches, which is not really surprising at this time of year, so substituted apples instead to make apple shortcake with chocolate chip cream. Some mascarpone in need of using up found it's way into the chocolate chip cream which sounds like a wonderful dessert in it's own right.
Karen of Lavender and Lovage picked a bake that is very close to her heart – Yorkshire puds. Only these mixed berry and chocolate popovers, taken from the Reader's Digest Baking Bible, come in a sweeter American form. I'm rather taken with the perles de prune and the forks as well as the popovers themselves. Do take care when checking out her post though, you will find so many stunning photographs to gaze longingly at, you might never leave.
I never imagined Pooh was going to make an appearance in this round-up, but fabulously he does with these chocolate rock cakes over at Dragons and Fairy Dust. I foolishly thought I was the first to add chocolate to rock cakes, but I should have known better. These "provisions" were randomly selected from The Pooh Cook Book by Katie Stewart.
This chocolate tea bread from Antonia of A Little Bit Greedy, sounds as though it should work, but sadly didn't. It was taken, rather reluctantly, from Chocolate by Jacqueline Bellefontaine. However, the flavours sounded good and I suspect with a little adaptation, this would be a delicious loaf.
True dedication to this month's challenge was shown by Nat of HungryHinny who picked chocolate pithiviers from Green & Black's Ultimate Chocolate Recipes. This not only involved making her own puff pastry but also creme patissiere. Luckily, all the hard work paid off as you can see from the gorgeous photo – now if only I'd got to try one …
I'm desperately hoping that Hannah of Corner Cottage Bakery will not be put off joining in again as her magic chocolate mud pudding proved to be anything but magical and was in fact a total disaster. The recipe's fault not hers she assures us. Taken from Chocolate Ecstasy by Christine France, I suspect she might not be using it again.
Alexandra from The Lass with the Apron, was at first disappointed with her random recipe as she thought it a bit boring. Luckily, she soon saw the error of her ways and ended up really enjoying both the process of making and of eating this maple-chocolate roulade taken from American Cooking: New England, part of Time-Life's Food of the World series.
Ooh chocolate fig cakes. This is a recipe I've had my eye on for a while. It's from William Curley's Couture Chocolate and I have the book. Jill over at Lapin d'Or and More has given a very favourable review and being the chocolate master she is, I'm inclined to take her word for it. After all figs soaked in red wine has got to be good.
That Nutty Tart ended up with a recipe that assumed when it comes to making caramel, you pretty much know what you're doing, which isn't a good start when you don't. Add to this the lack of chocolate in the house when you are specifically making a chocolate recipe, things didn't quite go according to plan. However, all came right in the end and these chocolate pralines from Creole, Cajun and Mexican Recipes by Mirjaliisa Nuuttila and Elinor Schildt were by all accounts like delicate cloudy fudge that were far too easy to eat.
Undiscovered in Nigel Slater's Kitchen Diaries Craig from The Usual Saucepans was both shocked and delighted to have it selected as his random recipe. Shocked because he thought he knew this book inside out and delighted to discover such an excellent recipe as chocolate melting pots complete with nutella and amaretto – mmm.
Lime and chocolate is a favourite combination of mine. Combine that with salted chocolate and I'm sure I'd be in foodie heaven. Gary from Exploits of a Food Nut was lucky enough to pick salted chocolate lime mousse from River Cottage Fruit Every Day. Not having made mousse before, he was rather pleased to be made to do so.
My eyes opened wide when I read chocolate-filled chocolate cookies, the recipe picked by Stacy of Food Lust People Love. As you know I don't believe there is such a thing as too much chocolate. The results, not surprisingly, were pronounced to be delicious. The pick came from Jamie Oliver's Happy Days with the Naked Chef. Amazingly, I don't have a single JO book.
Taken from a NZ vintage 70s Woman's Weekly Cookbook, this recipe for chocolate cornflake roughs, is one I suspect we can all relate to. This was Lucy's lucky dip over at The KitchenMaid. She suggests NOT sharing them with the children and I think I'm with her on that 😉
And here is a recipe very much in the style of my own recent baking, although this one is without yeast – chocolate stout bread. Jenny over at The Lazy Vegan Baker picked this from one of her favourite vegan baking books. Luckily for her stress levels, it was a simple mix and bake affair.
Beetroot must be an incredibly popular ingredient, for here is yet another chocolate beetroot cake. Admittedly, this is more of a random recipe than a randomly picked one, but I think we'll let Mr Pork Belly off as he has long wanted to try making a dairy chocolate beetroot cake. You can read all about it over at Rosemary and Pork Belly.

Kate over at Gluten Free Alchemist selected a recipe she was luckily able to adapt easily to a gluten free one. The Chocolate Box from Marks & Spencer gave her chocolate-peanut butter oath slices. Strangely I made something similar myself recently and can attest that it's truly delicious.
Is it a cake or is it a Yorkshire pudding? Having just moved into a new house Sally of Recipe Junkie had rather a lot on. Amazingly, she dipped into this challenge and ended up not having quite enough time to bake the cake she'd selected from her Great Aunt's notebook. The resulting slightly stodgy cake, she has renamed Chocolate Yorkshire Pudding.
And here is yet another chocolate stuffed recipe – my cup floweth over. Amanda from Dancing Veggies selected these chocolate stuffed muffins from 1000 vegetarian recipes. Having made them, she thought they might work even better stuffed with Nutella or brownie batter or any number of other things. Inspiring ideas all.
Chocolate scones I have made many a time, but never chocolate chip scones with marmalade in. This was the recipe picked for Nikki over at Yummy! Mummy Cooks the Books by her teenage son. The recipe came from Great British Bake Off Everyday, but Nikki wasn't too impressed and reckoned her own version was better. Having baked for her brother's coffee shop, she sounds like she knows what she is talking about.
So there you have it, 37 randomly selected chocolate recipes. We hope you enjoyed it as much as we did.