This honeyed fig & goat's cheese tart with walnuts & thyme is drizzled with homemade spiced chocolate balsamic vinegar. It makes for a great starter or light lunch when you don't want to spend too much time on preparation. It looks quite impressive and tastes fantastic. You can make it as one large tart, as you can see here, or cut the pastry into squares or rectangles and serve as individual tarts.
Savoury Chocolate Recipes
When I first started this blog, I envisioned creating a number of savoury recipes using chocolate. But somehow my sweet tooth got the better of me and not many savoury chocolate dishes have in fact appeared. So when I made contact with a certain talented and loquacious goat called Ethel (how many goats do you know on Twitter?), I bucked my ideas up.

Ethel kindly invited me to join in the #CapricornChallenge and I was delighted. The idea is to come up with an exciting recipe or three using Capricorn Cheese. There is no rule to say that the results have to be savoury, but I wanted to expand my culinary horizons.
Goats
Goats and I go back a long way. When I was a child I spent many a happy week on a remote Cornish smallholding where I went to bed by candlelight and drew water from the well. As well as feeding the steaming pot of mash from the range to the chickens and moving the sheep from field to field, I spent much of my time with the goats.
It was my duty to take Starlight and Moonlight out each day in order to keep the brambles at bay. I also had to collect branches from the hedgerows to feed them with. Sadly my attempts at milking were less than successful. But I did get to drink a lot of goat's milk and try my first ever goats cheese.
I also learnt that the front end of a goat can be somewhat dangerous; on occasion Moonlight took exception to being moved around and would butt to get her point across.
Honeyed Fig & Goat's Cheese Tart with Walnuts, Thyme & Chocolate Balsamic
I'm sure Ethel is much better behaved. She must be because a hamper filled with good things, including some of her own wonderful cheese, duly arrived from her home in Somerset.
Plenty of ideas immediately sprang to mind. Some friends were the unsuspecting guinea pigs for one of those ideas: honeyed fig & goat's cheese tart with walnuts & thyme drizzled with spiced chocolate balsamic vinegar.
In fact I used the chocolate vinegar for one of the dishes in my epic six course chocolate themed dinner.

Figs are in season and so delicious right now. The tart is a Mediterranean inspired creation which I turned into a starter, but it also works well as a light lunch. To give the starter its chocolate hit, I started by making some chocolate balsamic vinegar. Yes, you heard right; it needs to be tried to be believed.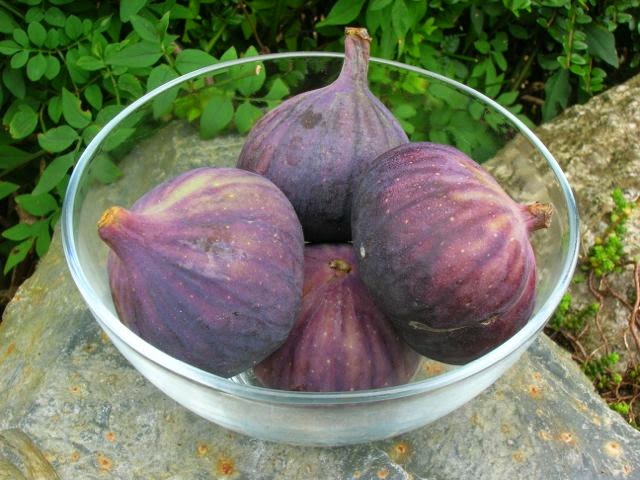 Everyone was really impressed with this honeyed fig & goat's cheese tart. The sweet sticky figs complemented the salty creamy cheese and the crunch of walnuts added another dimension to the texture. And the flavour of thyme completed the Mediterranean feel nicely.
It was the chocolate balsamic, however, which proved to be the crowning glory. It brought out the flavours of everything else as well as making its own distinct contribution. Who would have thought such an unusual condiment could be so good? It proved to be rich, fruity and chocolatey and the sour vinegar cut through both the cheese and sweet figs beautifully.
26 September 2018 Update

I originally made this honeyed fig & goat's cheese tart as individual tarts. They worked particularly well as the aforementioned dinner party starter. Because I used ready made puff pastry, they were incredibly quick and easy to make. But they looked and tasted rather classy too.
I've subsequently updated the post to reflect the photos of the single large tart you can now see. In this format, it works brilliantly as a light lunch for four.
Keep in Touch
Thanks for visiting Tin and Thyme. If you make this honey, fig & goat's cheese tarts or the chocolate balsamic vinegar, I'd love to hear about it in the comments below or via social media. Have you any top tips? Do share photos on social media too and use the hashtag #tinandthyme, so I can spot them.
For more delicious and nutritious recipes follow me on Twitter, Facebook, Instagram or Pinterest. And don't forget to SUBSCRIBE to my weekly newsletter.
If you'd like more tasty tart recipes, follow the link and you'll find I have quite a lot of them. All delicious, of course.
Choclette x
Honeyed Fig & Goat's Cheese Tart. PIN IT.

Honeyed Fig & Goat's Cheese Tart – The Recipe
Honeyed Fig & Goat's Cheese Tart with Walnuts, Thyme & Chocolate Balsamic
Quick to prepare, this impressive tart has a good combination of flavours and works well as a dinner party starter or a light lunch.
Ingredients
Spiced Chocolate Balsamic Vinegar
½

tsp

cumin seeds

100

ml

good quality balsamic vinegar

25

g

golden caster sugar

25

g

70% dark chocolate
Honeyed Fig & Goat's Cheese Tarts with Walnuts and Thyme
320

g

ready-rolled puff pastry

I used all butter pastry

150

g

fresh goat's cheese

leaves

from 8 small sprigs thyme

4

fresh figs

2

tsp

runny honey

30

g

walnuts – roughly chopped
Instructions
Spiced Chocolate Balsamic Vinegar
Dry fry the cumin seeds in a small saucepan for a few minutes until a delicious warm aroma arises.

Pour in the balsamic vinegar.

Add the sugar and stir until dissolved.

Simmer mixture for a couple of minutes.

Turn off the heat and add the chocolate. Stir until melted and combined.

Pour into a bottle, leave to cool then cap. Shake well before using.
Honeyed Fig & Goat's Cheese Tarts with Walnuts and Thyme.
Place the pastry onto a lined baking tray. (I had to cut a strip off mine to allow it to fit my 30cm x 23cm tray).

Spread the cheese over the pastry leaving a 1 cm border around the edge.

Scatter the thyme leaves over the cheese, then slice the figs and lay over the cheese & thyme.

Drizzled the honey over the figs then scatter on the walnuts.

Scattered a few chopped walnuts over the top.

Bake in a preheated oven for

15-20 minutes

at 200℃ (400℉, Gas 6) when the pastry is risen and golden, the cheese has melted and the walnuts are toasted.

Place onto 4 plates, drizzle with the chocolate balsamic and serve immediately along with some salad leaves.
Notes
Serves 6 as a starter or 4 as a light lunch.
Please note: calories and other nutritional information are per serving. They're approximate and will depend on serving size and exact ingredients used.
Nutrition
Calories:
656
kcal
|
Carbohydrates:
53
g
|
Protein:
15
g
|
Fat:
44
g
|
Saturated Fat:
14
g
|
Cholesterol:
17
mg
|
Sodium:
340
mg
|
Potassium:
229
mg
|
Fiber:
4
g
|
Sugar:
14
g
|
Vitamin A:
553
IU
|
Vitamin C:
4
mg
|
Calcium:
93
mg
|
Iron:
4
mg
Tried this recipe?
Please take a photo and mention @choclette8 or tag #tinandthyme on Instagram, Twitter or Facebook.
Linkies
Thyme was an important constituent of this fig & goat's cheese tart, so I'm including it in Herbs on Saturday – a lovely challenge run by Karen of Lavender and Lovage. As I don't use herbs in my chocolate creations very often, I don't get the chance to enter very often either.
Although I've already entered this month's One Ingredient with my figgy flapjacks, I used dried figs. However they are nothing like fresh figs, so I am entering this one too. Laura of How to Cook Good Food and Working London Mummy alternate hosting this monthly challenge.
Figs are in full season right now, so I am also entering this into Simple & in Season, hosted this month by Katie Bryson of Feeding Boys and a Firefighter.