When things get tough, there's nothing quite like some delicious ethical chocolate to provide a bit of relief. This post is all about the wonderful chocolate company Divine with a review of some of their products. Divine chocolate delivers divine intervention.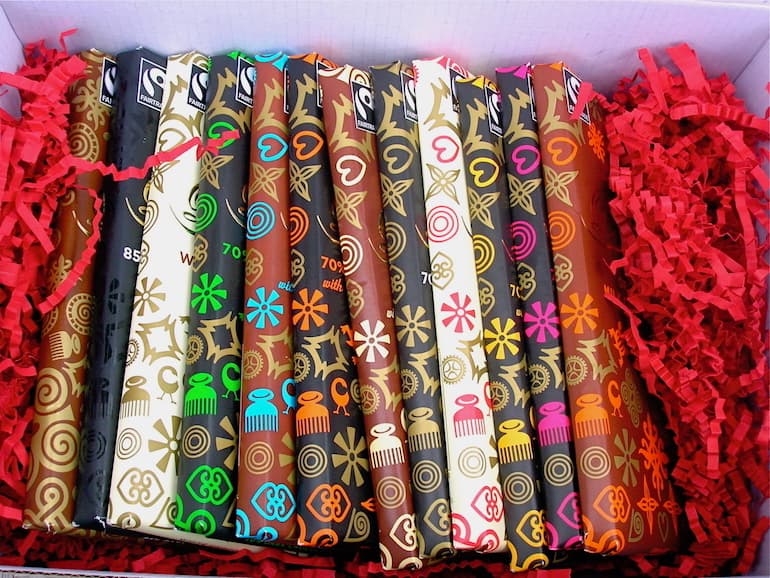 Divine
In 1997, the fairtrade chocolate company, Divine was born. It was at the very forefront of ethical chocolate production here in the UK. Their story goes back to the early 1990s when a group of Ghanian farmers set up the cocoa trading co-operative Kuapa Kokoo. They did this to provide an outlet for the cocoa beans they grow. 1998 saw the launch of the first chocolate bar and the rest is history.
Kuapa Kokoo own 45% of the company which ensures that the growers get a fair deal. This means that a good percentage of the profits are reinvested back into the local communities as well as the farms. Benefits have included schools, where none existed before, children being able to attend school, better health care and cleaner water.
Divine has carried the Fairtrade logo since its inception. I have been a keen supporter of their work ever since. I love the ethics, the packaging and of course, the chocolate.
The chocolate is not top of the range and at around £2 for a 100g bar, you wouldn't expect it to be. But it's still good chocolate and of a far higher quality than the average chocolate bar you can buy in the UK. It's also widely available. Even in the wilds of our small town on the edge of Bodmin Moor, you can find it in both our local Co-op and Oxfam shops.
Divine Chocolate Wrapping
The packaging is an important part of the aesthetic and luxury experience I expect to get from good quality chocolate. I have an aversion to chocolate wrapped in plastic and I'm continuously surprised at how many "good quality" bars are wrapped in it. Divine bars, I'm pleased to say, are all contained in an inner casing of gold and silver foil, thus scoring top marks from me.

The outer paper wrappings come in a variety of colours which match the ingredients within and they're covered in attractive West African symbols called adinkras. Adinkras have become synonymous with the Divine brand and not only adorn the chocolate wrappers but the chocolate itself. Each one has a specific meaning and if you're interested you can look up some of them on the Divine website. In my thrifty eco friendly way, I recycle these chocolate papers as gift wrapping.
Divine Intervention

And my prayers were answered. A box crammed full of Divine chocolate delights, nestling on a bed of colourful recycled packing material, arrived in the post.

I'm familiar with the 70% dark chocolate, which I often use in my baking, such as this Chocolate and Almond Fudge Cake. For a dark chocolate, it has a mild and soothing quality which I find pleasant. But I'm less familiar with other Divine bars and had no idea they made fudge at all.
Divine Salted Fudge
It was the fudge I dived into first although not so much because I'm a fudge fan. I used to love it, but these days I generally find it too sweet. The description enticed me in though. Salt and sweet is a relatively new concept to me. But since I first tried it, I've been completely won over. That salted fudge sounded too intriguing.
I was more than pleasantly surprised. The salty fudge was really quite delicious and because the chunks were quite small and thickly covered in dark chocolate, they weren't overly sweet in the least.
Divine Chocolate Bars
Having said, I don't like things too sweet, I'm a big fan of butterscotch in chocolate, so I was pleased to see a 45g of it bar nestling in the box. I haven't tried Divine's version before but it didn't take me long to rectify this. Despite the milk chocolate being only 27% cocoa solids and not skimping on the butterscotch, this was not cloyingly sweet, in fact it was more than pleasant.

The next up to try was the 70% dark ginger and orange 100g bar. I had something specific in mind for this and used it to make gingered chocolate mincemeat. I did, however, manage to snaffle a couple of squares – for my usual research purposes. The chocolate had the same mild quality of the 70% bar but had a subtle ginger flavour with tiny pieces of orange dotted about. I could have quite happily eaten the whole bar, but managed to resist.
Three 100g bars remain and I am trying to be very good and not go into a frenzy of flying gold paper fragments and inelegant gulping. No! I have plans for these, baking plans. So what's left? Turns out there's 70% dark chocolate with raspberries, orange milk chocolate and white chocolate with strawberries. Woohoo!
I've covered a number of Divine's newer chocolate bars in subsequent posts, such as this one for a Fairtrade Breakfast. They even have their own 200g baking bars now which you can see in this coffee cardamom chocolate mousse cake.
Divine Chocolate Week
Just in time for Chocolate Week one year, I was sent a Divine Tasting Kit. It's actually more like a feasting box, containing twelve 100g bars, which will last, even the seasoned chocolate scoffer through Chocolate Week and beyond.
I've already tried most of the bars at one time or another, but there were two recently launched ones I'd not come across before. Dark chocolate with mango & coconut and milk chocolate with whole almonds. I'm looking forward to trying them. One of the really good things about Divine's milk chocolate bars is that they have a relatively high cocoa content compared to other equivalent bars.

Also included in the tasting box was a selection of lovely recipe cards. You can never have too many chocolate recipes in my opinion, which is just as well given my propensity for making and blogging about them.
I've used Divine's dark raspberry chocolate a number of times to make this raspberry chocolate polenta cake, but I'm now keen to try their recipe for hazelnut & raspberry dark chocolate truffles. White chocolate & pistachio sponge blondies are calling to me and puddle pudding has my name written all over it. You can find these and a number of other mouthwatering recipes on their website.
Divine Chocolate Tasting Kit Contents
You can buy a Divine Tasting Kit online. However, the prices and contents vary year on year. These were the chocolate bars that I received.

85% Dark Chocolate Bar 100g
70% Dark Chocolate with Orange & Ginger Bar 100g
70% Dark Chocolate with Mango & Coconut 100g
Mint Dark Chocolate Bar 100g
70% Dark Chocolate Bar 100g
70% Dark Chocolate with Raspberries Bar 100g
38% Milk Chocolate with Toffee and Sea Salt 100g
38% Milk Chocolate with Whole Almonds 100g
Milk Chocolate Bar 100g
Orange Milk Chocolate Bar 100g
White Chocolate Bar 100g
White Chocolate with Strawberry Bar 100g
Keep in Touch
Thanks for visiting Tin and Thyme. If you try and of these Divine chocolate products or any others, I'd love to hear about it in the comments below. And do please rate the recipe. Have you any top tips? Do share photos on social media too and use the hashtag #tinandthyme, so I can spot them.
For more delicious and nutritious recipes follow me on Twitter, Facebook, Instagram or Pinterest. And don't forget to SUBSCRIBE to my weekly newsletter.
If you'd like more chocolate reviews, follow the link and you'll find I have quite a lot of them. All delicious, of course.
Choclette x