A not quite traditional Dorset apple cake. It swaps caramel chocolate for raisins, but oh what a lush result this gives.
Anyone familiar with Indian sweets will have tasted barfi. But what about blackberry barfi? Cornish blackberries meet exotic India in this sweet fusion fest. There's also coconut and subtle hints of rose.
As some of you might have gathered by now, there is a monthly blog challenge for the Best of British created and supported by The Face of New World Appliances. Each month, a different region or county within the UK is featured and the challenge is to make either a dish from that area or using ingredients that come from it. I'm keen to support this as it is very much about promoting British produce AND I did kick things off with the Best of British Cornwall back in May. There is also an incentive of a possible £50 Amazon voucher for one lucky entrant. Janice of Farmergirl Kitchen hosted a Scottish challenge in June and the current one, for Yorkshire is hosted by the exuberant and energetic Karen from Lavender and Lovage.
Now, since trying my first (and only) Yorkshire curd tart when I was in York last year – from the famous Betty's Tea Rooms no less – I've been wanting to try my hand at making them myself. Needless to say, it took this challenge to get me kick started. A couple of nights ago a group of us went to see No Fit State, an amazing animal free circus that is performing at the Eden Project throughout August. We were all meeting up for a picnic beforehand, which seemed like a perfect opportunity to try out the tarts. Of course, these were my interpretation of this classic recipe – I had to get chocolate in somehow! I based the filling on this Hairy Bikers recipe.
This is what I did:
The night before, brought 2 pints of milk to a simmer.
Squeezed in the juice of a lemon and left the milk to cool down, stirring very briefly.
Poured the mixture into a sieve lined with a cheesecloth and left overnight for the whey to drip out.
Placed 150g of wholemeal flour in a bowl with 25g cocoa powder and 15g icing sugar.
Added 100g of cold cubed unsalted butter and rubbed the mixture between my fingers until it resembled breadcrumbs.
Threw in an egg yolk and a splash of cold water.
Stirred and brought the mixture together into a ball.
Placed in a plastic bag and put in the fridge for a couple of hours.
Creamed 65g of unsalted butter with 65g cardamom (caster) sugar until very light and fluffy.
Grated in the zest of an organic lemon and creamed some more.
Beat in an egg until thoroughly combined.
Stirred in the curd cheese.
Added 25g of raisins (would have used current, but didn't have any).
Rolled out the chilled pastry and cut into rounds to fill four 9cm tart cases and 7 jam tart sized dimensions – I used my muffin moulds.
Divided the mixture between the tarts and baked at 180C – 20 minutes for the larger tarts and 13 minutes for the smaller ones.
The tarts were delicious, just as good as I remembered the one from Betty's Tea Rooms. The chocolate pastry offset the sweetness of the filling and the overall effect was very satisfying – certainly everyone seemed to enjoy them. We picnicked in the evening sunshine, a rare event this summer. We then enjoyed a fabulous performance of flying trapezes, rope climbing, hula hoops, trampolining, contortionism and pole dancing like you've never seen before. Oh and the music was good too.
As these are tarts and they were baked especially for a picnic – where they were all consumed I might add, they fit very well into this month's Tea Time Treats. Hosted on alternate months by Kate of What Kate Baked and Karen of Lavender and Lovage, this month's theme chosen by Kate is picnic pies. I might almost have planned it 😉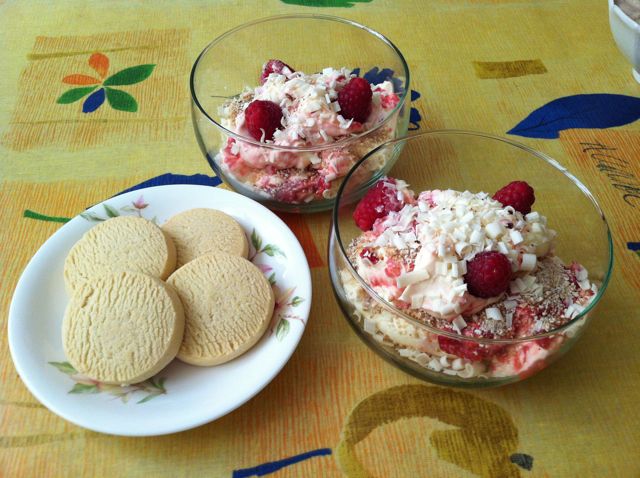 A delicious dish of toasted oatmeal, whipped cream, honey, whisky and raspberries. Scottish cranachan is quick and easy to make and deserves to be better known than it actually is. Serve it as a special occasion dessert.
Every county in the UK will have a regional recipe or two, but Cornwall has a wealth of them. It's famed for its dairy, saffron, fruit, cauliflowers and potatoes as well as fish. It's also a poor county so the thrifty folk of Cornwall had to be inventive with their frugal fare to come up with something interesting and delicious. Read on to find 14 Cornish recipes made by our Best of British participants.
Who needs scones when you can have traditional Cornish splits instead? Soft and slightly sweet yeasted bread buns are the perfect vehicle to load up with jam and cream. Please note,  jam first, cream on top!