Fragrant quince jelly with an optional chilli kick. It's a sweet, tart and easy to make flavoursome jelly which is also very versatile. Make it purely with quinces, if you're lucky enough to have a sufficient quantity, or add apples to bulk them up if needed.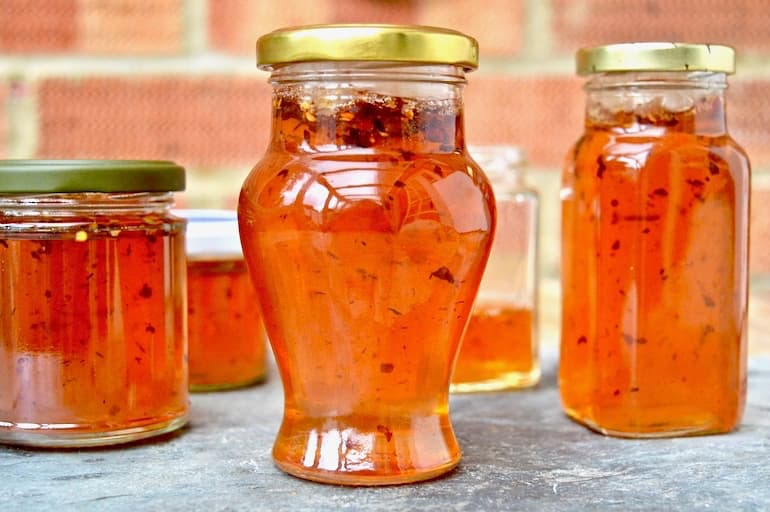 Jams and jellies are things of beauty and wonder. I love to preserve summer and autumn's bounty and to create these delicious jewel-like jars of deliciousness. I make jam and jelly regularly, but although I have several jam recipes on the blog, for some reason I don't have any for jelly. It's time to remedy that lack.
What is a Quince?
I'm sure most of you are familiar with quince, but for those who aren't, I thought a few sentences about this gorgeous fruit might be useful.
Cydonia Oblonga
True quince (Cydonia oblonga) is a deciduous tree in the Rosaceae family. It bears a sweetly scented yellowish green edible fruit, similar in appearance to a pear, although it's not very pleasant to eat raw. The fruit is quite tough, so you need to cook it for a long time for it to go soft. The most common ways to eat quinces are as membrillo, quince jelly and simply poached.
Sadly, it's not particularly easy to get hold of, unless you know someone who has a quince tree. Farmer's markets are the most likely source.
Whilst quince grows quite successfully over most of Europe and other parts of the world, the quince tree is native to Western Asia. If you're lucky enough to find quinces this October, they will most likely have been imported from Turkey or Iran.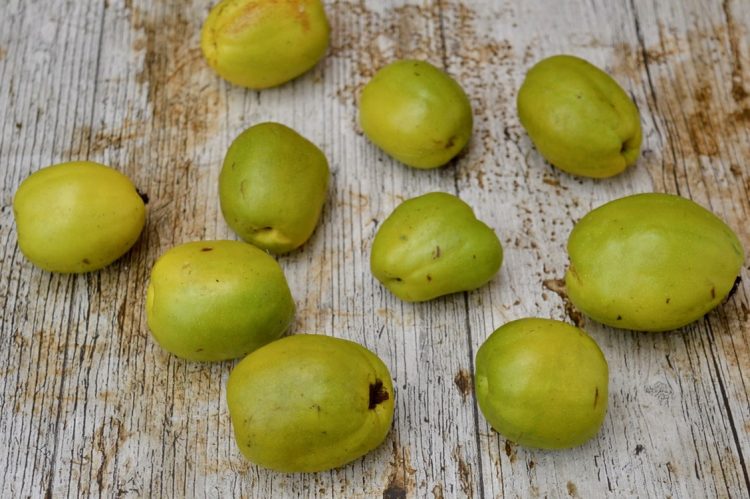 Chaenomeles Japonica
Japanese quince (Chaenomeles japonica), on the other hand, is a bush rather than a tree and is covered in thorns. It's quite a common garden plant here in the UK and has really pretty pink or red flowers. One of our neighbours back in Liskeard used to have a hedge of it and in the spring it was always covered in bright red flowers which lasted for ages. The plant is also known as Maule's quince.
Whilst the fruit is fragrant, it's not as powerfully so as true quince. But it's more readily available as so many gardens have it. For some unknown reason, however, the fruit is usually ignored. It's a pity, because kuso-boke, as it's called in Japanese, is well worth using.
The fruit I've used in this quince jelly are of the Japonica variety. But you can just as easily use true quince, if that's what you happen to have.
What's the Difference Between Jam and Jelly?
Jams and jellies are both great ways to preserve seasonal fruit to enjoy throughout the year. The main difference between them is that jams use the whole fruit, whereas jellies are made with the strained liquid only. This means that whilst you can easily make jam in a day, you need more time to make jelly. This is mostly because it's a three stage process. See the next section for details.
Jellies should be clear, bright and flavoursome. In order to make them, you need to have fruit that are either very juicy or are high in pectin. Having said that, even with juicy fruit that are low in pectin, it's best to add some high pectin fruit such as a lemon, lime or apples. Traditional jellies include: blackberry and apple, redcurrant, blackcurrant, crab apple, medlar and quince.
Quince Jelly with Apple and Chillies
Quince jelly is one of the easiest jellies to make as the fruit is particularly high in pectin. But it's not a quick process. You need to make quince jelly in three stages.

Quince Jelly Stage One
The first thing you need to do is wash the quinces and apples, if using. Next chop them into rough pieces, but do ensure any bad bits are thrown into the compost bin. There's no need to peel or core the fruit, in fact you want as much of it as you can get. Quinces are quite tough, so use a sturdy knife. Throw everything into a large lidded pot, cover with water and simmer until the fruit is soft. This normally takes about half an hour.
Quince Jelly Stage Two
For this second part, you will need a jelly bag or muslin cloth. I don't have a jelly bag, but have always found a piece of muslin easy to use. Place a sieve over a bowl and lay the muslin over the sieve. Then pour the fruit into the bag or cloth. When most of the juice has drained through, gather up the corners of the cloth and tie a piece of string around the top. I usually use an elastic band for this as I find it easier than having to tie the cloth one handed.
Suspend the cloth from somewhere it can drip into the bowl. I used to use a kitchen cupboard door handle back in Liskeard, but now use a tap in a seldom used sink instead. Allow the juice to drip at its own pace overnight or for a good few hours. Do not squeeze the bag. It's important that you don't force through any solids or you won't have a clear jelly. Having said that, don't worry if the liquid is cloudy; it will clear as it cooks later in the process.
Quince Jelly Stage Three
Finally, make the jelly, as described in the recipe at the bottom of this post.
How Can I Tell if My Quince Jelly is Set?
Luckily, because of its high pectin content, quince jelly is easy to set. The best way to know when you've reached setting point is to keep two saucers in the freezer. After ten minutes, or when you think it's getting close, drop half a teaspoon of the jelly onto a cold saucer and leave for a few seconds to cool. Push your finger up against the jelly and if it forms a skin and wrinkles up, it's ready. Alternate the saucers and test every couple of minutes until it's set.

Why Add Apples?
You don't need apples to make this jelly, pure quince jelly is a thing of delight. However, I've added apples as I didn't have enough quinces to make a decent amount. Plus I wanted to use up some of the windfalls which are littering our garden. Jelly is a great way to use up windfalls, as you don't need to peel or core the fruit, just cut out any bad bits.
Just like apples, quinces are high in pectin, so it's a really easy jelly to set. Use sour apples if you can or even crab apples.
How Long Will Quince Jelly Last?
Jelly makes a great store cupboard staple. If you've set your quince jelly properly and store in well sealed sterilised jars, it should last for at least a year and probably two. Just keep your jars in a cool dry place. I store mine at the back of a kitchen cupboard. Once you open a jar, keep it in the fridge and it should last for at least two months.
How to Sterilise Glass Jars and Lids
It's important to use sterilised glass jars when you make any kind of preserves. I wash them well in warm soapy water, then dry them out in a warm oven at 140℃ (275℉, Gas 1) for 15 minutes. If you have a dishwasher, you can run them through that instead. To sterilise the lids, I boil them in water for a few minutes, then leave to dry before sealing the jar's contents. For more information on this, head over to my post how to sterilise glass jars.
Chilli Jelly
The chilli addition in this quince jelly is purely optional. But I do like a bit of chilli. I've only added one teaspoonful of a not particularly hot chilli, so it gives just a hint of heat. The amount of heat will depend on the chilli flakes you use. Add more or less depending on the quantity of the jelly you make and how hot you like it.

Ensure you use dried chilli flakes as fresh chillies will inhibit the keeping qualities of your jelly. Add them just after you take the chilli jelly off the heat and stir well. As long as you've reached the correct setting point, the flakes will be suspended in the jelly.
If it's primarily chilli jelly you're after, you can make it with apples instead of quince if you like. They're a lot easier to get hold of.
The red flakes suspended in the jelly give it quite a striking look. In fact, why not gift a jar of quince jelly with chilli? It would make a fabulous Christmas present or addition to a homemade food hamper.
Alternatives to Quince Jelly
If you're unable to get hold of quinces to make jelly, you can substitute apples instead. Apples are a lot easier to get hold of. Both quinces and apples are high in pectin which equals an easy set. Apple jelly isn't quite as flavoursome as quince, but it's still very good. It's best to use sour apples, or slightly underripe ones as these are higher in pectin. Windfall apples and crab apples also work well.
Medlar jelly is another good alternative. It has a lovely, slightly toffeeish flavour, but a softer set than either apple or quince. Another favourite is hedgerow jelly. This is a good one to make the most of foraged autumn fruits. It's a bit sweeter than the quince jelly and doesn't contain any vinegar. But my goodness, it's delicious.
You can actually use this recipe for pretty much any jelly you care to make. The quantities of sugar to fruit juice are the same regardless of the type of fruit you use. But please note, setting points will vary.
How to Eat Quince Jelly
Quince jelly is really versatile – with or without the apples and chilli. It's actually fabulous spread on buttered bread or toast, just as you'd have jam. It has a lovely flavour. But you can enjoy it in lots of other ways too.
It's perhaps best known as an excellent accompaniment to cheese in much the same way as membrillo. Add a pot to your Christmas or dinner party cheeseboard, it's bound to go down well. Whilst we're talking Christmas, a jar of homemade quince jelly would make a lovely festive gift.

Add it to sauces, gravies and stews for a bit of sweetness and additional flavour. It works particularly well to liven up a tomato sauce, especially one made with tinned tomatoes.
I've even been known to use it for my vegan honey & almond granola when my dandelion honey's run out. Although, not when it's a chilli jelly too.
Keep in Touch
Thanks for visiting Tin and Thyme. If you make this quince jelly, with or without the apples and chillies, I'd love to hear about it in the comments below. And do please rate the recipe. Have you any top tips? Do share photos on social media too and use the hashtag #tinandthyme, so I can spot them.
For more delicious and nutritious recipes follow me on Twitter, Facebook, Instagram or Pinterest. And don't forget to SUBSCRIBE to my weekly newsletter.
If you'd like to preserve other fruit and vegetables, I have a few not-to-be-missed recipes in my Preserves category.
Choclette x
Quince Jelly. PIN IT.

Quince Jelly – The Recipe
Quince Jelly with Optional Apple and Chilli
Fragrant, sweet, tart quince jelly with an optional chilli kick. It's one of the easiest jellies to make. Use just quinces or add apples to bulk them up if needed.
Ingredients
1

kilo

quinces – or a mix of quinces and apples

450

g

golden granulated sugar

50

ml

apple cider vinegar

1

tsp

dried chilli flakes

(optional)
Instructions
Chop the fruit into rough pieces, ensuring any bad bits are thrown into the compost bin. There's no need to peel or core the fruit, in fact you want as much of it as you can get. Quinces are quite tough, so use a sturdy knife.

Chuck the fruit into a large lidded pot. Add just enough water to cover. Bring to the boil with the lid on and simmer for about 30-40 minutes or until the fruit is mushy.

Set a jelly bag or muslin lined sieve over a large glass or pottery bowl. Pour in the contents of the pan.

Once most of the juice has drained out, suspend the jelly bag or tied muslin cloth above the bowl and allow it to drip overnight or for a good few hours. You want to extract as much as the juice as possible, but don't be tempted to squeeze the bag.

The next day, sterilise your jars and throw the leftover pulp into the compost bin.

Measure out the juice and for every 600ml (1 pint) add 450g sugar and 50ml cider vinegar. I got 600ml exactly.

In a large pan, heat the mixture gently until the sugar has dissolved. Then bring it to the boil. Remove any scum – there will probably be a lot.

Continue to boil until the jelly reaches setting point. This could be anywhere between 10 and 20 minutes. Mine set after only 8 minutes. To test setting point, place half a teaspoon of juice onto a cold saucer or plate and push it with a teaspoon or your finger. If it wrinkles it's set, if it doesn't carry on boiling.

Turn the heat off and leave a couple of minutes for the bubbles to subside. Stir in the chilli flakes, if using.

Pour or ladle into warm sterilised jars. Cover with wax discs, seal and label.
Notes
Store in a cool, dark place for up to a year and refrigerate after opening.
Please note: calories are per serving. They're approximate and will depend on exact ingredients used.
Nutrition
Calories:
440
kcal
|
Carbohydrates:
113
g
|
Protein:
1
g
|
Fat:
1
g
|
Saturated Fat:
1
g
|
Sodium:
10
mg
|
Potassium:
19
mg
|
Fiber:
1
g
|
Sugar:
112
g
|
Vitamin A:
148
IU
|
Iron:
1
mg
Tried this recipe?
Please take a photo and mention @choclette8 or tag #tinandthyme on Instagram, Twitter or Facebook.
Sharing
I'm sharing my chilli and apple quince jelly with Recipes Made Easy for #CookBlogShare.