Have you ever tried a recipe box before? Well here's your chance to find out more and even try one. Riverford are offering Tin and Thyme readers an organic three meal box for two. There's also a mini review of the Riverford Farm Cook Book.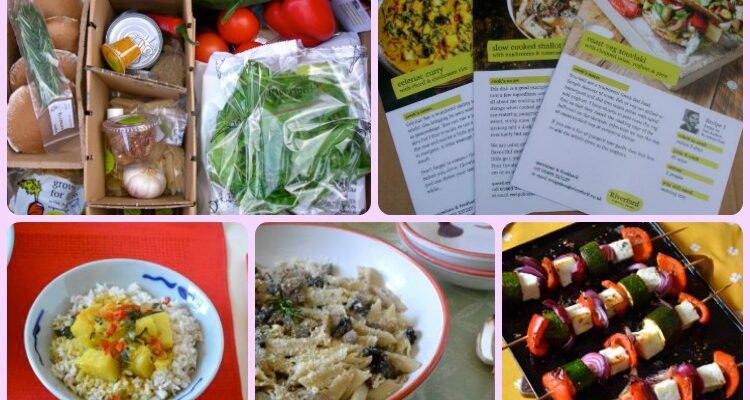 We get a fortnightly organic veg box from Riverford to supplement the vegetables we grow. But it was only recently I became aware that there is also such a thing as a Riverford recipe box. How intriguing. Luckily my curiosity was soon satisfied as Riverford sent me one of their recipe boxes for two to try out.
Riverford Organic Recipe Box
I've heard of the recipe box concept, of course and have even tried one, but the Riverford scheme is slightly different. It's organic for a start and most of the items are sourced from its own farms and shop, making it an in-house production.
When I say there is a Riverford organic recipe box, I actually mean boxes. You can choose from the original recipe box, a quick recipe box or a vegetarian one. We received a vegetarian box for two. Ostensibly this provides three meals, but we actually got five out of it. Erring on the side of generosity certainly meets with our approval.
We were provided with measured quantities of all the ingredients required, except for salt, pepper and oil. The vegetables and salad were all fresh and guidelines on keeping times were given. Each month / week the recipes are created by different chefs. Ours came from by Bob Andrew, former Head Chef at Riverford's Field Kitchen.
The recipe cards are thorough, well written and well produced. They even have a bit of farm news from Guy Watson, Riverford's founder and organic pioneer.
A Riverford recipe box for two costs £33.95 and provides at least three meals. Boxes for four people are also available. For more information on Riverford, hop over to the post about my farm visit. You can also find out how I later got on with an organic vegan recipe box.
Celeriac Curry
I love the idea of cooking things in ways I might not otherwise have thought of and it also helps give me inspiration for future dishes.
It seems unlikely that I'd ever have thought to make a curry out of celeriac. But I was given the ingredients and recipe for celeriac curry with chard & cardamom rice, so I went for it. And guess what, it was delicious.

As it turned out, we didn't get chard, but pak choi instead, the joy and challenge of seasonal provisioning. The rice was brown basmati which is probably my favourite, being nutty and slightly chewy. The meal was the only vegan one of the three. It was brightly coloured, warming and filling. Just what we needed, in fact, on a cold winter's night.
Roast Veg Souvlaki
Roast veg souvlaki with chopped salad, yoghurt & pitta was perhaps my favourite of all. But then I do have a predilection for Mediterranean and Middle Eastern food. This was a veritable feast, both for the eye and the palate.

It was a hands on event as we stuffed our warmed pitta breads with the chilli and oregano roasted veg and halloumi. We were both mightily impressed with the fennel, tomato and olive salad, which we elected to serve separately from the salad greens. Spooning on the delicious garlic yogurt sauce completed the experience. This is the kind of meal to share with friends.
Slow Cooked Shallot Trenne with Mushrooms & Rosemary
It was an utter delight not to have to think what to cook and to have a varied range of delicious and organic dishes to eat during the week. The portions were on the generous side, which was fine by us as we were able to get two meals out of the curry and two out of the slow cooked shallot trenne with mushrooms & rosemary.

The slow cooked shallot sauce gave an individual character to a classic Italian fast food. With plenty of mushrooms included, it was a case of Umami Mia.
Riverford Farm Cook Book
Just in case you'd like to get your hands on some Riverford recipes, Riverford have a cook book. CT bought me a copy a couple of years ago. As you would expect from an organic vegetable farm, this is a recipe book all about vegetables. Written by Guy Watson and Jane Baxter, former head chef at the Riverford Field Kitchen, it celebrates British food and focuses on the fruit and vegetables that can be grown here in the UK.
The chapters come in an A-Z format of fruit or vegetable, starting with apples and ending with turnips. As well as recipes, each chapter has some information on each crop including varieties, storage and preparation.
This makes it super easy to find a recipe for that last celeriac lurking in the fridge or the bag of quinces a kindly neighbour presented to you and you haven't a clue what to do with. Spiced celeriac with lemon is delicious, I know because I've made it. I adore membrillo, the famous Spanish quince cheese, but have not yet made my own. When I do, I'll know where to go for the recipe.
To my shame I haven't yet made the Riverford Farm version of beetroot brownies. But I have baked their chocolate courgette cake which turned out really well. And that was despite me forgetting to add some of the sugar.
Riverford Recipe Box Reviews From Other Bloggers
Organic Vegetarian Recipe Box Giveaway
Riverford is kindly offering one lucky Tin and Thyme reader a vegetarian recipe box for two. The recipe and ingredients are likely to be different to the ones I received.
To be in with a chance of winning, please fill in the Gleam widget below. You will need to leave a comment on this post, answering the question, which then gives you additional chances to enter if you so wish. Gleam will pick a winner at random from the entries received.
If you are commenting anonymously, please give me some way of identifying you as I will be verifying the validity of entries. Any automated entries will be disqualified. This giveaway is only open to those in England and South Wales who live within a Riverford delivery area. Winners will need to respond within 5 days of being contacted. Failure to do this may result in another winner being picked.

Please note: Although Riverford deliver to most locations in England and South Wales, they don't deliver everywhere, so you might want to check they deliver to you before entering the giveaway to avoid any disappointment. There is no cash alternative.
Prizes are offered and provided by Riverford and Tin and Thyme accepts no responsibility for the acts or defaults of said third party. Tin and Thyme reserves the right to cancel or amend the giveaway and these terms and conditions without notice.
Closing date is Sunday 3 April 2016
Do take a look at the giveaways page to see if there's anything else you'd like to enter.
Riverford Vegetarian Recipe Box

I was sent a Riverford recipe box for review purposes. I was not required to write a positive review and all opinions are, as always, my own. Thanks to my readers for supporting the brands and organisations that help to keep Tin and Thyme blithe and blogging.