Have you made your own chocolates before? If not, it's a lot easier than you might think. Sweet and salty, melting and crunchy, these salted caramelised almond chocolates are pure delight. Flower shapes are entirely optional.
The wonderfully creative Elizabeth from her kitchen in Shetland is hosting this month's We Should Cocoa and she has tasked us with making bite sized chocolates. Flavours are completely up to us.
As it happens I was given some chocolate flower moulds with sticks as a birthday present from my mother and this seemed the perfect opportunity to try them out and make one of my favourites, salted caramelised almond chocolates.
Salted Caramelised Almond Chocolates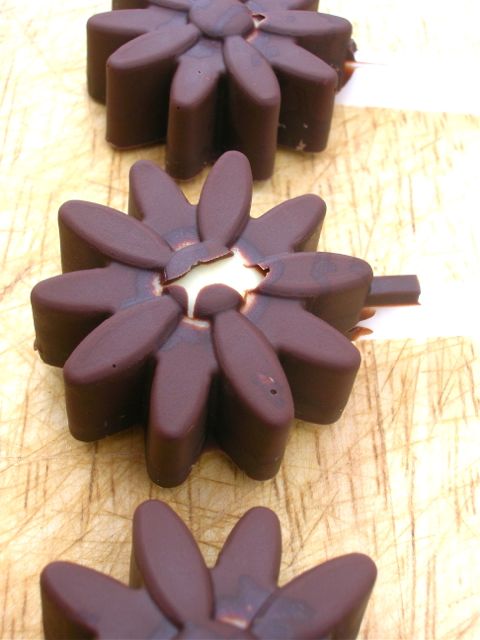 I have found tempering small amounts of chocolate to be well nigh impossible. I am, however, always willing to keep trying to achieve that elusive Beta 5. Salted caramel continues to be my flavour of the moment, so that's what I opted for, using some fleur de sel from Brittany.
First I made some salted caramelised flaked almonds and then I used them to make salted caramelised almond chocolates. The idea was to make them in the shape of flowers with dark chocolate leaves and a white chocolate centre. I ended up with some some chocolate and nuts left over, so I made a few spoons as well. Why not?

I was hoping my chocolate flowers would have a pretty white centre to them, but the dark chocolate covered most of the white chocolate buttons. This technique obviously had a few flaws. Next time, I will have to try melting some white chocolate into the bottom before adding the dark, though I'm not sure that would achieve the neat result I was looking for either.
Beta 5 may have eluded me once again, but I felt I wasn't far off – with the spoons at least.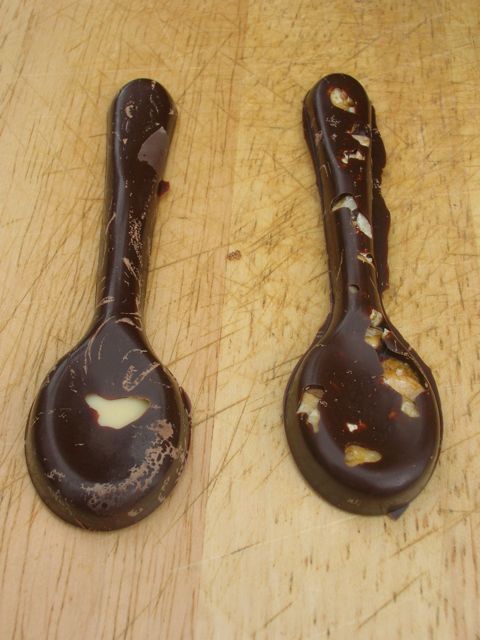 Despite the chocolate flowers not looking quite as good as I'd hoped, I was still really pleased with them. They looked fun all stacked together in a vase and they taste fantastic.
These salted caramelised almond chocolates had a rich, strong flavour with a salty, nutty, crunchy heart. Eating them on sticks allowed the chocolates to be nibbled and savoured without getting a melted mess all over our hands. Whether you make them as flowers, spoons or something else entirely, these would make a wonderful gift.
Other Recipes for Homemade Chocolates You Might Like
And if these aren't enough, you'll find heaps of recipes for making chocolates on my Chocolate to Love Pinterest board.
Show Me
Thanks for visiting Tin and Thyme. If you make these nutty chocolates, I'd love to hear about it in the comments below or via social media. Do share photos on your preferred social media site and use the hashtag #tinandthyme, so I can spot them. For more delicious and nutritious recipes, follow me on Twitter, Facebook, Instagram or Pinterest.
Salted Caramelised Almond Chocolates. PIN IT.

Salted Caramelised Almond Chocolates – The Recipe
Salted Caramelised Almond Chocolates
Sweet and salty, melting and crunchy, these almond chocolate are pure delight. Flower shapes are entirely optional.
Ingredients
1

tbsp

flaked almonds

1

tsp

golden icing sugar

seived

1

pinch

fleur de sel

75

g

dark chocolate

(I used G&B Cook's 72%) - chopped

9

white chocolate buttons

(if making flowers)

9

flower moulds with sticks or chocolate moulds of choice
Instructions
Dry fry the almonds with the icing sugar and salt over a medium heat stirring all the while.

After about 8 minutes, the sugar should have caramelised and the almonds turned golden. Remove from the heat and allow to cool, then roughly crush.

Melt 60g of the chocolate over a pan of hot, but not boiling water, making sure the water doesn't touch the bowl. As soon as the chocolate had melted, remove from the heat and add the remaining 15g. Stir until melted.

If making the flowers, lay a white chocolate button at the bottom of the flower moulds. Insert the sticks and top with a teaspoon of melted chocolate.

Add some of the crushed caramelised nuts.

Top with another teaspoon or so of melted chocolate until they are full. Bang the moulds on the surface to disperse any air bubbles and spread the chocolate into the corners.

Leave to set.
Notes
I made six flowers and used the remaining chocolate and some of the caramelised nuts to make three chocolate spoons.
Tried this recipe?
Please take a photo and mention @choclette8 or tag #tinandthyme on Instagram, Twitter or Facebook.