A review of the cookbook Love Bake Nourish by Amber Rose. Well I say cookbook, it's really all about baking. But beautiful bakes that are as nourishing as they can possibly be.
One wet lunchtime at work, I was browsing around Waterstones as I occasionally do and I spotted the title Love Bake Nourish by Amber Rose. The title drew me in, so I picked up the book and had a look. I knew then that she had beaten me to it: this is exactly the kind of book I wish I had written. The central premise is about making delicious cakes and bakes, but making them as nourishing as possible – just what I have been doing (mostly) on my blog all these years.
What a Coincidence
After flicking through the recipes for a while, I felt I wanted to know more about the author so I turned to the introduction. Well, what a surprise I got. It turns out that Amber Rose grew up on a small holding in New Zealand and puts her love of good food down to her horticulturally inclined mother Kay Baxter, who not only grew and prepared the food, but was an excellent cook.
It was at this point that that my curiosity was really aroused. Could this be the very same Kay Baxter who CT and I had visited one particularly wet and windy day at Koanga Gardens in Northland, New Zealand? The simple answer was yes, she was the very same. CT wrote about our visit (amongst others) to Koanga Gardens on his From Our Owen Correspondent. It's worth a read. A short while later, I was sent the book to review.
Healthier Baking
The subtitle of the book says it all: healthier cakes, bakes and puddings full of fruit and flavour. Spelt and other non wheat flours such as buckwheat, rye and barley are used throughout and many of the bakes are gluten free. My only complaint here was that Amber used white spelt rather than wholemeal. I'd have even been happy with a mix of both. Unrefined sugars are used, with maple syrup or honey playing a starring role in many of the recipes. A plentiful supply of fresh fruit, flowers and herbs are also used.
But don't be put off if this sounds too worthy for you – the joy of both baking and eating runs throughout the book. Food that is nourishing for the body as well as the soul is something Amber mentions quite frequently; she is definitely a woman after my own heart. The recipes use butter, cream, creme fraiche, cheese and free range eggs. This got a sigh of relief from me as I am generally not keen on manufactured low fat options. There are layer cakes and fairy cakes smothered with icing. There is a whole chapter on tarts and meringues; the rosewater and pistachio pavlova with strawberries had me week at the knees just looking at the picture.
Chocolate Recipes
Virtually every recipe in the book appeals to me and the pictures are very tempting, but sadly, the chocolate recipes are few and far between. In fact there are only six; but when have I ever let that stop me? I was hoping to make the chocolate and cherry pots for this review, but I've not yet come across any English cherries. I'm not sure if that's because it's a bad season, it's a late season or if I've missed the boat entirely. I did however make the caramelised pear and buckwheat pudding cake, although I adapted it slightly to include carob. It was deliciously light and aromatic and I loved the affect of the sunken pears.

A Cup of Tea
Having studied the Love Bake Nourish in a lot more detail since I first browsed through it at Waterstones, I'm definitely a fan. The final chapter was the clincher: Herbal Teas. A good slice of cake is definitely more enjoyable if accompanied by a nice cup of tea. I drink a lot of herbal tea, fresh from the garden when in season and dried out of season. Lemon balm and blackcurrant leaves is one of my favourite combinations, but I also like lemon verbena and lady's mantle.
Amber offered up a few other combinations I haven't tried before. And my new favourite of the season is fresh mint and nettle tea. I've never really liked nettle tea even though I know it's good for you. Although strangely, I love cooked nettles. The simple act of combining them with mint turns the tea into something quite refreshing. In this chapter, Amber also talks of her love of good quality tea. She guides us through some of the different types of Black, Oolong and Green along with the best way to prepare and taste them.
Nourishing Puddings & Desserts
Other chapters include: Seasonal Cakes, Puddings, Small Bakes and Creams, Custards and Compotes. As I said earlier, there is very little in this book I am not keen to try, but Amber has come up with some really interesting combinations that I find particularly appealing. I'm looking forward to the apple season to try her apple and polenta cake. Her passionfruit and lime syrup cake is on my must bake very soon list as are the fig and mascarpone tarts and the buckwheat drop scones with apricot butter. Oh and did I mention the blood orange and rosemary tart?
Beautiful Flowers
I particularly like Amber's use of fresh flowers. It must be something to do with her name, for many of the bakes in the book are decorated with them. Some are used just as they are and others are crystallised. Instructions on how to crystallise flowers are included and also a useful list of flowers which are not only edible but are good to use. These are divided into: savoury herb flowers, mild herb flowers, sweetly floral flowers and mild floral flowers. There are several in the list I would not have thought of using.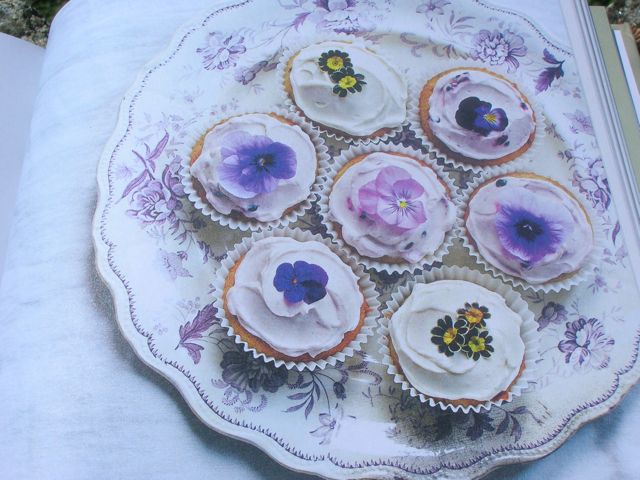 Rustic Chic
The feel of the book is nostalgic and evokes a bygone era that probably never existed. Yet it is one which I long to return to. The book itself is quite beautiful and has a vintage country style which is both homely and elegant at the same time. It's country living but without the pretension of a certain glossy magazine. The photographs are lovely, although there is by no means one for every bake. They have a matt finish and depict some of the bakes along with beautiful or whimsical vintage china or rustic props. Perhaps I should coin a new phrase – rustic chic?
Amber scatters "A word about …" certain ingredients around the book whereby she highlights their qualities and health benefits. Coconut oil is amongst those mentioned as are ancient grains, heritage fruit and olive oil.
I shall be working my way through the book and although I doubt my photography will be quite so evocative, I will be posting some of the bakes here in due course.
Published by Kyle Books, Love Bake Nourish is a 208 page hardback and retails at £18.99.
Stay in Touch
Thanks for visiting Tin and Thyme. If you get hold of Love Bake Nourish or try the recipe for caramelised pear and buckwheat pudding cake, I'd love to hear about it in the comments below or via social media. Do share photos on your preferred social media site and use the hashtag #tinandthyme, so I can spot them.
For further book reviews, follow me on Twitter, Facebook, Instagram or Pinterest.