When I first heard of pulled jackfruit as a vegetarian and vegan alternative to pulled pork, I have to say I was sceptical. By now, I should really know better! When enough vegan bloggers tell you it's delicious, I should listen. And finally I did.
This recipe for a vegetarian version of Syrian stuffed red peppers in tomato sauce is the next in my Flavours of the Middle East series. In some small way, it's an acknowledgment that there is a lot more to Syria than the dreadful civil war that's been raging there for far too long. I'm a food blogger, so it's the delicious Syrian cuisine I've chosen to highlight.
I've been wanting to create a stand out recipe for veggie meatballs for a very long time. Procrastination rarely pays off and now Heck have beaten me to it. There was nothing for it but to create a super delicious way of serving them. These green veggie meatballs in tomato sauce served as part of a Middle Eastern feast fits the bill beautifully. All vegan and so very tasty.
As promised for this month of Veganuary, I'm trying to up the number of vegan meals I eat. This has been massively helped by the acquisition of two recently published vegan recipe books authored by talented fellow food bloggers. You'll find reviews of the books below along with a recipe for veggie chilli which has been rather heavily adapted from one of them. Twas ever thus …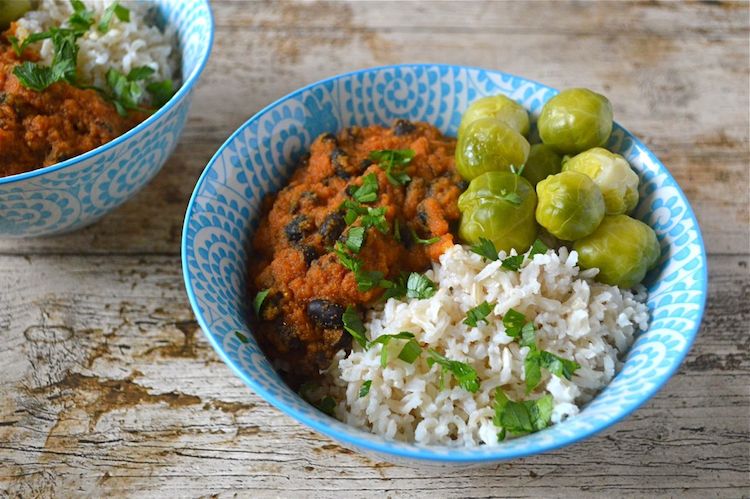 It may no longer be the International Year of Pulses, but lentils, beans and peas have been a staple for me ever since I can remember. They are not only nutritious, delicious and filling, but they make a great base for many a meal. These black bean tomato carrot curry bowls are simple to make and they taste very good indeed, especially when served with brown basmati rice. A perfect healthy whole food supper for Veganuary and to Jumpstart January.
Pasta is one of those standbys that is perfect for meals in a hurry. I often make tomato sauce to go with pasta and add carrots and onions and any other vegetables I happen to have around – parsnips work well. The other day, I was in even more of a hurry than usual and so I thought I'd try blending a raw tomato sauce instead.