Black Bean Tomato Carrot Curry Bowls with Brown Basmati Rice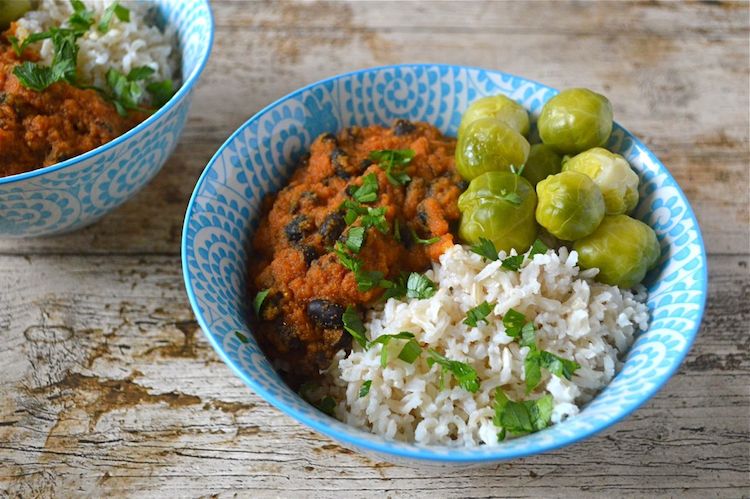 It may no longer be the International Year of Pulses, but lentils, beans and peas have been a staple for me ever since I can remember. They are not only nutritious, delicious and filling, but they make a great base for many a meal. These black bean tomato carrot curry bowls are simple to make and they taste very good indeed, especially when served with brown basmati rice. A perfect healthy whole food supper for Veganuary and to Jumpstart January.
The recipe is adapted from Meera Sodha's new vegetarian cookbook, Fresh India which I featured in my Christmas gift guide. It's fast become one of my favourite books. Meera's curry, which she names Rajma contains kidney beans and no carrots. I had no kidney beans to hand, but I did have some cooked black beans in the freezer; I thought they might look rather dramatic against the red of the tomato sauce. My veg rack was sporting a few not-quite-but-nearly wrinkled carrots, so I thought I'd better use them up quick and incorporate into the sauce. I substituted a red chilli rather than a green one, omitted the chilli powder and used slightly different quantities of the other spices.
The sauce for the black bean tomato carrot curry is whizzed up in a blender. I used my Optimum G2.3 platinum series induction blender, This made short work of grinding the onions, carrots, ginger and other firm ingredients into a loose paste. It was then a simple process of frying some spices, adding the sauce and finally the beans and a few more spices.
I served the curry with the last of the Christmas Brussels sprouts and brown basmati rice. This is probably my favourite rice: it's fragrant, slightly nutty and keeps the selenium, manganese, niacin, calcium, magnesium, fibre and more that is largely lost in white rice. I like a bit of chilli heat, but you can always use a mild or small chilli instead if you don't want it too hot. We ate half of the curry one day and the remainder the next. Like all curries, it was even better on day two.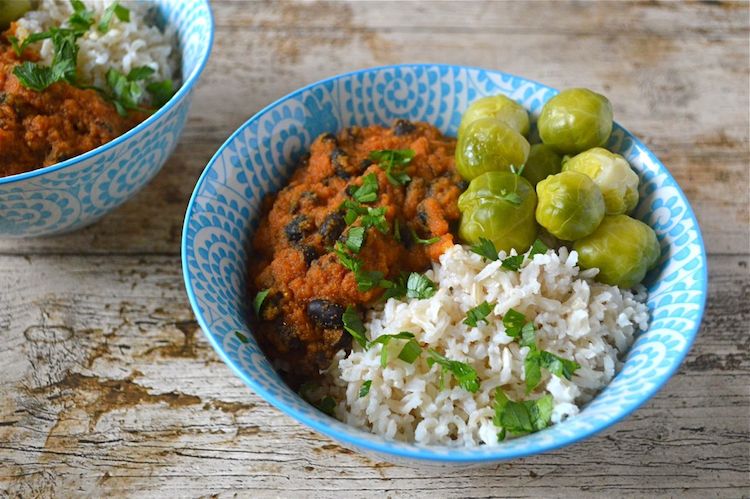 Black Bean Tomato Carrot Curry with Brown Basmati Rice
2017-01-10 09:55:08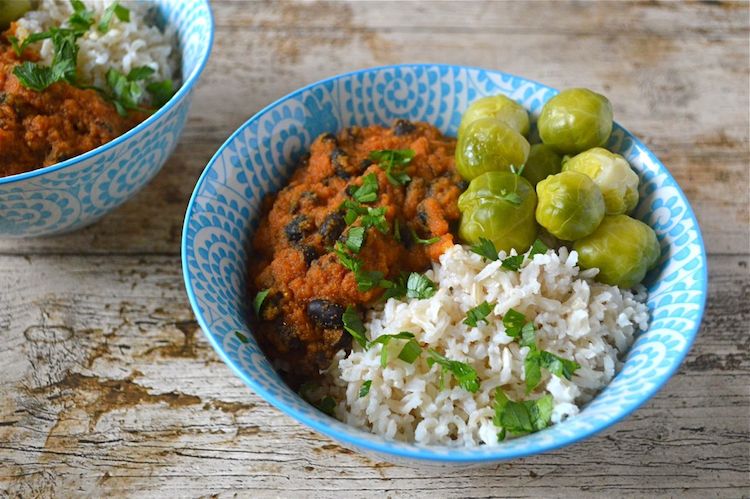 Serves 4
A simple, yet delicious curry with hidden carrots for fussy eaters.
Ingredients
200g brown basmati rice
1 large onion or 2 small ones - peeled and roughly chopped
4 medium carrots - topped, tailed and scrubbed
1 red chilli - deseeded
3 cloves garlic - peeled
thumb sized piece of ginger (I use organic ginger and keep the skin on)
1 400g tin of plum tomatoes
2 tbsp rapeseed or sunflower oil
1/2 tsp cumin seeds
400g cooked black beans or 1 tin
½ tsp ground cumin
1 tsp ground turmeric
¾ tsp ground coriander
1 tsp salt (or to taste)
a few sprigs of coriander leaves (optional) - washed and chopped
Instructions
Wash the rice well, place in a pan with 425ml water. Place a lid on the pan. Bring to the boil, then turn the heat right down and allow the rice to steam for 30 minutes. Turn the heat off and leave the pan covered for a further ten minutes or until ready to serve.
Blitz the onions, carrots, chilli, garlic, ginger and tomatoes in a blender until a loose paste forms (I use my Froothie Optimum G2.3).
Heat the oil in a large pan and fry the cumin seeds for a few seconds, then add the tomato paste.
Stir, bring to a simmer and cook for twenty minutes.
Fill the empty tomato tin with water and add this to the paste.
Bring to a simmer and add the beans and remaining spices. Add salt to taste and cook for a further ten minutes.
Scatter the coriander leaves over the top just before serving.
Serve with the rice, your choice of green vegetable and pickles.
Notes
Soak the rice in warm water for at least an hour before needed to speed up the cooking time. Wash well and cook as above.
Adapted from Fresh India by Meera Sodha
Adapted from Fresh India by Meera Sodha
Tin and Thyme https://tinandthyme.uk/
Other recipes for vegan curries you might like
I'm sending my black bean tomato carrot curry to Jac at Tinned Tomatoes for Meat Free Mondays.
It also goes to Elizabeth's Kitchen Diary for the No Food Waste Challenge – those carrots really wouldn't have lasted any longer nor would the Brussels sprouts.
As a Froothie Ambassador, I can offer Tin and Thyme readers free P&P on any Froothie blender – add 2483 free ambassador delivery to the comment box when ordering to get free postage and packing. Delivery will be credited back onto your card. The Optimum G2.3 is currently on offer at £399.
Like this recipe for Black Bean Tomato Carrot Curry Bowls? Pin it for later.
I use my Optimum Blenders for smoothies, spreads, sauces and even chocolate making. The post contains affiliate links. Buying through a link will not cost you any more, but I will get a small commission. This helps keep Tin and Thyme blythe and blogging. Opinions are, as always, my own.
Comments
Sorry, we're having trouble loading this Tumblr.