This month's We Should Cocoa linky along with these 17 cheerful chocolate recipes is a little later than usual. It had to make way for the first ever Tin and Thyme Christmas recipe advent calendar. Cranking up the pressure for Christmas, why not flaunt your festive favourites here (chocolate of course)? I do hope you find the time to join in and link up your recipes. And do take a peek at the ones below.
17 Cheerful Chocolate Recipes

Dom over at Belleau Kitchen sets things off in a blaze of glory with this stunning triple layer bonfire cake.

A beautifully moulded hazelnut chocolate spread marbled bundt cake from Galina at Chez Maxima

The title alone has me desperate to try one of these gluten free blood orange and chocolate muffins from Heather at Snack to the Future.

Here's a truly chocolatey creation from Johanna at Green Gourmet Giraffe – a romantic chocolate lovers mediaeval castle cake.

Decadent gooey brownies with a surprise crunch, these Bahlsen biscuit brownies from Sarah at Tales of The Kitchen Shed sound too good to miss.

We have a gorgeous seasonal pear chocolate & spice cake from Angela at Only Crumbs Remain which was nearly vegan, but not quite.

December is the time to party. What could be more suitable than these sophisticated chocolate fudge masquerade party cupcakes from Elizabeth's Kitchen Diary?

For the coffee lovers Kate from The Gluten Free Alchemist has come up with this coffee-intense mocha roulade dessert – gluten free of course.

These elegant mince pie truffles from Charlotte's Lively Kitchen embody the spirit of Christmas and I really want to try one.

It's hard to go wrong with chocolate and peanut butter. Jenny from Mummy Mishaps uses this scrumptious combination in her chocolate & peanut butter mini doughnut cake.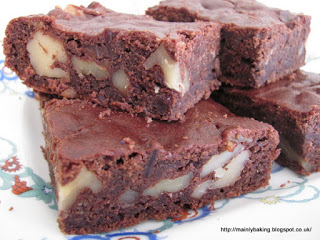 Suelle from Mainly Baking brings us a healthier version of a brownie with these chocolate date and walnut bars.

Inspired by a Miami caramel pecan turtle cheesecake, Caroline from Caroline Makes created these chocolate and caramel brownie mini cheesecakes.

My contribution are these giant chocolate macadamia nut cookies. They lie somewhere between a cookie and a tart and are absolutely delicious.

Kat from The Baking Explorer is well ahead of the festive game with her recipe for chocolate, salted caramel & chestnut Yule log.

Chocolate ginger snap cookies for breakfast? Well why not. Rebecca at Bake n Quilt thought it was a good idea.

And another one from The Gluten Free Alchemist. Strictly speaking it's only one post per blog per month, but it's Christmas and I'm feeling generous. Also, 17 cheerful chocolate recipes somehow sound better than 16 😉 This raw chocolate raspberry fudge looks too good to miss anyway!

These cherry almond and white chocolate flapjacks from Lucy at Baking Queen contain glade cherries, white chocolate chunks and ground almonds.