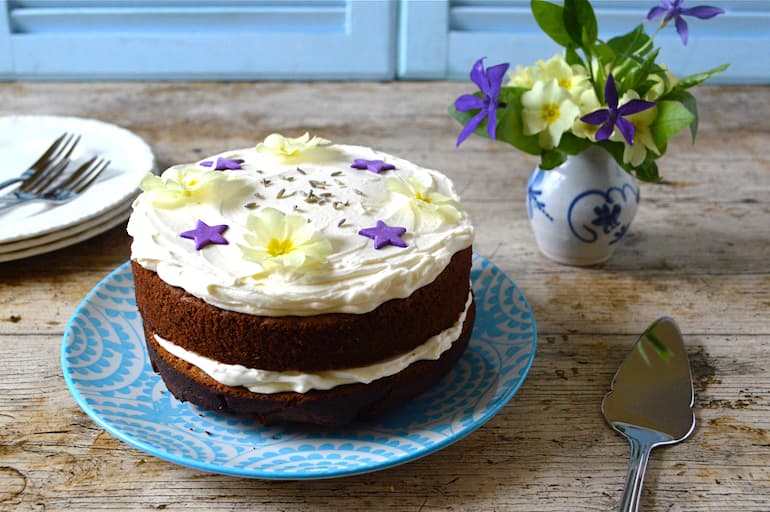 Mother's Day is fast approaching and I can't help but think of cake. I feel something light and spring like is needed. I know, how about a lavender honey cake scented with lemon and smothered in honey cream cheese icing? Sorted.
This month Dashing Dom has joined forces with Krazy Kavey in a chilling combination of Random Recipes and Bloggers Scream for Ice Cream. Now that Autumn has descended on us rather earlier than expected, ice-cream is no longer top of my list of desired desserts. However, ice-cream and frozen desserts are what we've been tasked to make, so I gritted my teeth and went to interrogate Eat Your Books. This is my preferred method of selecting my books for these Random Recipe occasions.
This time I limited the search to my chocolate books, which I was somewhat surprised to see has reached the grand total of seventeen. Ultimate: the Green and Black's New Collection was the book randomly selected. I haven't looked at this tome in such a long time that I was pleased to renew my acquaintance. It turns out it contains quite a few ice-cream recipes as well as a recipe for chocolate parfait – a frozen dessert which I've never made before. I decided to make half the quantity as I didn't have much space in the freezer; this meant I needed about 60g of dark chocolate. Now it just so happens that I had 70g of dark lavender chocolate lying about; I'd found this too strong and soapy to eat on its own, so it was awaiting just such an occasion as this. Lavender chocolate works wonderfully well when incorporated into other recipes, I reckon. The parfait recipe included coffee, but as I was adding lavender, I omitted this.
This is how I made:
Chocolate Lavender Parfait
Whipped 150g double cream to soft peaks using hand beaters.
Separated two large eggs, putting the yolks into a bowl and the whites into the fridge for some future use.
Warmed 75 ml water in a small pan and dissolved 60g golden caster sugar in it.
Notched up the heat and boiled the syrup for 2 minutes, then turned the heat off.
Added 70g chopped dark lavender chocolate (72%) and left to melt.
Beat the egg yolks with the hand held beaters, then slowly poured in the chocolate syrup beating all the while. Carried on beating until the mixture was almost cool.
Beat in 1 dessertspoon of cognac, then folded in the whipped cream.
Divided the mixture between four ramekin dishes and placed in the freezer.
To be honest I'm not terribly sure what the difference between a parfait and ice-cream is technically, but it's a very good way of making a no-churn frozen dessert. It was velvety smooth and not a shard of ice crystal could be detected. It's very rich and truly decadent, but the soupçon of lavender keeps it tasting fresh and prevents it from cloying on the palate as some creamy confections can do. The cognac gave a welcome hint of sophistication and brought out the other flavours. This is a perfect use for lavender chocolate and a brilliant make ahead dessert I can now knock up for future dinner parties.
This chocolate parfait is being entered into random ice cream – the joint Random Recipes and Bloggers Scream for Ice Cream event hosted over at Belleau Kitchen and Kavey Eats.
A healthy dose of cognac makes this dessert crazy enough for me, so I am entering it into Baking with Spirit over at Cake of the Week where Janine has asked us to all go crazy.
I'm also sending this off to Lucy's #CookBlogShare over at Supergolden Bakes.
It was time to make a cake for my wonderful mother for Mothering Sunday. The question was, what cake to make? Simnel cake is traditional for this Christian festival which falls on the fourth Sunday in Lent. It was a day's reprieve from the Lenten fast and domestic servants were given the day off to visit their mother church. This meant being able to spend time with their families and specifically their mothers. These days Simnel cake is more closely associated with Easter, but the old tradition of baking a cake and picking flowers for our mothers lives on.
With spring in the air, a cake with a floral theme seemed appropriate. I happened to have some lavender chocolate in the house and although lavender isn't exactly spring like, it is floral. So a chocolate lavender cake it was going to be. Excitingly, it is the season for goose eggs and I had bought one especially to make my Mother's Day cake. Goose eggs have a very short season, so I pounce upon them with glee whenever I see them in the spring. They are very large and have a whopping yolk, so are excellent for baking – they roughly equate to three large hens eggs. I scattered the cake with edible red dust, pink hearts and lavender flowers. Sadly most of the flowers all blew off in the wind when I took the cake outside to photograph it, but I reckon the hearts say it all anyway.
I made the cake yesterday and am off to deliver it later this afternoon along with a bunch of primroses and a card.
Update 31 March
The cake was sensational. I was really pleased with it and more to the point so was my mother. The lavender flavour was good without being overpowering and the cake was beautifully light.
I am sending this over to Emily's #recipeoftheweek over at A Mummy Too.
print recipe
Lavender Chocolate Cake
by
Choclette
March-30-2014
A dark rich chocolate cake flavoured with lavender and then filled and covered with a dark rich ganache also flavoured with lavender.
Ingredients
1 tbsp

lavender flowers

125ml

hot water

150g

unsalted butter

175g

sugar (half caster, half dark muscovado)

a pinch

sea or rock salt

40g

cocoa powder

175g

flour (half wholemeal, half white)

1 scant teaspoon

baking powder

¾ teaspoon

bicarbonate of soda

85g

ground almonds

1 heaped tbsp

Greek yogurt

80g

dark lavender chocolate (70%)

70g

unsalted butter

1 heaped tsp Cornish

honey

3 tbsp

double cream

1

goose egg (or 3 large eggs)
Instructions
1. Placed the lavender in a covered pan with the water and brought to the boil. Left to steep for an hour, then strain.
2. Creamed the butter, sugar and salt until light and fluffy.
3. Beat in the cocoa, followed by the egg.
4. Sift in the flour, baking powders and almonds and stir in alternately with the lavender water.
5. Stir in the yogurt until just incorporated.
6. Divide the mixture between two 8″ round silicone cake moulds and bake at 180℃ for 22 minutes. Leave to cool in the moulds for 10 minutes, then turn out onto a wire rack to cool completely.
7. Melt the chocolate, butter and honey in a pan over very low heat until just melted. Remove from the heat, then stir in the cold cream.
8. Use half of the ganache to sandwich the two cakes together then spread the remainder over the top cake.
9. Decorate with lavender buds.
Details
Yield: 1 8″ cake
The herbal medicine course I've been trying to organise for some considerable time now is (cross fingers) going ahead tomorrow. The original date was back in January, but it had to be cancelled as the medical herbalist was ill. It's a day course and for lunch we are all bringing food to share – so of course I am bringing cake! I saw this chocolate slab cake over at Celia's wonderful blog, Fig Jam & Lime Cordial and it looked to be just the thing for feeding a crowd (not that 14 of us could really be considered a crowd). A Forkful of Spaghetti wondered if I was making a herbal cake given I was going on a herbal course. Now why didn't I think of that? As soon as she asked the question, I knew immediately I would use lavender. I have been wanting to make a cake using lavender for ages, but haven't yet found the opportunity – until now. I decided to substitute lavender for the vanilla extract stated in the recipe.