We Should Cocoa kicks off year seven with these 13 charming chocolate recipes. A new year means a new style and in case you missed it, we are no longer doing themed challenges. Anything that incorporates chocolate in one of its many forms can be included – as long as it's vegetarian friendly of course.
This month's We Should Cocoa seems to be heavily influenced by the much loved Great British Bake Off. How sad I am that the production company has sold out and the BBC that has nurtured and developed the programme for so many years has been cold shouldered. But I digress; here, in the order in which they arrived, I give you 13 charming chocolate recipes. You'll find the October linky at the bottom of the page. Please join in. All photos are pinned to the We Should Cocoa Pinterest Board, so do hop on over to see some of the previous recipes.
13 Charming Chocolate Recipes

#GBBO inspired chocolate cherry Viennese whirls from Jenny at Mummy Mishaps

If you fancy a tipple, try these chocolate & merlot red wine cakes from Caroline Makes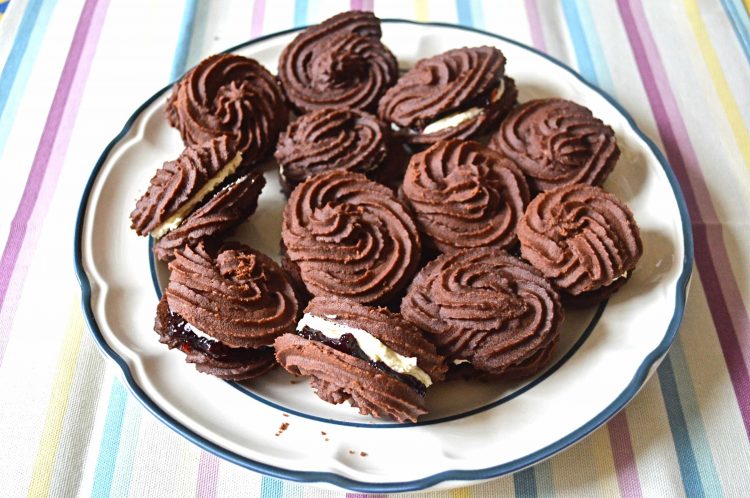 My own #GBBO inspired chocolate Viennese whirls with vanilla buttercream and blackcurrant jam

A favourite combination of mine: chocolate chip and peanut butter blondies from Suelle at Mainly Baking

I'd forgotten all about pepsi until I saw these chocolate & pepsi cupcakes from Only Crumbs Remain

Not quite #GBBO, but Galina at Chez Maximka has adapted a Mary Berry recipe for Apple and raisin cake

Many thanks to Johanna at Green Gourmet Giraffe for these six years of We Should Cocoa celebratory chocolate nutella caramel cups

An ancient pairing is used in these chocolate chilli cupcakes from Elizabeth's Kitchen Diary

Inability to resist. Chocolate crunch meringues from Charlotte's Lively Kitchen

A seasonal chocolate plum cake from Shaheen at A2K – A Seasonal Veg Table

And a final seasonal bake from Chris at Thinly Spread – double chocolate blackberry muffins

I published a post recently that is great for using up egg whites. Kate at The Gluten Free Alchemist has now given us another fabulous recipe for just such a situation. It doesn't even matter if you've got a bit of yolk mixed up in them. Her chocolate-espresso puddle cookies have a surprise ingredient that makes me want to get baking despite the current heatwave. They're dairy and gluten-free too.

This chocolate macaroon recipe with honeyed chocolate ganache is the very one I was talking about for using up egg whites. These macaroons are a little different to your average though. They're made with chufa flour rather than ground almonds. They're delicious.

Think biscoff spread loaded with double cream and chocolate. Doesn't it sound divine? Head over to Caroline Makes for her Lotus biscoff chocolate mousse recipe.

Alida over at My Little Italian Kitchen makes the most delectable Italian confectionery. This ricotta chocolate cake with its layers of white and dark reminds me a bit of my black bottomed cupcakes only much more elegant.

It's been a while since we had any bakes from Suelle over at Mainly Baking. I'm absolutely delighted to welcome her back. She knows just how to tickle my tastebuds and now I'm desperate to try these salted caramel, chocolate and hazelnut shortbread squares.

Whilst I can't see myself ever going off chocolate bakes, I'm finding what I most want in this heat is ice cream. Elizabeth's pretty blueberry & white chocolate ice cream popsicles over at Elizabeth's Kitchen Diary sound like they'd hit the spot exactly.

If you like your chocolate desserts, but are worried about the fat content, how about trying this healthy chocolate dessert with quinoa & sweet potato? I'm intrigued by the ingredients, they're right up my street. Thanks to Monika at Everyday Healthy Recipes for this fantabulous idea.
I made one of the best cakes ever, though I do say so myself. Darkly divine this coffee cardamom chocolate mousse cake is best served in small slices and works well as a dinner party dessert with crème fraîche if liked.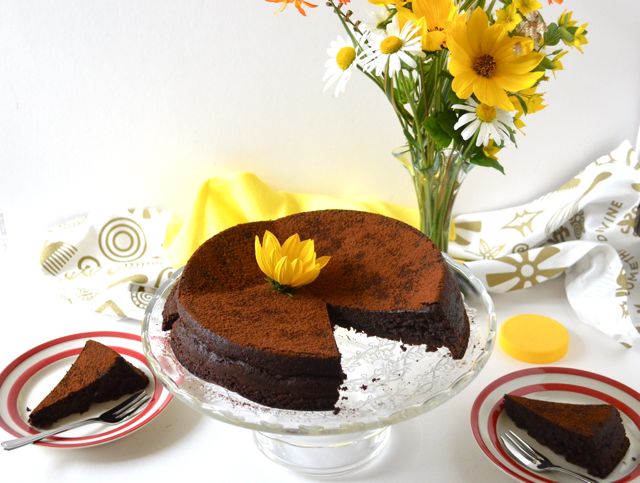 We've got lucky this month and more sumptuous brownies have emerged from the Mainly Baking kitchen. These tahini brownies with a sesame praline crust sound unusual and quite delicious. Suelle deserves special mention as she's been with We Should Cocoa since the very beginning.

Nico from Yumsome reckons she makes the best vegan choc chunk cookies ever and who am I to disagree? They are chewy and bursting with chocolate and look absolutely fabulous.

Scones and nutella are a new one on me, but one I'm very willing to try. Head over to The Lawer's Cookbook to find the recipe for coconut scones with coconut nutella glaze, cooked in her new kitchen in her new house.


If you want to get your chocolate fix another way, Everyday Healthy Recipes has come up with this healthier chocolate hazelnut spread. Chocolate and hazelnuts are a winning combination that we all know and love.

Sylvie from The Foodie Journey has beaten me to it. I've been meaning to make a magic chocolate cake for years, but it's one of the many things I still haven't got around to. It's hard to believe you can get such a good layered effect from making just one cake batter.

My double delight bundt cake made with chocolate rum & raisin and coconut lime batters swirled together requires the oven to be on. But even the hottest summers have birthdays and other celebrations in need of cake, so I'm making no apology for my contribution to these 7 easy summer chocolate recipes.

Even though it's not summer in Melbourne, this sloth slice (brilliant name) is super easy to make and won't keep you chained to the kitchen for very long at all. This easy choc chip slice from Green Gourmet Giraffe is made from condensed milk, chocolate and coconut. It sounds scrumptious and just the sort of thing I'd be tempted to eat far too much of.

This stunning Nutella trifle is something you can knock up in half an hour according to Kate of The Gluten Free Alchemist. One of the special ingredients is Fratello (in the adult version anyway), an Italian alcoholic blend of hazelnuts, vanilla, cocoa and honey – I'm on my way Kate.

And now for something rather different, which is perhaps no surprise as it's coming from the ever creative Lucy at The Kitchenmaid. Peaches with pistachio and chocolate are the sort of snacks I'd now very much like to have at my disposal. Now where can I find good dried peaches?

Not quite so healthy, but very tempting, these Christmas candy cane chocolate brownies were a post Christmas catch-up bake from Caroline Makes.

Corina from Searching for Spice gets us back on track with a healthier and very interesting bake – sweet potato and chocolate chip cookies.

Angela from Only Crumbs Remain shares these gorgeous vegan chocolate & cherry cupcakes for Veganuary.

My healthy vegan bake for Veganuary was this chocolate banana cashew cake. It's one of the best chocolate cakes I've made.

These chocolate biscotti from De ToutCoeur Limousin call for a steaming cup of coffee for dunking purposes.

These chocolate orange brownies from Suelle at Mainly Baking are a good way to use up any Christmas chocolates that might still be lurking.

Proper Foodie kicks things off with one of CT's favourite desserts. The best Tiramisu is an Italian classic transformed into individual glasses of scrumptiousness.

You can't have an October round-up without a pumpkin recipe or two. These dairy free pumpkin brownies from Every Day Healthy Recipes are low in both sugar and saturated fat.

It may not be the weather for ice-cream here, but it sounds like it might be in the Southern hemisphere. This outrageous ice-cream sundae from Green Gourmet Giraffe is made with homemade baked vegan doughnuts with salted caramel ice-cream, chocolate sauce, salted caramel sauce, fresh berries, chocolate sprinkles, chocolate wafers and I want one.

If you want a stunning free-from celebration cake, this mocha cake from The Gluten Free Alchemist could be the one for you. It's not only gluten-free but also nut-free, rice-free and optionally dairy-free too.

Wow! I can see why this is called the ultimate marble cake. Kat from The Baking Explorer has excelled herself and made a chocolate and vanilla layer cake that deserves some sort of prize I reckon.

Jammie Dodgers are a well known British classic, but have you ever seen them in cupcake form before? These Jammie Dodger cupcakes from Only Crumbs Remain are made with white chocolate, filled with raspberry jam and topped with white chocolate buttercream frosting and more jam. Oh! And a Jammie Dodger of course.

Hands up. Who liked violet sweets when they were little? I did and this gorgeous looking vegan violet chocolate layer cake from A2K – A Seasonal Veg Table has got me feeling all nostalgic for them.

In the unlikely event you still have Easter egg chocolate lying around, BakingQueen74 has come up with an excellent way to use it up. These slow cooker chocolate flapjacks are great for kids lunch boxes, but I don't think they'd last long with me either. Lucy is the slow cooker baking guru, so head over to her blog to find out more.

It was touch and go with me this month, but I just managed to get my post for triple chocolate almond brownies up before I disappeared down to Devon for the weekend. I'm glad I got them into these 8 cheerful chocolate recipes, because they are rich, fudgy and totally decadent. I made them with freshly ground almonds, which not only made them even more delicious, but means they are naturally gluten-free too.

For a healthy treat that doesn't leave you feeling short changed, I find bliss balls hit the spot nicely. I'm now dying to try these peanut butter & coconut energy balls from Jess Eats and Travels.

Peanut butter is as popular as bananas and brownies this month. Go find the recipe for this peanut butter & chocolate banana bread at Curly's Cooking.

If you like styling cakes, how about this tree house birthday cake over at Green Gourmet Giraffe. Johanna makes clever and innovative birthday cakes and I reckon this might be my favourite so far.

When you fancy a chocolate cake, why not make a polenta chocolate cake? That's what Galina did after googling for a recipe. And guess what? She only came up with an ancient one of mine. Hers looks a lot better and is more sophisticated with an addition of whisky. It's been too long since I made that cake.

One of the 11 luscious chocolate recipes are my tiger nut chocolate chip cookies. I was super excited about coming up with these gluten-free, refined sugar-free and vegan biscuits made with chufa flour.

Shaheen from Allotment2Kitchen kicks things off nicely with these banana muffins with cocoa crumble topping.

Whilst not quite the one cake I asked for, I couldn't help but include these stunning triple chocolate mini bundts. Stacy of Food Lust People Love has created a real showstopper or should I say showstoppers.

Chocolate cloud icing sounds so good. I haven't tried it, but Janine of Cake of the Week is a big fan. She's used it to make this moist and decadent Chocolate Chocolate Bailey's Cake.
We Should Cocoa October Entries
Guidelines on how to enter are on the We Should Cocoa page.