We Should Cocoa kicks off year seven with these 13 charming chocolate recipes. A new year means a new style and in case you missed it, we are no longer doing themed challenges. Anything that incorporates chocolate in one of its many forms can be included – as long as it's vegetarian friendly of course.
This month's We Should Cocoa seems to be heavily influenced by the much loved Great British Bake Off. How sad I am that the production company has sold out and the BBC that has nurtured and developed the programme for so many years has been cold shouldered. But I digress; here, in the order in which they arrived, I give you 13 charming chocolate recipes. You'll find the October linky at the bottom of the page. Please join in. All photos are pinned to the We Should Cocoa Pinterest Board, so do hop on over to see some of the previous recipes.
13 Charming Chocolate Recipes

#GBBO inspired chocolate cherry Viennese whirls from Jenny at Mummy Mishaps

If you fancy a tipple, try these chocolate & merlot red wine cakes from Caroline Makes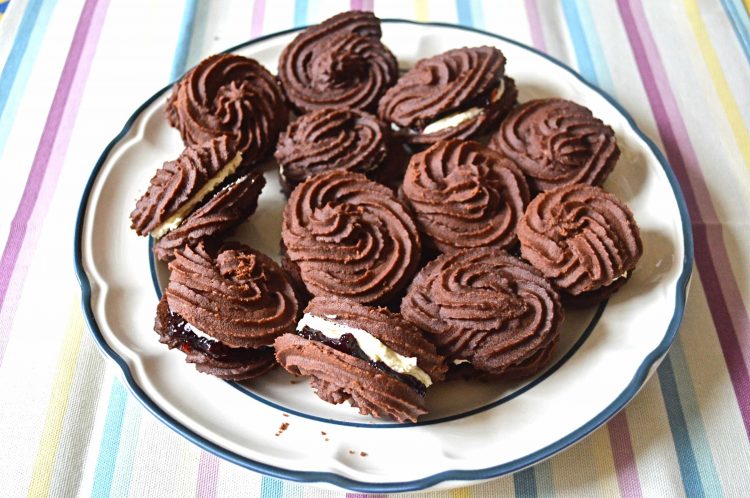 My own #GBBO inspired chocolate Viennese whirls with vanilla buttercream and blackcurrant jam

A favourite combination of mine: chocolate chip and peanut butter blondies from Suelle at Mainly Baking

A sensational #GBBO inspired chocolate six-strand braided challah loaf from Lucy at Baking Queen

I'd forgotten all about pepsi until I saw these chocolate & pepsi cupcakes from Only Crumbs Remain

Not quite #GBBO, but Galina at Chez Maximka has adapted a Mary Berry recipe for Apple and raisin cake

Many thanks to Johanna at Green Gourmet Giraffe for these six years of We Should Cocoa celebratory chocolate nutella caramel cups

An ancient pairing is used in these chocolate chilli cupcakes from Elizabeth's Kitchen Diary

Breakfast or dessert? White chocolate pots with apple and granola from Sarah at Maison Cupcake

Inability to resist. Chocolate crunch meringues from Charlotte's Lively Kitchen

A seasonal chocolate plum cake from Shaheen at A2K – A Seasonal Veg Table

And a final seasonal bake from Chris at Thinly Spread – double chocolate blackberry muffins
We Should Cocoa October Entries
Guidelines on how to enter are on the We Should Cocoa page.