Chilli Chocolate Chip Friands – Your Gluten Free Friends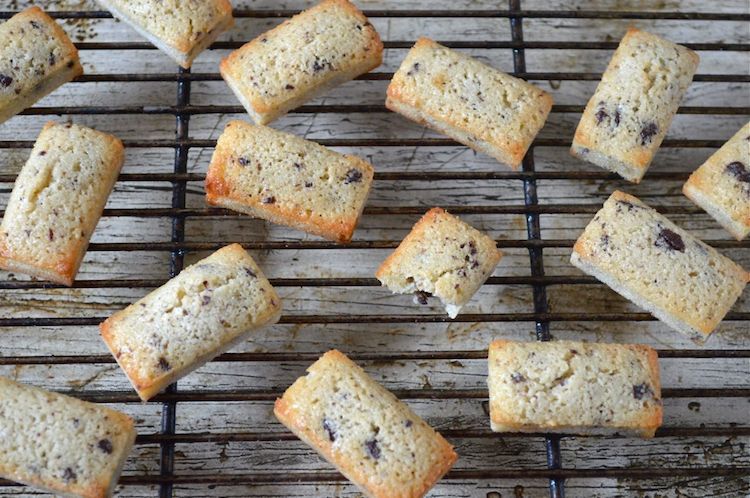 When I have leftover egg whites, friands are my go to bake. You can make them with one egg white or with six. They keep well and are always popular. I had a lone egg white left after making these peanut butter chocolate chip cookies, so chilli chocolate chip friands it was.
Friands are delicious bite size morsels, that are a cross between a macaroon and a cake. They are made from egg whites and ground almonds. This recipe for chilli chocolate chip friands uses one egg white and makes 14 bite size bars or 6 mini muffins. If you have more egg whites leftover, however, it's very easy to upscale the recipe.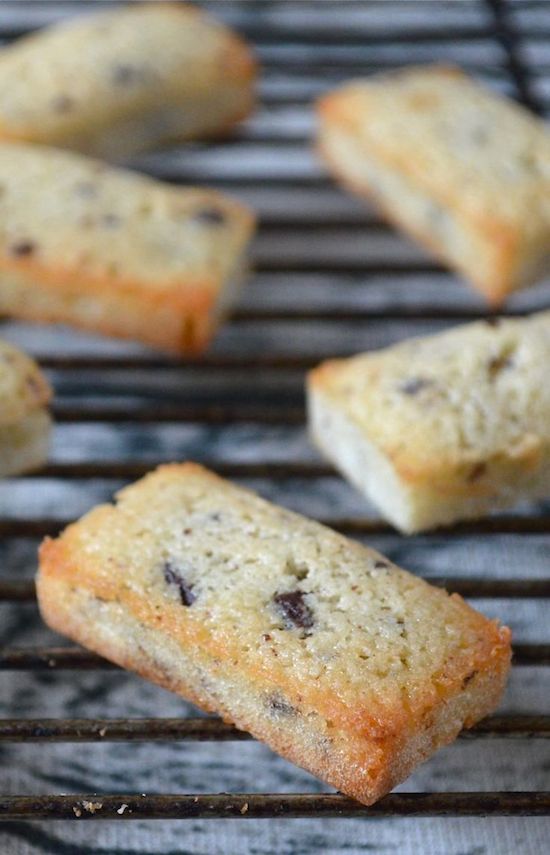 Although a little flour is included, I always make mine gluten free by using buckwheat flour or something similar. This time I used the Free From Fairy's wonderful wholegrain gluten free flour. Freshly ground almonds make a real difference to the taste and texture, so I inevitably grind my own. I had some dark chilli chocolate also left over from baking the peanut butter cookies which I thought would work well – and it did.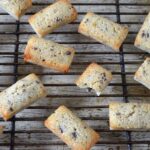 Chilli Chocolate Chip Friands
Bite size gluten free morsels of deliciousness that can be served as an after dinner coffee accompaniment or for afternoon tea.
Ingredients
30

g

unsalted butter

1

egg white

40

g

icing sugar

20

g

freshly ground almonds

15

g

gluten free flour

(I used Free From Fairy's)

15

g

dark chilli chocolate
Instructions
Melt the butter in a pan and leave to cool a little.

Whisk the egg whites until frothy, then whisk in the icing sugar.

Gently stir in the butter, followed by the almonds, flour and finally chocolate.

Spoon into 14 mini financier moulds or 6 mini muffin moulds.

Bake for at 180C for 12 minutes or 15 minutes, depending on what size moulds are used or until golden, firm and well risen.

Leave to cool for a little, then turn out onto a wire rack to cool completely.
Recipe Notes
You can easily upscale the recipe depending on how many egg whites you have.
Buckwheat flour works well too.
These chilli chocolate chip friands are my entry to this month's We Should Cocoa. If you post any recipes this month which feature chocolate, be sure to take part. #WeShouldCocoa
I'm sharing these chilli chocolate chip friands to The Baking Explorer for Treat Petite.
They also go to Elizabeth's Kitchen Diary for the No Waste Food Campaign. I had a leftover egg white in need of using up and an open bar of chilli chocolate.
These friands are also my #BakeOfTheWeek with Mummy Mishaps and Casa Costello.
Other recipes for using leftover egg white you might like
Chilli Chocolate Chip Friands. PIN IT.